Last Updated on June 28, 2019 by Christine Kaaloa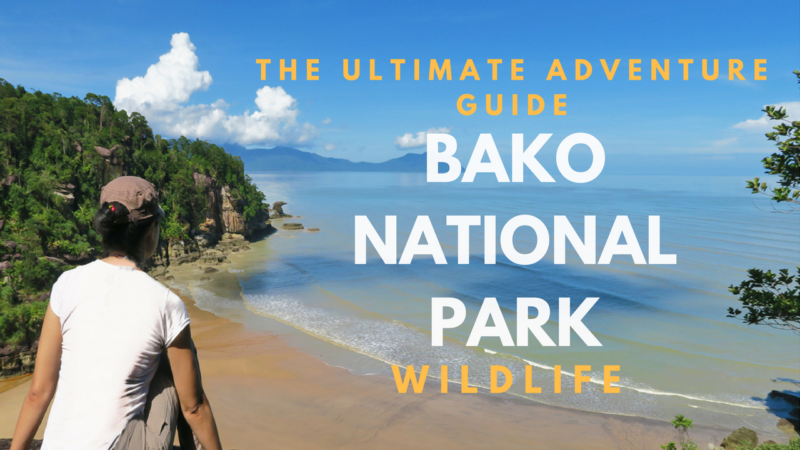 Bako National Park is located 37 km from Kuching and was the best wildlife highlights of my trip to Sarawak.. and probably my life! It was the first time I encountered wildlife that was not in captivity. Instead, I was free to wander in their land and walk beside them. Best of all, it didn't cost me my entire travel budget, but significantly less.
Watch my video for a comprehensive look at Bako National Park
Video: My Wildest Adventure Under  $25 | Bako National Park, Sarawak
The Wild Beauty of Bako National Park
Bako National Park is an island, which is known to house proboscus monkeys, macaques, bearded pigs and a lot of bird species and wildlife. I've paid for trekking and homestay tours to experience authentic jungle and mountain adventures. Most of those tours are contrived and inauthentic; culturally-made for tourists. But without a true understanding of a wilderness or tribal setting, a tour is the most real it gets for travelers.
Although Asia and Southeast Asia have a fair share of monkey temples and parks, I've never experienced a real safari and was never brought this close to spotting wildlife… actual wild life roaming loose in the same area as me.  Of course, the wildlife here seem familiar with travelers watching them; some are kind of skittish.  Some bearded boars actually sleep near the dining hall at night. This island park with its beaches and forests are their feeding ground; sometimes, they quarrel or play with each other.
Proboscis Monkeys: An Endangered species of Borneo
The proboscIs monkeys are the exotic monkey stars of Borneo and Bako Island. The monkeys are distinct for their super erotic bulbous noses and they're part of the endangered species list, but on this island, they're  protected and free to live and eat.  It's not certain you'll spot them, although when I was there, they seemed to like the trees between the beach and the dining hall the best.  Their feeding times are commony early morning and late afternoon.
See my video for the type of wildlife you'll see and for images of this monkey below.
Hiking Trails and Photogenic landscapes
Bako has 18 hiking trails from easy to challenging.  Many of them are under  3 hours and they are color coded to help mark them.   Trails can take you through jungle, past waterfalls, out to mangroves and secluded beaches. You'll find the scenery changing and gorgeous to surreal and picturesque.   Some beaches aren't good for swimming in as they have saltwater crocodiles.  Ask the park office which beaches are good if you want to splash in the water. When you arrive, you can pick up a free map of hiking trails and the park grounds and lodges.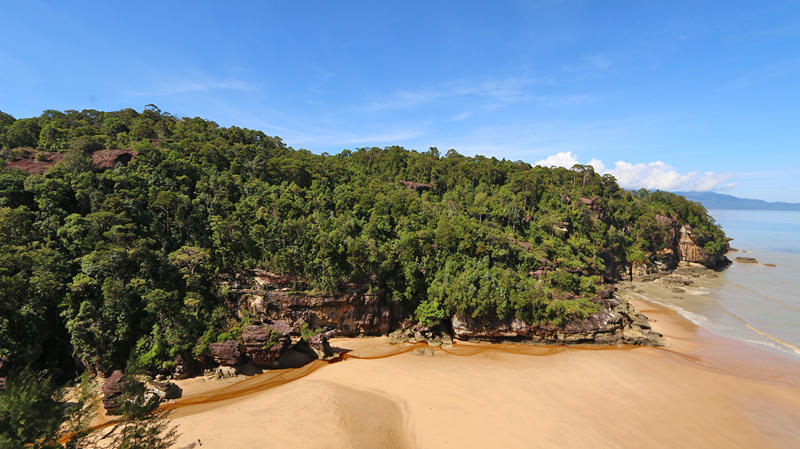 I didn't have to go to Namibia to get these shots
From secluded beaches, mangroves in wetlands, a high and low tide exposing what's below sea level, the island offers varied terrain and astounding surreal beauty. Low tide was my favorite time as you can walk out on the beaches and watch cockles and hermit crabs come out from under your feet!  If you're a photographer, this island will offer you much natural beauty you can never get enough of. If you've seen my Instagram photos of this trip, you'll see how powerfully surreal the landscape can get.
Salvador Dali would've loved this place!
Tip: Remember to take a bottle of water with you and sunscreen. It can get hot and walking through the jungle can occasionally feel as humid as an Amazonian jungle.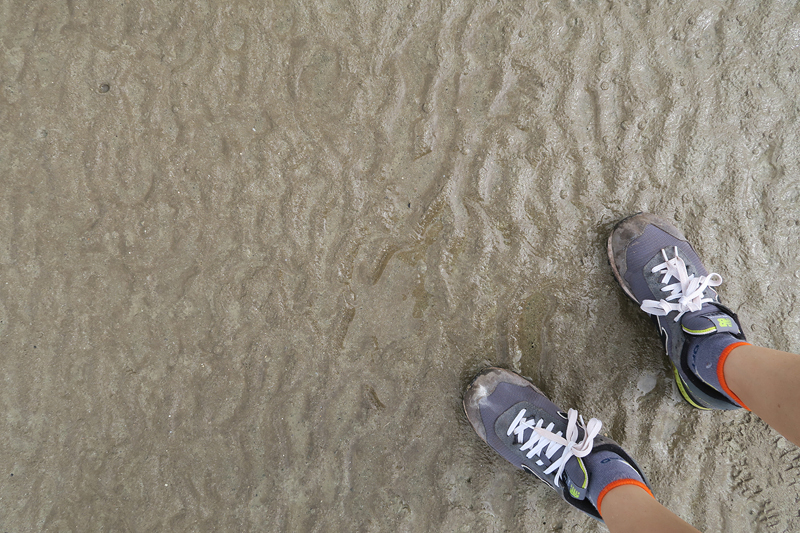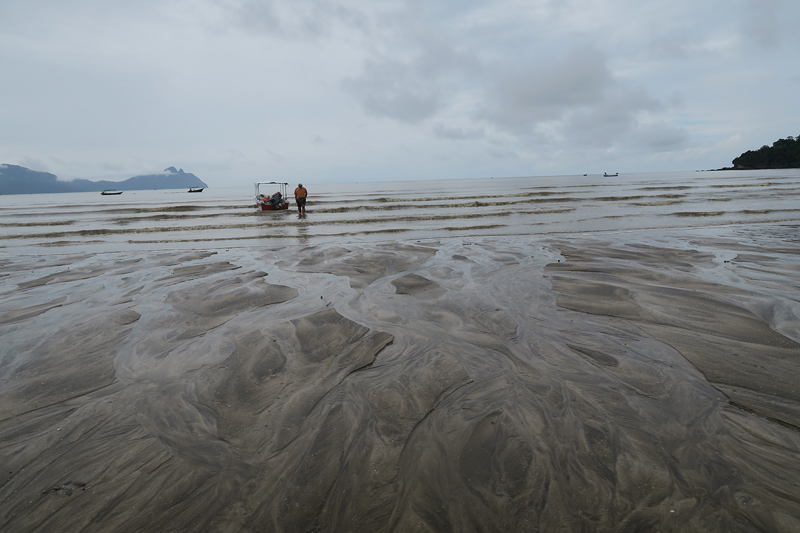 Doing the Night Safari Tour on Bako Island
Some animals and wildlife are active at night and playing hide and seek with them is fun with a guided tour. See my video for more. While I'm sure each night varies, there's potential to see quite a few night creatures. The park holds an evening night safari.  Meeting place is at the park headquarters and park guides will lead you through bridged trail with flashlights to point out nocturnal animals, reptiles and insects.  Cost: Approximately $5-6 USD ( I can't remember the exact amount but it was surprisingly inexpensive for being a full activity)
Tip: Remember to take your flashlight or headlamp.
Accommodations
Lodgings range from very basic (15 RM/night) to a 2 person room (157.50 RM). There is no air conditioning. Reserve your lodging  in advance to guarantee a spot.  Basic dorm lodges can be rudimentary, but not wholly uncomfortable.  The shared bathroom was probably the most uncomfortable it ever got because it was in the back of a large room, which had an eerie feeling at night (due to the flourescent lights). In the dorms, there is no locker to store your belongings, nor do you have control over who decides to open the window (hence, letting in bugs and monkeys), so do not bring valuables and make certain your bags can be secured.
Book your accommodations in advance through the Sarawak Forestry website.  When they email you a confirmation, you will have one week to make the payment before your reservation is cancelled.  The website I booked through was the government site, so prices are low.
Note: Macaque monkeys are mischevious. They have no problem coming up to the lodge while you're there. Be careful with hanging out your laundry as some can go missing.
What facilities does it offer?
The dining hall is buffet style and you pay per serving/scoop. The food can be pretty good and the kitchen prepares a range of things that is foreigner friendly. However, the kitchen prepares a fixing of food once and once the dish runs out, it doesn't get replenished. Get there early.  There's a section which sells snacks (chips, cookies, ice cream); the selection is small but adequate.  *Please do not litter and if you keep some food in your room, remember to bundle them up from the ants and macaques.
Also, there is no WiFi on the island. However, if you have SIM card with a data plan you should be able to get a signal. Some areas are spotty more than others.
A plug outlet is located outside each lodge room and in the dining room by the television. Electrical outlets are limited so charge your tech gear in advance.
How long should you stay?
Travelers on a tight schedule will want to keep to a day trip. If you have more time, I highly recommend staying at least 3 days. It's more worthwhile and cost effective to stay longer and you won't regret it. There's a lot to see and I almost felt sorry for the travelers who did mere day trips.
I stayed two nights and three days, but had I thought ahead and packed a few more clothes, I could've stayed longer!   There's many trails, many beautiful views and wildlife crosses your path daily. Once you settle in, it's a beautiful and addictive feeling to feel removed from the world.  The lodges and dining hall make it feel more luxurious than camping outdoors; but the close quarters you keep with wildlife and nature as you step outside your door, makes it feel more rugged, real and phenomenal than just camping.
Cost breakdown of your Bako Wildlife Adventure
On my video, I initially quoted 3 days/2 nights at a budget of $25.  Technically, it was a little more if you count transportation, which I forgot to add . It also depends upon how much water, food and guided tours and boats you'll take.  There are optional boat pickups from certain hiking trails and hired guides to lead you on trails. I think there's even a night boat safari.  Overall, the largest expenses are the initial costs in getting there. The actual stay at Bako Park is essentially, cheaper than staying in the city thumbing for things to do and hiring expensive day tours (*You'll find this park on some of the day tours sold in Kuching).
For a wildlife adventure, visiting and staying at Bako National Park on your own is a bargain!
Permit/Entrance Fee 10 Rm
Boat (Round trip – 47 Rm each way)  94 RM
Bus to Bako Village (Round trip – 3Rm each way)  6 RM
————
Travel & Entrance costs:   110 Rm  or $26.28
Dorm Lodge  (2 nights at 15 Rm/night or Under $4/night)  30 Rm
————
Grand Total    140 Rm  | $33.45 USD
Night Safari (optional, approximately $5-6 USD)
Boat to see the Smoke Stack
Food and water  *varies per person
Essentials to Bring to Bako National Park
One thing Bako National Park isn't is very touristy… a reason I love it more!  But this means that they don't have tourist shops selling basic traveler essentials.  The below items are suggested:
Sunscreen
Mosquito or bug repellent
Covered shoes for hiking & Flip flops
Rain poncho
Umbrella
Flashlight or headlamp
Basic toiletries
Sanitary napkins for women
Sweat towel for hiking (the humidity alone will make you sweat)
Extra toilet paper or tissues
Aspirins and first aid kit (bring at least a couple of band-aids)
Camera and your charger cables
Getting To Bako National Park & Park Fees
It's easy to get to Bako National Park- stupid easy. Kuching bus services mark buses going to their main attraction with a sign. But if you travel by bus, it will take some time. But who cares? The air conditioning is set on high to rescue you from the Bornean heat.  If you want to get adequate hiking time in, leave early.  You can take a bus, minibus or taxi to get there.
By Bus: Take the Petra Jaya bus# 6 from Kuching bus station to Bako Village. Cost 3 RM.  The bus won't actually drop you at Bako Village but at the ferry boat house that you'd take to get to the village. The actual village looks like this:

Pay the Bako National Park entrance/permit fee of RM10 at the boat ticketing counter.
Next by Boat: You'll also pay for your boat ticket : 47 RM one way. The boat ride takes about 30 minutes.
To return from BNP: Go to the boat ticketing counter in the park (the wooden building beside the dining hall). Make your reservation for your return trip. If you're planning only a day trip, I would do this as soon as you arrive to the park so you know the schedule for the last boat.  5 people per boat.   The bus returning to Kuching operates regularly and will pick you up either outside the boating building or on the street. Ask the ticketing counter for more information.
Where I stayed in Kuching
The nearest city that's convenient to getting to Bako National Park is Kuching.  I stayed at Radioman but both hostels are literally almost a block away from the bus stop and are in great locations for sightseeing the city.
Radioman Heritage Hostel, Kuching, No. 1, Wayang Street, Kuching, Malaysia
Centrally located, Radioman Heritage is a hostel next to Chinatown and off the Main Bazaar and waterfront walk. There's a bus stop to Bako is 2 minutes away and the city bus center, 8 minutes walk away. They let me store my luggage with them, when I went to Bako.
Singghansana Lodge is a boutique hostel, with dorm and single room facilities. A/C available and a lounge area for hanging out.  One street over from Radioman Heritage Hostel.  24 hour front desk.
 Information:
Sarawak Forestry
Tel: (+6) 082 610088 Fax: (+6) 082 610099
Toll free line: 1 800 88 2526
Website: www.sarawakforestry.com
Booking: www.ebooking.sarawak.gov.my
Email: [email protected]
* This information is governmental and should not be confused with a website titled Bako National Park, which I don't believe has any affiliation and is more of a tour agency.
Related Posts:
Must Try Foods in Sarawak
Sarawakian Cooking and a Cooking Class
Best Things to Do in Sarawak
Where to shop in Kuching
The wildest Borneo Adventure under $30