Last Updated on October 5, 2016 by Christine Kaaloa

10 Top Sarawak Foods  | Kuching Sarawak Food Guide | Malaysian Borneo
With foodie influences from Malay and Chinese cuisine, mixed with the jungle flavors of Borneo tribes, Sarawakian food is something to experience. So come along and I'll show you the top 10 foods
of Sarawak. You thought Durian smells bad…
Dealing with Dietary Restrictions
This food guide video almost didn't happen.  Initially I had difficulty being a vegetarian traveler in Sarawak. I've always remembered Malaysia as one of those countries, I have struggled to find vegetarian-ish food. The  "-ish", generally means I've struggled to the point, where I'll take anything with  vegetables in it, attempting to pick out meat.  You see,  despite being Asian American, I'm not a huge fan of eating rice and oily Chinese noodles every day. In the west and as part of my normal health regimen, I've cut a lot of carbs from my diet.
After my first few bad food attempts, I decided to make my Kuching food camp at McDonalds and Pizza Hut. How unadventurous I felt!  Nevertheless, Western fast food joints always give survival relief to foreigners with sensitive tummies and reluctant taste buds. The foods on the menu are or feel familiar and you don't need to guess  hard about its contents. As a well-known chain brand with a reputation, it's only inducted  foreign friendly foods into its menu as a fast food formula serving up customer happy endings.
When finally, I took a local cooking class and began speaking to Kuching locals about must try Sarawakian foods, my food explorations undertook more courage and curiosity.  They led to this…
10 Top Sarawak Foods | Kuching Sarawak Food Guide
Here's 10 top foods of Sarawak, that locals love and you will too. This Kuching Sarawak food guide shows you the 10 iconic Sarawakian dishes and food spots in Kuching that steals local hearts and is not to be missed.
1. Bubur Ayam 0:20
2. Kolo Mee 0:43
3.Teh C Special  2:09
4. Laksa Sarawak 2:45
5. Vegetarian Food at Zhun San Yen Restaurant 3:46
6. Midin Salad (Jungle Fern) 5:09
7. Seafood at Topspot 5:45
8. Keki Layer 6:53
9. ABC Santan at Ah Yong ABC 9:04
10. ABC Kantong at Ah Yong ABC 10:05
1. Bubur Ayam
Bubur Ayam is a rice porridge dish, with ginger, onions, bits of chicken and a subtle flavor.  It was my first breakfast arriving into the airport at McDonalds.  I was hungry and McDonalds is always known to carry the staple menu along with  local dishes that are generally amenable (and slightly bland) for foreign travelers. It can be a safe way to ease into the local flavors.  Cost: 2 RM
2. Kolo Mee
For breakfast time, I was told I might visit Chinatown to try some of the Laksa or Kolo Mee.   Kolo Mee is a super popular Sarawakian comfort food. It's the signature dish of Kuching and locals just go crazy for it!It's boiled and springy noodles, tossed in light oil soy sauce garlic and MSG.    Kolo Mee generally comes with pork. I ordered the Kolo Mee Special (or Seafood Kolo Mee).Note:  MSG is in a lot of dishes. Unless a menu notes "No MSG", then you might assume it's made with MSG. Cost around 4RM
Location: While Kolo Mee is a ubiquitous, local favorite, I got mine at Jalan Carpenter  (aka Carpenter Street) in iconic Kuching. Known as the historic area of Kuching, the colonial architecture dates back to the 1900s. Kolo Mee can be found in a few cafes on that street.
3.  Teh C Special
In Sarawak, there's a whole menu of drinks to try.  A popular drink in Kuching is the Teh C Special,  a three-layer milk and tea drink. Otherwise, I've notice  herbal and flower teas can be a little sweet to syrupy.
4. Laksa Sarawak
Laksa Sarawak is a must try food in Kuching. The laksa comes with thin white vermacelli noodles and in a milky and spicy curry broth. It's got bean sprouts, a little dressing of cilantro and some prawns in here.
Location: Satok Market  Cost: 5 RM.
5. Vegetarian Food at Zhun San Yen Restaurant
I was surprised to discover that Kuching had a few vegetarian restaurants! Zhun San Yen restaurant is  a vegetarian buffet restaurant in Kuching.  It's a veggie haven!  You can pick and choose what items on your plate you want and they'll weigh it and charge you for it. The dishes are made with Chinese, Malay style and bean curd and tofu are often used as mock meat. An entire meal with a full plate, fresh squeezed lime juice and a plate of rice cost me 6.5 RM
Location: Jln Chan Chin Ann | Bukit Mata Kuching   Hours 7am -3pm
6. Midin Salad (Jungle Fern)
Midin salad (aka jungle fern or fiddlehead fern) is another  delectable Sarawakian dish with jungle influences. Chewing into cooked midin is like chewing into a cross between morning glories and okra. It's got a bit of a crunchy and slimy feeling in the chew.  The midin is found in the forest and it's a really good plant; the more it's cut, the more it grows and regenerates.  The flavor comes from being sautéed in fish paste spice and garlic.  The best midin salad I've tried was one I got to make at a cooking class (more later). But I've also had midin at Zhun San Yen vegetarian restaurant above.
7. Seafood at Topspot
Being that Borneo is an island, seafood is a popular here.  Topspot is a well-known seafood food court.  There's several vendor stands and they sell anything from parrot fish to sea bass, talapia, sting ray,.. a lot of different fish and seafood. You order what you want by kilogram and they'll cook it for you and bring it to your table.
If you're really into seafood then you'd want to come here. For a single traveler, it might not be economical to eat anything here because everything's looking like a lot of food.  
Location: Topspot at UTC (Transportation Building)
8. Keki Layer  (aka Layer Cake)
Keki Layer (or Layer Cake) is found only in Kuching. It's a cake comprised of layers of different flavors. One cake can be made with up to 16 layers and it can take up to 8 hours to make; they're actually quite heavy. You have flavors such as cheese, barley, fruits and dates, sweet sour, ice cream cheese, coconut blueberry and chocolate, Oreo and multiara…
You also don't need to refrigerate them. Most of them cost around 20Rm.  Hati Pare is one of the most popular of cakes at 30Rm.
Location: Main Bazaar near Wayang Street.
9. ABC Santan ABC
Right off the Main Bazaar and Kuching Waterfront is Ah Yong ABC, a popular street hawker known for his ABC Kantong.  ABC is a Malay abbreviation for mixed ice and it's a refreshing desert, mixed with different jellies, beans and condensed milk.
Location: Ah Yong ABC, On Wayang Street Kuching and off Main Bazaar.  Hours: Monday – Sunday 1.30pm – 5pm  Cost: 2.2 RM
10. ABC Kantong
ABC Kantong is a local favorite striking fond childhood memories in locals who remember pre-ice cream days. It's shaved ice flavored with syrup and it's inexpensive and a great dessert for the Borneo heat. Just make sure you eat it fast, before it melts!  Cost: 2RM
Location: Ah Yong ABC, On Wayang Street Kuching and off Main Bazaar.  Hours: Monday – Sunday 1.30pm – 5pm  Cost: 2.2 RM
Where to stay in Kuching
Radioman Heritage Hostel, Kuching,  1, Leboh Wayang 93000 Kuching
I stayed at Radioman Heritage Hostel, Kuching and it is in a prime location at the junction between Main Bazaar and Wayang Street. Chinatown is located 2 minutes away and the Kuching Waterfront is across the street. Single sex dorm rooms can feel a little small and no AC during the day, but it's clean, inexpensive and maintained. Front desk is not 24 hours.
Singghasana Lodge, 1, Temple St, 93000 Kuching
Singghansana Lodge is a boutique hostel, with dorm and single room facilities. AC available and a lounge area for hanging out.  One street over from Radioman Heritage Hostel.  24 hour front desk.
Other Hotels:
Batik Boutique Hotel: No. 38, Jalan Padungan, Kuching City Center,
Pullman Kuching Hotel : 1A Jalan Mathies, Kuching City Center, Kuching
.
What are your recommended Top Sarawak Foods?
Pin the image below for your Pinterest board and save it for your trip to Borneo!  
Interested in more Top Food Guides and food tours I've taken in Asia/Southeast Asia, click here.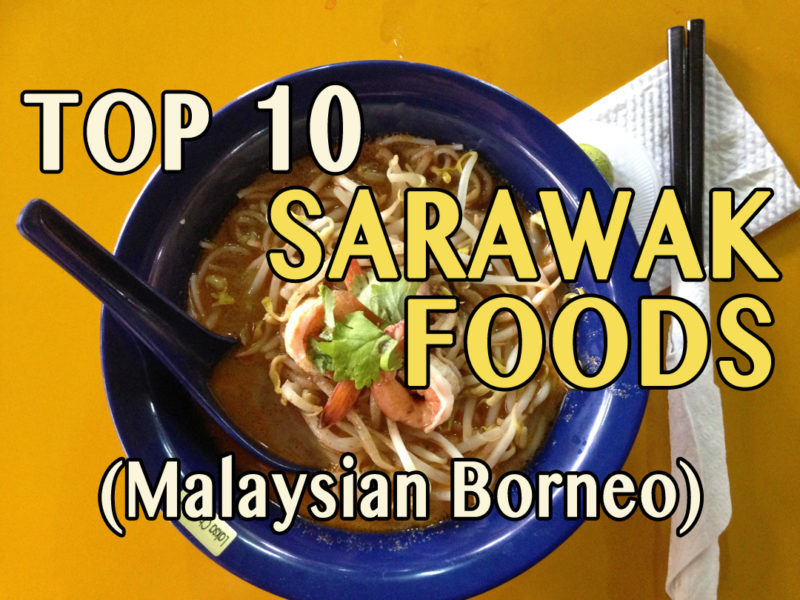 Related Posts:
Must Try Foods in Sarawak
Sarawakian Cooking and a Cooking Class
Best Things to Do in Sarawak
Where to shop in Kuching
The wildest Borneo Adventure under $30
Looking for travel insurance?

American travelers often pay a premium on travel insurance.  World Nomads offers economic solutions for travelers who seek security and peace of mind.  It covers 150 countries.