Last Updated on July 20, 2023 by Christine Kaaloa
As travelers, we're always flying and the journey from check in to flight can lackluster. But what if your flight could make a difference to families and rescued dogs and it didn't cost you a thing?
I volunteered with
Flight Angels
to be a pet transporter volunteer of Satos (
street dogs in Puerto Rico
). The volunteer work is to transport rescue street animals from their shelter in Puerto Rico to a sister rehoming shelter in the mainland U.S.A. so they can be adopted into fur-ever homes!  It was fun, free and very rewarding.
What is Flight Angels?
Flight Angels is a volunteer program in Puerto Rico where travelers volunteer to transport a Sato (rescued street dog) to the the mainland United States so they can have the opportunity to be adopted. The traveler provides their flight to accompany and transport the dog, while the rescue shelter in Puerto Rico brings you the dog with their special carry-on luggage, its care amenities and pays the extra carryon fee.
Puerto Rico has over half a million stray dogs and one million cats. In the past, the Humane Society dealt with the population with euthanasia. But there are a handful of no kill animal shelters in Puerto Rico who work tirelessly to save abused, neglected and mistreated animals and find them homes in the United States where they have a second chance for a better life. Sometimes, the dog has been adopted and the owner is not able to fly to Puerto Rico to pick them up. Transporting these dogs on their own is not possible and that's where volunteer Flight Angels come in.
The 501 c organizations have a special deal with the airlines to transport their Satos at a state side cost, which costs less than you think.  But the dogs need to be checked in, accompanied and then deplaned to meet the rescue shelter that has either found them or will find them a home.
My experience of how Flight Angels works:
Flight Angels is incredibly easy for travelers to participate in, as they already have a flight to accompany and transport a rescue dog.
If your flight route has a destination where a partnering U.S. stateside sister rescue organization resides, Flight Angels will match you with a Puerto Rico rescue shelter with a dog that needs to fly out for rehoming, medical attention or adoption.
Knowing that I'd be in Puerto Rico, I signed up to be a volunteer with the
Flight Angels℠ Facebook Group.
One of the administrators Jada Adorno reached out regarding questions I had about the program and let me know that my flight route and layover time would work with the program. Not all routes work with this program as they have sister satellite shelters along the East Coast but they're still growing in the West.
With a flight from San Juan to JFK airport, I was matched with
Amigos de los Animales Puerto Rico,
a rescue shelter in Pinones who had two puppies that needed to be transported to Second Chance in New Jersey. Amigos de los Animales Puerto Rico is a 501c federal organization which currently has 39 rescued dogs which are housed at the home of the founder Adrienne Lastra, which has the fortune to be located near the beach. Ruby, a twenty-something veteranarian student in Puerto Rico is Lastra's right hand who helps manage and run the shelter, its volunteer program and internship programs.
Note: Incidentally, Amigos de los Animales Puerto Rico has a volunteer dog walking days, where you can walk their dogs along the oceanside, to a beach where they can go swimming! 
On the day of my flight, Ruby met me at the airport at 5:30 a.m. with two puppies – Tulip and Timmy. They were chihauhau mixes- a brother and sister from a new litter. The litter was being transported and they're still looking a flight for the mother. Whether old or young, one-eyed or handicapped, no dog gets left behind.
Tulip and Timmy were in a soft carry-on case and as cute as all hell. They smelled of puppy breath and they'd make your heart melt!
The carry-on case came with a travel amenities for the dogs, which included money for the animal luggage fees, information about the dogs, puppy pads, leashes, wet wipes & food. These rescue dog shelters think of everything to ensure a smooth flight for both the dogs and the volunteers!
I arrived at the Delta check in counter and there was an issue with ticketing my flight. Honolulu was my end destination and they have strict regulations on animals entering the Hawaiian islands– you need papers, bloodwork or the dogs are met by an officer that takes them off to quarantine for a month. Luckily, I gave myself ample time so I could check in comfortably and take the pups to relieve themselves at one of the airport dog stations. I did not want to be running to the gate like I've done in the past.
Even though I was only transporting the pups to New York (JFK airport), the system automatically had a restriction on animal transportation. The Delta counter agents went to work to deactivate the restriction understanding what my mission was in helping save Puerto Rican rescue dogs. At one point there were four of them trying to figure out how work around the system restrictions, while Ruby awaited my text that all was clear.
Finally, the ticket agents were able to open the flight to me and my little Satos to issue us a flight ticket.  They showed real heart and compassion to the mission at hand.
What happens after you are issued your flight ticket?
You will need to pay the fees at the checkin counter. The dog shelter will pay for it.
I had to remove the dog from their carrying case to pass through TSA detectors and accompany the dog onto the flight. As I had two pups, and struggled a bit to get them out, a kind male passenger behind me volunteered to help me handle the pups. I could see his heart melt when he picked up Timmy to help me.
In-flight, the dogs flew below my seat.  The dogs get walked beforehand so they don't have to poop/pee. Although Tulip woke up and got scared and wanted to come out of her kennel and eventually, Timmy felt awoke missing Tulip and had to pee. I asked my neighbor if she wouldn't mind holding Timmy and she was more than happy to.
This was my first time flying with a dog, but I had an idea to put the puppy pad on my lap before hand, so if they had to pee, they could. I'm grateful I thought of that becauseTimmy made a flood (and he was sitting on a passenger's lap! ) We were grateful for the enclosed wet wipes!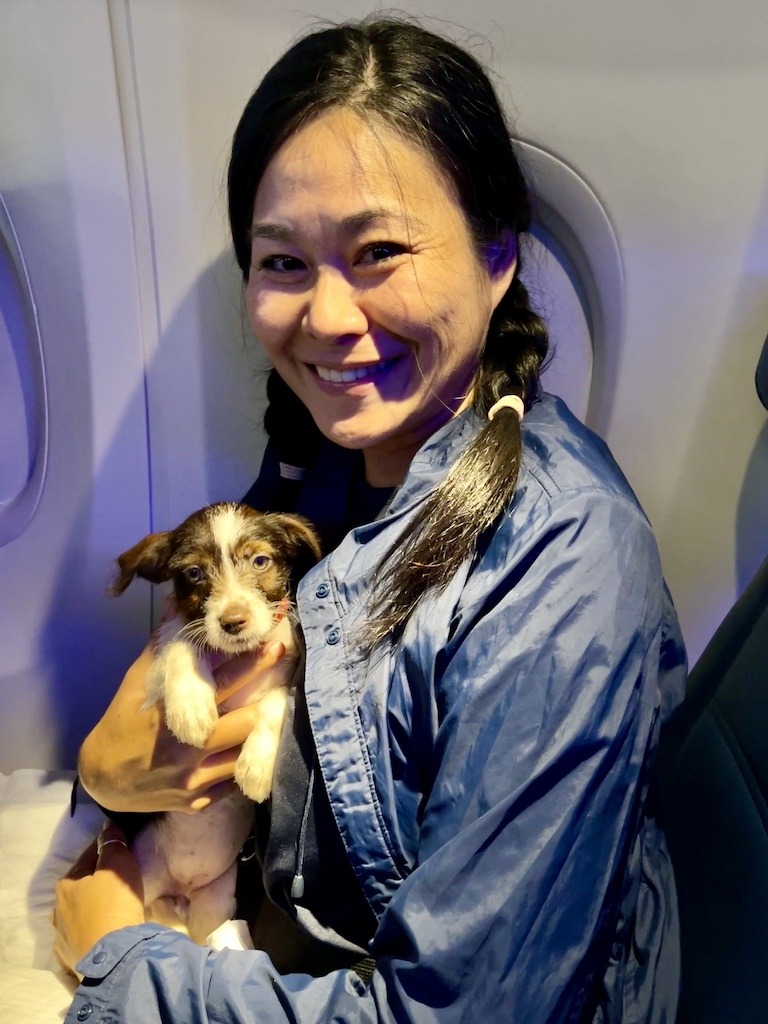 Meeting the sister company
When I reached JFK airport, I went to arrivals and met Grace of
Second Chance Animal Rescue of Levittown, New York (SCARNY),
a 501(c)(3) non-profit organization. They were the receiving sister rescue shelter in New Jersey. If the dogs need rehoming or more extensive treatment, Second Chance follows up with the process of caring for these Satos and finding them homes.
After saying a sad goodbye to my two traveling fur babies, I went back to my gate, breezed past TSA and continued onward to my final destination in Honolulu.

Should you be a Flight Angel volunteer?
Volunteering to be a Flight Angel gave my flight much more purpose and enjoyment. Knowing I was helping to make a difference and give a street dog a second chance at fur-ever home felt rewarding. Fellow travelers were super glad to help me and it was fun for them too!
If you have a two hour window layover, then it should be enough time to drop off the dog with their receiving volunteer. The Flight Angels will let you know if they can use your route and if your layover time is enough to perform the task.
Tulip and Timmy have taken their first flight and it honestly took a village to get them there. I'd happily volunteer to do this again and highly recommend it to anyone who is interested!
How to Join Flight Angels?
Visit the
Flight Angels website
to contact or learn about them. I joined the
Flight Angels℠ Facebook Group
also, where you'll see organizations reaching out to see if anyone has a flight to their destination because a dog has been adopted, etc… You'll also see photos of other Flight Angel volunteers who have successfully transported a dog over to stateside.
 If you wish to volunteer, please contact Flight Angels through their website Contact Form.
This is to ensure you get the correct person. The Facebook group is filled with random folks who are either volunteers or looking for animal transporting assistance of some nature. Some are normal people with pets, looking for help but they are not with the Flight Angels organization.
Going through the website is for safety as there have been folks in the group who were not legit and although the organization tries to weed them out, they can come back as a new profile.  Flight Angels will never ask for money.
The woman who will work with you is Jada A. She'll ask that you send your flight itinerary information so they can match you and they'll take care of the rest. They may not have sister organizations located in some of the cities you have a flight to, but if they can use your flight, they will certainly let you know.  Jada will connect you with a rescue organization with a dog and you'll be notified of the sister organization who will meet you at the airport to pick up the dog.  That's it.
Have fun volunteering!
What you can do to aid animal rescue organizations?
Donate: Many of these animal rescue shelters are non-profit organizations existing off donations, Amazon wishlists and alternate ways to gain an income via education programs. Puerto Rico has a good handful of animal rescue shelters that save Satos (dogs and cats). Please follow the organizations in this post and know there are more.
Donate goods: Send dog food, blankets, crates, leashes and dog bowls. You can email your rescue org and ask what more they need in tools to do their jobs. Some have Amazon wishlists but at any point, Amazon can discontinue their wishlist service as they did their Amazon Smile program.
Volunteer: Each organization has their own volunteer programs. Some offer short term programs, while others can only use longer term volunteers. Please research the country you're visiting such as "animal rescue + volunteers + (name of city /country)".
Share: Please share this post on Facebook, Instagram, Pinterest and share the posts of animal rescue organizations you follow. Spread the love!
Follow and Engage:  It's no longer enough to just follow your favorite organization.  Engaging them with likes, comments and shares is vital too. It helps their algorithm so their posts reach more people. I know this because I work hard at social media and beating the algorithm too. These organizations work very hard at their social media as a way to encourage more donations.Some know how to use it well, while others just get by.
Speak for them: Animals do not have a voice so others must speak for them. Tell friends and family about how important animal rescues are important to you. Encourage others to adopt and not shop. A rescued animal will be 10x more grateful for their second chance at a loving home!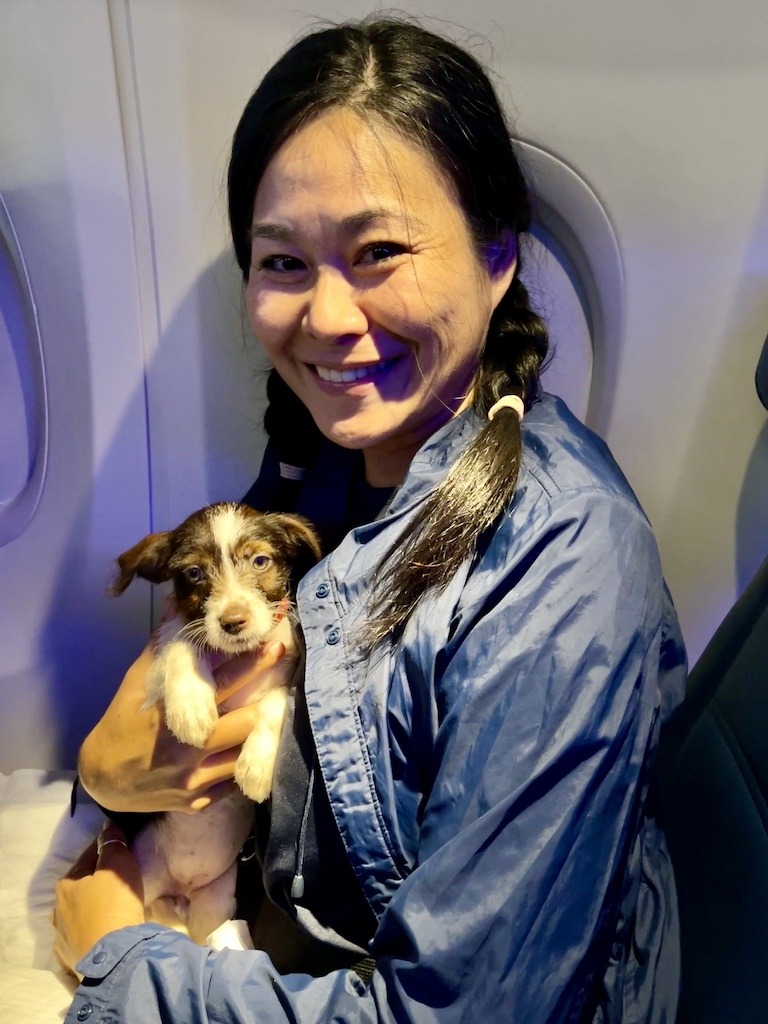 Top Recommended reef-safe sunscreen:
Pin this post and spread the love to help Satos!