Last Updated on June 28, 2019 by Christine Kaaloa
 Not many travelers know that you can take a safari in Nepal.
The truth is, Nepal's Chitwan National Park,otherwise known as "The Heart of the Jungle", is a major World Heritage UNESCO park with a wicked assortment of wildlife and endangered species.  If Chitwan isn't on your bucket list for Nepal, it should be.
Read: Things to Know before you go to Nepal
A Guide to Chitwan National Park
Chitwan Park spans 932 sq kilometers of grasslands, lowlands, wetlands and river and is home to 600 species of birds and 68 mammals (including the endangered royal Bengal tiger, sloth bears, langur monkeys and one-horned rhinoceros) .
HIstorically, Chitwan National Park was once a gaming resort for the royal families. But in 1973, the park became a conservation park, preserving and protecting endangered wildlife and in 1983 it became a World Heritage UNESCO site.
The park is patrolled by the Nepali army but the Tharu ethnic minority has many villages around the park. They are its silent guardians, helping protect and maintain it. Many are employed through the resident lodges.
The Tharu are an indigenous ethnic culture often found in the lowlands of Nepal and India. You'll find many village communities in Chitwan. They farm the land and are the unofficial guardians of Chitwan park. They are known as people of the forest and each village has a chief to govern it. They influence the communities there greatly.
Best time to visit Chitwan
3.5 months of the year (around  Mid July to October), the park is closed due to monsoon season, with the exception of walking tours.
October to December are said to be the best times if you're hoping to see tigers. June to September, it's said to be the hottest and most humid due to monsoon season. November-April and March are dry seasons, which are said to be best climate for comfortable traveling.
The Chitwan National Park safari experience
Booking Chitwan National Park safaris
There are several lodges in Chitwan, with comfortable access to Chitwan National Park and most offer all-inclusive safari options, from safari drives, walking safaris, boating safaris and elephant safari.  Most lodges in Chitwan will arrange your stay, activities, pickups/drop-offs and the package will be inclusive of park permits.  Generally, the lodges have their own safari operations.  For instance, my resort lodge had two resident elephants for their safaris.
You can also arrange your own tour by staying in Sauraha (the village town located outside of but next to Chitwan). It is the main tourist town with over 70 accommodations for all budgets.  The town is walkable on foot and motorized vehicles are not allowed.  The roads are dirt and not paved. But the town is stocked with basic traveler needs and trekking tours. If you're planning an independent trip to Chitwan, you'll be wanting to pick up your safari tours here as they're likely to have the best prices.
More information on planning your independent trip itinerary, visit my friend Dave's site. Having lived there for years, he's very knowledgeable about Nepal.

What can you expect on a safari drive?
Chitwan has a belief that the elephant rides help sustain the park for tourism.  I avoid elephant attractions in general. There's been many studies on why it's we shouldn't ride elephants . Personally, the reason I adore national wildlife parks like Chitwan is because I want to appreciate wildlife and endangered species in their protected natural habitat.  I simply ask that before you hop onto an animal as a fun vehicle, you think about the harm being done to an animal or read the article I linked to above.  There are other safari alternatives are equally fun.
I opted for a jeep safari and a twilight boat safari on the Rapti river. My jeep safari lasted around 3-4 hours and we drove around the park, Sal forest and places where the wild are known to be at, such as watering holes.  Our jeep was a multi rise Tata jeep with 4 levels so that we could all have a clear view. A clear view is essential if you wish to photograph or film animals in the wild.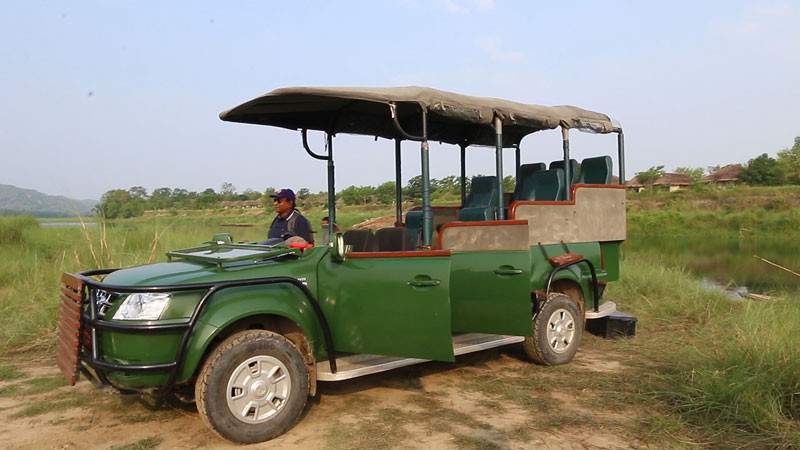 Although spotting the Bengali tiger can feel rare, the one-horned rhinoceros seems to make casual appearances, cooling themselves in the river or lounging under the shade of trees as if resting from a hangover.  The rhinos are slow to move in their weight and armor, but I we were told they can charge quickly if provoked. There was a level of uncertainty in the air adding to the hushed suspense of watching what they would do.
Patches of spotted deer scampered through the forests, while boars skittishly appeared one moment and scurried away the next. You have to be quick with your camera. I threw on my long zoom lens and prepared my pocket video camera on my lap.  We spotted a grey langur, a monkey characterized by its brey grandfather hair and beard (it's an endangered species).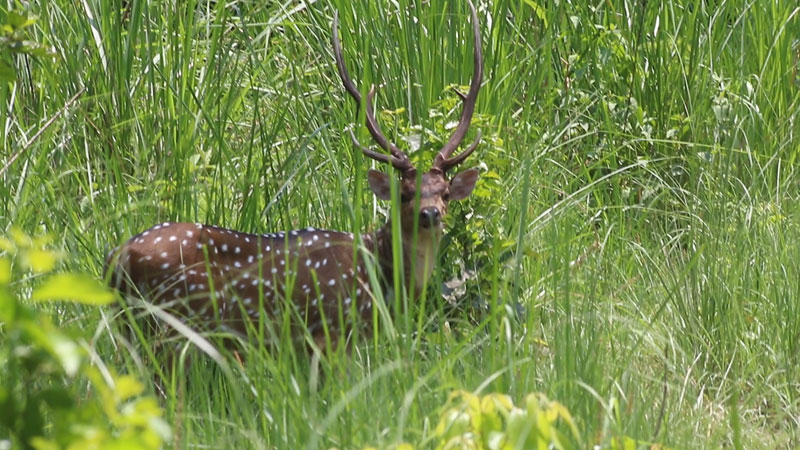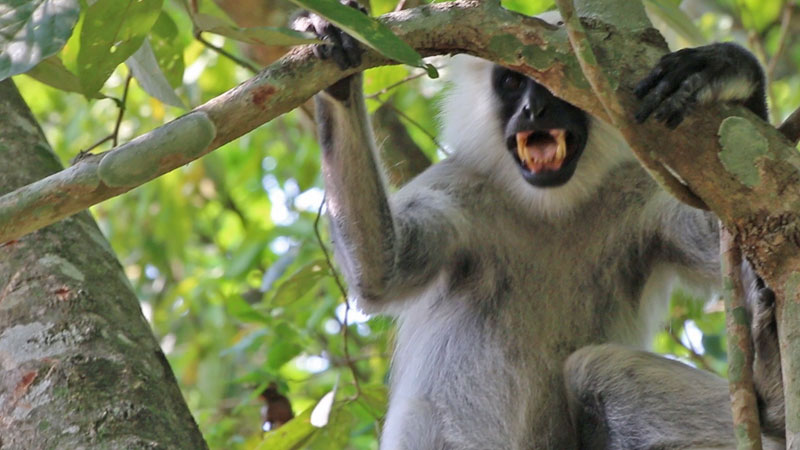 For breakfast, we stopped at a clearing next to a river where elephants were thrashing about in play. Our guides set up a picnic on the hood of the jeep, with kati rolls, soft drinks, desserts. This elevated my experience of "breakfast in the jungle."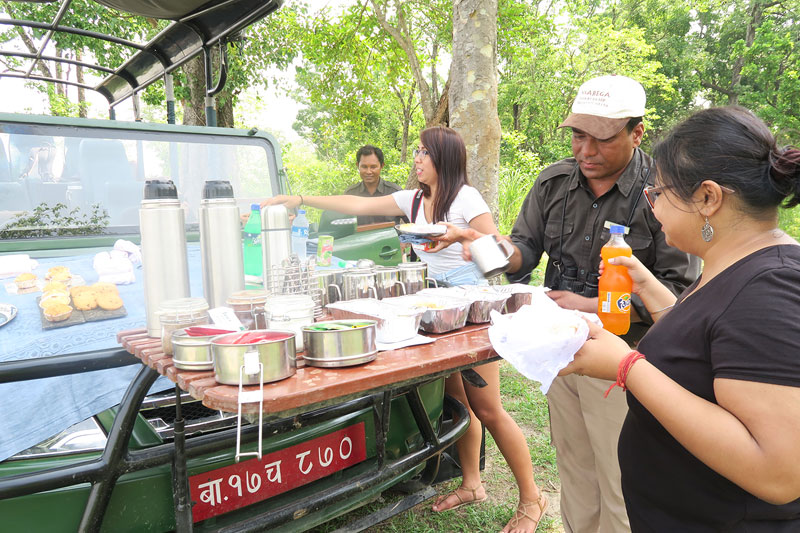 Twilight boat safari on the Rapti river
A canoe safari up the Rapti River at twighlight is calming.  Our guide Pradip,  wisely arranged for a twilight river cruise on the Rapti River to spot more wildlife present on the river banks at that time – mostly rhinos lounging, egrets, eagles and the occasional crocodile sleeping on the riverbanks. It drizzled a bit, but our guides were prepared with rain ponchos.
Boat safaris don't feel as active as jeep safaris. Spotting wildlife is a little more hit-or-miss as often you're looking for anything above water and your boatsman wouldn't be able to get to it as quickly as you can in a jeep. If anything, it's wonderful for a relaxing river cruise to a resting spot where you'll have a quick picnic before returning.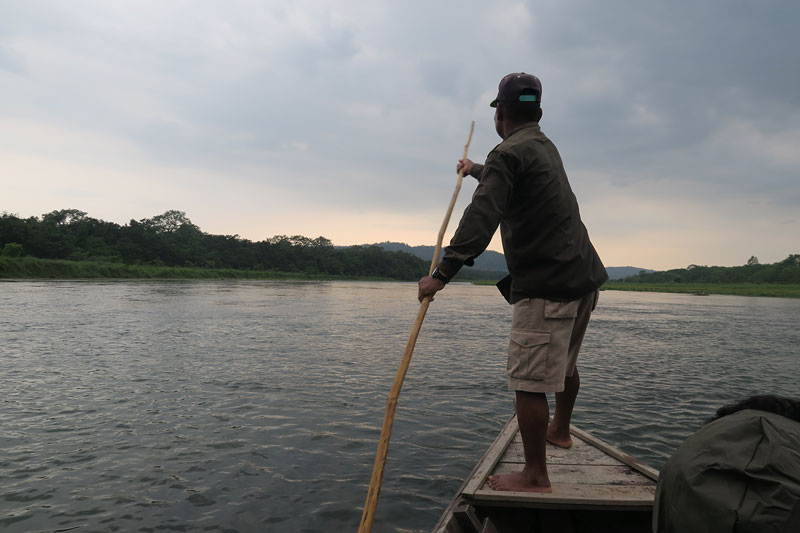 Safari tips for Chitwan National Park
Chitwan can be a little different from other regions of Nepal as it can be a little more humid. A long time ago, they had a malaria outbreak and though it's fine now, you still may want to consider mosquito repellent or wear long sleeves and pants during your safari or at night.  My lodge had us covered with all the basics down to mosquito repellent cream in our rooms, so there wasn't anything I felt I was lacking as a traveler.  But I'll share some of what you should consider here:
Around the animals you'll want to be quiet so as not to scare them off.
When photographing animals on a safari, if you have a good safari guide, he'll try to maneuver around for the best viewing angle. Often, he'll wait to see how to animal behaves or responds. But you still have to be quick to some degree when photographing it. Some animals are skittish or can't be bothred with posing. They've got a life to live too!
You'll likely have a guide and a spotter, an assistant guide that keeps a second eye out for animals. In my case, our spotter was a Tharu guide; they're said to know the jungle well.
Bring a torch or flashlight for night
Mosquito repellent
Long pants and a light long sleeve shirt for mosquito and sun protection. I wore a light long sleeved shirt over my tank top and I'm glad I did. Although I had sunscreen on, I could feel the midday sun go through my shirt.
Wear neutral colors.
Sunscreen and a sun hat (it gets hot by midday)
Binoculars (luckily I have a zoom lens and it gets up pretty close)
A camera or video camera to capture memories of your safari. It's an incredible experience!
Where to Stay in Chitwan
There's several types of accommodations options from resort safari lodges in Chitwan which border Chitwan National Park to budget accommodations and 3-4 star hotels in Sauraha. Sauraha is a small village town which is a hub for many travelers, with accommodations ranging from budget to 3-4 star hotels and Tharu-influenced eco-hotels with mud buildings.
Meghauli Serai Taj Safari Lodge (Read my review)
Evergreen EcoLodge – Unique raised bungalow rooms
Tharu Community Homestay- Part of Community Homestay, the same organization I did my Panauti Homestay with, you can stay with a local Tharu family to understand their lifestyle and culture.
Getting to Chitwan National Park
Chitwan National Park is a  five hour drive from Kathmandu. (you can read about my roadtrip tips)
Bus- There are regular tourist buses which shuttle to and from Kathmandu (Kantipath Road, near the Garden of Dreams in Thamel)  to Sauraha at 7:00am. Suaraha is the main hub and transportation town, located right next to Chitwan. It has a lot of accommodations if you weren't booked to stay at a lodge in Chitwan.
Flights – The nearest airport to Chitwan is Bharatpur Airport, 30 minutes from Sauraha, 45 minutes from Meghauli Serai. If you're staying at a lodge in Chitwan, it's likely they'll pick you up.
Travel Essentials for Chitwan
Recommended Essentials for Chitwan.  Click to Shop.
Information
To find out more information about Chitwan National Park, check out their website here for more details.
---
If you enjoyed this post, pin it to Pinterest and share it on your board
---
Disclosure – I was a guest staying at Meghauli Serai Taj Safaris which was arranged by PATA and the Himalayan Travel Mart. All thoughts and opinions are completely my own in this post and experience.
Related Posts
Eating Kathmandu: Backstreet Academy Tours
Panauti Community Homestay
Bhaktapur Travel Guide
Guide to Lumbini
Things to Do in Kathmandu