Last Updated on June 28, 2019 by Christine Kaaloa
We came from a hot and long, uncomfortably bouncy twelve hour bus ride from Panauti and my heavenly Nepali homestay. Our rest stops entailed squat toilets… Now we were dropped at the side of a dusty road in Sauraha, a small touristy town outside of Chitwan National Park.  A sleek jeep sedan drove up, doors swung open and I could feel the fresh gush of air conditioning.
Two other bloggers and I jumped in.  Boodi, a Tharu safari guide arose from the seat behind us, and popped open an ice cooler— "Soft drinks? 7up? Coke? Water?"  Our hotel was still a mystery. 
"What hotel are we going to?" Snigda, an Indian blogger  asked.  Most of the days, the hotels we stayed at felt like a roulette wheel. We were being split in either, groups or pairs and none of us knew what lay in store for us.
Meghauli Serai Taj Safaris. Boodi responded.
The "Taj"-Taj or just the Taj?" Snigda snarkishly responded.
I knew what she was referring to in the Taj chain of luxury hotels, resorts and safari lodges across India (and internationally). The Taj brand is famed for it's popularity with Indian celebrities, affluent travelers and those looking for a posh experience and its name carries the air of royalty.  Boodi concurred her guess. The excitement in the air was palpable.  I wish I could've been cool about it, but at that moment,  It felt like I was just chosen by God. Coupled with the idea of doing a safari  in Chitwan National Park -another travel bucket list of mine- I felt like I had just bowled a strike.
Location: Meghauli Serai,  Chitwan National Park
As a World Heritiage UNESCO site, known for its wildlife of one-horned rhinos, langurs, tigers and elephants, Chitwan National Park is huge. They have several districts, village towns and safari lodges sprinkled throughout. No resort lodge is allowed to operate inside the park itself. My lodge was on the cusp of the park. I stayed in the Meghauli Serai area of Chitwan, located next to the Rapti River, a mere boat ride away. Other bloggers were split into different locations at other lodges.
Meghauli Serai Taj Safari Lodge
Meghauli Serai is the Taj Safaris' first luxury safari resort lodge in Nepal and experiencing the grandeur of a top resort in Chitwan National Park was not something I expected. Meghauli Serai owns ten acres of land  and the Chitwan National Park is located across the River Rapti. It's close vicinity to the park, the wildlife and river makes you feel more connected with Chitwan. It's like sleeping up-close to the park.
I've stayed at luxury resort hotels before (especially when I lived in New York and traveled for TV work), but a stay at a Taj hotel for an official safari experience (see my unofficial safari here) was a bucket list I assumed I'd likely never experience. I'm not sure why. Probably because when I travel for myself or my blog, I'm traveling for months versus days and I always think a resort lodge in the Taj brand  will cost astronomically more than a Hilton or Sheraton. Surprisingly, in Nepal, this isn't the case.
For travelers to Nepal,  the cost of a night at a luxury safari resort in Chitwan, like everywhere in Nepal, seems to fluctuate by season. This is an ideal place for everyone-  families, soloists and friends.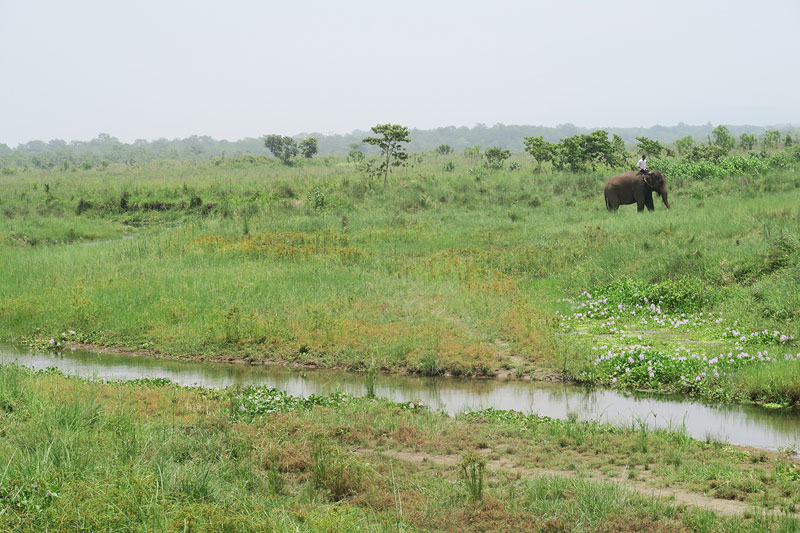 Hotel Service
Where do I even begin with the Meghauli Serai hospitality service? Should I start from my pickup truck having ice cold beverages or the singing welcome or being met with cold compresses and drinks from the boat pier after returning from our safari?  While many hotels focus on facilities or in-room design as show stoppers the Meghauli Serai Taj Safari Lodge also focuses on impeccable service. Such that I actually felt like I was at a hotel I might see in the movie.  If this was a dream, I didn't want to wake up.
At the Meghauli Serai,  attentive staff service is what stands out as exceptional.  Meghauli Serai straddles that thin line between a personalized experience and well-oiled ghost staffing. The staff supports your needs and pampering, as if you were royalty,  but they go about it so silently, you'd hardly notice they were there. For instance, my wait staff knew I had a vegetarian diet without my mentioning it. I'm not even sure where I told anyone I was vegetarian, but it passed through the ghost grapevine. When amongst a party, the meats dishes would sail right by me and I would get a vegetarian dish without asking for it. Little personal touches like that, where you might not even notice.
My Rapti Villa
My accommodations were spacious and air conditioned, which feels like a luxury in the humid Chitwan heat. The Rapti Villas face the Rapti River. I awoke to the image of walking elephants by the river! The villas are a bungalow with private jacuzzi. Canopy bed with a king sized mattress, I swear I could fit five people on it. I tried my best to sprawl as wide as I could.
The room  and villa design mixes sophistication with light Nepali and Tharu influences, so your experiences still feel connected to the surrounding culture. Walls of the room are decorated by a local muralist who hand-painted each room.
For an experiential tour of my villa and the resort grounds, watch my video and the bottom of this post.
The most impressive aspect of my villa was that I had three bathing options ~ Victorian tub, indoor shower and outdoor shower with a rainfall shower head. With so many ways to bathe, you really have no excuse to be dirty.   I had to try the outdoor shower.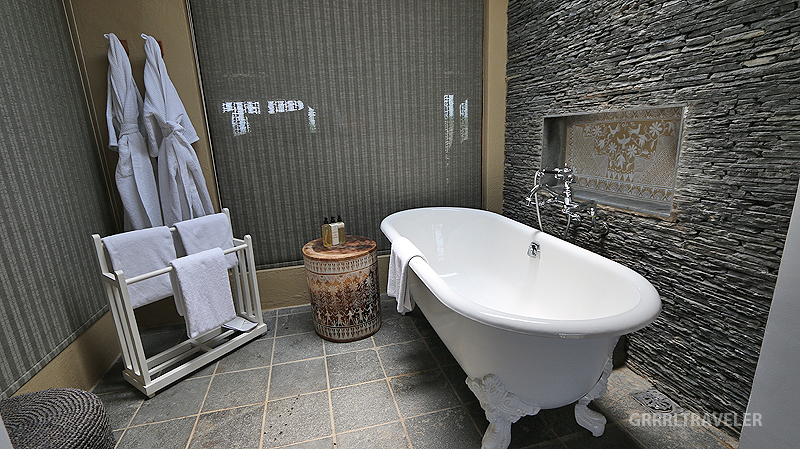 Safaris in Chitwan National Park and more
Chitwan has a belief that the elephant rides help sustain the park for tourism. Along with some other bloggers, I avoided elephant attractions in general. There's been many studies on why it's we shouldn't ride elephants . Personally, the reason I adore national wildlife parks like Chitwan is because I want to appreciate wildlife and endangered species in their protected natural habitat.  Thankfully, my resort lodge had more options than just elephant safaris.
The night I arrived, we were given a Chitwan slide projector orientation by Pradip, a trained naturalist and safari guide, who told us what we could expect on the safari drive.  Meghauli Serai offers several safari options for guests from safari drives, walking safaris, boating safaris and yes, elephant safaris. They do custom safari packages too. I did the morning jeep safari drive (see my video below) and a twilight boat cruise on the Rapti river. I wanted to pack my day in activities to see what each service offered.
The following day we were off to the boat dock, where a canoe awaited us with its boatsmen. We needed to cross the river into Chitwan National Park in order to meet up with our Tata jeep . The jeep itself was comfortable with enough viewing space so everyone had a room to photograph and see things.
We started early but ended a little after noon and saw so many animals from one-horned rhinos, deer, wild boar, the grey langur monkey which is characterized by its grandfather hair and beard (it's an endangered species), peacocks and bathing elephants. Finally we had a jeep safari picnic with a cute table spread on the hood of the hood of the jeep, with kati rolls, soft drinks, desserts. The spread elevated my experience of "breakfast in the jungle."  I felt like I was in a scene from Out of Africa.
If you had to choose, because you'll be paying for the safari packages you choose, definitely do the jeep safari (so worth it!!!!). You see a lot and cover a lot of ground- moreso than you would on foot. As for the river safari, the river was calm that day, so the most we saw was birds on the boat cruise.
Please read my Chitwan National Park Safari post for more on this experience (coming soon)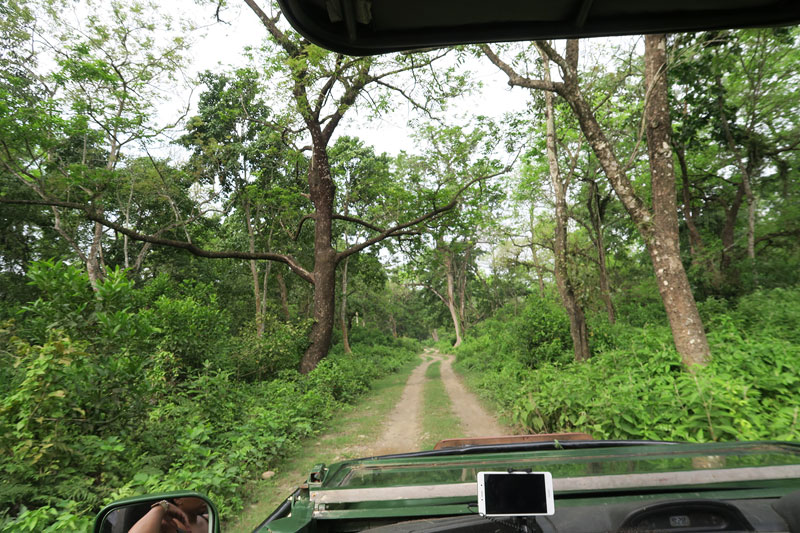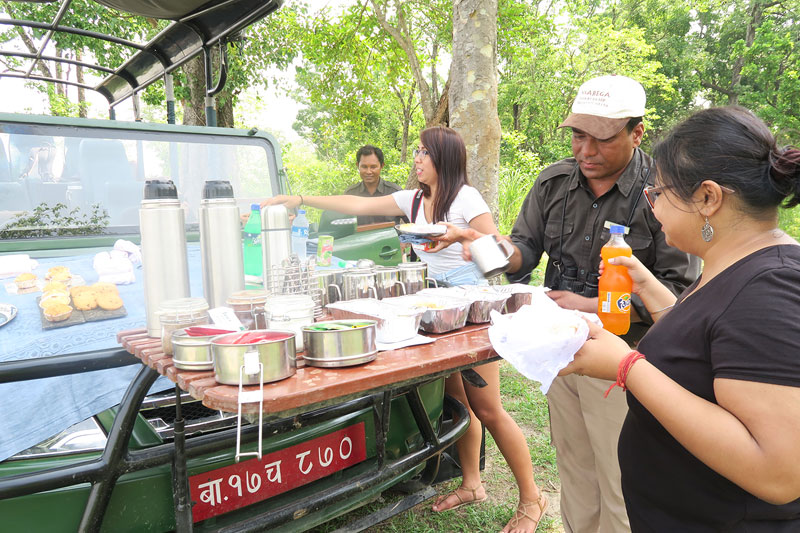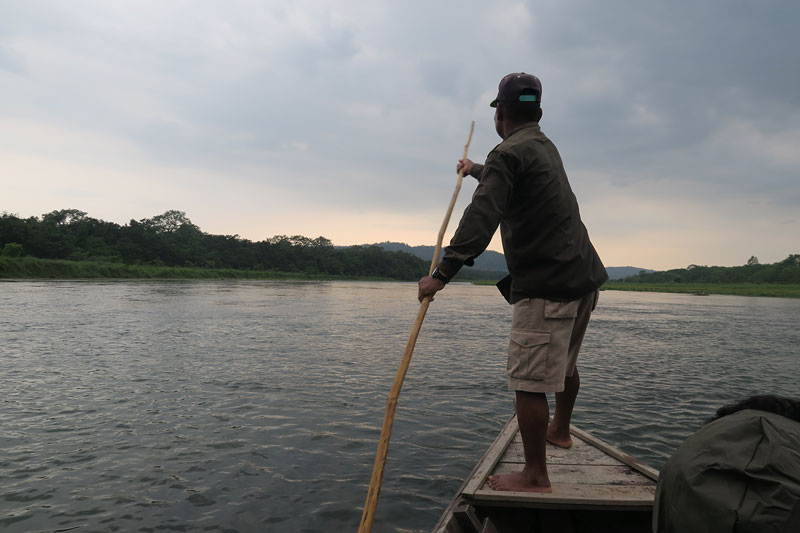 Dining & a Tharu village performance
The cuisine at Meghauli Serai was delicious. Definitely in the cuisine department. The artistry transformed seemingly simple foods into a complex palate of wonderful flavors. Vegetable momos on the whole aren't know for being hugely flavorful (often they can be a little on the bland side). But here, they almost felt like a masterpiece; one of the best momos I've had.
Our first night we had dinner outside by candlelight, with the chef cooking on an outdoor grill.  I couldn't film anything it was so dark. It was ideal for romance, bad for YouTube, but that turned out to be good as it forced me to take a rest.  The second night we had dinner at a nearby resident Tharu village with a Tharu dance performance.
The Tharu are an indigenous ethnic culture often found in the lowlands of Nepal and India. You'll find many village communities in Chitwan. They farm the land and are the unofficial guardians of Chitwan park. They are known as people of the forest and each village has a chief to govern it. They influence the communities there greatly.d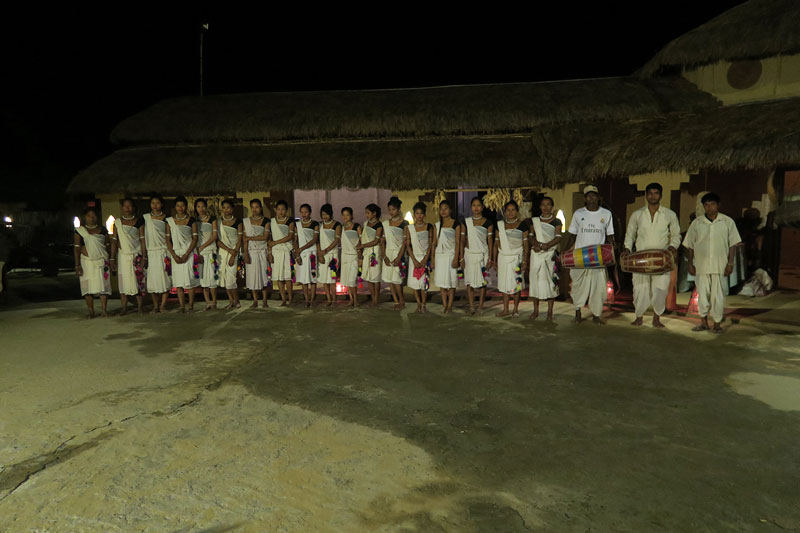 Conclusion
If you watch any of the three videos from my stay, the Meghauli Serai experience sells itself. From my room and the safaris I took, you'll see all sorts of wonderful going on and I'm just sitting back letting it all happen to me as I film it. From arrival to departure each one of the bloggers with me were blown away.  With all the variety I've experienced in Nepal, it was one of the top highlights of my trip.
As I see it, most travelers will only get to experience a safari in Chitwan National Park once in a lifetime. More if we're lucky. This lodge is for those who want to feel connected to the nature and wildlife of Chitwan, while also enjoying the comforts of a pampered safari stay.  If you have the chance, it's certainly worth the splurge.
Getting to Meghauli Serai Taj Safaris Lodge
There's regular flights from Kathmandu to Bharatpur Airport, which is 45 minutes from Meghauli Serai. There's also regular 7:00am buses from Kathmandu, Kantipath to Sauraha, a village hub for travelers wanting to visit Chitwan National Park.  Taj Safaris will do pickups and drop-offs for guests.
Hotel Information
Meghauli Serai can arrange for any logistics to the park via air, bus or personal driver. They create different tour packages based on different activities.  To find out more information about Chitwan National Park, check out their website here.
Meghauli Serai Taj Safaris Lodge (website) . You can book on Agoda.com
Address: Chhusya Galli, Jyatha, Thamel, Kathmandu, Nepal
Watch my experiential version of this stay at the Meghauli Serai Taj Safaris Lodge
Watch the Chitwan safari at Meghauli Serai
---
Enjoy this post? Pin it to Pinterest
Remember to make Meghauli Serai Taj Safaris Lodge your oasis at Chitwan.
---
---
Disclosure – I was a guest staying at Meghauli Serai Taj Safaris which was arranged by PATA Nepal. All thoughts and opinions are completely my own.  This post also contains affiliate links to travel partners I use. It is at no additional cost to you and by clicking on them and purchasing something, you will help support my site's work.  
Related Posts
Things to Know Before Traveling Nepal
Reasons You'll Love Kathmandu
Swayambhunath Stupa: A Monkey Temple in Kathmandu
Bhaktapur: The Wooden City of Nepal
Trekking Nepal – Bhaktapur, Changhu Narayan, Nagarkot
Looking for travel insurance?
American travelers often pay a premium on travel insurance.  World Nomads offers economic solutions for travelers who seek security and peace of mind.  It covers 150 countries.