Last Updated on November 29, 2019 by Christine Kaaloa

Borneo Wetlands Tour : Kuching Wetlands National Park | Sarawak, Malaysia
Kuching Wetlands National Park was a 30 minute drive outside of Kuching city center. At 6,610 hectares of wetlands it was a habitat for locals and wildlife native to Sarawak.
It was late afternoon when we started at the Telaga Ai Jetty. A quick stop for a refreshing coconut ice cream shake at anearby cafe  and we set off, cruising down the river. Village houses dotted the inlet of one of the shores.  The waters were known to hold saltwater crocs, yet locals swim in the waters.
Mangrove Trekking in  Kuching Wetlands National Park
Our boat dropped us off at the shores of a beach of Kuching Wetlands National Park. My guide and Sarawak cooking teacher, Joseph, brought out rubber boots for me. It made trudging through the high weeds and brush easier, as shrubs were tall and mosquitoes lightly buzzed around. Earlier on, Joseph prepared me by telling me I should wear long pants (my Northface convertible pants
 were seriously getting a lot of good usage on this journey) and a long-sleeved shirt.  You might see anything from proboscis monkeys, silver leaf monkeys, birds and squirrels. That day many animals were hidden; Joseph showed me other things in the forest. He pointed out plants that he and villagers might use for survival or practical needs. He showed me traces of resident animals, who made the wetlands their refuge and hunting ground.
Jungle Survival Cooking
Sunset approached and we stopped on a beach outside the village (near his boatman's house). It was dinner time and Joseph and his boatman created a fire for dinner. Joseph brought out a bamboo and used the hollow section to cook my vegetables. My bamboo cooked vegetables had a smoky flavor; the taste was simple but probable as to how villagers eat their foods. Joseph also brought me a salad and cheese sandwich and banana for extra sustenance.
My first river night safari
After dinner, came my favorite part–  a night safari on the river where we sought out nocturnal animals.  With nightfall all around us on the river, only the flashlights from Joseph and the boatman shone evidence beyond the black landscape. Joseph and his boatman drove around shining flashlights searching for any tiny lights reflecting back. The reflecting lights are signs of animals perched in the trees.  You have to be quick upon sighting them. This is the wild, not a tourist park.  Animals hide when they sense humans. We saw a handful of things from a kingfisher, slow lorus, a crocodile (!!!) and more.
Finally, we drove to an area to see fireflies, glowing and swarming in the dark like little floating Christmas tree lights.
It was a full safari adventure I'd gladly take again.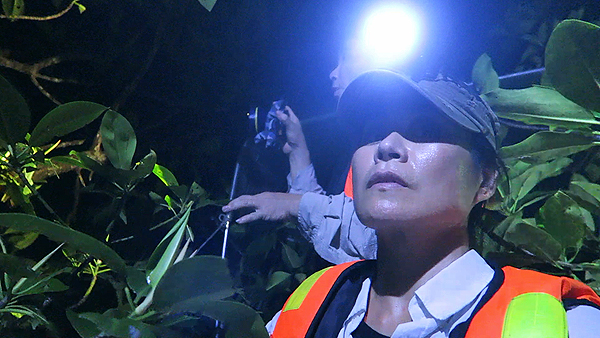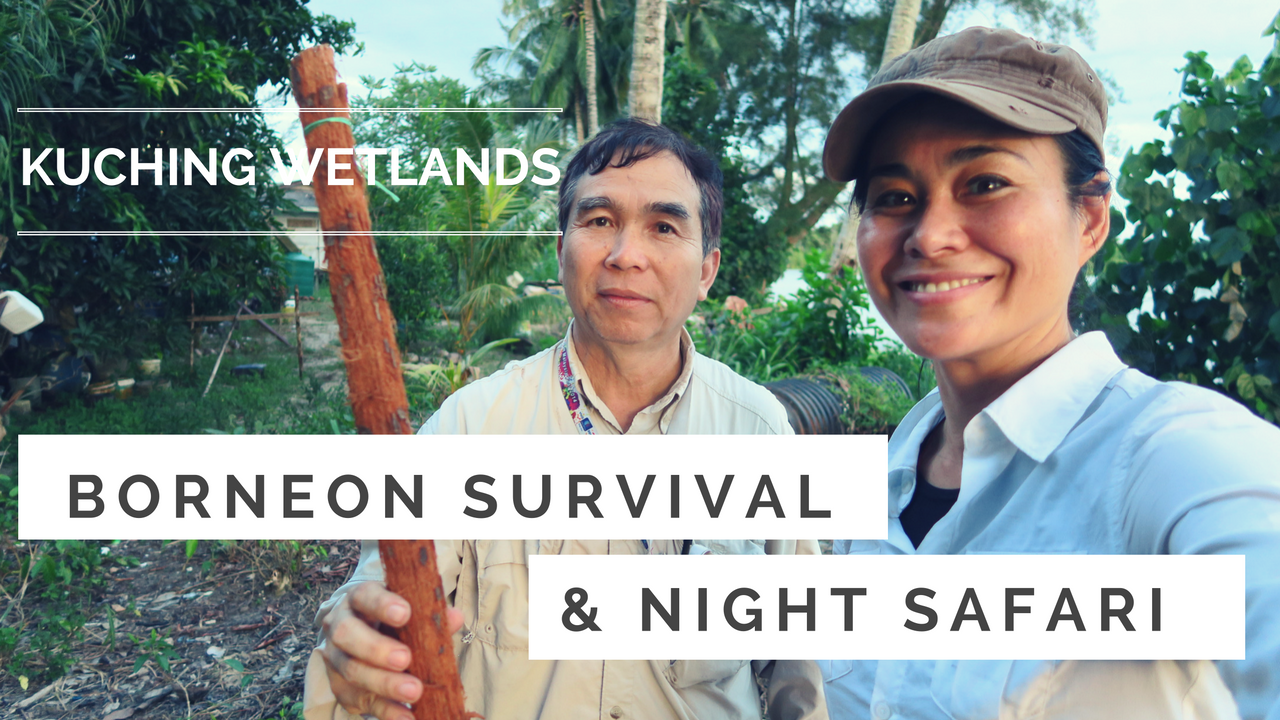 Information
 Adventure Cruise & Sunset Jungle Trekking
– With A Traditional Dinner Cooked By Chef
Bumbu cooking class  (Read my review)
*Note: trekking equipment will be provided (boots, headlamp, poncho etc…)

Looking for travel insurance?
American travelers often pay a premium on travel insurance.  World Nomads offers economic solutions for travelers who seek security and peace of mind.  It covers 150 countries.