Last Updated on January 27, 2018 by Christine Kaaloa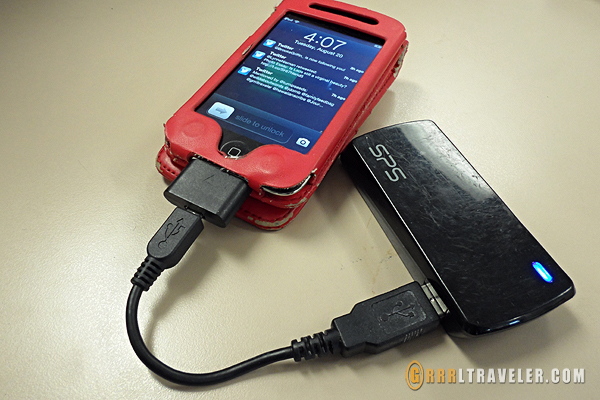 How many times have you kept your mp3 running the entire flight only to touch down in a country and realize you've got one bar left and it's dwindling quickly? Maybe you'll be away from a power source for days, don't have time to power your devices or perhaps you're staying in a hostel where outlets are shared by others.
In this wireless world, we just have more of a reliance on technology and social media in our lifestyles and that carries over to travel. Chances are when you travel you'll be carrying at least one to three of the following items: a smart device (phone), a DSLR (and/or pocket camera) and/or a laptop (or tablet, reader, etc..).
These days, I rely a lot on my iPodTouch as access flight timetables, hotel reservations, directions, subway maps,.. a lot of important things. To see my battery go down to a bar or hit red when I'm nowhere near an outlet or when I  have 1/4 a day left in sightseeing… is alarming.
So how do you keep charged on the road?  What travel gadgets do you use?
What's a mAh?
mAh is the battery's power capacity. Imagine a bank.  Each bank has a spending limit assigned to it and the larger the number, the more you can spend. That's how the mAh concept works. The larger the number, the more times you can withdraw from it.
When I bought my charger, I didn't really know what mAh to look for. I just saw that higher the mAh, the higher the cost and I wasn't ready to spend $50 on a backup external charger, nor did I want to load my bag with extra weight. So I got a chicken's worth of 1,800 mAh at around $22 USD.  It's enough to fully charge my pocket camera (that I use for shooting video) or iPod Touch about 1.5 times.  Not bad.
External battery chargers & keeping charged on the road
Personally, external battery chargers have been my new god-send in travel gadgets.  There are three types of external battery chargers on the market.
Electrically-charged USB charger
So far,  electrically-charged external battery chargers are my top choice.  I love my electrically-charged battery charger, such that I named mine, The Wookie (I like nick-naming my things).
As long as I can get to a computer or a wall outlet and leave it in for the duration of at least an hour, the result is consistent. Depending on the mAh of your charger, you'll have juice to recharge your device once or several times.  There's no extra batteries to carry around or buy and the entire set from charger to battery is minimal and light.
Con: The only foreseeable setback is if you're going camping for days.  If you've bought a charger with a high mAh capacity, you may be covered a few days. But if it is too low you may only get a one to a couple of charges out of it, before needing to find an outlet again.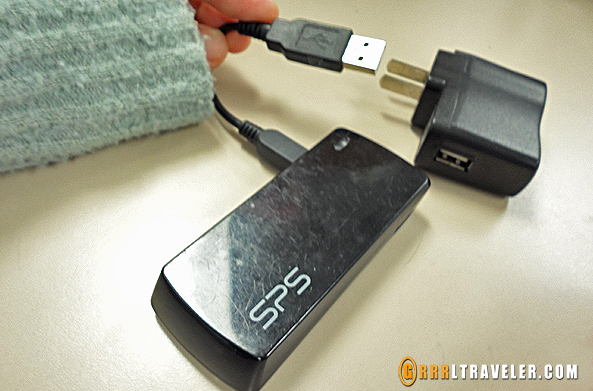 Some chargers can go up to as high as 15,000 mAh or higher. Of course, they'll be larger in size and weight. Check out Anker PowerCore 10000 mAh External Battery
 (it's one of the smallest and lightest external batteries). Price $24.
Battery operated external chargers
AAA battery-operated external chargers are another feasible option. They're consistent in charging, as well.
My Griffin Tune Juice charger comes in handy, when I don't have an outlet or if I'm  trekking in the woods for days on end. I got around 1-2 charges out of it for my iPod Touch.
However, batteries have gotten to be expensive in the U.S. ; not to mention, if you get a family pack of batteries (which is a recommended backup precaution) that obviously means extra weight in your bag. You could buy rechargeable AAA batteries to off-set the cost of buying batteries, but then your charger is an added weigh on top of batteries.
Con: A heavy choice and potentially, costly choice.
• Solar-operated charger
Solar-powered battery chargers claim to get it's charge from the sun and makes it seem like the ideal, cost-efficient charger. Seems is the operative word, so you'll be tempted to buy it.  I was tempted.
I tried a few brands and realized, the result is often inconsistent and the solar-powered aspect only carries 1/3 the power you'd expect for the amount of time it's spent in the sun. I've tried two keychain chargers and returned them both, within a week, putting them off forever. Then I got an Earth-Friendly Charger as  Christmas present and it wasn't returnable. My Earth-Friendly charger, supposedly, charged three ways: (1) direct sunlight *emphasis on direct, (2) cabled to the computer via USB, and (3)  plugged into an electrical outlet.
Initially, when I charged it via the computer the first couple of times, it charged well. But then, I took it on the road and put the solar-powered promise to the test. It was inconsistent. In direct sunlight, I could only charge my digital camera 1/4 the battery and if you know, that's not enough last even an hour of shooting.
I had to resort to my electrically charged charger. The only thing this has been good for is as a solar-charged flash light.
My next solar charger I quite like. It's a winner so far. Unfortunately, I've only ever known it to come with the SteriPEN Freedom Solar Bundle Box set. So you'd need to buy the box set and get a SteriPEN too, which is not a problem if you are traveling to a country where the drinking water is suspect.  Solar battery has 2,000maH and holds a good charge. You can charge both ways ~ sun and USB cable. Charging by the sun takes a while though (over an hour, so it's relatively slow) and you need direct sunlight. I've taken this traveling with me and it's lasted a few years now.  I like to leave it on my car dashboard and use it when I'm in a pinch.
If anyone has had a different experience, please tell me which brand you've used.
How do you keep charged when you travel? What are your favorite  external battery chargers?
Related Posts:
Ultimate Gift Guide for Travelers
Edifier MP100 Portable Travel Speaker
Why you need to use a VPN
21 Ways to Outsmart Pickpockets and Thieves
Note: This post contains affiliate links. I receive a small commission if you purchase anything from this site using this a link. This is at no additional cost to you and you would be supporting this site's work!