What is it like studying yoga in India?
Almost a year ago, I'd traveled to India. It was my second visit, but my first time exploring it through yoga.
At the time, I wrote some posts from a traveler's perspective, giving you a brief peek into what it was like staying at a yoga ashram and getting my yoga teacher's certification. When those articles came out, it inspired a small flood of personal emails from readers, who were interested in doing the same.
Here's part I of a two part series on Studying yoga in India.
 Why go to India to study yoga?
On the top of every bucket list of many yoga enthusiasts, there is one dream: pilgrimage to India to study yoga.
The reason is obvious. India is the birthplace of yoga, the source of OM. Many of us see it as a cradle nation, birthing guru upon guru, who in turn, spreads seeds of spiritual knowledge.  But studying in India, is more than just being tucked away in an ashram or yoga school, with a guru in front you, burning incense and chanting Sanskrit mantras as he leads you through down-dogs and sun salutations.
The biggest reason to study in India is cultural immersion
Studying in India is not always about experiencing 'juicy' asanas.
In India, you'll learn yoga the moment you step off the plane.
Everything in India enriches your learning and the education you'll get from India is invaluable. From the environment, daily lifestyle of Indians, traditions in puja rituals and chanting, to the food and the way you eat it… your learning of yoga is digested on an intuitive level. Everything informs your awakening to what yoga really is. Temples, statues of gods, devotional music streaming from temples at dawn,  incense smudging over the scent of urine,  the country is steeped in daily devotion to its deities. Watching Hindu worshippers praying on the riverbanks of the Ganges at sunrise, you'll understand the premise of a Sun Salutation. You drink bad water and catch a bout of Delhi Belly? Hey, you're working through pain and physical roadblocks… that's a guru too. In India, you'll have more gurus than one and what you'll learn in India is not always what you expect.
The second reason to study yoga in India is to learn the truth. ..
Three interesting and eye-opening truths about studying yoga in India (that you may not yet know):
People have questioned me about the challenges of studying in India… or whether taking a yoga teacher's training is better than in the U.S.? Well, I've never taking my yoga ttc in the U.S., so I can only share what I've experienced and leave the rest to you. But here's a few things that I learned there and that you might want to know.
1) The truth about 'getting your OM on'.  (aka What is yoga?)
If you look at Wikipedia's factoids on "Yoga", you'll wonder why you don't see asanas in each paragraph. Instead, you'll see keywords like : Sanskrit, Hindu philosophy, Bhagva Gita, Yoga Sutras of Patanjali… Where is the "yoga" that you know
Well, yoga in India is vastly different from yoga in the West.  Western culture puts a heavy commercial spin on things. It's built yoga into a 1 1/2 hour gym membership, where we can practice our flexibility, torch our calories and say a couple of OMs to feel like we've become deeply enlightened beings.
Going through my yoga ttc, my teacher Lalit, told us the truth about yoga.  The real practice of yoga isn't about twisting the body into a pretzel, the asana (aka postures) or stretching.   For rishis and yogis in India, the focus is spiritual attainment. Not physical performance. The goal of yoga is to transcend the body through practicing meditation, studying spiritual texts, chanting kirtan and satsang, etc..  Asana practice is *one* of the limbs of yoga, but not the entire tree!
 In a way, the real body of yoga works occurs from the neck up…  following a spiritual path.
 Asana is used not to discipline the body, but tame the mind. The physical sport that many of us believe is yoga asana, is considered as a kind of "stretching" to yogis. Asanas originally evolved as a form of exercise for yogis so that the body wouldn't go limp or the muscles atrophy from all the sitting they do. Asana is used not to discipline the body, but to tame the mind.
 Did I just kill the yoga Santa Claus for some of you?

2) You'll spend a lot of time meditating and chanting.
Ever wonder how you'd fare as an Indian yogi? In India, I realized that although I had a meditation practice beforehand, I was horrible at meditating in the wee morning (around 6AM) and for anything longer than 20 minutes. Okay, my practice was wimpy until then. Also, there were times I both, loved and hated chanting.
Is it possible to get sick of doing all this day-in-day-out?
If you've never done these things for long stretches… then yeah, probably. But mastery comes with discipline and time.
Meditating: Be prepared to sit for long periods in meditation practice anywhere from 30 minutes to an hour. Your legs may occasionally go into spasms or cramping.   Using a cushion helps, because your butt muscles will begin to hurt, from the sitting.
Chanting: At Sivananda, chanting sessions were anywhere from 1-2 hours daily (check my ashram daily schedule here). Whether you're chanting kirtan (call and response), sanskrit mantras or satsang (chanting in group), the Hindus and yogis chant the names of Hindu deities is to become One with it. It's a devotional prayer and you're invoking and inviting that deity to aid your practice, focus and discipline.  An interesting fact that I love about it though, is that some words (like OM) have tonal/vibrational power, which help activate your chakra energies. If you pay attention, you can feel it.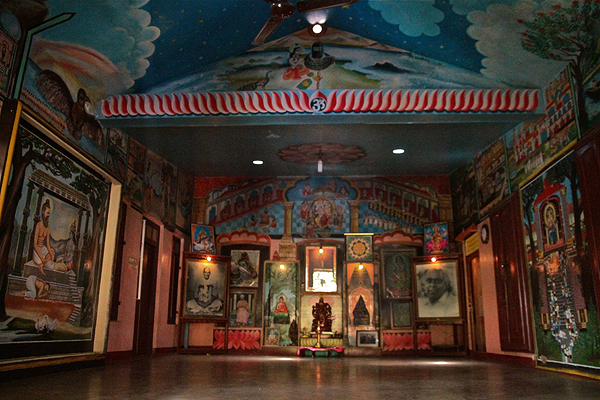 Meditation hall at Sivananda

3) How is being a student different from the west?
What? You disagree with what your guru's said?!… Well, if have all the answers, then why do you need a teacher?
That's thinking in India (and within many cultures in Asia), when it comes to the teacher-student roles. Your teacher instructs and you 'do' without question.
Being a student in India is again, not like the west. In the western approach to learning, students to to allowed question ideas … challenge them, but this would be offensive to teachers in India. Yoga schools in India have been generous to have some tolerance and understanding, when it comes to handling foreigners who challenge their teachings;  but that is not the normal custom. Thus, you may encounter a bit of frustration on your teachers' part should you test their information or reasoning.
Advice: As a student in India, be prepared to respect the tradition. Don't challenge and if you do, understand you can't fight an age-old history and you'll receive irritable responses for your questions.
When might schooling in India not be for you?
In the west, many studios take great care to avoid offending non-religious practitioners. OM-ing or chanting is kept light and cosmetic (if at all) and some teachers avoid talk about chakras, opting to speak of the physical benefits. Keep it watery and flexible; make it available to all (and rake in the money).
Yoga in India has a more spiritual/religious bent. It's based out of Hindu philosophy. Personally, I appreciated this aspect , but studying spirituality is not for everyone. If you feel you will be deeply offended by learning and practicing aspects of Hindu philosophy or feel queasy about chanting devotional songs to Hindu deities when you're a devout Christian,… then you may reconsider studying in India. The practice is compulsory despite your beliefs. Furthermore, Hindu deities surround  you and you'll be chanting to them in unison. There are times you may even feel you've just joined the Hare Krishnas.
On the first night in the main hall of the Sivananda campus, there was a bit of awkwardness for me with the chanting. Although I find Hindu religion beautiful, have learned about the deities and  had an introduction to devotional songs, when it came time to sing the 'Hare Krishna' song to a tamborine and drums, I had to step back for a moment, questioning whether the next step might be to shave my head.
Advice:  If you're a newbie to this kind of environment, invite the freedom of learning a new perspective. If you're not religious, go with an open mind or reconsider.
What's your favorite yoga school?
If you're into meditation, there's  famous spots such as Ammaritapuri ashram (home of Amma, "the hugging saint") in Kerala, Osho ashram in Pune, Sathya Sai Baba ashram in Bangalore or there's less known organizations like one that I used to belong to, Brahma Kummaris. If it's a more physical yoga you're looking for, then take your pick of the many yoga ashrams in Rishikesh or follow your favorite influence: Sivananda , Bihar, Ashtanga Institute, BKS Iyengar.
Any further insights to yoga that I haven't covered? Please feel free to comment.
Next >> Be a yoga teacher: Choosing a yoga school  in India for teacher certification. ( Part II)