Last Updated on December 4, 2014 by Christine Kaaloa
Why I broke up with my backpack over a carry on  
(
VIDEO
)
These days I find I've downsized my backpacker's backpack and suitcase luggage to a carryon sized luggage.
 Oh, I still love my  Northface Terra 45
  backpacker's backpack and I'd recommend it to anyone who were going backpacking. It served me well when I was backpacking for seven months, through India, Asia and Southeast Asia. But the one thing I never liked about it is the fact I'd always have to wear it on my back.
Read my packing essentials for India and Southeast Asia
How to tell you've outgrown your backpack
After backpacking for several years, how do you know when it's  time to sunset your backpack?
You get tired of feeling like a sherpa, walking everywhere with your temporary home on your back.
The older you get, wheelies begin to seem more attractive and smart.
You're no longer a newbie traveler or packer and know being on the road turns you into a minimalist.
Your main packing essentials are items that will help you navigate your foreign surroundings, climate and health.
You don't want to  look like a budget backpacker  and want to  upgrade your stay into occasional nice hotels.
You'd like to flip airlines baggage the finger!
Sound about right? The issue is finding a carryon solution that has the ability to be a backpack during times, when I need to run to catch a plane or it's raining and I don't want to drag my wheeled carryon through mud.
Pros of traveling with a carry-on
Avoid baggage fees
Baggage fees add up on a round trip journey and if you're changing airlines carriers  while connecting, because you bought two separate tickets they can add up doubly!
Quick and easy navigation
Makes navigation easy through crowds,  and  is lightweight for when I'm running to trains, flights and buses at the last minute!
No more lost bags or broken luggage 
Peace of mind the airlines won't lose your bag and no waiting around for airport handlers to load and unload bags.
No waiting at baggage claim
Waiting for my bags at baggage claim really isn't a big deal to me. But waiting for them when I have a connecting flight in international waters is a pain as the connection times between flights can sometimes be limited.  Read tricky things you should know about connecting flights and layovers.
Your luggage is always accesssible
Is that airport too cold or you forgot your charger in your bag? Maybe your flight got delayed and you'd like to freshen up, maybe put on some new panties… No problem, your luggage is right there with you.
You can store it in train lockers and keep it close to you
This sometimes comes in handy if I'm doing a layover or need somewhere to ditch my bag for a few hours. My carryon tends to fit in train lockers and that is immense freedom for me. Also, if I'm traveling on a crowded train or bus, I can keep it tucked between my legs and out of the way.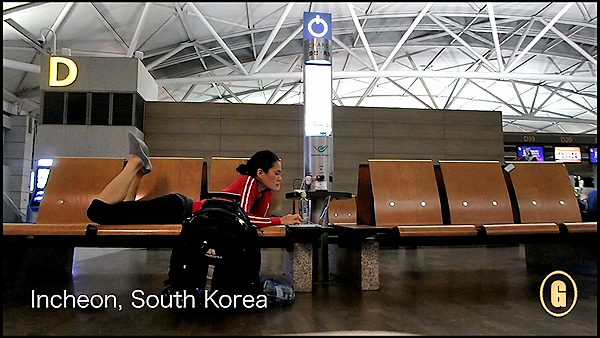 Getting a  3-in-1 convertible carryon backpack
When I found a compact, light-weight three-in-one (backpack, wheeled, carry on) carry-on in Thailand for $25, I was sold and it's been hard go back since.  The truth is, it's just not necessary to carry so many items with us on our trips. Most of the time, I'm hardly switching out different clothes each day. In fact, I'm reusing the same clothes.  So the trick is just packing lighter and smarter so I can travel light and smart.
Watch video here. Often, I take my luggage carry on for my main clothes and accessories and then I'll pack a smaller daypack with my laptop, camera gear, valuables and  things I don't want to lose or get broken.
Unfortunately, Lufthansa Airlines and Frankfort Airport destroyed my perfect carry on the one time I decided to send it through luggage (a couple days after shooting this video).  Obviously, I'm upset. Not sure if I can repair it, but these are the alternatives I'm researching in the meanwhile:
Eagle Creek Luggage Flip-Switch Wheeled Backpack 22
Samsonite Luggage Mvs Spinner Backpack, Black, 19 Inch
Eagle Creek Doubleback 22 Carry On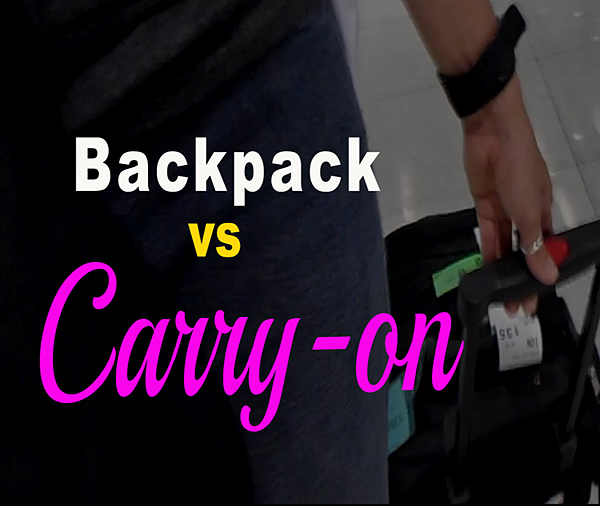 .
Will you break up with your backpack for carry on luggage? Comment below!
Note: This post contains affiliate links at no extra cost to you.  Recommendations expressed are solely of my own.