This post may contain affiliate links. Never leave home without travel insurance. Click for the insurance finder tool. 
In this Ultimate Kolkata Travel Guide, I'm going to share 25 Best things to Do in Kolkata.
Despite Kolkata (aka Calcutta) being once the capital city of India, the thought of visiting Kolkata always intimidated me.  From other travelers and Indians, I'd talked to,  I got the impression it must've been the armpit of India~ poverty and disease-ridden, old, crumbling… Hence, it took my third trip to muster the courage to make it to India's former capital.
The moment my airport taxi hit the road, I immediately sensed I'd like… no, love this charming, historical, and utterly unique city!
Delhi and Mumbai fell in my eyes; Kolkata beat them with its charm, friendliness, and an old colonial character, completely reframing my experience of an Indian city.  I experienced Kolkata culture shock but it was not what I expected. If you ask me about all the cities I've visited, Kolkata is one of my top Indian gems and a city worth spending time in!
This Ultimate Kolkata Travel Guide includes:
25 Best Things to Do in Kolkata
Where to Eat in Kolkata
Useful Information for Travelers
Travel Tips for Solo Travelers
Getting Around in Kolkata
Where to Stay in Kolkata
Kolkata Travel Guide
25 Best Things to Do in Kolkata
Kolkata is the capital of India's West Bengal state. and formerly the capital of India when it was under the British Raj in 1773.  Today it's a city with a traditional soul, colonial architecture, cultural festivals, lots of car honking and street food. So come along. I'm going to show you my favorite highlights of this unique city.
1. Esplanade
The Esplanade district is a buzzing district that is very Raj-esque in architecture and history. Colonial architecture is present as well as a bit of every man's shopping area. It's also the crossroads where you can find a lot of transportation from long-distance buses to trolleys. Nearby hotspots: BBD Bagh, Indian Museum.
2. Mullick Ghat Flower Market
Mullick Ghat Flower Market in Kolkata's biggest and busiest flower market. Flowers are an essential part of life in the city and are sold for temple prayers, wedding decorations and festivals. Arrive 8 am in the morning to see the flower sellers haggle, negotiate and transport their bundles. Unlike what you see in photos, there are very few female vendors.   The majority of transactions occur between men.
Getting there: It's next to Howrah Bridge on the opposite side of Howrah Station.
3. Howrah Bridge
Spanning the width of the Hoogly River, you have Howrah Bridge, a steel and iron landmark bridge connecting central Kolkata (and the Mullick Ghat Flower Market) to Howrah Station. Early in the morning, you can see people going to their daily worship, and taking a bath in the river. A great place for people-watching, you'll see daily commuters, travelers and work porters transport goods and big bundles of goods at all times of the day.
When you come to India, you will see a lot because India is truly amazing.  Getting There: sandwiched between the Mullick Ghat Flower Market and Howrah Train Station. You can take one of the many buses en route to Howrah Station and have them drop you near the flower market.
4. Howrah Station
Howrah Station is Kolkata's second railway station and one of India's largest! It's said that an estimated two million people arrive and depart by Howrah station each day.
Note: Getting from the airport to Howrah Station should take at the least 45 minutes, but expect it to take over an hour if you're traveling during peak traffic hours or during a festival. It's further than Sealdah Station and you have to cross the river.
5. Kumortuli
Kumortuli or the potter's colony of Kolkata was by far one of the most fascinating highlights of the city for me. The colony is known for their production of clay idols of Hindu gods and goddesses. I visited before the big Kali festival, so many sculptors were busy at work sculpting Kali goddess statues.
There are hundreds of potter shops and their work supplies Kolkata and is exported throughout India.
It was helpful to be accompanied by a guide I had for a half-day tour with Viator. While much of Kumortoli seems self-explanatory, wandering the shops alone might have felt a little awkward for me.  Having a guide helped me to get closer to my camera.
6. Khalighat Temple
Khalighat temple is the main pilgrimage temple for devotees of Kali. Being the main site, it's very busy.   There are street vendors and touts trying to usher you in and sell you places to park your shoes and it's a little too nutty for me now.  If you come at night, there are a lot of festivities where you'll see a lot of people here and there are a lot of shops to go to.
7.  Tour of the Colonial Architecture
Kolkata was once ruled by the British Raj, so the colonial architecture is a feature of the city.  The most well-preserved architecture is in the BBD Bagh area, which houses government institutions and it's best to hire a guide or take a city tour in order to understand what to see.
I took a half-day city tour with Viator to learn about Kolkata's history, see its colonial architecture in the impressive BBD Bagh district, visit the sculptor colony of Kumortoli and witness the madness of Burrabazaar /Kolay Market. The tour also took me into the more local pockets of the city.   I got my own personal driver and having an English-speaking guide to share insights into the landmarks was invaluable!  Although I don't think we were able to cover everything that was mentioned on the website's itinerary, we covered a helluva lot in a matter of a short time and it was a solid city tour.
8. City Tour by West Bengal Tourism Department
Alternatively, the West Bengal Tourism Department (www.wbtdc.gov.in) offers a Kolkata day tour for 450 rupees.  The itinerary doesn't mention the obvious places mentioned in your guidebook, but depending on your focus or budget, it's still a viable option. I was unable to take this tour–the office was not easy to find –and it was best to book in person.  But it provides additional sightseeing to your stay.
9. College Street (aka Book Market)
College Street is also known as  Boi Para (aka Book Market), Asia's largest book market,  a shining testament of the reading culture of the people of Kolkata. You'll find every imaginable type of text, in many languages from Bengali to Dutch. First and rare editions from Bengali authors Rabindranath Tagore (see his works) and Jibanananda Das and more you will find here.
10. Sealdah Station
There are two main train stations in Kolkata  (Howrah Station & Sealdah Station). Sealdah Station is one of the busiest railway stations in India. It's located centrally in the city and one you'd ideally like to arrive in due to that fact. Meanwhile, Howrah Station is further crossing the river, past Howrah Bridge. What defines Sealdah for me is that it's a stone's throw from Kolay Market. While I wouldn't say it was the BEST thing to do, it is a place I wanted to list here because travelers will have to pass through one of these stations. This would be an easier station to arrive at if your hotel was located in the heart of the city.
Getting There from the airport: The station is not accessible via metro. You will need to take either, a city bus or an airport taxi to Sealdah Station.
11. Kolay Market  | Burabazzar
Opposite Sealdah Train Station, Kolay Market is a bustling wholesale market that sells vegetables in wholesale bundles. It is HUGE. Produce comes in from all parts of India and then gets auctioned off and goes back out. Some parcels of produce can weigh up to 400 Kg and four to five persons carry this from the main road off the truck and into the market.
12.  Kolay Market laborers
So if the sheer quantity of produce in Kolay Market doesn't impress you maybe this will. .. The Kolay Market laborers that unload and transport those heaping bundles work in long shifts and sleep nearby so they can be the first to unload trucks that arrive. Some bundles might take one man, while others may require 4 or 5. They earn about 500 Rupees  a day. How's that for a day's hard work?
13. Indian Museum
Indian Museum (aka the Magic House.) founded in 1814, it is the oldest museum in India and the most impressive one I've seen yet. It's a spacious museum of artifacts, anthropology, and interesting zoology exhibitions. Highly worth the 50Rs to enter. Admission: 150 rupees for foreigners. 50 rupees if you want to take a camera inside. Website:
Getting there: Between Park and Esplanade metro stations.
14. New Market
New Market, otherwise known as the Hogg Market, is a covered shopping area with over 2000 shops selling anything from clothing to sweets and spices. It's interesting to see what stocks Kolkata's kitchens and you'll definitely get to see some of it.
Being vegetarian it's definitely hard for me to see all these chickens (and butchers right next door, de-feathering and chopping them up). But put in this context it makes me realize that everyone has to survive in their own way.  While a majority of India is vegetarian due to religious and dietary reasons, there's still a meat-loving society as well.
Getting there: You can reach it either through Park or Esplanade metro stations, slightly closer to Esplanade. From Chowringhee Road, take a left onto Chowringhee Place, then right onto Betram Street.
15. Jorasanko: the Childhood home of Rabindranath Tagore
If you want to understand a bit about why Kolkata loves literature, visit Jorasanko. Nestled in Bowbazar is the childhood home of Rabindranath Tagore. Rabindranath Tagore is the Bengal poet laureate famous for being the first non-European Nobel Prize winner of Literature. He is one of the icons of Calcutta, next to Mother Theresa.
16. Bowbazar & Marble Palace
Bowbazar (The Black Town of Northern Calcutta) is the heart of the Bengal community with its hidden residential villas and palaces. Many wealthy, high-status families lived there once, with Victorian mansions and this is where the arts thrived. The ostentatious Marble Palace is one example. I wasn't able to take photos there so I did not include it in my video, but it is a 19th-century unique neo-classical palace constructed by art lover and philanthropist, Raja Rajendra Mullick.  The palace is built of all marble with kitschy collectibles, along with a rock garden, a lake and a zoo.
17.  Mother Theresa's Tomb
Mother Teresa devoted her life to the sick and poor in Kolkata. You can visit Mother Teresa's tomb, room, church, and school at The Mother House Of The Missionaries Of Charity   Interested in volunteering in Kolkata? Read more about volunteering for the Missionaries of Charity in Kolkata.
Tip: Visit Mother Theresa's tomb
18. Day Trip to Sundarbans
Looking for a day trip tour to Sundarbans? Sundarbans is a UNESCO World Heritage because it's the largest mangrove site in the world, where you can spot deer, many bird species, various fauna, and if you're lucky you might spot a Bengal Tiger!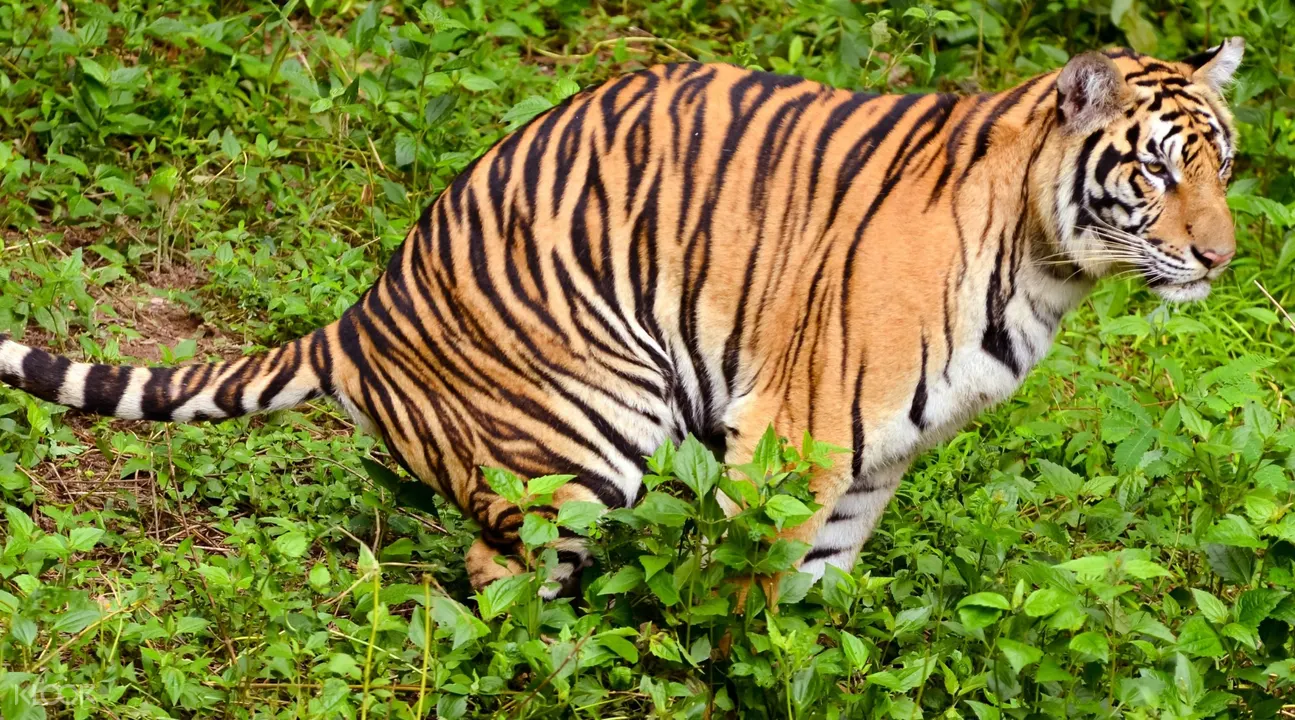 19. Durga Puja Festival
Durga Puja Festival is an annual Hindu festival celebrating the female goddess warrior Durga. The festival is celebrated big-time by Bengali, Assamese, Odia, and Maithals. Thus, it is a huge festival in Kolkata, where  Durga Puja artists bring the festival to life through their craft of creating Durga floats, and statues and adorning the goddess with lights, so there are many puja tours around town, celebrating highly decorated Durga pandals (aka temporary structures).
Top Attractions of Kolkata (Watch Kolkata Travel Guide Video )
All Photos & Videos Copyright ©GRRRLTRAVELER | It is illegal to download and use without permission. Music is Licensed from Audio Network.
Where to Eat in Kolkata
Kolkata is a foodie capital best known for its street food. What Bangkok is to Thailand, or Osaka is to Japan, is what Kolkata is to India …for me. It is a street food kitchen of the country.  While Indian foods range by the region and it might be unfair to other cities like Mumbai or Delhi, you'll find street food galore walking down certain blocks of this Bengali city.
20.  Kolkata Food Walk
If you feel timid about trying new foods, highly recommended is the Kolkata Food Walk. It's a tour run voluntarily by local foodies, where you get to taste the best and most mouthwatering street food in Kolkata at scandalously inexpensive prices.   You'll pay for the foods you try and you'll get to try a lot! Come with an empty stomach.  This is an exceptional food tour run strictly by volunteers, so a donation is suggested; please, tip your guide well!
For food tour options, check out this 15 Taster Private Food Tour and Evening Food Walk Tour
21. Decker Lane
In the BBD Bagh district, you'll find Decker Lane, a street that is like a buffet line of street food vendors.  You'll find food hawkers line the sidewalk with samosas to chai, Chinese noodles, chat, and … a stroll down this street is like a walk down a buffet line. For a few rupees (costing anywhere from 5 to 45 cents USD), you can have a mouthwatering feast.   When in Kolkata, eating street food is a must.
22. Mohan Bhandahar
Mohan Bhandahar was a sweet shop where I had kachori sabzi. The shop was made famous by the Bollywood film Piku and was visited by Amitabh Bachchan. You'll see photos of the star there. But the kachori sabzi is literally finger licking good.
23. Ganesh Chandra Avenue (in Bowbazar)
Right off Ganesh Chowk Metro, you'll be welcomed by Broadway Hotel (the hotel I stayed at) and Ganesh Chandra Avenue in the Bowbazar district and several street food hawker stalls which line both sides of the street selling things from jhal muri to Hakka Chow mein (influenced by Chinese immigrants).
24. Makhan Lal Das & Sons
Makhan Lal Das & Sons is a 200-year-old sweet shop known for their hand-crafted sweets, and popular Bengal desserts (such as Ras Malai, Jol-Bhora, Malai Chumchum, Chocolate Misti, etc… )and their 2rs Shondesh. I visited their Ballygunge location, although it's original shop is inside Notun Bazar of the Jorabagan and that is where they sell the 2Rs shondesh.
Useful Information for Travelers
25. Fairlie Place (Railway Booking Center for Foreign Tourist Quota Tickets)
If you're booking onward travel via railway and your hotel or travel agency can't book it for you (aka the trains you want are full), you'll be directed to Fairlie Place. Fairlie Place is the official railway booking center and the place where you can check on and reserve foreign quota train tickets (generally, a few train seats on each train are reserved for foreign tourist travel and if your train is booked full, there's a chance there may be a seat open if you're a foreign traveler.  Doors open around 8A or 9A.   Location: Strand Rd, Fairley Place, B B D Bagh, Kolkata. Is a 15-minute walk from the Mullick Ghat flower market.
You can see schedules and book trains and VIP/long-distance buses/flights on your own online, but trains aren't easy. You'll need to register with the IRTC and then register at Make My Trip and link the two accounts together. I can't remember what type of credit card is accepted; just that a Visa (what I don't have) is okay.
|All Photos & Videos Copyright ©GRRRLTRAVELER
Communication: Internet and Indian SIM Cards
A data plan with internet is essential for me as a travel blogger. Many budget guesthouses in Kolkata do not have WiFi and internet cafes are not common. My first day, I went shopping for a place to buy SIM cards. While my hotel was keen to offer advice about getting a SIM from the shop around the corner, it was actually not easy to find. So I went to the official Vodaphone store on Esplanade street. It's a few blocks from the subway and near a tech mart on the corner.
Read more about Getting an Indian SIM and mobile hotspots, USB internet sticks, etc.
Is Kolkata Safe for Solo Travelers?
There are many things that give Kolkata its charm and character. It's by far one of my favorite cities, but as I mentioned I was initially intimidated visiting here.
Firstly, while Kolkata has its history with Mother Theresa's work, you won't find sick people all around the streets (and no more than you would see in India; India, I've noticed can have human anomalies I've never seen before like a three-legged calf ). Kolkata is no more or less dirty than any other city in India. It's well-maintained and I found it more charming than Mumbai (which actually felt dirty to me) or Delhi. But like any city, sanitize your hands before you eat.
I found Kolkata to be one of the more friendly cities with more gentlemen and less staring. It could be because I'm Pacific Asian and can pass as Tibetan, Sikkimese or Nepalese, but I still think I come across as a tourist. Touts and scams are not high here. In fact, Kolkata was one of the most laid-back urban Indian cities I've traveled to.
With most Indian cities, I'd say for women, to be back to their hotels by around 10 pm (although I have stayed out later for filming).  Indian society as a whole is conservative. There is an idea that gauges a woman's decency or impropriety, by how late she is out at night.  An Indian woman out on the streets past 11 pm might be considered morally loose, which can be a problem for women returning from work late at night.  For tourists, it's hit or miss , but generally, Indian men may consider foreign female travelers as more morally loose than their own women.  Keep street smarts about you everywhere you go in general.
Getting Around Kolkata
From the airport
It's best to take the prepaid taxis and book it from the taxi counter inside.  They will give you a ticket which you'll give the driver.
Note: There is only one ATM inside the airport in arrivals, but there is also a money changer.  If the ATM is down, you might be directed to one outside the airport. Keep in mind, once you leave the airport, you cannot come back in.
Tip: Save time, stress and book a private airport transportation
Types of Transportation in Kolkata
Getting around Kolkata isn't so difficult. Aside from the standard Ambassador taxis, you can get around using the city bus, tram or metro.
The metro is the easiest and inexpensive way to get around most sightseeing parts of the city. There are places the metro can't reach that the city bus can, such as Mullick Ghat Flower Market and Howrah Bridge.   If you're using the bus, ask locals or an officer to help you find one and hail it… sometimes you have to flag it down) or an auto-rickshaw (maybe even a shared one! For intrepid travelers on a budget, keep your eyes peeled for shared autorickshaws. Used by locals, the shared rickshaw drops passengers along a certain route. Often you'll notice them waiting around gathering passengers and you can ask if they're going to your location. The driver won't leave until he has a full vehicle and locals are typically charged a fraction of the normal cost. Travelers still might pay a tourist price but it's worth the experience, being squished between Indian passengers as you witness how many can pile into your car.
You'll see old blue cable car trams and these are often headed to the BBD Bagh area, which is known as the government area, where you'll also see much colonial architecture.
As I mentioned in this list, there are two main train stations— Sealdah Train Station and Howrah Station. Read more on taking Indian trains and getting a foreign tourist quota.
Book bus and train tickets in advance
Book your Kolkata trip tickets in advance. I used 12GoAsia to book transportation for my Thailand trip.
Where to stay in Kolkata
At the time of research on Booking.com and countless websites and blogs, many decent budget hotels in Kolkata went around the price range of $14-30. The less central you are, the cheaper it can get. However, one thing to note is accessibility to transportation and city highlights. Hostels aren't a term  in India, but recently, a hip and boutique hostel chain opened up for modern travelers (wifi available). Note: Service Tax On Room Tariff in Kolkata @ 8.4% for Hotels
Budget
Backpackers Park- Affordable hostel with great location. Mixed and women's dorm facilities, shared kitchen and serves breakfast on the premises.  16 minute walk to the Grand Esplanade Metro station.
Broadway Hotel– This hotel takes you back into time. Kolkata's oldest hotel since 193t, I stayed here. It was in an ideal location for me, across the street from Chandni Chowk metro station. An old Ambassador-styled hotel with an attendant in the lift, the rooms feel spacious, clean, and comfortable. It can feel very antiquated to some, but it's part of the interesting charm. You also get the daily Kolkata newspaper delivered to your door. There's an Art Deco-styled restaurant which tends to be popular with guests and locals.  Front desk receptionists are helpful. Watch my video (below) and read my review.
Midrange Boutique
Calcutta Bungalow  2.1 miles from the city center his two star bed & breakfast has the look and feel more of a 3 star boutique! 9.4 ratings on booking.com, it is adorable! Cute, heritage aesthetic and architecture this hotel transports you back in time. Airport shuttle available for extra fee.
Fairfield by Marriott is 7.5 miles from Sealdah Railway Station and in a great location of New Town. With an 8.5 rating the facilities offer a great value with a budget price! For the price, it's a steal.
Luxury
Elgin Fairlawn Kolkata is a private enclave that takes you back in time, with English/Irish breakfasts and a faint taste of the colonial period. Located in the heart of downtown Kolkata. Next to the Indian Museum and a stone's throw from New Market
 The Grand Oberoi – For those looking for pampering, The Grand Oberoi is located in the heart of the Esplanade area next to the Indian Museum. If you want to know where celebrities go, you've found it. It has its own gated driveway with uniformed valet and bellhops to give you colonial hospitality.
What are your best things to do in Kolkata recommendations for this Kolkata Travel Guide?
Note: This post has affiliate links that help me maintain my site. This is at no extra cost to you and I only recommend services I would use. My half-day city of a tour of Kolkata was sponsored by Viator as an effort to help make some of my Kolkata filming possible. As always, my opinions are my own
India Travel Videos: India for Solo Travelers (WATCH THIS BEFORE YOUR TRIP!)