Last Updated on November 1, 2022 by Christine Kaaloa
Pushkar is a quiet Rajasthani town, 11 km from Ajmer and 2 hours from Jaipur. It is a pilgrimage spot its sacred lake, the Brahma Temple and the annual Pushkar Camel Fair each November.   In this Pushkar travel guide, I'm going to share the best things to do in Pushkar.
Aside from the craziness of the camel fair, Pushkar is a relatively sedate, laidback and tourist-friendly town, where getting around is easy because most things are in walking distance.
14 Best Things to Do in Pushkar
1. Pushkar Lake
Pushkar Lake is the holy pilgrimage spot of Pushkar and hold 52 ghats. Devotees pay homage to the lake and take a dip in it to purify themselves; some devotees even bathe a bit (warning: you may witness topless nudity).
Scam Tip: The lake has aggressive tout action. Touts attempt to sell tourists flowers or prayers. When you don't give into their sway, they can curse you.  My hotel gave me what they call the "Pushkar Passport", a red string wrap, signifying a taken blessing. This also helps symbolize that the wearer has already gone through a tout in order to get it.
2. Gurudwara Singh Sabha
The Gurudwara is a Sikh temple and a striking white fortress to steal your curiosity. All Sikh temples require both, man and woman to wear a head scarf and to cleanse your hands and feet before entering.
3. Brahma Temple
Open at 1p and 3p, the Brahma Temple is the best-known Pushkar temple. You cannot take bags or electronics inside and must rent a locker to store your belongings.
4. Temple Hopping
You might not guess it from the town size, but there are over 500 temples in Pushkar, both large and small. Exploring them is part of the fun because they all have their own personality. Observe the locals that go into them for clues and if you're uncertain, please ask someone.  Some temple can be locals only. Others might be open to tourists, but the central core could be closed off. This is Hindu temples in general.
5. Rooftop views at Sunset
As the sun sets, find a rooftop cafe to unwind with a relaxing view of the town, Pushkar Lake and Savitri mountain.  During festival time, you might even see hot air balloons dotting the sky.
6. Evening Aarti, Pushkar Lake
As night falls, travelers will hear Hindu chats and ringing bells beckoning from Pushkar Lake. That's the evening aarti. Aarti can be performed an all of the 52 ghats surrounding the lake, however, the largest and most celebrated one is at Brahma Ghat (or Varah Ghat). The lake's origin is said to have spring from a lotus that fell from Brahma's hand (Brahma is the guardian of the lake). 
As part of the worship, Hindus light divyas (aka candles) as a prayer offering to the Gods and dieties.  You can walk the perimeter of the lake to witness worship at the other ghats. Another ghat I stumbled upon had ornate chalk paintings with divyas.  Aarti hours: 7:00p during summer; 5:30p during winter
7. Pushkar at Night
The main street stringing through Pushkar is one long shopping street of clothing boutiques, sweet shops, cafes and travel agents. At night, the central part of the street is brightly lit, reminiscent of Christmas or a festival. A lot of shopping and eating continues. There are three bazaars shoppers can visit day or night: Sarafa Bazaar (main market area), Baza Bazaar and Kedalganj Bazaar.
8. Pushkar's Best Lookout Spot:  Savitri Mandir
While Savitri Mandir itself, isn't much more than a simple temple, hiking to it will gain you the best lookout spot in all of Pushkar.  You can get a great 360 degree view of the surrounding valleys and overlook the awesomeness of the camel grounds.
The climb to the top should take you anywhere from 45 minutes to an hour. Plan to go late afternoon so you can be there to snap some mean selfies against the sunset.
9. Pushkar Camel Fair
The Pushkar Camel Fair (or camel mela) is held each Oct-November. attracts over 400,000 tourists and over 11,000 camels and horses.   Traders bring their best to either show or sell to interested buyers.  Camels are adorned with accessories and some perform tricks. Rare horses and winning breed from royal families and prestigious horse camps can be found as well.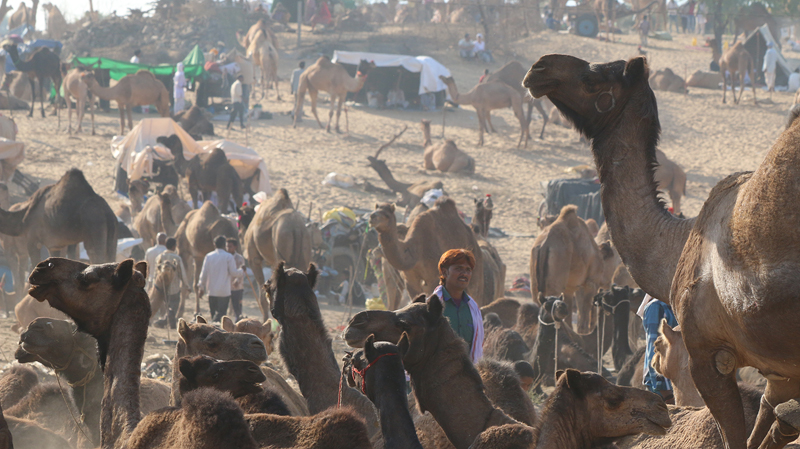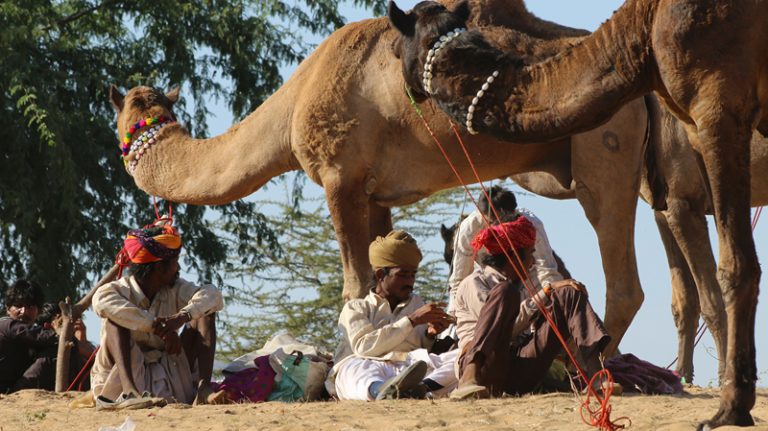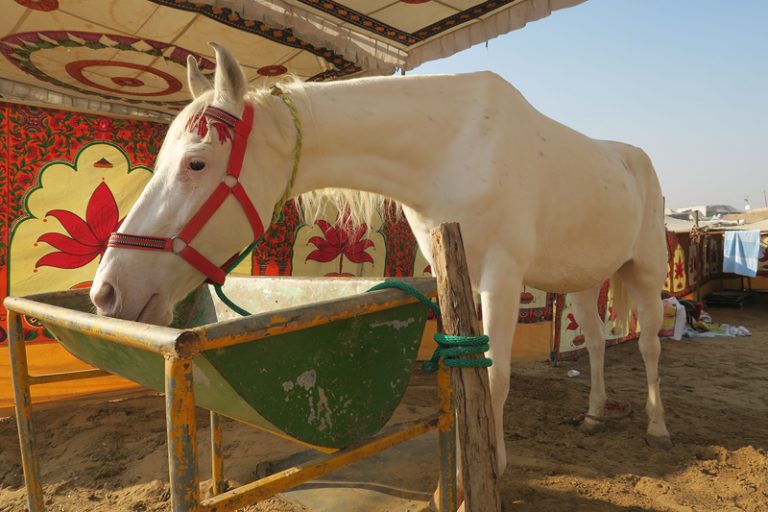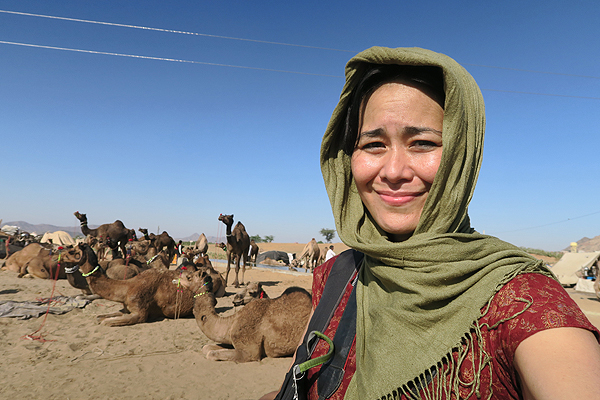 10. Mela Grounds
The mela grounds of the fair holds events, festivities and contests throughout the day, from dancing horses and camels, camel races, contests for the most decorative camel and more. Some of the contests can get pretty outlandish, making you see livestock in a new light.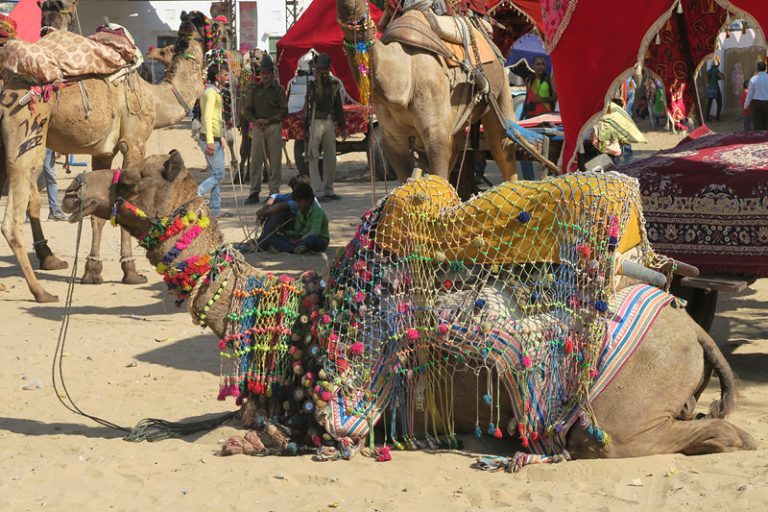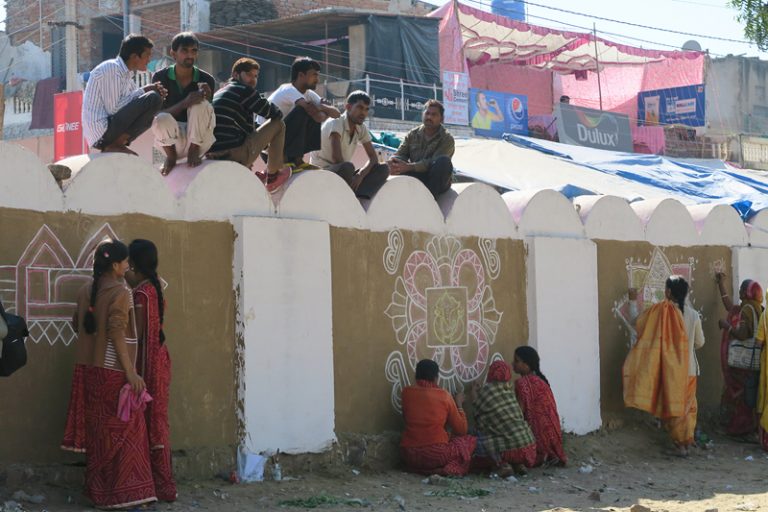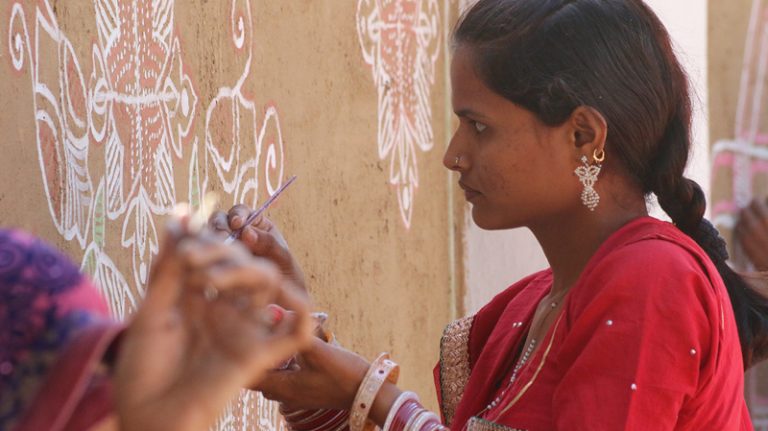 11. Shopping in Pushkar
Shopping in Pushkar is easy. The main street is like one long shopping strip springing into offshoot streets with cafes and shops selling indo-western Rajasthani inspired clothing.
Things to Buy in Pushkar: Rajasthani silk clothes are both cooling, lightweight and fashion friendly. Of all my souvenirs from India, my silk pants are my favorite; every time I wear them, I get compliments on them.   Leather goods and jewelry are other items travelers like to take home.
What to Eat in Pushkar
India wouldn't be India without tempting Indian street food. Sweet shop cafes and samosas with sweet chutney sauce. Do me again Pushkar. Check out my Indian food guide
 12. Samosa with Chutney Sauce
If not for a local line gathering around a samosa shop, I might never have thought to stop by.  The local favorite is a samosa shop selling a special samosa smothered in sweet chutney sauce. To find it, you'd have to ask a local. Maybe even show them the video segment of it. It's on one of the side streets close to the main.
13. Pawan Falafel Stand
But a popular bite for travelers visiting Pushkar are actually its falafels. Here There's a cove of three falafel stand situated in the same area.  Its a contest to has the best, but Pawan Falafel was where I went. It was delicious but an hour later, my stomach didn't like me and I felt lightheaded. It could've been a one-time bad falafel because I watched them make it; I guess I'll never know.
Address: Narsingh Ghat, opposite of Kalu Baba Temple.
14. Lemon Mint Drink
 

at Out of the Blue Cafe

With a choice of rooftop views, I chose  Out of the Blue restaurant cafe, for its lakeview and released into a frosty lemon mint drink. Made with real mint, it's a refreshing frosty slush drink to cool you in the desert heat.  They even sell a "bhang" version (aka marajuana).  

Bhang has the same effects of marajuana and depending upon quality, can last anywhere from 6-10 hours. Solo travelers might want to avoid these types of intoxicants as one could easily get robbed or worse.  Travelers in a group might still want to heed caution. Maybe I've just watched too many episodes of "Locked up abroad".  

Address:Kapra Bazar, Pushkar. Tel: +91-9001463848
Getting to Pushkar
I took the Ajmer Shatabdi (CC class for 970 rupees/ $15.50 + fee for Cleartrip) from Delhi to Ajmer Station. The ride took 7 hours. 
Ajmer Station is the station stop for Pushkar. Ajmer is a town located 11km away (a 20minute taxi ride) from Pushkar. Once there, take the bus or hail a taxi to Pushkar.   Outside the train station, there is a bus that goes to Pushkar every 15 minutes. You'll have to ask a local (avoid asking taxis or handlers outside) as they'll just direct you to a taxi. Still, a taxi is not a bad way to get there either.
The nearest airport is in Jaipur, two hours away.
Safety Tips for Solo Travelers in Pushkar
Pushkar is a small town where people know people, so it can feel pretty safe, even at night. However, there are always exceptions to the rule so one should always practice street smarts.
From 8-9pm, shops begin to close and that's a good time to make it back to your hotel as streets progressively get darker and less populated. Try your best to stay in lit areas.
During Camel Fair celebrations, the camel and horse grounds are crowded with livestock camps, camels/horses, camel herders and traders, etc..  The population is largely male and can come from occasionally rural areas… it's best to dress modestly and act conservatively. Also, during festivities, there will be a high level of tout/scam activity. Read how to deal with it here.
As noted in my video, Pushkar Lake has its touts/scams, where touts will request a donation for entry or offer you a blessing in  exchange for a donation. If you reject them,they can get rude or even curse you. My hotel gave me a rope blessing bracelet to skirt past them; if they know you've gotten a blessing, they won't bother you.
Where to Stay in Pushkar
Expect accommodations to get booked full closer to the time of the festival.  Room rates also increase if not double during the festival.  Hotels and guesthouses are located both, in, around Pushkar Lake and on the edges of the town . I was going to stay with blogger friends at Zostel Pushkar hostel, but they were booked full. They called around and found me an open spot nearby, at Gulab Resorts. Gulab Resorts (Jamni Kund Road, Pushkar. Tel: 0145-2773027) is a 10 minute walk into the center- watch my video!).  There are snack shops and travel agents for travel needs as well as, the Pushkar-Ajmer bus stop, which comes every 15 minutes.
For other hotels in Pushkar, check here.
Pushkar Travel Guide  (video)
Related Posts on India trip planning
Travel Tips for Surviving Indian Culture
Things to Know Before you Travel to India
Best Travel Insurance for India
American travelers often pay a premium on travel insurance.  World Nomads offers economic solutions for travelers who seek security and peace of mind.  It covers 150 countries.
Note: This post contains affiliate links to services we would recommend at no extra cost to you.
Pin this to your Pinterest Board