Last Updated on June 28, 2019 by Christine Kaaloa

Documentary video of Pushkar Camel Fair in Puskkar India
The Pushkar Camel Fair is a Rajasthani festival that was on my bucket list for some time! Held every November for 5 days, over 11,000 camels and horses are brought to be sold and/or traded.
Pushkar is a quiet town but this colorful festival attracts a lot of tourists. Although I don't like promoting animal
tourism if I think animals might be harmed in the process, the trading is a way of life for livestock owners, just as it is a proud moment to show off their best performing livestock.
Table of Contents: Pushkar Camel Fair Guide: Camels, royal horses and touts | Pushkar India
Pushkar Camel Fair & Events
The first part of the camel festival is for camel traders and the industry. It's pretty business on the trading grounds (located a stone's throw from the town center).
The festival heats up when the mela grounds holds their events. This is when the crowd gathers and there's crazy spectacle events, like mustache contests, camel rides, camel decorating contests, camel races, etc…
Camel Trading Grounds
The  Mela grounds can be very touristy with spectacle events, camel rides and a lot of shutterbugs and touts .  I visited the trading area to see what attracts buyers and sellers. Not many tourists visit this area but you can very easily walk in and explore the grounds on foot, finding yourself surrounded by camels.
Traders travel far and many on foot, to get here. Camels are herded in magnificent droves; its unimaginable until you see it from a higher vantage point. It's not an easy life for either and what a trader does not sell, he will have to take back with him. Between camels and traders, the business comes with impressing a buyer to make a sale.  They say really healthy and good camels can range from 60,000 -100,000 ruppees ($950-1,500)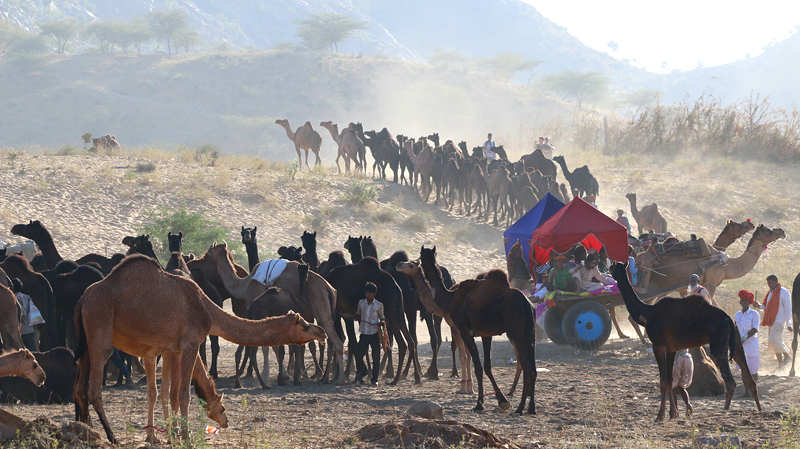 Village owners trek for days to bring their herds to market. Some animals don't get sold and have to make the long journey back to their village; some livestock don't survive the journey.
Horse Camps at Pushkar Camel Fair
Another part of the camel fair worth noting are the horse camps. Average to famous horse camps come out to show off their best breeds. Some horses are champions from the Rajasthan and Punjab regions, others can come from royal Indian families.  Horses range from average to rare breeds, such as the Mawari horse, a breed whose ears pique inward.  These horses are descended from Indian and Arabian horses and can be very valuable for spiritual occasions and breeders.(Watch the video)
A gorgeous blue eyed albino looking horse was mind-blowing to me with hair so powdery white, you'd think it were doused in baby powder (pictured below). Fortunately, I met Deepak, an Indian blue blood (an Indian royal). A polo player, he took me into the scenes so I could film a little deeper!
▶ Camel Fair Essentials
• Sunscreen  is not a common item sold in India. Pack it with you. If you'll be visiting the camels/dunes, you'll be glad to have it.
•  Headwrap or scarf for girls, to shield from dust and sun.  Guys might want to bring a cap or hat.
•  Dealing with touts: Tout action can feel heavy to aggressive in India, depending upon where you go. Touts amplify around festivals and famous tourist landmarks.  from begging children to babas asking for donations, folks at the lake selling prayers and flowers,  and vendors wanting to sell camel rides, Pushkar can see heavy tout action around festival time. You'll require a sense of humor. You'll get a chance to practice the word NO several times.
•  Book your accommodation in advance if you're going to this festival.
• While Camel Safaris/Camps offer accommodations, know that the town is fairly small and most things are in walking distance. Even if your accommodation were on the opposite side of town, your walk would pass the town center and a hubbub of activities: Pushkar Lake, Brahma Temple, cafes/restaurants and the marketplace, which you'll want to see and shop.
▶ Is riding a camel responsible tourism?
Sadly, I have ridden a camel in the past (in Jaisalmer, famous for camel safaris and desert) before I learned about animal abuse through animal rides.  Due to the fact, my travels have exposed me to witnessing much mistreatment and abuse of animals for the sake of tourism and business livelihood, I grew opposed to animal tourism in general.  I have witnessed mistreatment at the Pushkar Camel Fair. Often, they are controlled via rope reigns or hooks which are pierced through their nostrils. Those "cute decorative balls" are fastened via hooks through the nostrils. Any reins around their jaws can be equally damaging if tugged too hard. They do scream if scared, nervous and in pain. Some of my footage shows a little of that, but some footage was too difficult for me to watch. Afterall, these animals must perform for a livelihood. Things you should know before taking a camel ride.
See my Pushkar Travel Guide for more. (coming soon)
▶ Getting to Pushkar
Ajmer Station is the station stop to get to Pushkar. Ajmer is a larger town located about a 11km away (a 20minute taxi ride) from Pushkar. Once there, take the bus or hail a taxi to Pushkar.   Outside the station, there is a bus that goes to Pushkar every 15 minutes. You'll have to ask a local (avoid asking taxis or handlers outside) as they'll just direct you to a taxi. Still, a taxi is not a bad way to get there either.
▶ Where I Stayed
Expect accommodations to get booked full closer to the time of the festival.  Room rates also increase if not double during the festival.  Hotels and guesthouses are located both, in, around Pushkar Lake and on the edges of the town . I was going to stay with blogger friends I met at Zostel Pushkar, a boutique hostel, but they were booked full. They were great however, and called around and found me an open spot nearby, at Gulab Resorts. Gulab Resorts is a 10 minute walk into the center and closer to the Ajmer-Nagaur main road into Pushkar). I paid 1000 Rs (normally it's 500Rs) for my own newly renovated room with shower ensuite (you'll see it in my Pushkar Travel Guide video!).  There were still little snack shops and travel agents for travel needs as well as, the Pushkar-Ajmer bus stop, which comes every 15 minutes.  For other hotels in Pushkar, check here.
Schedule Information
http://www.pushkarcamelfair.com/
Related Posts
Guide to Layover in Delhi | Things to Do
Travel Guide Kolkata
How to Get an Indian SIM
What to Pack for India
Indian Trains:  Getting a Foreign Tourist Quota Ticket
Tips for Booking Budget Hotels in India
Note: This post contains affiliate links. This is at no added expense to you. Anything you purchase off of it allows me to maintain this website.
Looking for travel insurance?
American travelers often pay a premium on travel insurance.  World Nomads offers economic solutions for travelers who seek security and peace of mind.  It covers 150 countries.