Last Updated on June 7, 2023 by Christine Kaaloa
As one of the best-known street foodie capitals of Southeast Asia, Bangkok has an endless variety of food to tempt your tastebuds.
Bangkok is a street food haven. You'll see food hawkers lining the streets frying, boiling, dicing and chopping delectable mouthwatering dishes for cheap. Let's highlight 16 top Bangkok street foods loved by both, tourist and Thai.
16 Top Bangkok Street Foods
Must Try Thai Noodle & Soups
Noodle and soup dishes are ubiquitous in Thailand, as curry.  Whether on sidewalk cafes or in restaurants, you'll find the common
1. Tom Yum
Tom Yam is the national soups of Thailand.  It's a mixture of lemongrass, chili and kaffir leaves. Its flavor strikes the perfectly Thai balance flavor of sour, sweet, salty and very hot-spicy.   Doesn't matter how hot or humid it is outside, I can eat this day or night.  Often, it's known to come with shrimp (aka goong) going by the name of Tom Yum Goong.
Where to find Tom Yum: You can find this on many menus in Bangkok, in shopping mall food courts, and definitely in the backpack area. The cost starts at 80 -180 baht.
2. Pad Thai 
Thailand's national stir-fried rice noodle is pad thai. It's fried with egg, chopped tofu, soy sauce or fish sauce. Vegetables like bean sprouts and pickled radishes are also stirred in.  Vegetarian versions can substitute soy sauce for fish sauce. and egg for tofu. Cost: 50 baht.
You can find pad thai on Khao San Road and occasionally on Thai menus, but the best pad thai in Bangkok is said to be Thip Samai, 313-315 Maha Chai Rd, Khwaeng Samran Rat..
3. Boat Noodles
If you love noodles, highly recommended is boat noodle alley at Victory Monument (map here– It's a little tricky to find as Victory Monument is a huge transportation hub with a few exits). the noodle bowls are small but only cost 12 baht. What it is is a beef noodle soup. One of the main ingredients is cow or pig's blood (I didn't know this until much later after I'd already eaten it).
You can choose the type of noodle you want and the flavor. If you can eat 20 bowls, they'll give you a free bottle of Pepsi. That's an incentive..
4. Fish Ball Noodle Soup with flat noodles
A common noodle soup you might find on the streets is fish ball noodle soup.  Don't let the name "fish balls" throw you- they are not the balls of fish (I stayed away from this for a long time!), but fishcakes crafted into the shape of a ball. The ball is a fish cake served in a clear, light, non-spicy broth, meanwhile, the noodles are cut thin but wide. The taste is hardly very fishy, but it is very flavorful.
Location: I found this in the Bangrak area and around Chinatown. Cost: under 80 baht.
.
5. Vegetable Rice Porridge
If Thai dishes are too spicy for you, then there's always vegetable rice porridge.  It comes in many forms but the main staple is vegetables and rice. The ones I've tried had mushrooms and cabbages.  Nice clean broth. Finding non-spicy food in Thailand can occasionally feel challenging, especially if you get sick (I got a food bug from a Chinese buffet on a day tour) and the doctor said I needed to avoid spicy food. Aside from going to the grocery store or 7 Eleven and buying yogurt, this is perfect for those who cannot handle the spiciness of Thai food.
Calming to your stomach, the flavor is lightly salted, with garlic and/or ginger,  packing a great subtle flavor.  It's a perfect dish if you have a stomach that can't handle anything spicy for you or if you're sick. Some guesthouses/hotels with restaurants may have them. I've also found them at shopping mall food courts. Cost: Approx 50 baht.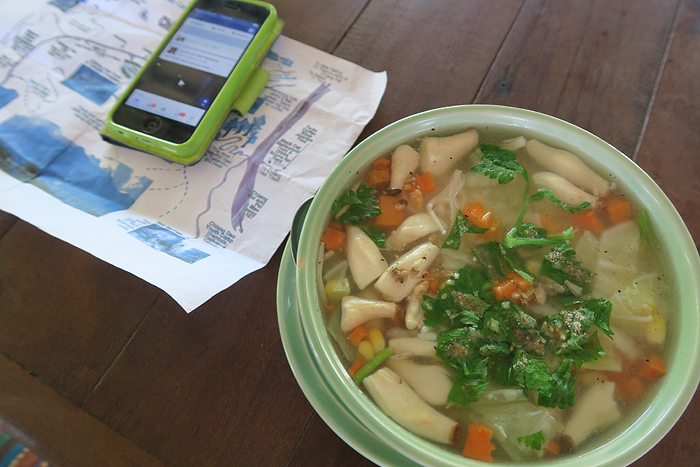 .
Must Try Street Food Snacks in Bangkok
You'll find a wealth of street foods in Bangkok.  So street snacks are the most available and easiest to find. From fried eggs to roti, deep fried tofu or mochi balls to cut fruits, there are so endless things to try! Here are a few well-known ones.
Read: How to Avoid Getting Sick on Street Food
    6. Deep Fried Spring Rolls
Spring rolls are a popular snack that most tourists know of. It's thin rice noodles and vegetables wrapped in a clear rice wrap and deep fried. Often, it's served with a sweet side sauce. Be sure to buy them hot off the fryer. I try to avoid anything that has been sitting out for too long. Cost: 30 baht.
These can feel common on popular foodie streets or on Khao San Road, where they can be extra greasy.
7.  The Thai Taco
The Thai Taco is a coconut creme wafer or coconut crepe. It's a creme filling with an outer wafer cookie. The inside can range anywhere from coconut shavings to meat, combining sweet and savory together. These are snacks so you'll find these on the streets,  sometimes in popular street food areas like the main street directly off the Skytrain at Saphin Taksin in Bangrak.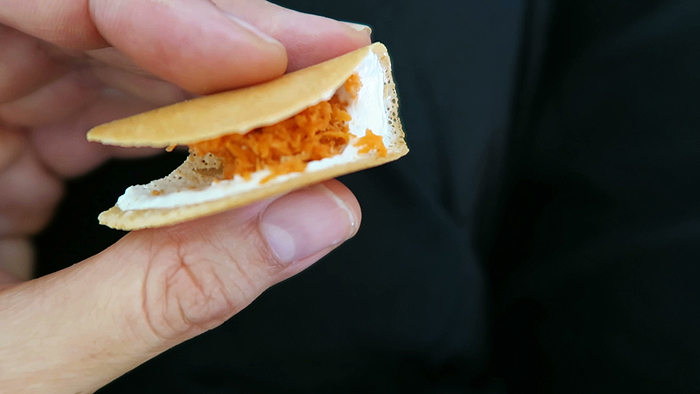 .
8. Chocolate Banana Roti
Chocolate banana roti is a popular street snack for tourists with a bit of a sweet tooth, this pancake-like snack has chocolate and bananas in it.  They're often found in touristy spots like street fairs and Khao San Road.
9. Deep fried insects
The Thai love their deep fried bugs . It's a street snack that's are especially popular in rural Thailand and as a result have made its way out to the city where people have moved to work. It's actually good source of protein and the United Nations encourages it. It's said that the bar girls of Isaan are particularly fond of these insects and thus, you may find carts parks outside of girlie bars.  These all cost 10 baht each for a little package of them.  Some of them are creatively flavored and can come like spring salad mixes.
.
10. Vegetarian Festival  (September or October)
In honor of vegetarian festival week (it's celebrated in an epic way in Phuket!) a lot of the street food vendors have those little yellow flags up meaning that their food is vegetarian. So this is like heaven for me right now. So now I'm at a street food stall table totally gnawing on this loveliness, which only cost me 20 baht. Even though I can't tell you to want they are, other than they're made of vegetable or vegetable protein, soy protein or tempeh… Kinda like a vegetable tempura. Yum. Good.  See my travel guide on Downtown Bangkok to see which streets will have the best street food selections!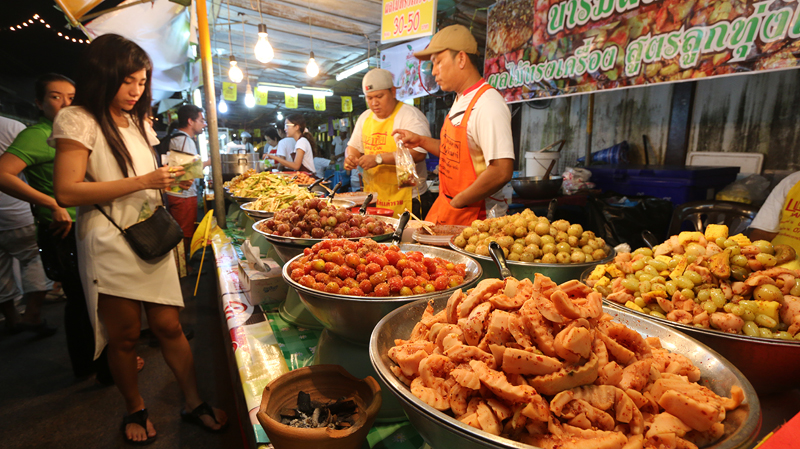 .
Must Try Thai Salads
11. Som Tam
 Som Tam is a favorite salad of Thai..  It's a sour and spicy, but flavorful, green papaya salad often prepared fresh on the streets with a motar and pistle.  The lemon juice, fish sauce, dried shrimp and some peanuts. Som Tam is as popular as Tom Yam soup, so you'll find this on many menus and if nothing else in shopping mall food courts.
.
12. Fried Morning Glories
On of my favorite dishes in Thailand happens to be very simple.  Fried Morning Glories with garlic and a little bit of chili.  I can last on this dish for days. Cost: 50 baht w/ rice; 60 baht without rice.
.
Thai Drinks & Desserts
Due to the Thai heat, the Thai love their drinks, both iced and sweet.  You'll find iced coffee, herbal teas, yogurt drinks, and drinks with tapioca.
13. Thai iced tea
So here we have Thai iced tea. You can find this Thai tea anywhere in Bangkok. It's very milky and very sweet. You can taste the carnation milk in it. But it's also got the flavor of Thai tea, which is kind of like black tea.  A lot of street vendors make this Thai iced tea and you can probably also find an occasional vendor when exiting the Skytrain (there are many tea/drink stands there). Of course, it's filled with ice, because If you like it cold, which the Thai do, especially in this heat. Then they pack it to the top with ice. The ice melts in the heat and then you 've got your cooled-down Thai tea.
Most of the time, you'll get a plastic bag holder for your drinks. This is because you won't be allowed to hold drinks in your hand on the BTS, metro or bus. If you're planning to take the btw or public transportation, ask for a plastic bag.
14. Red Bull Energy drink ( product of Thailand)
You might disagree with me for putting this on my list, but we, westerners know of Red Bull energy drink as offering a caffeinated kick. However, not many know the drink actually originates in Thailand (I had a Thai friend in my MFA program and he brought us back Red Bull tshirts from Bangkok!).  Supposedly the Thai version is a lot stronger than the western version, but tasting it is hard to say.  The  American version tastes more like soda with a little pep to it. The Thai version is surprisingly smooth. You can find them in Thai 7Elevens. Let me know what you think!
15. Fruit & Herbal Drinks in Thailand
In Thailand,  you'll see a lot of fruit drinks, flower drinks ( popular flavors are plum, taro, chrysanthemum, jasmine and more), and herb drinks.  The fun thing about traveling is you never really know what you're actually eating. But only that it tastes good…. or bad. Of the drinks, I find the flower drinks can have a love-hate response. Many of these drinks have added sugar in them and the tastes are very unique.
 For instance, I always accidentally buy the chrysanthemum (you can get them at Chatachuk Market but they're actually common to certain food markets) and upon taste, always remember how I don't like its syrupiness. In my video, I tried a berry drink, which wasn't bad.
Herbal drinks are also popular in Thailand due to their elixir powers. You can drink herbal teas which claim to make you slimmer, more beautiful and virile, etc.. You can find these in Chinatown. I went to a tea shop on my Bangkok food tour in Bangrak , not far from Saphin Taksin BTS.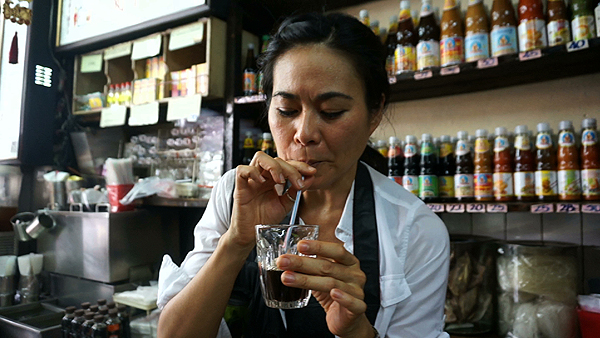 16. Sweet sticky rice and mango with coconut milk
A common Thai dessert that's simple and on the healthier side is sweet sticky rice and mango with coconut milk. Taken together, it creates a flavor almost similar to mango-like ice cream, with enough coconut milk to give it a creamy flavor. The sticky rice is glutinous rice (a cross between mochi and rice), while mango is sliced and coconut milk is drizzled over it all. Sometimes, it comes with sprinkles of baby mung bean for a slightly salty crunchy.
Where can you find these must-try Bangkok street foods?
Khao San road has neighborhood cafes that sell some of the tourist highlights. Downtown Bangkok, Chinatown, Silom, and Bangrak also have several streets which have alley or sidewalk markets– I list them in my guide here.
If you want to try a bunch of must-try Bangkok street foods and gain insight into them, I highly recommend taking a Bangkok food tour. With a tour, you'll get first-hand information from a local guide about the foods you try. I took a Bangkok food tour in Bangrak and I loved it! I also took this midnight tuk-tuk tour (read my experience).
Here's a list of more Bangkok food tour options.
Get my BANGKOK Travel Secrets guide for information on Bangkok dentists, medical tourism, and more!
Should you get Travel Insurance in Thailand?
YES. Travel insurance is always recommended for all travel but I highly recommend it for Thailand. Thailand is an adventurous destination and a fun one. I like to get adventure trip insurance with World Nomads, because there are a lot of cool adventure activities from snorkeling, trekking,  scuba diving certification, caving, rock climbing, etc.. that you might want to do when you're there.  While their urban cities have very good medical facilities, you never know what can happen in motorbike accidents or transportation. I've seen some bad motorbike spills in Thailand (especially Pai where tourists are learning for the first time!) and I've seen travelers come down with dengue. You always want to be prepared. You can use this recommended trip insurance finder tool to find insurance that matches your trip and budget..
What are your top Bangkok street foods?
Getting around Thailand- Book your trip now

Watch Thailand Travel Guide videos for Solo Travelers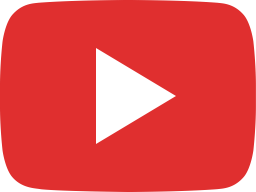 10 THINGS TO DO IN PHUKET | Phuket Travel Guide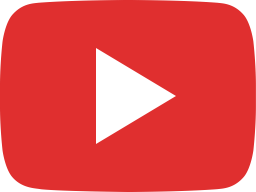 HOW TO USE BIDET SPRAYER TOILETS ( aka BUM GUNS IN THAILAND !!)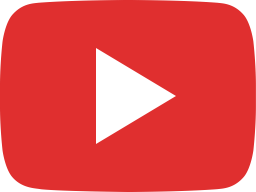 7 ELEVEN IN THAILAND | Shopping in Thailand