Last Updated on October 8, 2018 by Christine Kaaloa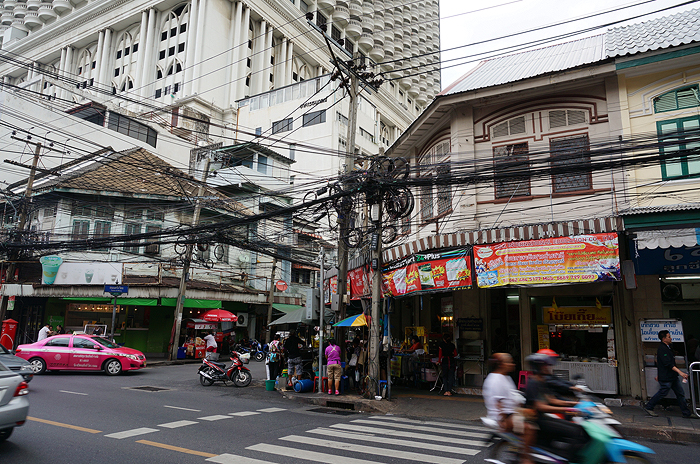 Bangkok is one of the largest street food capitals of Southeast Asia, such that you'll find it everywhere from alley ways, sidewalks and markets. The food is delicious and it makes it into my belly, but as much as I love frequenting Thai food, it occurred to me that I know absolutely nothing about it.
Upon that, I popped open my Google search…  it was time to embark upon a Bangkok food tour. 
What is the Village of Love?
It was 10am  when I met my Taste of Thailand Thai food tour guides, Benz (as in Mercedes) and Boon. We were at the start of the Bangrak district, on the Village of Love tour.
Bangrak is a district known as the Village of Love (bang means "village", rak means "love"). It got its name for being  populated with civil service offices, where Thai come to register for marriage. But it's also an old district of worn buildings and age old foodie shops, that are said to have been around for anywhere from 50 to 100 years. …Now that's old.
Street food hawkers
Throughout Bangkok, you'll find hot spots with street food hawkers. It's one of the things of Bangkok I love most. Bangrak is one of the hot spots and right outside of Saphan Taksin, you'll find the aroma of welcome.
Our first stop was a typical Thai  tea and coffee vendor.   The Thai love "sweet & milky", so they're crazy about their sweet condensed milk.   Usually, you can recognize these drink vendors by the stacks of carnation milk cans decorating their stall.
First up was a taste of the famous Thai tea. This vendor served her tea in high pour style.  High pour is a technique of drink mixing by pouring it from a high height.
Thai drink truck
 I prepared my camera as if it were the start of an Olympic feat.  A long stream spouted out from the barista's tea pot into a another pot. She switched pots. A long stream poured back into the original pot with each pour getting higher and higher, until, voila… tea complete!
Due to the heat, many Thai drinks come with heaps of ice.
Chocolate banana crepe (aka banana roti) is an popular street snack you'll find tourists queueing up and drooling over. Personally, I never understood the craze with foreigners. Essentially, it's a banana pancake with chocolate syrup.  It's delicious, just not my favorite dessert. Thailand has many snacks and desserts and it'll hard to pick just one.
The Basics of Thai Cuisine
What is the foodie template for Thailand's tastebud? Along the way, Benz let us in on the secret–  the Thai appreciate food that is sweet, sour, spicy and salty. They like to experience all these flavours together. What makes Thai cooking an art, is that Thai cuisine balances all of these tastes together!
Thai Curry Paste
We visited a 50 year old curry paste shop, selling  Thai pastes made fresh daily and by hand.  Massaman curry, red and green curries, shrimp pastes … you'll find these at the base of Thai cooking. Spicy, briny, salty,…. yummy. The tiny shop opens early, but as its clients are mostly local vendors and fresh market dealers, it usually sells out by noon.
Markets of Thailand
Bangrak has the second oldest wet market in Bangkok. It's small and easy to miss and we quickly breezed through the produce and open air meats, to get to a fish cake vendor, where we sampled fishcake on a stick, dupped in sweet, spicy sauce.
Wet markets and fruit/produce markets stock all the variables of Thai cooking.  Our real goal was a fruit stall, where we got to sample some of Thailand's common fruits.
Fruits can feel universal, but you'll find certain ones popular and likely in Southeast Asia:  rambutan (a red ball that looks a little like lychee but is furry), durian (a large round seemingly pokey fruit,(a well-known fruit known for it's stink) and dragon fruit (a bright fushia fruit with external spines which look like fish fins)  .
You can find longan or tamarind, used as ingredients for beauty products, soaps and snacks.  Mangoes  are used in Thai salads and desserts.  In tourist restaurants, you might find dragon fruit or lychee shakes on a smoothie menu. You'll even find durian chips sold in local groceries and 7-Elevens.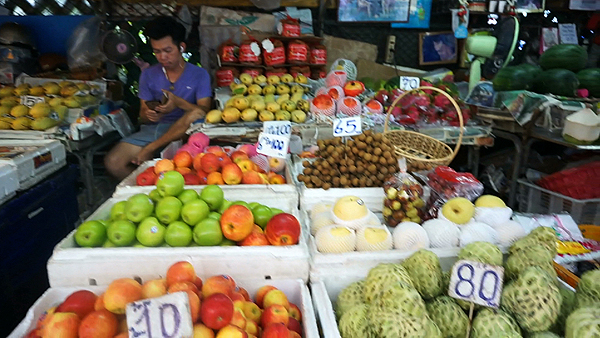 Food ratings in Thailand
The "green bowl awards" are the equivalent to the Michelin Awards in the United States. The award says that the restaurant has been open for a while, food served there is green (aka fresh) and good.
Our next visit was to Boonesap Thai Desserts , a 70 year old dessert shop that has been known to make desserts since World War II. It's off of Charoen Krung Road and is known for their  " green bowl award" rating.   Here we each got a plate of desserts to sample.  One of the popular desserts of this shop is the custard over sweet sticky rice !  But my favorite was sampling the Thai Taco, a snack you see often on the streets, as a mixture of creme and sprinkles of coconut or sweet meat in a taco like wafer!
Boonsap Thai Desserts (boonsap.com), 1478 Charoen Krung Road. +66 (0)2 234 4086. Open Monday-Saturday, 7 a.m.-5 p.m.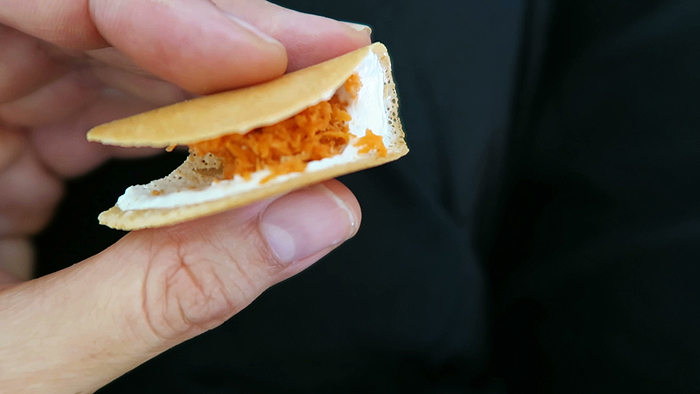 Herbal Tea drinks
In Thailand, you won't find a loss of herbal tea drinks. There are tea drinks for sweet flavor and fun and there are herbal drinks which are said to have healing benefits.
 Wa Tow Chinese Grocer is named after a military doctor, who cured brain disease. Today, it's an herbal medicine shop that specializes in herbal and medicinal drinks which, claim to cure a variety of things from health to beauty.
The shop has menu of teas, with a breakdown of the ingredients and what they claimed to cure. I chose Nam Kom, a Chinese Bitter Tea, because I was told it enhanced beauty and had a slimming effect!  Well, vanity is my human name and slap the tag of "extra beauty" on the drink and I'll gladly drink it. But the bitter face you'll make upon tasting this drink, it's hard to imagine it would have that effect.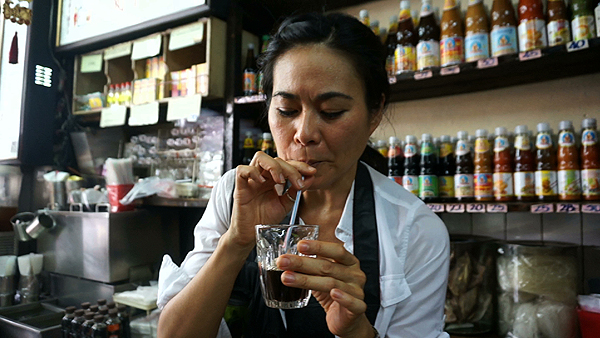 Memorable Thai Dishes
Perhaps one of my most favorite stops was Baan Som Tam ('House of Papaya Salad') , an Issan restaurant, specializing in over 20 varieties of Som Tam. Som Tam is a spicy shredded green papaya salad that is mixed in a fish and lemon sauce  and I am in love with it. It's an inexpensive Thai salad you'll find sold everywhere, made fresh with motor and pistle, even on the streets. To imagine this restaurant sold 20 versions of it, is something I'll need to return for, so I'm putting the address of the restaurant down!
Baan Som Tam, 129/2 ถนน พุทธมณฑล สาย 2 Bang Khae Nuea, Bang Khae, Bangkok 10160, Thailand
Prachak Petyang is a large cafeteria looking restaurant and we were there to taste their tender roasted duck (interestingly, the next stop was Nai Sang Roasted Duck restaurant). That's where they switched my dish with a fish ball noodle soup as a substitute.  Whew!
I've seen fish ball noodle soup being sold on the streets. They're very common and inexpensive as street food. This however, was the first time I've tried it. Maybe it's the name "fish balls" or its seemingly translucent ball-like orbs floating around in a bowl (I'm wincing as I type this)… but I've never had the appetite for it.   But here, sitting in front of me, I had no choice.
It was surprisingly good and not at all as fishy or fish balls as it sounds. The balls are fishcake!  Sometimes, it takes a food tour to get you to try things and disspell food myths.
Thai Royal Cuisine
Last on the stop was a place which I felt was unexpected for a food tour. For me, it was the most memorable and unique.  Thanying restaurant is a little difficult to find because it's tucked away and secluded. Its owner is said to be the son of a former Royal Princess and as a Royal Thai Restaurant, it is an extraordinary window into Thai royal cuisine.  As elegant and elitist as it sounds, the menu prices weren't scary: they seemed actually quite affordable!
According to our guide Benz, the royals need to appear elegant, even when dining, so meat and fish preparation at Thanying, involves removing all the bones, while also putting it back together again (for appearances). If fruit is served, the seeds are removed.
 Royals also, should not be seen blowing their noses or tearing at the dining table, so the food cannot be spicy. Hence, it is flavored, but a little on the bland side, so as to not induce bad effect.
We were given a lovely curry dish with rice garnishes. It was almost too elegant to eat. But my favorite was its coconut sorbet with baby mung beans. Absolutely heaven.
Conclusion:
I came on an empty stomach and left on a full one with more insight into Thai cooking and history than I started with. My Bangkok food tour was truly a Taste of Thailand in all the essential ways of Thai cuisine. If you ever want to learn about Thai food, through sampling a variety of it, a Bangkok food tour is gonna be your best bet!  Highly recommended if you're a foodie and a Thai food lover at heart.
Information:
A Taste of Thailand (http://www.tasteofthailandfoodtours.org/)
Cost : 1200 THB
Meeting point: BTS-Saphan Taksin
Duration: 3.5-4 hours
For more activities and things to do around Bangkok, check out my latest videos: 41 Things to Do in Bangkok – Old City (Part 1) and Downtown (Part 2) !
Note:  The tour was complementary so I could do this review. As always, all my opinion are my own!