Last Updated on May 16, 2019 by Christine Kaaloa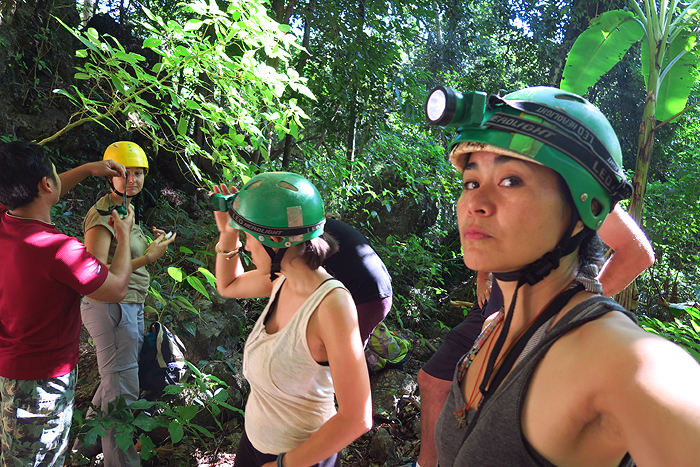 I never expected that I'd be caving in Thailand.
Hoo… nope. Not me. I didn't know adventure caving in Thailand even existed or that I'd find myself crawling on all fours through midget high passageways in water to do it.
I knew that Northern Thailand was perfect for outdoor activities such as trekking and village home stays with ethnic tribes. But I didn't know Thailand possessed caves and that there were rugged adventure caving tours !
I took two caving tours on separate days. My first caving expedition took me to three caves and three types of terrain that were anywhere from rigorous to semi-challenging (Watch my video below!)

Table of Contents: Guide to Adventure Caving in Thailand
Guide to Adventure Caving in Thailand
The famous Tham Nam Lod cave is a "definite must" and the easiest to visit. It has a river running through it and is the most friendly to tourists who wish to experience a cave without having to exert much energy. It is located in Ban Nam Thod village, a 10 minute walk from Cave Lodge.However, the other caves I visited through the trekking/caving tours at Cave Lodge required a little more physical activity.
For some reason, no one at Cave Lodge knew how to prepare me on what to expect on your caving tour. I'm not sure if it's because no one can explain it or it's so travelers don't initially get scared off from trying it.  But I think you need to know what to encounter, so you can prepare properly!
What you need to know about caving before you go
You will need to be in moderate physical condition.
Tham Nam Lod cave is easy and enjoyable for most tourists, and your only concern will be to watch your step. You'll need to hire a guide (at 150 baht) to enter the cave and pay for your boat/driver (you can buy either a one-way trip (300 baht) or roundtrip (400 baht). What makes this cave unique is its vast size and the fact a river runs through it. Most of the guides are local women with kerosene lanterns. Some ladders can be steep to climb (as well as dark, if you're at the tail end of the group and away from the lantern light). Some rocks are smooth and slippery.  You can split costs by sharing a boat and guide with another traveler. But either way, it's highly recommended.  The cave is vast, you'll hear bats and swifts and towards sunset, the swifts will go into a frenzy outside the cave. It's an impressive sight. My second easy cave is Chiang Dao cave in Chiang Dao.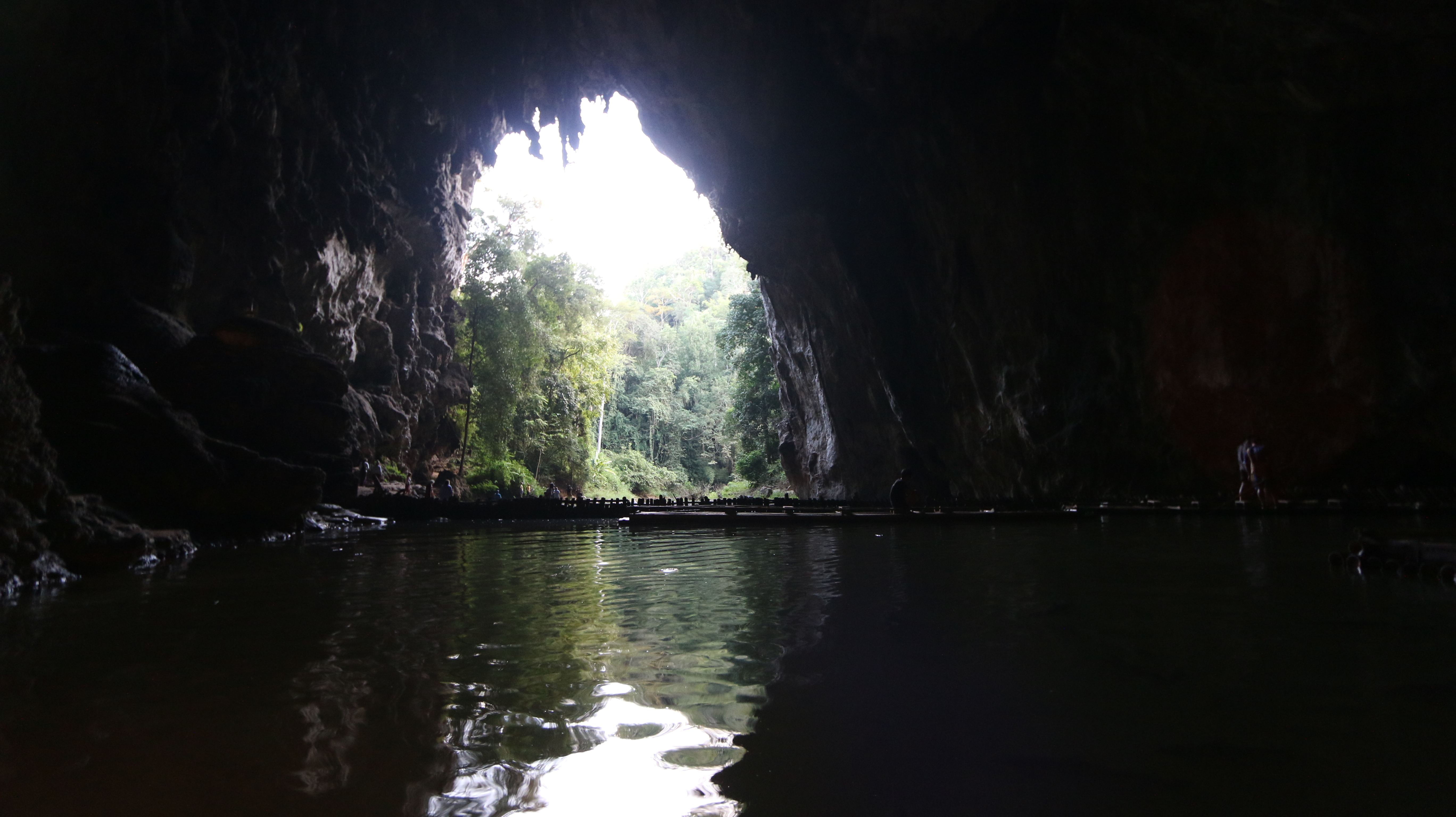 The other caves, require a more experienced caving guide. You be physically active in a moderate to intermediate level. There are steps that can feel risky, spaces where you'll wonder how you'll fit through it (don't worry, you will) and you will be trekking various terrain between caves. You may find yourself crawling through tight or small spaces, on your belly or knees in water .  You may be also find yourself walking on a narrow ledge clutching boulders you want to move around.  Be prepared to trek in the heat and sun, depending upon the weather. Or, if it's rained the day previous… mud.
If you want to take a camera, take one with waterproof casing and one you can strap on you securely, to keep it from jostling around or hitting the rocks and boulders!
Do not wear good clothes. Be prepared to potentially get wet or even muddy.
It can get rugged. You may experience versatile terrain whilst getting to the cave or even once you're inside. You might be climbing through tight spaces, occasionally low ceilings, which may force you to crawl. In our case, there was one cave in which we had to crawl through low tunnel, with a river with pebbles cushioning us below. Also, some ledges are rocky and can give way to a slight slide; some terrain is muddy and can be slippery. Yes, you will at times, feel like you're living an Indiana Jones moment. If you're a woman and never expected you'd try anything as adventurous as this, let me shed a little insight– it can feel challenging but it's absolutely thrilling!
With caving, it's not advised to go on your own. Not only are some caves hard to find (you can easily pass the entrance thinking it's a rock crevice) but the caves can be dark, footing isn't always easy and you may encounter spiders and  snakes!
Watch where you put your hand. Back to the part about snakes and spiders… you may encounter "critters". For the most part, your caving guide will point them out. He is local, has trekked the route often and knows the caves. But just in case he misses it, then watch where you put your hand.
Be assured, you will survive, visiting the caves are worthwhile, it is highly recommended and a lot of fun!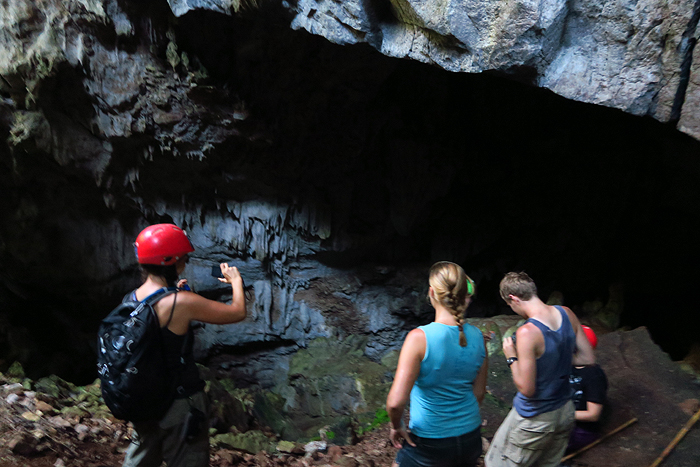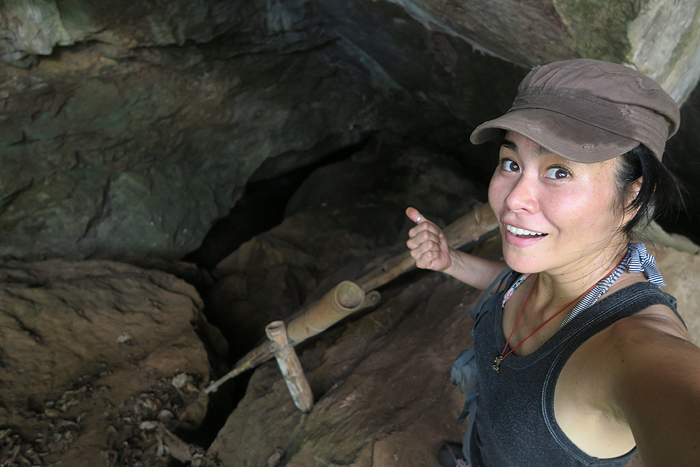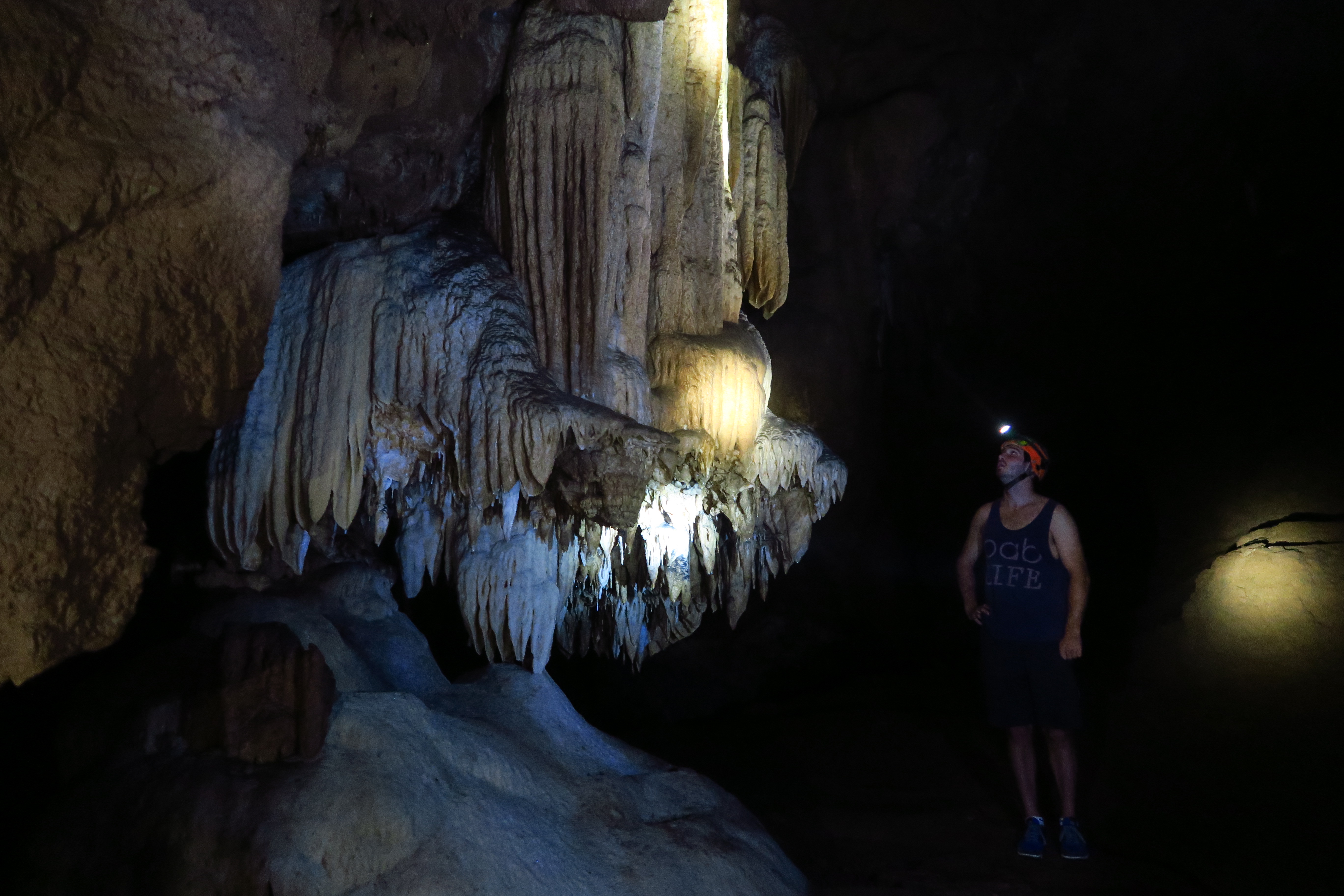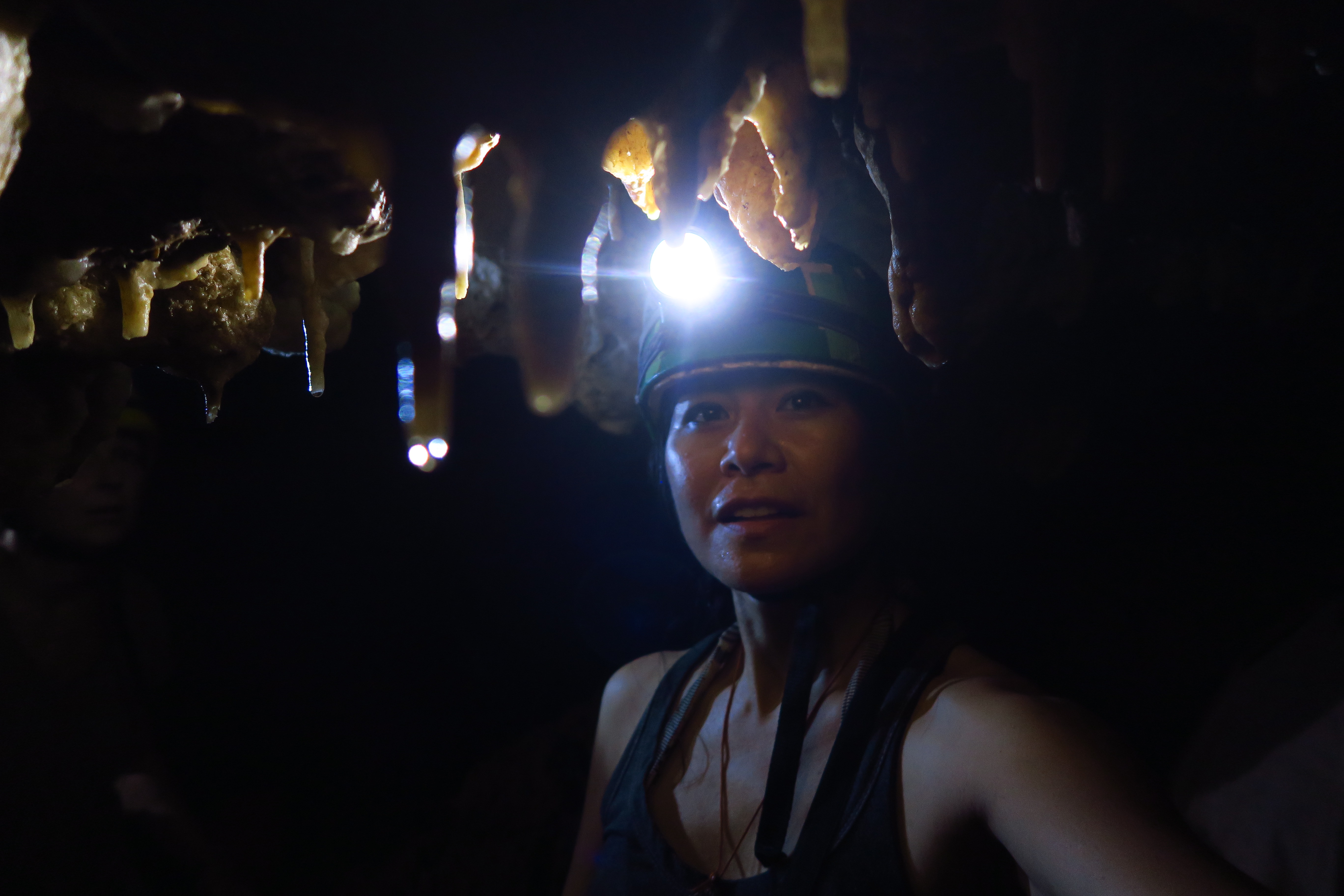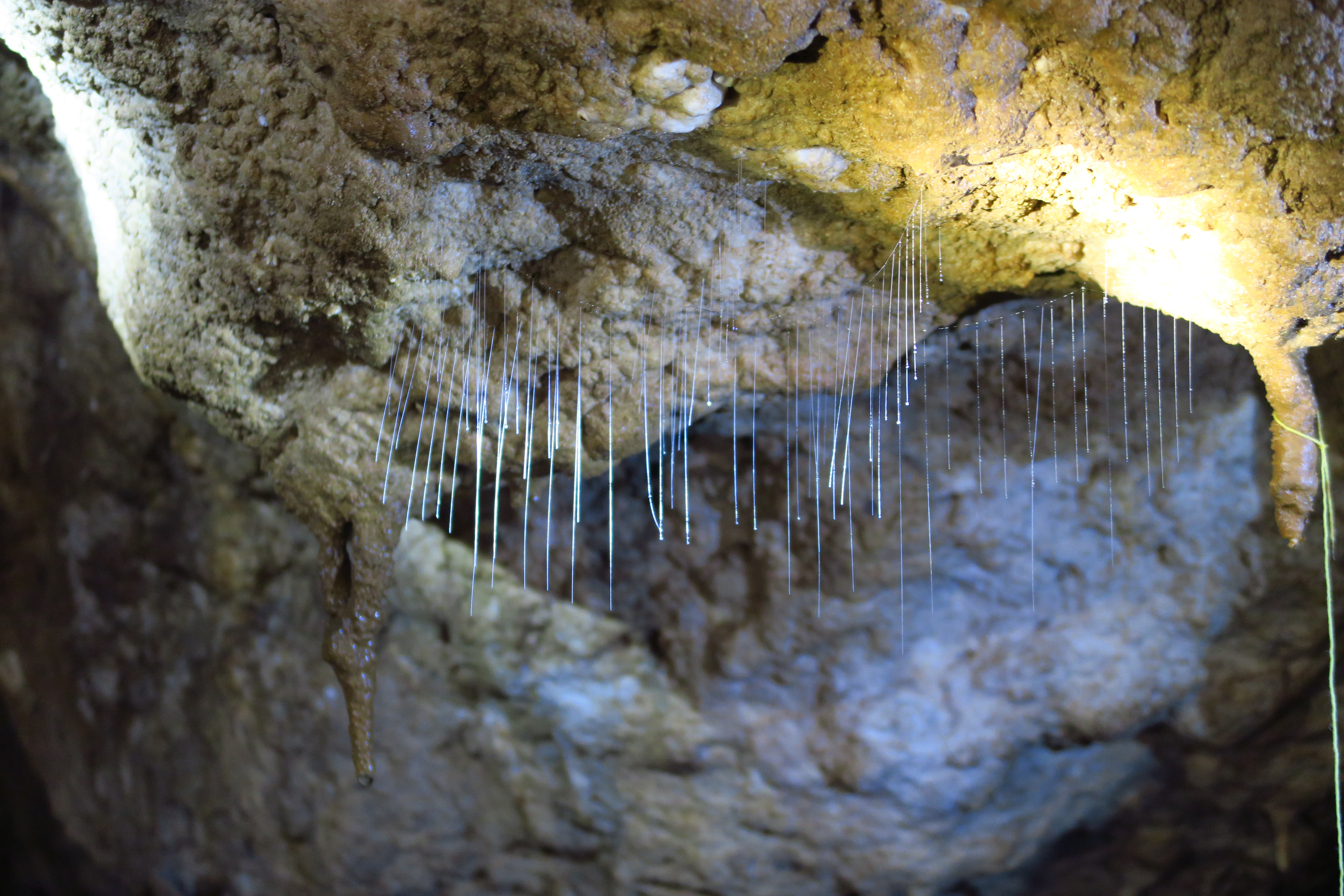 What you need for caving in Thailand
 Most caves require a guide, strong headlamp, a helmet and an open mind.  The caving/trekking tours can provide all, but you'll need to bring the open mind.
A helmet is necessary for some of these caves as I bumped my head on jagged cave ceilings more times than I can count, as some spaces can get low or tight.
1-2 bottles of water
Mosquito or bug repellent
Sunscreen
Proper shoes
A small bag or pack if you want to carry your waters and essentials.
A waterproof camera – An action camera like a GoPro (the new GoPro Hero 5 is waterproof and dustproof) or disposable waterproof camera is the best. Keep in mind, caves are fairly dark and in many cases, your head lamp will light your way. If you plan to take photos, a DSLR is probably not a good fit.
Optional: A towel or headband to wipe your sweat.
What to wear:
Wear clothes you don't mind getting wet and muddy or dirty. I was glad I took my Northface Paramount Peak 2
convertible shorts/pants, because when it was hot I could strip the pant legs off . Also virtually each person in our group fell during the trek. With trekking, some areas can be dry, steep and crumbly; other areas are muddy and slippery. You want to be equipped for any occasion. My pants were rugged and thick enough to offer protection.  Some travelers wearing leggings envied me, especially when we hit the cave where we were belly crawling through stream water and it saved my knees from being scraped on the pebbles! While my knees were still uncomfortable during that crawl, I just imagine how those in shorts or with less protective clothing must have felt!
Information & Cost:
Cave Lodge, Pang Mapha, Thailand (website)
Cost:  750 Baht (requirement: at least 3 people signed up; signup board in commons area)- includes a pickup ride up the mountain, expert guide, caving light, helmet and lunch. Other caving trekking tours come at varied costs.
Watch the Experiential Video
Recommended Products for Caving . Click to Shop 
American travelers often pay a premium on travel insurance.  World Nomads offers economic solutions for travelers who seek security and peace of mind.  It covers 150 countries.