Last Updated on December 30, 2017 by Christine Kaaloa
Thiksey Monastery or Thikse Gompa is 19 km from Leh and is one of the biggest and most photographed monasteries of Ladakh, India.
Given photos I'd seen of it, I wanted to see how impressive it might be up close. It didn't disappoint.
.
Finding the Leh bus station
Finding the bus to Thikse Monastery was a little confusing at first. I found that the "bus station in Leh" was actually an open dirt lot with van-like buses. It's right outside the main parameter of Leh, at the bottom of a hill.
Once you find the station lot, you'll need to ask locals which bus it is. The buses are labeled, but it's easier to ask rather than go from bus to bus reading signs.
After I found the bus to Thikse, I boarded it and waited.
A group of seven Ladakhi teens, on their way home from high school, decided to strike up a conversation with me.
Taking a local bus to Thiksey Monastery
The bus drive took around 30 minutes.
I never know who I'll meet on a local bus and this is one of the reasons why I like taking them. I've not had a negative experience yet. Sometimes, a local will strike up a conversation with me out of curiosity or to practice their English. Other times, we all just sit in shy silence. So far in India, I've only had one conversation on the local bus. It was an hour-long one, with an Indian businessman, who was recommending places for me to see in Kerala.
Now, a relaxed friendship had built between me and my new gal pals .  As we rode, I got rifled questions about whether I had seen the movie Twilight, who were my favorite musicians and boy actors were.  Just how old did they think I was? I had to chuckle.
A  lot of times, I look young for my age. Even occasionally by Asian standards… but surely, they couldn't think I was in my teens too.
I was informed of the local trivia surrounding areas we  passed by. For instance, a flood had destroyed part of this town, …Shay, this town (as we were passing) is the school where the Bollywood film,  3 Idiots, was shot..
Accidental guides and what is a socially-responsible traveler?
By the time our bus dropped us at Thiksey, the girls had appointed themselves my official tour guides.
Just to be clear, I didn't hire these girls nor was it one of those incidences where they were aiming to get employment out of me. In my experience of travel, there's always been kids which try to make themselves your unofficial guides in hope of making side money. Whether to employ them or not, is something I feel torn with occasionally. The idea about being a socially-responsible traveler engages the idea is that by employing (aka "tipping") minors in depressed societies for their work as guides, you're encouraging them to leave school for a life working in the streets, for themselves, a shady employer, their family,…sometimes,  illegally.  The other idea is more of a human instinct one~ children  seem harmless,  entertaining and they often inspire us with their own curiosity. We reward their entrepreneurship, because poor families, usually can't  afford to send their children to school.  Personally, I try not to let children work as guides; but in the past, due to certain circumstances, I've led some slide.
These girls were intelligent, going to school and taking me around was something they were doing to pass time after having completed an errand before going home.
I've never had a tight girl group of my own when I was at their age, so a part of me felt great and a little sad at a childhood I might've missed out on. Each had a different personality making it hard to decipher what brought them together. You could see the smart and studious ones, the well-behaved vs. trouble-makers, the shy but curious, the cool but curious, the tough but wanting attention… none were really girlie-girlish, but  tomboys instead. This meant we'd all get along great.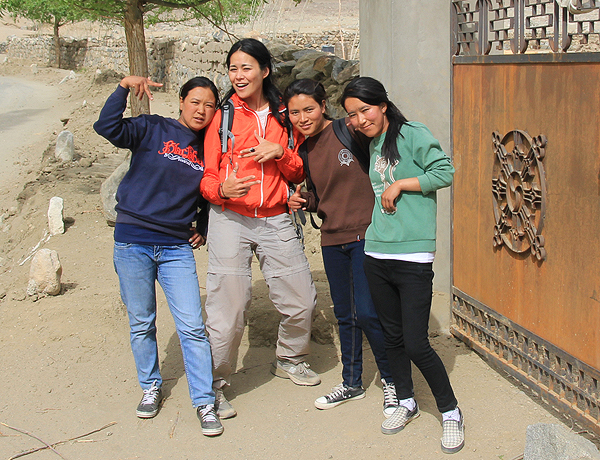 Welcome to Thikse Monastery (aka Thiksey Gompa) 
As a twelve-story compound, Thikse Gompa houses 120 resident monks, both old and young. Many tourists like to visit the 7 am morning prayer sessions to listen to the chanting of the monks.  Inside this 'mini Potala Palace' fortress houses a giant 40 foot Maitreya (aka "The Buddha of the Future") Buddha, commemorated to the 14th Dalai Lama in 1970.
The two-story (49 foot) statue is painted in gold and copper paint and houses Buddhist texts inside.
During festival occasions, there's mask dances and the making of sand mandalas.
It has a artifact gallery which preserves some ancient relics and texts, Buddhist art, Thangkas and ritualistic instruments. The artifacts are labeled in Tibetan but the descriptions are in English. Walking around with the girls, they would  The fee of 30rupees goes to maintenance of the museum.
Riding back to Leh on the bus, it was a little sad for me. One by one, each waved goodbye and exited the bus at their stop, knowing they'd all meet up as friends the next day.
Information:
Thiksey Monastery (website: http://thikseymonastery.org/)