Last Updated on August 25, 2017 by Christine Kaaloa
Ladakh Guide: 8 Incredible Places to Experience Heaven
As I said earlier, Ladakh is the most beautiful place I've seen.  Surreal, mystical, magnetic. The beauty of this land is almost alien to me. It certainly can't exist on earth. I could stare at it all day.
But what places should you visit to keep that experiencing that heavenly high?
Ladakh Guide: 8 Incredible Places to Experience Heaven
1.  Staying at Old Leh
Compared to the beauty of the Ladakhi landscape, you might think this Old Leh is a bit of a sleeper.  It's actually one of the main launch sites and towns for trekking and during tourist season the buzz begins. The architecture is old and faded, but it's got an air of cool to its slow swagger. Walk around town and you'll see some of the wildest characters swinging prayer wheels… The Tibetan-cowboy style of the town is wild-and-straggly-meets-borderline-funky. At times, I felt like I crossed paths with several Tibetan aged Keith Richards.
During celebrations, the town puts on a cultural show that will awaken the sleepiest traveler. The gold of this town are its people and traditional culture.
Read my post more information about visiting Leh and tips on booking trekking tours and drivers.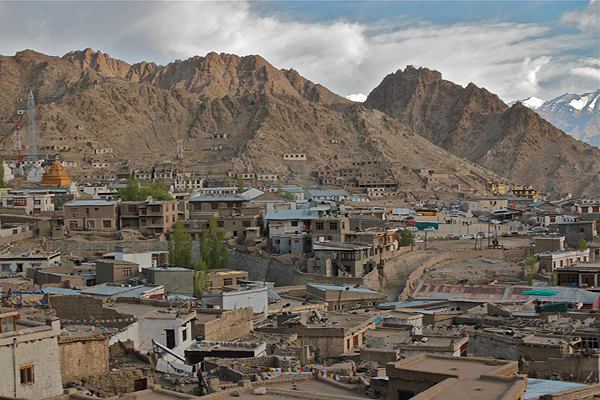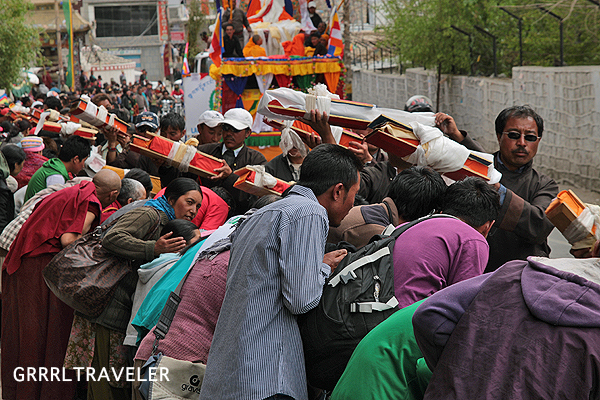 2.  Visit Thikse Monastery
Ladakh has many monasteries and you can visit them by taxi or bus. Thikse Gompa (aka monastery) is one of the well-known monasteries twenty minutes outside of Leh, neighboring Shey. It houses  a 49 foot high Maitreya Buddha, an interesting art and artifact museum, 7am morning chantings and the making of sand mandalas during festivals. Read about my experience catching the bus to Thiksey Monastery.
3.  Kardung-la : the Highest Motorable Road of the World
If you're interested in visiting Nubra Valley (Hundar-Diskit), you'll probably be driving over Kardung-la, the highest motorable pass in the world.  There's a military camp at the top, which patrols the area and checks your permits as you arrive.
4.  Visiting the majestic Nubra Valley: Hundar/Diskit
What can you do in Hundar/Diskit other than just gape at the mountainous giants of landscape surrounding you? Diskit Gompa (or monastery) and the Giant Maitreya Buddha are noteworthy visits. The gompa houses over 100 monks, runs a school and holds an annual Festival of the Scapegoat in February. The land is also home to bactrian (two-humped) camels.
Note:  A permit is required to cross over into Nubra Valley and you will need to get this from a local tourist agency. Permits will require at least a day to get. If you want to stay on budget, you can take the public bus from Leh. I booked a two day tour and shared driver out of my guesthouse. They acquired the permit for me.

5.  Spending an afternoon at Patar Sahib Gudwara (Sikh gudwara)
The Sikh temple, which dates back to 1517, was constructed as a memorial to  Guru Nanak, a saint respected by Tibetan Buddhists and who is also the founder of the Sikh faith. Located on the Sringar-Leh road, the gudwara is 25 km from Leh.
Sikhs are known for being the warrior class in India and when you look at the paintings in the gudwara, you'll understand why… there's lots of violence and bloodshed. Surprising for a temple but fascinating. Inside the gudwara, there is a huge rock which is said to be the rock, which a demon threw at the beloved Guru-ji with the intention to kill him.  Currently the army is looking after the gudwara.
You're free to have free lunch in the dining room out back. Dining is standard Indian style for temples. You'll sit on the floor and someone will come around and scoop food into your metal plate. Where's the utensils? Well, this is India… be sure to use your right hand (and not your left!). More pics here.
.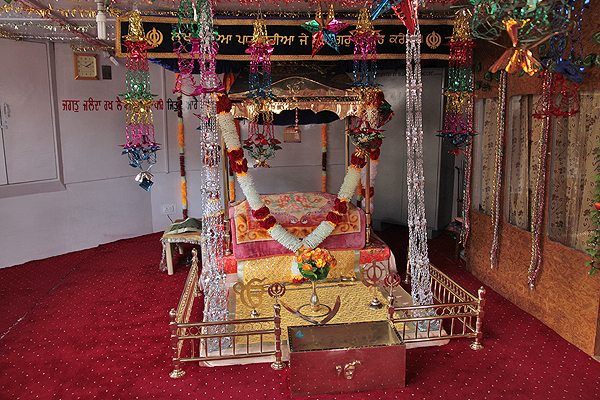 6.  Checking out the magic of Magnetic Hill
Located on the Leh-Kargil-Srinagar national highway, about 50 km from Leh, is a phenomena can't quite be explained.
Magnetic Hill is rumored to have enough magnetic pull, to pull your vehicle uphill even after you've shut the engine off. This is one rumor. The other, is that the hill is an optical illusion and you're not really going uphill.
Still, the landscape around it is impressive and just a little ways further, you'll find….
7.  Sangam River: Indus and Zanskar rivers merge a mix waters
From mystical magnetic hills to the Sangam river… Ladakh doesn't stop it's jaw-dropping punches!
Sangam is the Indian word for "confluence of rivers". The Sangam is  between the Indus River, which originates in the Tibetan plateau and flows down thru Pakistan and the Zanskar river, which is native to Ladakh.
8.  Taking a dip in Pangong Tso Lake
I wasn't able to see this lake in person and I'm still pouting. I could only  savor this oasis beauty on-screen.  Pangong Lake is one of Ladakh's prized lakes. It stretches from India to Tibet and due to its exotic beauty, it's grace the screen of a few Bollywood films, such as 3 Idiots, Dil Se and Jab Tak Hai Jaan.
Note: This lake requires a permit and you must be in a group of at least three people. If you're an Indian national, you may get an individual permit.
What do you think of these 8 Incredible Places to Experience Heaven? Been to Ladakh? What are some of your recommended sights?