Last Updated on June 7, 2023 by Christine Kaaloa
Some of you have been curious how I budgeted for seven months on the road. Or maybe, you want to know how much to sock away for India, Asia and Southeast Asia.  So let's talk about budgeting and hobo-ing.
Each traveler is different, we all have different budgets, comfort zones and spending habits.  So I'll just say up front, that whatever your budget (as long as it's realistic and has some padding for occasional comforts) is, is doable.  If budget is the most important thing to you, you'll find a way to make it work. Even if you had to sleep on a park bench!
Budgeting  2-weeks  to seven months
When I started out on my backpacking trip to Southeast Asia and Asia, the idea that I'd be traveling long-term didn't occur to me. I thought I'd be on the road for three months. So, I got a crash course in budgeting when I was on the road… and I freaked out.
Originally, I socked away $9,000 for traveling. I thought I'd just do things the cheapest way I can. Bad idea.  I was a short-term traveler, striking out on long-term trip for the first time. Budget-wise, you can't treat a long-term trip like a short-term one and you have to be mindful of your spending habits.
Short-term travelers, even with "tight budgets", have unconscious "vacation mentality". They'll splurge knowing they have a job back at home to refresh their funds. I know this because I used to be one.  They're the travelers you don't want to pair with as they'll drain your budget quick.  If you're long-term, you don't have the safety net of a job waiting for you back home. You need to make your dollar stretch. Extra dollars spent, could mean an extra day or a splurge, where it really counts!
Splurge on a little souvenir necklace, shell out a few extra dinero on a big meal and pick up shampoo and baby wipes… Before you know it, you've spent $10-30 on crap. Everything adds up in a sneaky way.
Fortunately, I didn't bleed my bank dry. But still, budgeting a long-term trip was a stressful ordeal.
 Read Long-term solo travel and three mistakes I wish I avoided
How did I budget myself for seven months?
To keep abreast of my budget, I used an Excel sheet to track my daily expenses from 'incidentals' to 'necessities'.  I wanted to know how much I spent from a day to a week and to see what my spending patterns were.
For India and Southeast Asia, it's easy to get by on $10-25/day. On the average, my expenses totaled roughly $1,000/month  (give or take a few $100's).  *Additionally, I also got around in Japan for under $30/day.
Money guzzling costs:
1.   Flights & Transportation :  $200-$650/month
2.   Accommodations :  $250-450/month,
3.   Miscellaneous expenses: toiletries, sightseeing activities, souvenirs  ($10-$300 depending)
Flights, transportation, accommodations,… You can't really cut big corners on these. Food and miscellaneous stuff  however, is malleable. I also racked up extra charges on things like treks, yoga classes, certifications ( yoga ttc, reiki and diving) and sightseeing tours.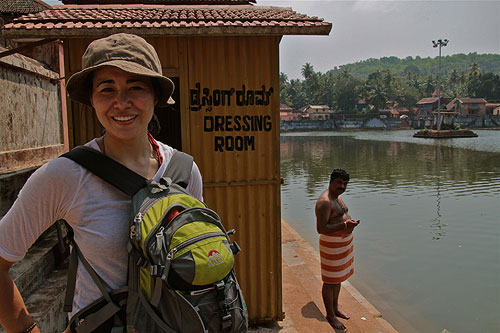 How much does your travel style cost?

Whether your Achilles Heel is shopping, drinking at pubs, snacking, sightseeing or luxuriating,  your guilty pleasure will expand your budget.
I don't deny myself of fun, but I don't go overboard with luxury splurges.  I tighten my belt on transportation and food.   I want to explore local ways, but allow myself to be pampered, where I need it. …And believe me, there are times you're on the road so long, you need it!
I pad my budget for occasional trinket buying, sightseeing activities and I always put a an extra $300-$1,000 on the side for emergencies.  I over-budget, because I don't want to find myself in a financially-strapped predicament.
Can you spend less on a long-term trip than I did?
Of course.  One person spends $10 on something, while another gets it for $3.
I met a traveler, who was living on the road for years. In Gokarna (India), he was living in 100 rupees beach huts! Now that's cheap! He was doing everything locally, even going to a local watering hole for drinking water! His resourcefulness was impressive. But I couldn't travel like that.
I'm not a 100 rupee/day person. I don't need a hotel, but a beach hut won't do. Nor do I want to  deprive myself of touristy fun.
Art of Hoboing:  How to budget for long-term travel
I've always had an underlining fear of being homeless. After this trip, that fear has considerably lessened. I bonded with my ' hobo' and I found that where there's a will, there's a way and we're all resourceful if we try.
1.  Budget accommodations
Hostels and guesthouses
While the general rule is you get what you pay for, you'd be surprised how some hostels are pretty hip and some guesthouses are reminiscent of resorts and hotels. You might even find more creative and unique places to stay, which add to the adventure, …like on a bus station bench or in a hammock (which I did in India, although this was actually my last choice in both cases).
Tip: Agoda.com has a surprisingly good variety of places to book for every type of budget.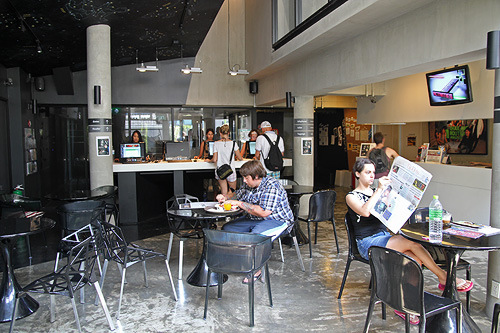 Stay with locals
Some travelers claim success with Couchsurfing. Truthfully, I found the process cliquish and time-consuming.  I don't have time for "friendship dating". Bottom line: I need a crash pad and you just need to know I'm going to be respectful of your space and not steal your stuff.
Instead, you might be like my friend, Regina, who has a talent for meeting locals, who invite her to stay in their homes. I don't know how she does it, but it's saved her a sizable chunk on her RTW trip.
Unique stays
When you're on a budget, you can't only look at the obvious choices.  Anything that allows a bed or chair overnight is an option.   For instance, an overnight bus or sleeper train is worth an extra splurge, because you're saving yourself sightseeing time by traveling at night and the vehicle doubles as a hotel. In South Korea, I've stayed at 24 hour bathhouses for approximately $8/night and in Japan, I diced my hostel budget in half by spending a couple of nights at a manga cafe!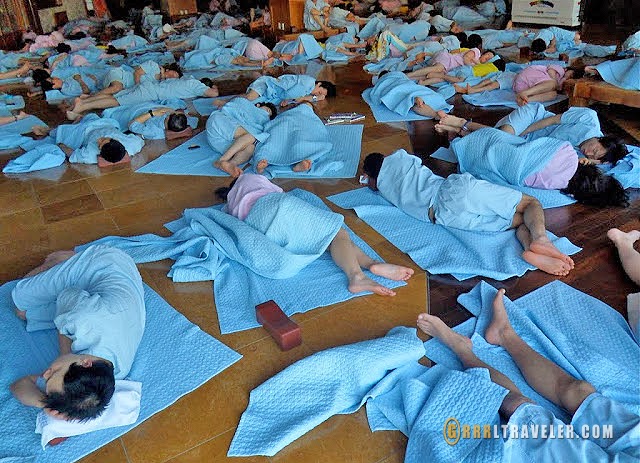 Rent an apartment
Rent an apartment or try bargaining with your guesthouse to give you a special rate. Some places will  happily accommodate you.
2. Budget transportation

Catch the local bus
So you're packed into a crowded country bus, sitting on a bag of grain with a goat on the roof. A cultural experience that cost you only 50 cents! Sure, you may experience discomfort, uncertainty and it'll take more effort to get bus schedule information, than have it set up for you by a travel agent. But it's the cheapest way to get around and  you'll get to rub shoulders with the locals. Expect the unexpected and I promise, you'll come home with fun stories.
Read How to Catch a Bus in a Foreign Country
Read some of these transportation guides:
•         A Guide to Transportation in Laos
•         Guide to Transportation in Bangkok
•         Transportation in Myanmar
•         Transportation in India
 In India I went from taking tourist long distance VIP buses to those overcrowded Indian buses you swear to yourself you'll never take… the local government bus! On those buses, there were times I stood wedged into an Indian crowd with my large backpack stored up front, next to the driver, as luggage. I've also felt lonely and nervous being the one standout tourist in a crowd. But the only scary thing about riding in a local has been in my imagination (…and when I needed to go to the bathroom!)  I've actually found some local buses as comfortable as the tourist buses (minus the seat padding) and it's saved me at least $10-15, which can be a night's accommodation!
Read Adventures on an Indian bus
Take overland routes (via trains, buses, vans)
The pro to taking overland transportation to country cross borders is the price difference (anywhere from $20 to $200+). The con is that it's less convenient and you need to be aware of visa regulations, entrance fees and potential border crossing scams. Seat 61.com is an excellent resource for information on border crossings. Also, Dave of The Longest Way Home has some awesome tips on how to plan for an overland trip.
.
Overnight sleeper trains and buses
Sleeper trains and sleeper buses are another thing I'm a big fan of. It's a big 2-for-1 deal! The obvious point is to maximize your daylight hours (by using it for sightseeing) and have your night hours go for transit time with your sleeper bed substituting as your hotel.
Read Tips for Traveling Alone by Night Bus
3.  Eat like a local
Eating in Asia is cheap. You can go cheaper if you consider how locals eat.
Tourist restaurants : Most expensive
Local restaurants : Average
Hole-in-the-wall "local"  joints : Inexpensive.

Advice: I eat three full meals a day. Instead, I have one and I prefer pick-me-up meals and snacks, like nuts and street food. Local street snacks are a great way to sample the culture.
Street food
Street food is commonly the cheapest place for a good bite. Locals do it all the time.  Make sure the food is prepared before your eyes and is hot. Avoid foods that have been laying out for a while or have flies on them. Read more on Street Food Safety
Did you know in India, folks drink locally-made sodas and it's cheaper than any other beverage?
 Shop at a grocery store or produce market
I love produce markets and grocery stores. Being that I'm largely vegetarian, I've found difficulty eating in some countries. When I encounter that wall, I head to the grocery store and it almost always has an alternate option. In India, I missed my salads. Due to the bad drinking water, buying a leafy salad wasn't safe, so instead, I shopped for oranges or a pineapple from a local produce stand. They're great snacks to pack on a long bus or train ride.
Tip: Bring a pocket knife for peeling and cutting fruits.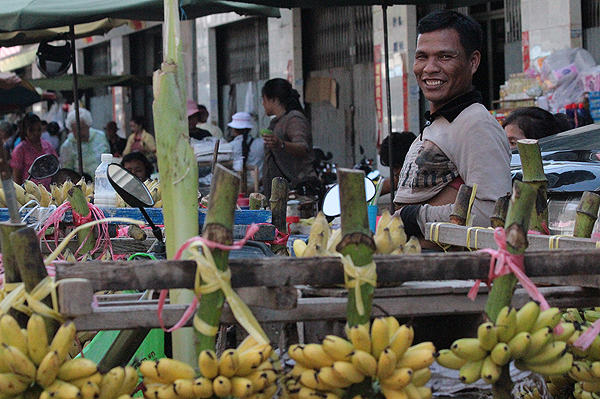 .
Purify your  water and use refilling stations
On an on-going basis, buying water is not economical.  I used my water filter and electric boiling wand and found water recycling areas. Be on the lookout for water refilling stations, where you can refill your bottles cheaply. Making your own water is also better for the environment, as you pare down plastic bottles usage.
Eat at a temple
Not that I want to advocate religion to a non-believer, but any food offered here is occasionally free.
.
4.  Make friends and split costs

Backpackers are always on the lookout for ride shares,  room mates and way to split the cost of tour guides, whether they're solo or in a group. It's ideal to match yourself with travelers in your budget range and a good note is to look for young backpackers with a long-term travel plan. Backpacking Europeans can also be frugal.
Short-term vacation travelers tend to be in 'vacation mode',  so pairing up with them might either make you feel cheap or tempted to splurge. If you're not careful, they'll make your bill run higher!
Advice: Be wise about the travelers you choose to friend. Not everyone is trustworthy.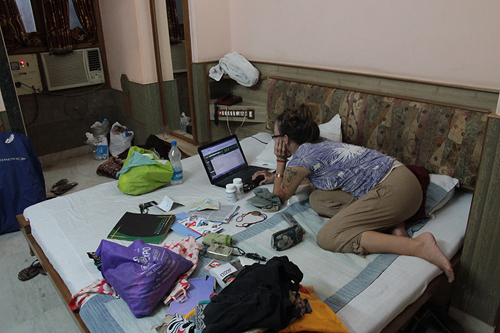 5.   Save the souvenirs for the end or ship them
It was a challenge to hold off on buying souvenirs as I traveled through different countries. I didn't want to use my funds up at the beginning of the trip nor did I want to accumulate extra weight in my backpack.  But when you know it may be a while before you to return to that country and you really love the products there, it's best to get those souvenirs. Don't regret it later.
Ship things home
I've seen other travelers carry their shopped souvenirs in their pack. I preferred to pay mailing costs and ship it home so I could continue my trip lightweight.
When I was in Dharamsala in my yoga program, everyone was hitting the souvenir shops hard on their last week there. I still had more traveling to do and it was hard not to pick up the vibe, knowing I love India as much as I do. I eventually did cut loose on the shopping and mailed my souvenirs home so I wouldn't have to carry them.
 Another tip: Buy small items vs large ones!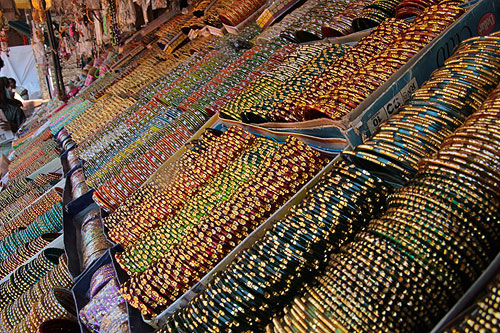 What are some of your budgeting or hobo tips? How would you budget for long term travel?