Last Updated on June 16, 2019 by Christine Kaaloa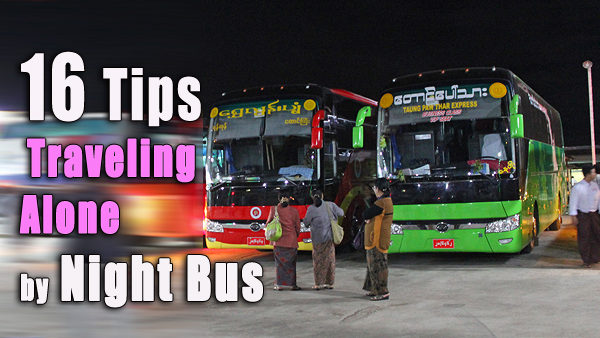 Tips for traveling alone on a night bus
 Will the seats be cramped? Is there a toilet on the bus? What if I get sick?  Is it safe?
A  lot of  travelers, experience reluctance towards the idea of taking an overnight or sleeper bus.   Mostly, it's because you can never be sure what you'll get.
For instance, in India and Japan, my initial expectations were too high, leading to either, culture shock or  disappointment when the bus didn't meet my standards. Between Myanmar transportation and transportation in Thailand being so luxurious or comfortable, my expectations were low, resulting in a pleasant surprise. In Laos and Cambodia, I really didn't know what to expect and I decided to make the best of whatever situation arose.
Prepare for the worst; expect the least and keep a mind open to the adventure.
This is my travel bus motto.
On my recent travel to Myanmar, it occurred to me that language barriers could pose a serious problem in getting around.  While I've navigated cities, where bus signs were written in a different language,  Yangon was the first city, I encountered the country number system, being in a different character! Travel always loves to surprise you just when you think you're finally getting the hang of things.
While these tips apply to all travelers, it stands to reason that for solo travelers, feel even moreo overwhelmed, especially if you don't know the language.
16 Tips for traveling alone on a night bus

1    Avoid the back seat.
Being stuck at the back of the bus, is never a lucky seat for someone. If you've got motion sickness the back of the bus is the bumpiest, especially in rural areas or countries, where the roads aren't good. Either way, if you get queasy easily, back yourself up and pack a plastic bag!
2    Pack warm clothes
Every night bus I've ridden on so far has blasted their air-conditioning to a chill. It's taught me to always pack a jacket in my carry-on/daypack.   I also pack a pashmina scarf, leg warmers, arm warmers and thick socks… I don't like being cold. Especially when I don't have a say over how many bathroom breaks I get.


3   Take a bottle of water
You might and probably will, get thirsty.

4  Don't drink a lot of liquids before or during the ride
Few buses have on-board toilets and you have no control over the amount of rest stops your bus takes. If your bus ride is three hours its likely you'll get at least one potty stop at a rest stop facility. If you really have to go, I advise telling the driver it's an emergency. This means, you're going to have to be "that person".  Which brings me back to the first idea… don't drink a lot of liquids before or during the ride.
5   Always take your essentials and valuables with you
Pack a carry-on of essentials and your valuables and always take it with you. Especially when your bus makes rest stops. If you ever miss your bus or return too late to find it gone, you'll have your money and essentials on you, as your luggage goes onward to your destination without you.
6   Stick with the overnight reclining seats vs. beds
So  far, I've only seen beds on overnight buses in India  and I don't recommend them. The recliner seat is actually more comfortable. In the case below, the bed was sold to two people. I, being one of them. Luckily, a friend was the other person and it was such an uncomfortable fit, she chose to sit in one of the open seats below.  It was one of the worst rides of my life.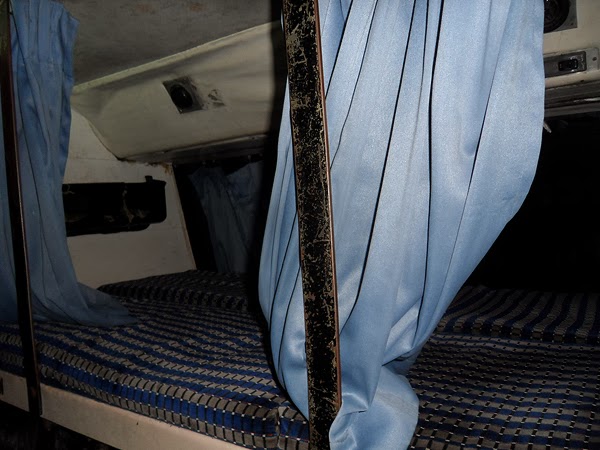 7  Know your arrival time.
Some buses can arrive at the final destination at surprisingly odd hours.  Personally, I've experienced this twice. Once, in Bagan Myanmar, when I arrived at 3am and in Gokarna, India I arrived at 5am.  In both cases, they were rural village towns and the arrival time felt uncomfortable and a tad unsafe for me. If you know you're arriving at an odd hour, you can always change it.
 Tips for Rest Stops
Depending upon the city or country, some buses have toilets on the bus. But generally, many don't. Public rest stops are the alternative.  At a good rest stop, there's a  restroom, restaurant,  a snack shop  and parking lot filled with buses stopping in from various directions.
8.  Always bring tissues and hand sanitizer
At your absolute worst, the rest stops can be made on the side of a dark highway road or at a grungy bus station, where you don't want to touch anything.


9.   Always return to your bus promptly
Buses will leave without you if you're not back in time. I was on a night bus in India and our bus was pulling out of the rest stop parking lot .  A fellow passenger was chasing after it pounding on the outside. Luckily, he was heard and the bus stopped.


10.  Befriend the person next or near to you
Befriend or talk to fellow passengers. They will be your the allies to stop the driver, when the bus leaves and you're not on it.  If you're memorable, you have a 50-50 chance of a fellow traveler or local speaking up for your absence.
Tips for finding your bus at night
At bus rest stops, there will be many private bus companies coming and going, letting off passengers and leaving with them. If it's a busy rest stop, it can be disorienting and sometimes, overwhelming.
11.     Hold onto your bus ticket
If it's got the name and number of your bus, you can always show it around if you get lost.
12.   Remember important visual clues
Rest stop parking lots can be filled with buses and thus, it can be easy to lose track of your bus.  Observe as many things as you can about it. Here's some things I've used to recognize my bus:
1. Recognize your bus company name & logo
2.  Remember where your bus is parked. 
3.  Notice  fellow passengers.
In foreign countries, bus drivers don't always speak English, so when the driver calls out the time we must be back at the bus, I don't always know what he's said.  If the person next to me can't give me an answer, then I keep an eye on fellow passengers to see when they start returning to the bus.
                 4. Know your bus number
This usually works but in cases of being in a foreign country like Myanmar,  where numbers are in a foreign language, it doesn't help unless I met someone who knows how to speak English. Still, any information is helpful artillery.
13.  Take a photo reference of your bus and its parking spot
I take a photo reference of things all the time, from bus schedules, parking a rental car or whenever I think I need to refer to something.  Pictures and photos help overcome language barriers. 


14.    Ask a local or a station attendant for assistance
Station attendants will assist you in finding your bus. Locals, I've found, are often also friendly when it comes to helping when I'm lost.  Reach out and ask for help. The worst that can possibly happen is they don't speak your language or don't know the answer themselves.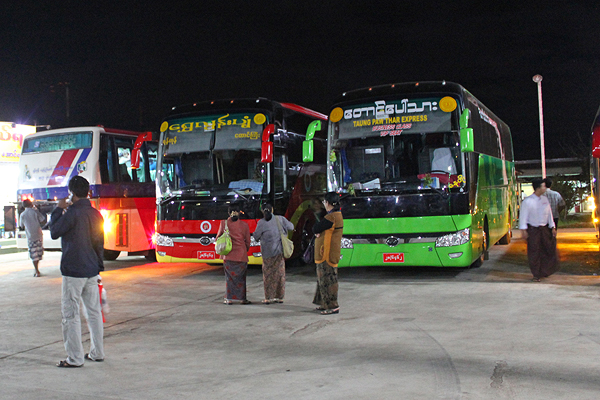 Tips for Overland Crossing by Bus
Keep in mind that although your bus may be an overnight bus,  your bus will probably have to make a stop at the border. You will have to disembark and stand in the line at immigration to show your visa and stamp your passport. If there is not visa upon arrival, you are expected to get a visa beforehand or you will not be able to cross.
15.  Be clear with the bus company/tour agent about what you're getting
Be clear with your bus company about whether it will take you to the destination in the next country or if another bus company will continue that service at the border.
For instance, overland Southeast Asian buses are tricky. Unless specified, sometimes you have to change buses at the border but they don't always tell you.  On a ride from Thailand into Cambodia, we stopped at the Thai-Cambodian border and were told we had to pay another fee to take a Cambodian bus/taxi forward. Luckily, I was on a day bus with a lot of tourists in the same boat.


16. I find travelers and ask if I can tag along
In uncertain situations, especially when it comes to border crossing, I find it best to make quick friends with travelers and ask if I can join them. We all share similar vulnerabilities and many travelers tend to be open to banding together in moments like this.


What's some of your tips for traveling alone on a night bus in a foreign country?