When I had an overnight layover at Fukuoka airport and discovered they didn't allow sleeping in their terminals, I felt a stab at my pocketbook.
Fork over $40-80 on 8 hours of sleep, just so I can re-board the plane, without having experienced anything more than a pillow? You gotta be kidding. That's something your average tourist might do. … And I am not  your average tourist.
I'm like a flea market traveler; my plan was to travel Japan for cheap!
I had a budget of $25-30/day in Japan.  The tourist information desk offered me a decent list of guesthouses and hostels to stay in.  Hostels were the cheapest, starting at $22 for a bed.It wasn't expensive, but also, not terribly exciting.
…Then I remembered a tip a friend had given me about the least expensive  and last alternative for sleep in Japan.
The manga cafe.
What is Manga Cafe in Japan?
'Manga'  (pronounced: mahn-gah) are popular comic books made in Japan and the Japanese are crazy about them.   The stories can range anywhere from romance, adventure, fantasy, business to racy adult themes. Audiences of all ages read or watch manga in Japan. Some folk even like to dress up and look like popular manga characters!
Thus, Manga Cafes in Japan otherwise called Manga Kissa are 24 hour internet cafes, furnished with wall-to-wall manga comic books and videos. Local Japanese who miss their bus home or need an overnight rest place, can rent a cubicle out for the night. For budget travelers, staying at a manga cafe are a unique budget option.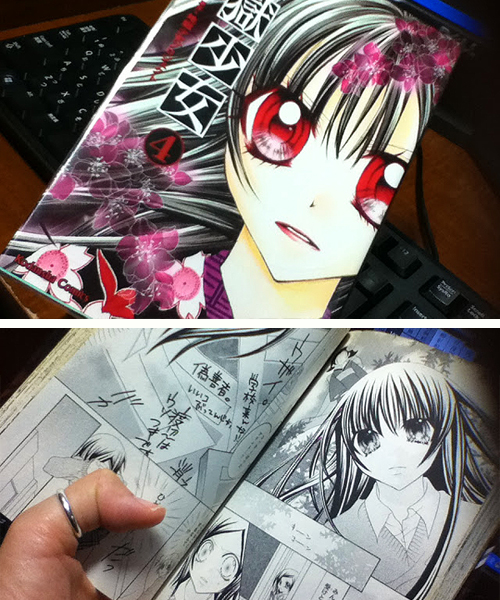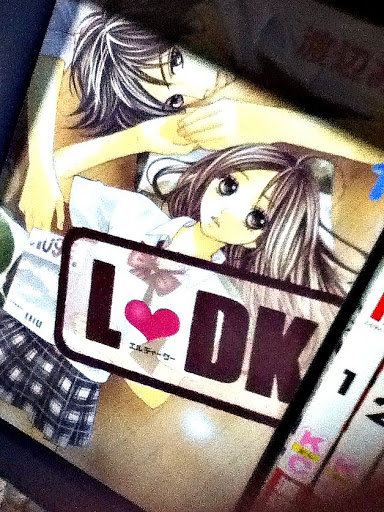 The Growing popularity of manga cafes in Japan
Due to the low rental costs, a growing number of unemployed Japanese youth (Japanese net refugees) now sleep in net cafes over renting apartments. Thus, it's said that over 75% of the cafes are used as overnight stays and are generally stocked with enough things to make for a temporary living accommodation.
Some cafes are standard internet cafes, filled with cigarette smoke and internet gamers. Others have luxury options like charging stations, showers, sleep stations and/or unlimited soft drinks. It's best to check out the outdoor signs to see what is included or do an internet research in advance to ensure a comfortable stay.
How do travelers book a stay at manga kissas in Japan
You won't find manga cafes listed in the "best hotels of Japan" listing of Booking.com, Hostelworld or Agoda. They generally do not advertise in foreign publications, many do not take advance bookings (but only accept walk-ins) and they can be hard to find online if you're not Japanese. They appeal to a primarily local Japanese crowd, thus, most manga kissas websites are written in Japanese! Thus the closest I could find to a manga cafe experience on Booking.com was this  Tokyo manga cafe + capsule hotel!
Travel-friendly and popular manga cafe chains are Popeye Media Cafe, Manboo and @Gran Bagus Cafe.
Examining the list of budget hotels in my hand, I then looked up at the Japanese receptionist at the airport tourist information desk…
"Are there any manga cafes nearby you could recommend?"
She looked surprised. She paused for a moment and then her stiff professional demeanor melted into a more relaxed one.
"Well, I don't like staying at the smoky ones.  There's one that I know of… I haven't stayed at it, but I've heard from others it's pretty good. It's really easy to get to and it's right outside Hakata station."
Bingo.  I dumped my luggage into an overnight airport locker, packed a small overnight bag, took a tour of Fukuoka, it's red light district and yatais …and then guess where I stayed at?
How do you know when a Manga cafe has sleeping facilities?
When I walked up to the front desk of the manga cafe, I felt awkward. I had heard people could sleep there, but I didn't know if it was common practice.
  "How long?" The young Japanese cashier asked.
I didn't know what to say. I looked at the options on the menu outside, but it looked like Japanese-Greek to me. The Japanese man then prompted…
 "Sleepu?"
"Hai, sleepu," I responded gratefully with an exhale. Alas, my request to rent a cubicle to sleep in was more normal, than uncommon.
Many manga kissa's have signs out front, luring you in with additional luxuries.  You can rent a cubicle  by the hour or  as 3-5 hour and 6-8 hour packages (…depending on the cafe).  I took a 3-5 hour package at  1,180 yen or $12 USD.
This was almost half the cost of the hostel and 1/3 the cost of a capsule hotel!
Is there privacy in a manga cafe?
I stayed at Media Cafe Popeye; it's one of the bigger and more reputable chains in Japan.
The cafe had around 200 cubicle spaces, with a smoking and non-smoking section.
Each compartment was separated by closing doors and the noise volume in the cafe was similar to a library. With Japanese culture, many things are considered rude, so peeking over the wall into other cubicles or making loud noises is frowned upon.
Manga Cafe in Japan:  Taking a picture from my reclined chair.
In a way, I felt like a guest at a hotel, with the exception that I didn't have a bed and I couldn't make loud noises, like farting or have friends over to party.
The front desk service was pleasant and helpful, like hotel lobby staff. They asked if I'd be showering and when I replied agreement, I was handed a basket with a toothbrush, razor and hairdryer. A rental towel was 100 yen extra. I was allowed twenty minutes for a shower, with a cleaning person going in before and after me. Soap and shampoo dispenser were provided.  In essence, I didn't need to bring anything more with me, than a change of clothes.
It certainly felt more personal and private than a dorm room in a hostel. I had my very own space. I could store my bags, I had a place to hang my coat and I had my own computer, TV and charging station. All mine.
"Lights out" was at 12 am. The power on the floor was shut. There was no internet or entertainment access until 5:00 am. Not all manga cafes are like this, but I appreciated that this one respected sleep.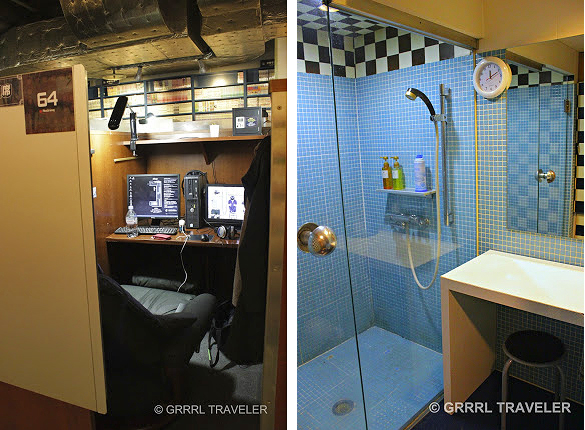 .
Is sleeping comfortable in a manga cafe in Japan?
"Comfort" depends on the cafe  and sleeping package you choose.
Internet seat:   A regular chair with a computer
Reclining Seat:   A posh luxury reclining chair in a cubicle with a door.  (more on this one in my next post)
Flat Seat:   A cubicle with a floor seat and a space to sprawl.
Twin (or sofa) seat:   A cubicle with a mini sofa.
I rented the lounge recliner in the non-smoking section and it was comfy. My chair reclined well and I had enough space for my legs to stretch out. It wasn't hot or cold, but temperate. There was also room for luggage. I got free drinks from their coffee and soft drink vending machine. I could either, buy snacks from one of the vending machines or bring my own food in.
I was bedding down in cool and quirky Japan at $12 a night.
Huzzah!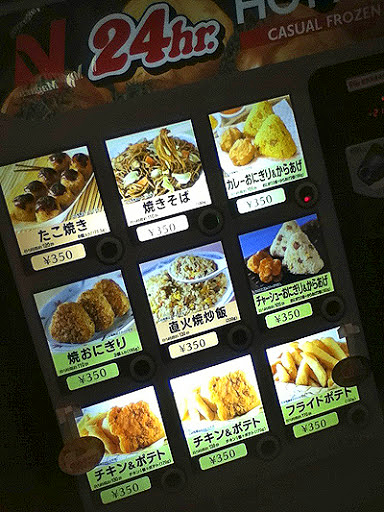 What to do …and not in a Manga Cafe
1.  Check in at the front desk
Let the front desk know you're going to stay overnight and what hourly package you want.
2. Choose the hourly package for your stay

The manga cafe will have economical packages based on hours, such as 4 hours, 8 hours, etc… You're clocked in and when you clock out, they'll tally up your total. If you go over your allotted time, you'll pay a extra yen for the time you've stayed. If you're on a budget, you'll need to consider what time you'll enter and start your stay and what time your package will force your leave. If you're on a budget, the best package is an 8 hour package, starting your entry clock somewhere around 11pm and departing around 7pm.
3.  Shower
Showering in some places might be free. But you may get charged if you rent a towel. Toiletries such as soap, shampoo and hair dryer (sometimes, even toothbrush and razor) are often included, either in the shower fee or the overall package stay.
4. Respect the rules of the cafe
Whether it's no smoking, no leaving luggage in the halls, no loud noises or eating in the cubicles, the cafe will generally list rules at their front desk or where they want guests to heed warnings.  The Japanese are a very quiet, polite and respectful society. Travelers should follow this standard. Check out the rules in the best Tokyo manga cafe I stayed at.
5.  Respect your neighbors' privacy.
Don't peek into your neighbors cubicle or under them. You'll be tempted to. Don't do it. The partitions aren't high.
6.   Be quiet
A noise canceling headphone is provided for your own entertainment purposes and to keep the environment quiet. Avoid being loud or noisy or you will be considered rude. The Japanese are very good at being quiet and considerate.
7.   Remove shoes before inside your cubicle
The cafe offers house slippers to use.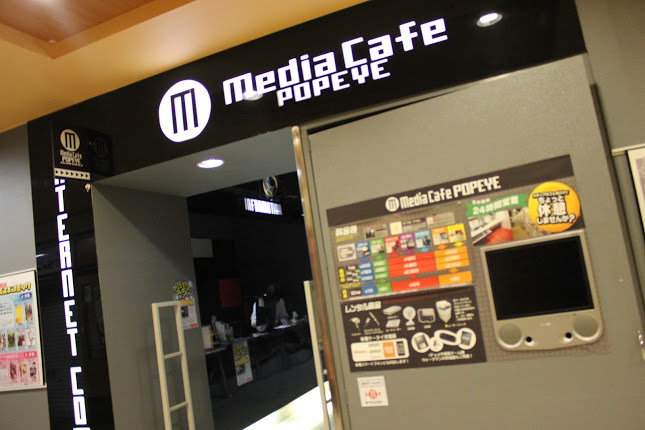 Getting to this Fukuoka Manga Cafe
Media Cafe Popeye, Hakata Station ( Fukuoka manga cafe)

From the International terminal, take the free shuttle to the Domestic Terminal ( approximately a 10 minute ride). Look for the subway sign and follow it downstairs. Take the subway to Hakata Station. Exit Hakata Station. It's the  tall, thin bus terminal building immediately outside and to your right.  There should be a Daiso and Mc.Donalds in the building, as well.   Media Cafe Popeye  (Fukuoka manga cafe) will be either the last or second to last floor from the top. Exiting the elevator, turn right and it's ther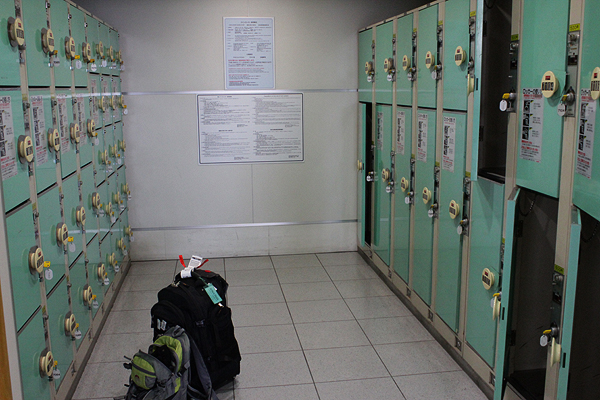 Storage lockers in Fukuoka Airport

Fukuoka Subway at Fukuoka Domestic Airport;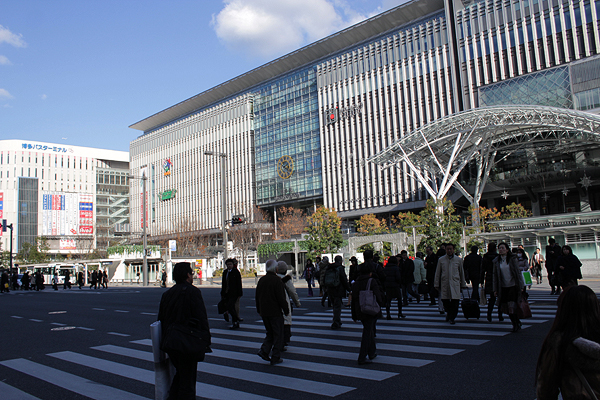 Hakata Station above. Bus terminal on the left side of this picture.
Watch my Japan Capsule Hotel tours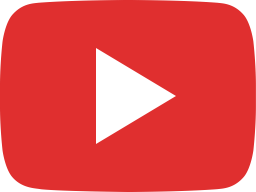 BEST Tokyo Capsule Hotel Experience- FEMALE ONLY Tour #2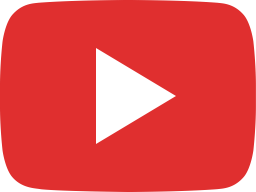 BEST LUXURY Capsule Hotel Experience in Tokyo | First Cabin vs MyCube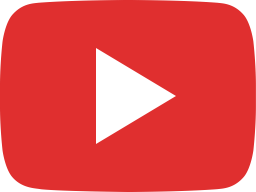 TOKYO CAPSULE HOTEL TOUR | Space Capsule Hotel Experience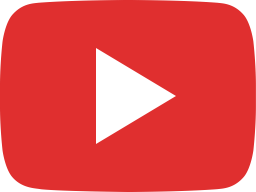 Arriving OSAKA: UPGRADE FAIL | OSAKA CAPSULE HOTEL Tour | SCOOT Airlines ECONOMY CLASS Review
Enjoyed this post? Get my guide on Budget Tokyo Travel Survival Guide and make your trip planning a budget breeze!