Last Updated on July 5, 2022 by Christine Kaaloa
Traveling to Japan for the first time? With youth pushing for hyper-progression and older generations still preserving tradition, Japan is a country of extremes.  As a city full of worker drones and black business suits, there's a youthful and rebellious side of Tokyo youth, which gravitates toward breaking free from a limiting tradition. It makes for interesting quirks. Here are things to know before traveling to Japan.
21 Things to know before traveling to Japan
At first I thought Japan was going to be so clean and orderly, that I might actually find it… ahem, boring. I know, I know, …shame on me for thinking that, but I've gotten to love traveling developing countries, with their colorful unpredictability.  Japan, I knew was safe, well-mannered, orderly, clean. Well where's the fun in that?!
As conservative and traditional Japanese culture can be, it also has a wild streak.
Crazy and quirky Japanese things
1. Never trust blondes
When it comes to hair color, the Japanese will surprise you. Tokyo folk struggling to find and create their own individual expression. Just when you think you've spotted a foreigner on the street, have a closer look. Often, the hair color will deceive you.  It's popular to dye your hair to any color other than your own.. black.
2. The Japanese love "cute"
Kirei desu nee? (Translation: Cute isn't it?)
Maybe  the love for all things "cute" is an affliction throughout Asia , but sometimes, it feels like the Japanese started that trend. As the home of Hello Kitty, the Japanese place innocence and virtue on an extremely high pedestal, such that even pop stars sign contracts, which bind them to uphold clean and virginal images regarding sex and relations.
This brings me to…
3. When "cute" just gets ugly or just plain, perverse
Japanese are masters at creating cute products. But you can't be perfect all the time…
If you're a society that worships cute things so steadily, then from time to time, you might slip and assume something is cute when it's really… fugly.  Check out the dolls below. I found them at Kiddy land in Tokyo.  My Japanese girlfriend told me they were popular because they were cute.  I realize in this large world, we can't all agree on the same image of beauty.
If I were a child, this would give me nightmares, like a Chucky doll.
Download a free packing list with my Ultimate Packing List tool
Then there's that other kind of "cute" that crosses that grey zone between fetishized fantasy and then … hyper-warps into over-the-top bit disturbing.  For instance, why would you want to look like an anime  (comic book) character?
Japan has a such a fixation on innocent cute-ness, celebrities must appear clean-cut and in girl bands, girls are under written contract to always be appear and act demure, so as to preserve the  fantasy of innocence for fans.
From the adult fantasy fun of having maid cafes, where girls dress as maids serve you, to blow job bars and the anime fantasy and popularity of "school girl fashion". it's all cute until it gets kinda uh, pervy.
5. Manga Craze
Who ever thought that comic books (manga) would be popular even with adults?
Although westerners enjoy it through events like Comicon, Japanese culture is consumed by it. You've got films and TV dramas based off of them,… manga cafes, an internet cafe/library where you can read and watch anime (and sleep overnight in the cafes). There's also areas like Akihabara -otaku central- dedicated to shopping for manga and anime. There's even popular street fashion in Harajuku, where teens like to emulates or dress like their favorite characters- wanna see a grown girl dress up as Sailor Moon?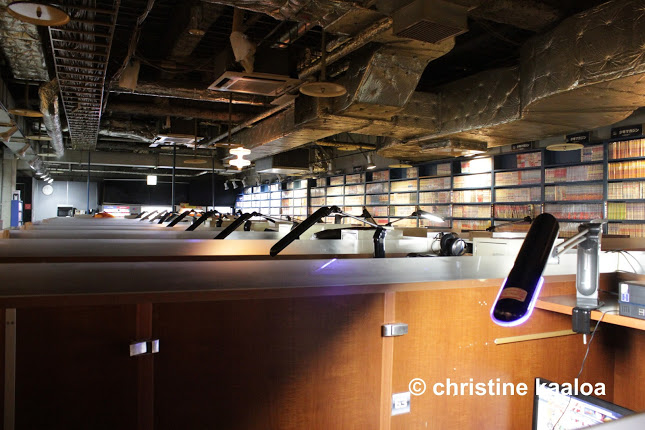 6. Vending machines to Vending machine restaurants
The Japanese love vending machines. From cigarettes, drinks, bike rentals and food, you can buy anything from a vending machines (even used girl's panties… but that's a different category)!  Maybe the Japanese believe in a automated approach to sales, as saving time and efficiency.
Japan also has vending machine restaurants, where you pay outside through the vending machine, collect your ticket and go inside to get your meal served up. I guess it saves time and confusion when you have to order from a normal human being.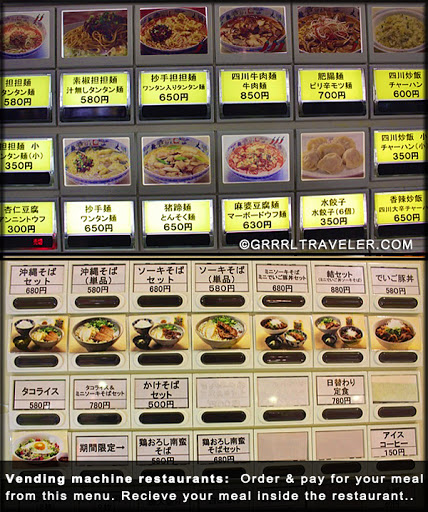 Watch my tour of how to eat at a vending machine restaurant
7.  Limited Edition Kit Kats (and Coca colas)
Matcha green tea and sakura kit kats? Whah, we certainly don't have those in the U.S. Upon a visit to Osaka, I even discovered the city has their own city stamp on bottles of Coca Cola!
---
Ways Japan will blow you away
8.  Metro:  A Sleep Capsule on Wheels
It's easy to feel drowsy when riding a Tokyo metro. It's not that it lulls you to sleep with a rocking lullaby, but the fact you'll find practically Tokyo person falling into Sleepland, in their seats or hanging on a strap.   Japan is one of the most overworked countries and the subway rides home show this.
9. The world's most expensive bottled water is cheap
Japan is the only country I know of where Evian water is cheap . You can easily find them in the 100 yen stores,  priced below Japanese brands.  Japan is said to have really good drinking water; apparently, better than Evian. Knowing Evian is expensive in the U.S.,  I decided to stock up my Evian supply.
10. Massive Crowds
I thought Hong Kong was overpopulated and at this point, I'd hate to see China, because whoa, Tokyo! Tokyo wasn't a city I imagined to be overpopulated and crowded. It is. The sidewalks of every main shopping or entertainment area look like a rock concert.
11. Metro Station Confusion
If you have to be somewhere at a specific time, factor in time for getting lost. You will likely get lost trying to find the right exit at a metro station. Although the Japanese put great effort in posting direction signs, some of the stations are so enormous that all the signs might actually confuse you and you will need to find a station master to direct you out.
12. Multi crosswalks
Shibuya Scramble is known to be one of the world's wildest crossings with five crosswalks intersecting. But the multi-crosswalk idea is not a new idea to Tokyo. You'll see the multi-crosswalk in more cities than just Tokyo.
13. Bicycle parking lots
For a technology-driven country, it's refreshing to see bike transportation as popular as automobiles. In fact, the Japanese love their bikes and the little exercise it takes to get somewhere isn't a problem. You'll find bicycle parking lots on sidewalks, racks suspended in apartment garages and occasionally, in bike parks in underground metros.
14. Craftsmanship
Japan is the place to go when it comes to quality craftsman ship.   Japanese take great pride in producing things of good quality. From woodwork to food to art, architecture and religious icons. Everything in Japan is a well-balanced art and strong craftsmanship.  One place to certainly see this is Asakusa's Nakamise Dori, which has an old world charm to it.
Japanese cuisine is another area where you'll find excellent craftsmanship as the Japanese prepare food with hospitality, respect and reputation in mind. Craftsmanship in Japan runs very deep.
15. Japanese Capsule Hotels 
Japanese Capsule hotels were once historically for salarymen who worked late or missed the last train home. Today you'll find many are co-ed. Even all-female capsule hotels in Tokyo are popping up.  I stayed at five Tokyo capsule hotels during my Tokyo trip and each one was Instagram-worthy. One of my favorite Tokyo capsule hotels is Nine Hours Capsule Hotel Shinjuku , a chain of capsule hotels in Japan with a unique twist towards space-themed pods.
Sharing my first impressions and challenges with traveling Tokyo on Patreon
16. Robot Hotels
A culture, once top-ranked for technology, the Japanese have got robotics down. Henn-na "Strange" Hotel is the first robotic hotel to hit the hotel scene with robotic staff.
17. Conveyor belt sushi
You've not experienced sushi until you've had it served to you on a conveyor belt. The sushi chef prepares the sushi and puts the plate on a conveyor belt for hungry customers to snatch up. Plates are priced according to the dish. Beats hiring wait staff!
---
Ways Japan is wound a too tight
18.  Toilets make music
As your bum nears the toilet seat you'll hear the sound of water running. It's relaxing, calming and it help you untighten so you can do your business. But the real intent is to mask any natural body noises you'll make.
Ironically, belching loudly in public during dinner is acceptable. It means the meal was delicious and enjoyable or at least, this is what my grandmother told me when our Japan relatives visited and would belch at the dinner table.
19.  Designated Smoking Areas
Before you light up, better check if you're in the right place. It's illegal to smoke in Tokyo, outside the designated smoking areas.
No wonder I always sense a sly grin on the faces of Japanese tourists abroad, as they walk down the streets with a cigarette in their mouths. Finding the freedom to smoke anywhere you please must feel pretty nice.
20. Neat, Safe, Clean and Orderly
Being half Japanese there are many aspects about my heritage to which I'm proud. There's a high standard Japanese have in many things. The Japanese are flawlessly tidy and a bit anal. Their attention to craftwork detail and ambition towards discipline are impeccable. But I have no words for this umbrella holder.
21. Sick Masks: Does everyone have a cold in Japan?
The Japanese wear Asian sick masks more than Koreans.  The Japanese are polite and considerate country so wearing a sick mask is for more than to keep out pollution, but it is a responsible measure to keep from passing germs if you have a cold.
What would you recommend are things to know before traveling Japan?
Get my Tokyo Travel Secrets eguide or Budget Tokyo Travel Survival Guide.