Last Updated on June 19, 2019 by Christine Kaaloa

After I stayed at Popeye Media Cafe in Fukuoka, I was charged to keep going.  Like my explorations of Korean love motels and bathhouses, I was ready to take the tour of manga cafes (aka manga kissas).  Afterall, what I experienced for a $12 overnight stay was pretty darned exciting and if done right, it could be a ghetto palace.
Other Tokyo accommodations I've tried
Staying at a hostel in Tokyo
My first night in Tokyo, I stayed at a hostel in the popular Akihabara district. It cost around $22/night  for a dorm bed at an old, run-down building with fickle hot water and the reek of cigarette smoke coming from a downstairs bar. The showers and bathrooms on each floor were hodge-podge work-around creations ( a shower in a sink? …And a sink built over a toilet?). The mattresses were so used, they were practically futons. One night was enough.
Staying at a Japanese home
Next, I stayed with a girlfriend in the Chiba prefecture, halfway between the airport and Tokyo. Staying in a Japanese home with local hosts is a wonderful opportunity to experience an authentic Japanese lifestyle and cuisine. Unfortunately, budget-wise, "free" doesn't mean cheap. The ride to her prefecture alone, was the cost of my hostel, not to mention, customary gifts, hiked up the cost. It's definitely a stay I enjoyed and was grateful for.  But it's certainly, not cheap to stay with friends. …Unless you're fine with mooching.
Tokyo capsule hotel vs a manga cafe : Which is the better choice?
My last night in Tokyo, I wanted to try the capsule hotel in Akihabara. But standing before the night manager in an aging lobby, while inquiring about a night's stay,  the pros and cons didn't balance.
We all know the pros of staying at a capsule hotel.  A capsule hotel has the "cool factor" of being able to tell your friends, you've slept in a life-sized bubble like an astronaut in some Space Odessey movie.  But that's really the only thing it's got going for it. It's a bare bones businessman's sleeping cot.
What do you compromise for this experience:
No charging facilities for batteries and electronics (there's an outlet in the shared bathroom!).  
No WiFi and internet facilities were on a separate floor. 
No eating allowed in the capsule.  
No checking out the facilities before renting. 
No credit cards unless you want to pay a % fee.
A shared bathroom (… and the aged hotel lobby alone told me what I could expect of that).
You must additionally, rent a locker if you have luggage.
All this nothing and "No…" costed around $40.
I stood outside for a while, contemplating the choice, while illegally smoking a cigarette in a non-smoking zone. It was 10pm. The choice was stressful (hence, the cigarette). I had an hour to decide. The train stopped running at midnight.
Go with the capsule or run across town to a manga cafe listing in Shinjuku?  I really needed to charge my camera and iPod batteries for the next day.
Getting to @Gran Bagus manga cafe in Shinjuku
When I got out of Shinjuku subway, many businesses were already closed. Most building lights were off around Shinjuku station and only a couple of shops were still open, with owners getting ready to leave. No more train service for the evening. Good or bad, this cafe needed to be "it" for the night, but the building wasn't looking to be an easy find. I asked a passing pedestrian for directions…
"Haruku Departu-mentu store, doko desu ka?"  I asked.
The building was around the corner.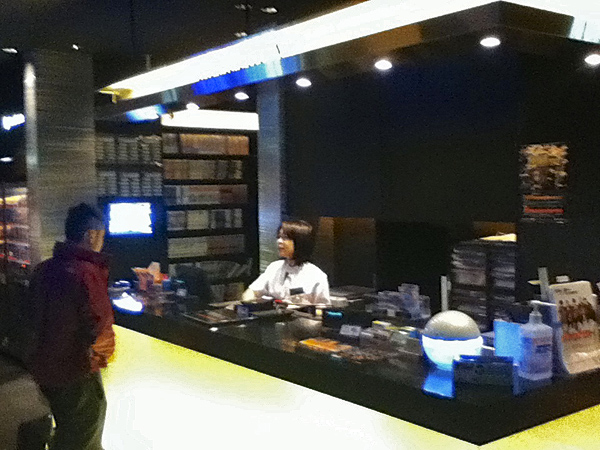 When the elevator doors opened, there was already a queue of Japanese waiting to check in. Some were already holding overnight bags. The layout of @Gran Bagus Cafe was black, sleek and glossy. The lounge/lobby area had a wall of soft drink and food vending machines.Two front desk attendants dressed in white long-sleeved shirts were servicing customers. I was in a good place.
I looked at the price list on the wall. Feeling fatigue,  I decided to splurge. I'd go for the 9 hour package at a flat cubicle compartment and sleep in.  I needed the rest.
As I said in my first post about manga kissas,  this isn't a place for a businessman, who only wants a quick nap time until morning. This has been becoming the place where young 'un-employees' are holing up in to avoid high costs of rent. It's (unofficially)a techno-geek's relaxed living space, with shower facilities.
What do you get at a boutique manga kissa?
Your own private cubicle space and enough sleeping space to sprawl
A shared bathroom.
Your own charging station, computer and tv counsel, and on top of that… free WiFi!
The freedom to eat in your cubicle space
Unlimited free soft drinks (anywhere from tomato juice to iced mocha lattes!)
Unlimited soft serve ice cream (yes, soft serve ice cream!)
Free luggage storage
And access to wall-to-wall manga magazines
And it cost less than the capsule hotel. And unlike a hostel dorm, I had privacy and space!
This is actually a lot more comfortable than it looks. At 5'8″, I could lie in my flat very comfortably. If you're 6'0″ you could sleep diagonal.
How clean is @Gran Bagus?
Clean. Whenever someone left their cubicle space or I exited the bathroom, a cleaner went in and rigorously cleaned and wiped everything down. For instance, when I walked into the (shared) shower, it felt like having a private hotel bathroom. Everything was clean, sparkly, white and not a drop of water was left as evidence that someone was there before me. I got 20 minutes of shower time. Unlike Popeye Media Cafe, I had to pay a small shower fee, which was almost equivalent to the cost of Popeye's towel rental (so it actually balances out). For that fee, I got a clean, white towel, free toothbrush and razor.
Where to find the best manga kissas?
@Gran Bagus Cafe and Popeye Media Cafe are well-known chain cafes in Japan. They're boutique cafes and although they'll cost a bit more than smaller cafes, they carry the amenities for a comfortable overnight stay.  Not to mention, they have the capacity to bed as many people as a small hotel (Bagus ranged around 200 cubicle spaces). So if you're looking for a last minute place to crash during the week, your odds aren't bad. However, for weekends, you might want to get there early to secure a spot. While I can't vouch for every chain or location. If you know nothing about Japan or were short on time, I'd suggest checking out these larger chains first. They're more likely to maintain similar standards.
@Gran Cafe Bagus Behind Haruku Department Store,  B17 West gate, At Shinjuku station
@ Gran Cybe Cafe Bagus in Shibuya, Mitsuyoshi Bldg 6F, Shibuya   www.bagus-99.com/netcafe

What to do with your luggage?
At night, some manga kissas offer luggage storage or you can keep it in your unit.
Storing your luggage in the daytime after you've checked out of the cafe, is the real trick… I stored mine train lockers.
Every metro station in Tokyo has locker areas and many of them will fit a standard-sized roll-on suitcase (the size that would fit a plane's overhead compartment).  It's 400 yen for a locker for large bags. This is why you may want to consider packing light and taking a roll-on suitcase or small backpack or sports duffle.  If I traveled with my ordinary backpackers backpack, I might have a harder time fitting it into the train lockers.
Have you ever experienced a Tokyo manga cafe or a capsule hotel? What would you choose?
 Watch my experience of Japanese Capsule Hotel tours
For those looking for a Tokyo Capsule Hotel experience, check out some of my Japanese capsule hotel tours
[maxbutton id="1″ url="https://www.booking.com/capsule-hotel/country/jp.en-gb.html?aid=918208label=gog235jc-1DCAIYlQQodTgISDNYA2iQAogBAZgBCbgBB8gBDNgBA-gBAYgCAagCA7gC6q6r6AXAAgE;sid=8228dc127c5b80ae338d4c002881318c;keep_landing=1&" text="View on Booking.com" ]
Best travel insurance for Japan
American travelers often pay a premium on travel insurance.  World Nomads offers economic solutions for travelers who seek security and peace of mind.  It covers 150 countries.