Watch the video for the experiential insight into these Instagrammable Places in Tokyo
Tokyo is a fast paced urban jungle, cutting edge and avant garde innovations rest upon traditional Japanese culture. There's  lots things to do see and eat in this cosmopolitan city, too much to list! Instead of sharing a Tokyo travel guide of best things to do in Tokyo, I am going to share the best Instagrammable places in Tokyo, where there are still activities to enjoy!
Top Instagrammable Places in Tokyo
Shinjuku
Shinjuku is known for its large shopping and business district, its busy metro hub and its infamous Kabukicho. It's a whirlwind of activity here, but there are still spots for a some iconic snaps of Tokyo.
1. Tokyo Metropolitan Government Building
If you want one of the best 360 views of Tokyo , the Tokyo Metropolitan Government Building offers them for free. It's also important to note that there are free tours of the building run from the Tokyo Tourism office on the first floor. Hours: Mon- Fri 800am-6:30pm.
Location: 2 Chome-8-1 Nishishinjuku, Shinjuku.  Get off at Shinjuku Station and walk 10 minutes or Nishishinjuku station.
2. Omoide Yokocho  (aka Piss Alley)
Omoide Yokocho aka Piss Alley is a historical landmark whisking you back to prewar Tokyo. Since the 1950s, it's narrow alleys are packed with small izakaya shops selling bar food. It can be a challenge to shoot here at night when there's activity, but you might squeeze in a quick shot of the alley with its colorful lanterns.
The small street alleys and lanterns are what makes it feel unique. Just a warning, it can get pretty crowded.
Location: 1 Chome-2 Nishishinjuku, Shinjuku . Get off at Shinjuku Station.  (Map here)
3. Japanese Capsule Hotels in Tokyo
Japanese Capsule hotels were once historically for salarymen who worked late or missed the last train home. Today you'll find many are co-ed. Even all-female capsule hotels in Tokyo are popping up.  I stayed at five Tokyo capsule hotels during my Tokyo trip and each one was Instagram-worthy. One of my favorite Tokyo capsule hotels is Nine Hours Capsule Hotel Shinjuku , a chain of capsule hotels in Japan with a unique twist towards space-themed pods.  See more recommendations at the bottom of this post!
 

View this post on Instagram

 
4. Asakusa
Looking for a more historical Japan, Asakusa is one of the oldest parts of Tokyo. There's a lot of cultural fun here. Rent a kimono and wander on foot or take a Japanese rickshaw tour through the cobblestone streets and alleys around Senso-ji Temple, watch senbei snacks made before your eyes on Nakamise Dori, saunter through temple gardens, and snap away at traditional Japanese charm.  Looking to enjoy Asakusa at night? Take an Asakusa food tour and be a part of the local scene. Nearest Metro: Asakusa Station
5. Hie Shrine
Hie Shrine is a Shinto shrine in the Nagatachō, Chiyoda district in downtown Tokyo. It is one of best spots in Tokyo to get a photograph of red torii gates without having to visit Kyoto. Climb the stairs to the top and explore the shrine grounds and you'll find more picturesque spots and traditional shrine architecture. Hours:  5:00–18:00 (Apr-Sep)/6:00–17:00(Oct-Mar).
Location: 2 Chome-10-5 Nagatacho, Chiyoda, Tokyo.   Near Akasaka Station, exit 2. 
6. Tokyo Instameet
I met with Tokyo Instagrammer Hai of Notes of Nomads (he and his wife Jessica were my Athens roomies).  Hai runs Tokyo Instameets, perfect for photo travelers looking for a way to explore Tokyo with their camera. The instameets are free and take place monthly. Anyone who wants to explore parts of Tokyo with their camera is invited.
 

View this post on Instagram

 
5. Purikura
Purikura is a photo booth vending machine. But in Japan, they do more than take photos. They allow you to give your photos a makeover to achieve a Cover Look!  You can choose anything from style of your look to manipulating features, enlarging eyes, giving yourself smooth skin, a pointed chin, etc…  You may look slightly weird, maybe a bit alien, but you'll find it's hard to take a bad photo. It's loads of fun.  Some purikura shops also allow you to dress up in a favorite character wardrobe to take your photo.
Read Things to Know about Quirky and Cute in Japan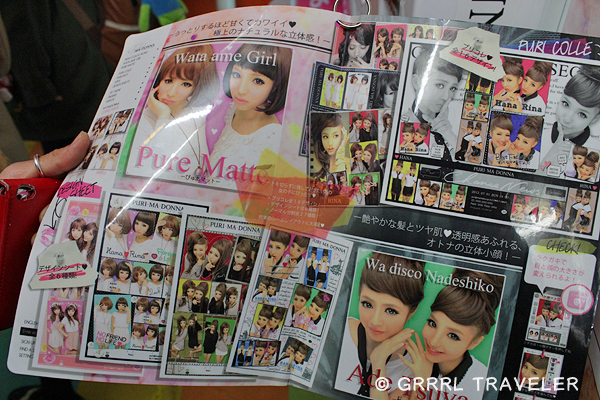 6. Harajuku
Harajuku is a playful neighborhood  to explore with cafes, shopping, and colorful food. Stroll down the popular Takeshita dori. Known for its vibrant, colorful and avant garde Harajuku fashion, you'll find many pockets of quirky and cool to take a snap at.
Nearest Metro: Harajuku Station
7. Kawaii Harajuku Sweets
You'll find kawaii colorful creativity extends to its sweet street snacks, where can enjoy snacks that are jaw-dropping, yummy, and innovative. Snap away and dazzle your friends with these crazy drools. Check out : Totti Candy Factory Shop for rainbow-flavored cotton candy and rainbow-colored everything, Cafe & Pancake gram for jiggly, fluffy pancakes, Zakuzaku for long crispy creme puffs, and ubiquitous crepe shops filled with anything from ice cream and syrup to tuna and bacon. Note: These hyped foods can be a little pricy averaging around 800 yen.
Tip: Most of these shops are located either on or in off-shoot alleys off Takeshita Dori.
8. Tokyu Plaza
Located on the corner of Omotesando Harajuku crossing is Tokyu Plaza. Designed by Hiroshi Nakamura, the mall houses is a glass archway at tis entrance that has become a favorite Instagram spot.
Nearest Metro: Meijijingu-Mae Station
 

View this post on Instagram

 
9.  Omotesando Harajuku Crossing
On the 6th floor of Tokyu Plaza is you'll find a patio view with a lovely view of Omoetaesando- Harajuku crossing.
Nearest Metro: Meijijingu-Mae Station
10. Thematic Cafes
Tokyo seems to have a thematic cafe for just about everything. From quirky Maid cafes, and cute Cat cafes, to wildly colored Kawaii Monster Cafes, if you can think of it or even if you can't, Tokyo has a cafe for it.
11. Kawaii Monster Cafe
At the YM building, resides Kawaii Monster Cafe– it's a 10-minute show and four different rooms of crazy worlds and wildly vibrant colors.
Location: 〒150-0001 Tokyo, Shibuya, Jingumae. Nearest Metro: Meijijingu-Mae Station
12. Yoyogi Park
One of Tokyo's largest park is Yoyogi  Park. It is located in Harajuku next to and behind the Harajuku Station. On busy weekends, it is said that Harajuku youth dressed in Harajuku fashion, come out to play and hang out in this park.   I went during the weekday so I can't verify that for certain, but it has been a long-established stomping ground.
Nearest Metro: Harajuku (located behind it)
13. Torii gate
On my way back to Harajuku Station, I cross over Yoyogi Park bridge to arrive at the giant torii gate entrance.  My recommendation, if you want to photograph yourself with the gate without people in the background avoid the weekends.
Crossing Yoyogi park bridge you'll find a giant tori gate welcoming you into the park. If you want a photograph with the gate without people in it,  avoid the weekends.
Nearest Metro: Harajuku Station
 

View this post on Instagram

 
14. Sake Jars
Walking through Yoyogi Park to Meiji Shrine, sake jars line the walkway. The sake jars were a gift to the Emperor Meiji of the Edo period.   From paper jars to wooden barrels, each creates an interesting backdrop for a photograph. It is a little difficult to get a clean shot on a crowded day so its best to arrive early or on a weekday.
Location: Yoyogi Park. Nearest Metro: Harajuku
15. Meiji Shrine
About a ten-minute walk from the entrance, Meiji Shrine is a historical shrine is dedicated to Emperor Meiji and his empress wive.  Exploring the grounds will yield you many iconic photographs of a traditional Shinto shrine and its rituals. From the shrine courtyard to the wooden torii gate entrance to the cleansing fountain or even the wooden blocks where you write your prayer wishes and hang them to be answered by the gods.  You can join a free walking tour of Meiji Shrine and Harajuku.
 

View this post on Instagram

 
16. Gotokuji Temple
About 30 min from Tokyo's Shinjuku Station is Gotokuji Temple. The temple is known to house the ever-popular maneki neko, beckoning cats, figures that are believed to bring good luck. Through myth, the cats were said to have originated at the temple.  Gotokuji is a regular temple ground but there is a small section dedicated to the cats and it seems that some travelers bring cats to add to the phenomena. The temple store also sells maneki neko figurines of different sizes, if you want to take the luck home with you or leave it with its cat community.
Getting there: From Shinjuku station, take the Odakyu line in the direction of Hon-Atsugi directly to Gotokuji station. It takes around 30 minutes. The shrine is less than five minutes walk from Gotokuji station.Gotokuji Temple opens everyday from 6am to 6pm. Entrance is free
 

View this post on Instagram

 
17. Shibuya Crossing- Shibuya Station
Shibuya is best for its youth and shopping. It also has the biggest street crossing in the world- Shibuya Crossing (aka the Shibuya Scramble). You can get a photograph from Shibuya station on an observation deck. The angle is a little distant but you'll catch a wide perspective of the crossing and the buildings around it. The only issue is the windows have tiny wire in the glass, which you'll have to shoot around. Watch the video to see how I do it.
Nearest Metro: Shibuya Station, Hachiko Exit .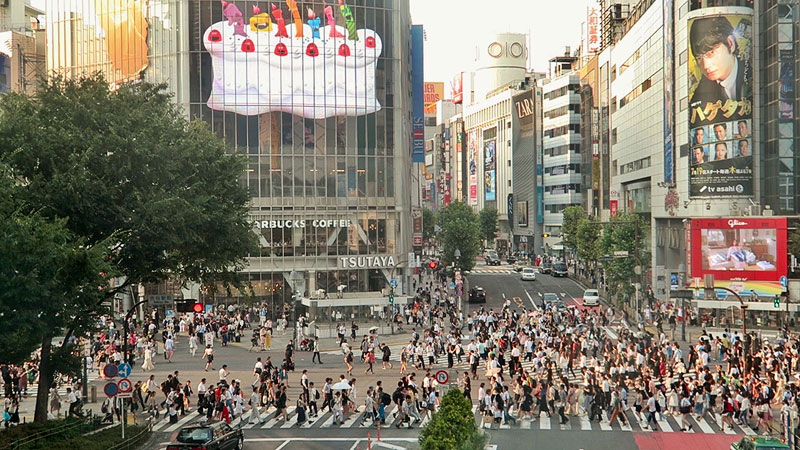 18. Shibuya Crossing- Starbucks
Across the station, you can get another view of the crossing from the Starbucks on the second floor in the Tsutaya building. Buy a latte and grab a seat by the window for relaxed view. Finding a seat may be a challenge on a busy day- patience is required unless you are good at shooting over and around heads.
Nearest Metro: Shibuya Station, Hachiko Exit
19. Mount Fuji
A trip to Tokyo would not be complete without a day trip to Mount Fuji and Hakone. Mount Fuji is an active volcano standing 100 kilometers southwest of Tokyo and an iconic image of Japanese art.  You can hike the mountain and at night, you'll see the lights of hikers who are still hiking. Also if you're interested in sake, be sure to check out the Lake Kawauchi and Sake Brewery tour
20.  The Art of Japanese Cuisine
Japanese have long been known to be craftsmen of perfection. In Japanese food, there is precision and presentation in everything from preparation, cooking and plating. Japanese cuisine is an art and then there is how it is presented in aesthetic style.
Cooking classes to try:
I took an Izakaya cooking class with Local Bites JP (Read my Tokyo Cooking Class review) to experience Japanese cooking in a local home and I learned that food is prepared carefully.
Tsukiji Market & Sushi workshop Visit Tsukiji Market and learn how to make sushi from a Japanese sushi chef!
Kamakura bento cooking experience Bento box meals are emblematic part of Japanese culture. There is an intricate art to bento making- from choosing ingredients to preparing and packing.
Wagyu Kaiseki cooking class- Japanese kaiseki is a high-class and multiple-course meal.  Enjoy learning how to make a luxurious eight-set meal including famous Wagyu steak.
Where to Stay in Tokyo
I stayed at five Tokyo capsule hotels during my Tokyo trip and each one was Instagram worthy. They are for the minimalist, tech loving traveler and ideal for solo travelers looking for convenient locations near the metro
Akihabara Bay Hotel– My favorite all-female capsule hotel in Tokyo. Clean, friendly… Since I've posted my video on YouTube it has gone viral.
One of my favorite Tokyo capsule hotels is Nine Hours Capsule Hotel Shinjuku , a chain of capsule hotels in Japan with a unique twist towards space themed pods.   Located 3 minutes from Shin-Okubo Station (Tokyo's Koreatown)
 First Cabin Tsukiji  is a Tokyo capsule hotel themed around the idea of sleeping in an in-flight cabin. A step above other capsule hotels it offers a touch more for travelers looking for a bit more space. Located a minute from Tsukiji station.
MyCube by MyStays Asakusa Kuramae is my favorite Tokyo luxury capsule hotel, with your own comfortable cubicle room, storage space under your room and free toiletries. Depending upon day, price can be comparable to the other hotels. Highly recommended. Watch my video.
Tokyo Capsule Hotel Tour ( Watch my Japan capsule hotels playlist)
Getting Around in Tokyo
Tokyo is quite large. With a population of 13.8 billion people the city is sprawling.
Should you buy a PASMO or SUICA?
If you plan to only stay in Tokyo,  its best to buy a PASMO or purchase an advance SUICA card (good for all trains and buses) and load money onto it. The two cards are virtually the same — just from different companies– and you can use them throughout Tokyo with metro trains, buses and JR trains.  If there is a day where you will be using the metro a lot, then I'd buy an unlimited metro pass (which I believe is only available at the airport for travelers). Fares are charged by distance and JR trains cost just a little more.
If Tokyo is not your only stop but you will be traveling onward in Japan, you may consider getting a JR train pass which can be used on the local trains, JR trains (this is a private company) throughout Japan.  You will need to buy a JR pass in advance outside of Japan.  See more JR Pass Options below
Which is the best Tokyo Metro App?
Download the best Tokyo Metro App:  Navitime Japan (my choice) or  Hyperdia mobile apps help you find your metro and JR routes with ease. These Tokyo metro apps come with route options, estimated time and costs per trip. They are helpful with Japan's busy and sometimes, overwhelming metro systems.
Should you buy a JR Pass (Japan Rail Pass)?
Many travelers opt to skirt around Japan by way of the JR Pass. The Japan Rail Pass is the perfect option if your itinerary is crunched with cities and very little time. I would only buy it if you are traveling many cities in a short time. JR Pass Options are sold in 7 day, 14 day and 21 day categories, and it includes all JR trains (Shinkasen, Express, Local, etc..), the monorail to/from Haneda airport,  highway buses and more!
Rates start at 28,000 yen and you must pre-purchase your passes in advance.
Note: you can only buy these passes outside of Japan. Plan ahead.  The pass offers tourists a big discount on travel; however, if you only have a few cities to visit, it may be more cost-efficient to book point-to-point travel.
Tokyo is such a photogenic city, there are much more places than I can list. What is your recommendation for top Instagrammable Places in Tokyo? 
Tokyo Travel Tips playlist  (videos)
Best Travel Insurance for Japan
American travelers often pay a premium on travel insurance.  World Nomads offers economic solutions for travelers who seek security and peace of mind.  It covers 150 countries.