Last Updated on August 1, 2022 by Christine Kaaloa
I'll admit, there are times being a solo traveler at night can feel like… well, a single gal alone on a Friday night!
All the world is aglow with friends and drunken laughter.  Meanwhile, you're either standing outside in the cold envying the social fun indoors or in your guesthouse painting your toenails the color of 'wishful thinking'!  Times like this, it's hard not to occasionally feel… lame.
Well, it doesn't have to be this way.
In fact, would you believe that when I travel alone, I often don't return to my pad until midnight? That's right.
You see, while I love being a solo traveler most of the time, I have my moments when it doesn't feel easy and I can occasionally feel like I have a gimp leg. The last thing I want is to envy others' fun, feel pathetic or like I'm missing out on "living"!   As such, I'm challenged to be more creative and resourceful with my leisure time.  I shoot for fun experiences, unique adventures and local variety, which will let me experience a lot of what the culture has to offer.
14 ways to enjoy nights as a solo traveler
1.   Take a romantic stroll through the city
Maybe it's not always the safest venture, but at night I like to romance the city and fall in love.
Whether shops are open or closed, a place takes on a magical face in the evening, as it's veiled in light and shadow. Explore streets lined with lights and crowded sidewalk cafes, observe how locals come out to play, let crickets be your background music and unwind through the smells wafting from restaurants and homes.
Romance isn't only for couples, but are for soloists too. Go ahead, make a date with the city!
2.   Make your own city bus tour at night
Some tour agencies and cities offer city bus tours at night and these tours are like cheap all-inclusive holidays, taking you around the city to all the major landmarks lit by light. But if you can't find one, go ahead and make your own! I'm a big fan of D.I.Y. (aka do-it-yourself) tours.
Public transportation services such as city buses, ferries and monorails make perfect and cheap way to see the city lights at a slow pace. (Read my post on Bangkok's transit options to get an idea of ways to see a city through its transportation)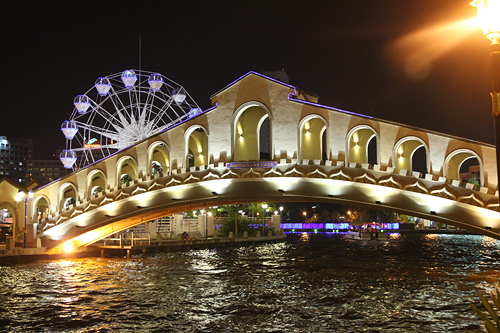 3. Sightsee, sightsee, sightsee!
When I lived in New York City, I used to hate walking. Friends often suggested walking to places (vs taking the bus, cab or subway); meanwhile, I'd respond with a look saying- "Why don't you jump off the Brooklyn Bridge!"
Somehow, travel changed me and my shoes developed a mind of their own. It could be because when I travel, I like to make the most of my sightseeing time.
Who says everything closes when the sun goes down? Museums, theme parks and government attractions typically clock out when it hits sunset, but temples,  churches, shopping malls, night markets and shops are open.
As long as there are things to see, these shoes will go until it closes the town down.
4.   Explore night markets and indulge in street fairs

These are by far my favorite evening pastimes!  Southeast Asia has wonderful night markets I love indulging in. Thailand has walking streets which are like huge block parties or street fairs… they're all pretty much the same fun. Haggle for cool local craftwork and souvenirs or dive into the local foods and snacks, watch street performers jangling for change or fuel up with local cuisine at an outdoor restaurant.
Night markets for local folk can get a little more gritty, less sparkly with a feeling more foreign. Foods are authentically made for local taste and shopper's items are aimed at more practical and household variety. Interesting nonetheless!
Watch your money though, it's sure to drain fast.
.
5. Dinner shows and cultural performances
Did you know that Vietnamese water puppet shows originated as a form of entertainment in villages, when rice fields got flooded?
…Or that in Bali, Legong dancers are played music, while still in the womb and taught the hand gestures before they can walk? I saw a Legong dinner show on the beach and it was included on an all-day sightsee- snorkel- and-beach tour package I got…for $40. Snap, don't you love great budget tour deals!
A culture's art is very indicative of its people's history and many places offer engaging dinner shows and cultural performances to showcase their local talents and give tourists a vibrant understanding of who they are.
6.   Follow your curiosity and go off-the-grid 
Curiosity pays and occasionally, wandering off the grid can lead to discoveries, which are more rewarding than seeing the Taj Mahal. Never underestimate off-the-beaten-path places, even if at first glance it looks… too grassroots for your taste!
Just when I was scraping the barrel of ideas for evening activities in the little Indian town of Gokarna, I came across a small town Indian community theater blasting Bollywood music in a shoddy dirt lot. I dismissed it on several passes. It looked too… how to say this without sounding offensive… local.  Experience the authentic ways of a culture leads to insight and adventure, but sometimes as tourists, we can be sissies about toe-dipping into something "too authentic", uncertain if it will present us with culture shock we're unable to handle.
Finally, out of boredom and curiosity, I gave in.
Turned out, that taking a peek inside the local culture (and its make-shift artistic ways) was the coolest experience of the entire town!  I thought I'd seen community theater, I'd studied a bit of its history and how it began in other countries, I'd seen dance performances and puppet shows when I've traveled (all in venues for tourists). But I've never experienced community theater in a rural town before. This was entertainment put on for the locals, not its tourists. Those types of authentic experiences are hard to find these days as more places are discovered and put on the travel map.
For me, it was like taking a trip back in time and being in a movie. It shed insights on how a small rural town and its modern-day Indian artisans pull off unique entertainment for the local masses, in the best way they can!  It was a treasure of a find and right under my nose!
Keep an open mind and follow your curiosity. It may lead to adventures that most tourists don't think to try and you'll be glad you did.
7.   Brave creepy crawlers on a night safari
Flashlights out everyone and don't forget to hit yourself with insect repellent before you start!  Night safaris lead you on tours of the jungle, to point out the type of animals and critters that come out after dark.  It's fun, eye opening and enough to give you the heebie-jeebies!
Read about my stay and night safari at Bako National Park
8.   Dine alone
There's a myth that many soloists hold around solo dining, and it's that others will see you as lonely or pathetic. Well, have you ever noticed someone dining alone? The likelihood is… not really, unless you're another soloist or the only person in the joint. But ordinarily, our eyes are drawn to movement and activity (i.e. many vs. one).
Sorry soloist, hate to burst the bubble, but you're not exciting enough to catch attention. In a busy restaurant, you're actually wallpaper! So lose self-consciousness.
Alternate ways to get over the fear of dining alone:
•   Look for other solo diners in the restaurant. They're immediate validation that you're not an anomaly and if you have the fortune of getting seated next to another soloist, use it as an opportunity for possible conversation.
•   Ask for a table near a window or outside, so you can people-watch and experience your surroundings.
•   Bring a book, magazine or journal to occupy yourself as you wait for your food to arrive.
.
9.   Eat on the streets 
The marvelous thing about travel is the variety of ways you can sample street dining. With street food, you can eat standing up, sitting on a plastic stool on the sidewalk as motorbikes zip past you or amidst the cluck of foreign chatter. It's real dining just the way locals do it:  authentic food and cheap prices!  Next time you visit street foodie capitals, like Thailand, Kolkata or Taipei, dare to step outside the tourist box and experience it local style.
10. Explore the local shopping experience
Do you like visiting a Mc Donalds in each country just to see the menu and how it changes to draw the local palette? I do.
I absolutely love exploring grocery and convenience stores when I travel.   I ooh and aaah at unique products, raise my eyebrow at strange ones and even pick up souvenirs for friends, which might have them guessing…  I'm always curious about how a country is different from my own.
For example, in Asia, you can get a lot of skin care products with whitening in it (even underarm deodorant!), in India they sell a lot of Ayurvedic products.
Or sometimes, I find a country sells similar brands, but either places different importance on them or have different choices available to their country that I don't have in mine.
Spam by the gift box sold in Korea
11.   Hang out at your hostel and find travel friends
The fallacy about solo travel is that you're always alone. On the contrary, often I find it's quite the opposite.  You're almost always meeting people on the road.
But occasionally, you have to know where to look.  I'll never pooh-pooh hostels and guesthouses. They're a soloist's salvation and these days, it's not just for the young, but for the budget-minded in general!   Some joints host nightly events, book budget tours and often it attracts open-minded and friendly compadres, who are willing to share advice and recommendations of where to go and what you shouldn't waste your time seeing. You can find a dinner companion or more or even strike up a group of friends to go to a bar with. It happens all the time. Sometimes, you'll wish you were actually alone. (Read about my experience in finding friends to go to Bangkok's X-rated ping pong shows).
12.  Hitting an internet café
Skype your family, update your Facebook status, write a new post on your travel blog and… unload your photo card so you have something new to work with the next day.
13.    Spend quiet time reading a book or writing in your journal
We all need downtime to rest and absorb our day. Reading a book about (or inspired by) the country you're visiting, helps you open your eyes and notice more of what's going on around you.  In India, I found a copy of Superstar India: From Incredible to Unstoppable
by my favorite Indian writer, Shobha De.
Journalling is also great for taking notes on your observations and putting all your experiences into perspective.
14.   Do take long-distance journeys at night
You might think you want to watch the passing landscape from the train during the day, but in reality, you might just watch half an hour of it before slogging off! You'll maximize your sightseeing, by scheduling your long-distance travels for night instead. Some buses and trains accommodate comfortable sleeping, while others may challenge your make-shift abilities.
What are some ways you spend your evenings as a solo traveler?