Last Updated on June 28, 2019 by Christine Kaaloa
Ubud.
It's got a laid back yoga-hippie sway, international and vegetarian restaurants up the wazzoo and even a Starbucks!  Ubud (pronounced Oo-bud) doesn't really feel Balinese at times, but a fusion of Balinese culture and yogic expat living. Surrounded by rice paddy fields, mountains and the Balinese countryside, Ubud is my favored escape and getaway.  Forget over-baked tourist traps, like Seminyak or Kuta, Ubud is a smaller town with a gentle and relaxed Balinese feel. The town feels special. If you come with any worries, you can forget them here. That's what Eat, Pray, Love's Elizabeth Gilbert did when she used the countryside as a writing retreat.
You'll find local women performing prayer rituals at many turns, children playing in the soccer field in the middle of town and prayer offerings outside shops and guesthouses in the mornings.   Strapped onto my motorbike zipping around, it's all too easy to get lost in the colors and poetry of the land. With a companion like Ubud, "being solo" couldn't be more romantic.
I like Ubud … even if its yoga clothes are over-priced.
Table of Contents: Bali Travel Tips: Things to Do, Eat, See, Love Ubud
Bali Travel Tips / Bali Travel Guide: 10 Things to Do and See in Ubud
As a small town, there's not a lot of sightseeing to do in Ubud proper, but you'll experience more Balinese flavors and traditions than in other touristy spots.  Ubud's convenient central location makes it an beautiful launching grounds to nearby Bali highlights and as the yoga grounds for the annual Bali Spirit Festival, you'll find a lot of yoga, meditation and healing spas to get your good juu-juu flowing. 
While you can easily take in Ubud in two days, you'll probably want to take more time melting into her. She has her charms. Many travelers come for longer stays, using the town as their home base for exploring Bali further.
Read Things to Know about Bali before you go.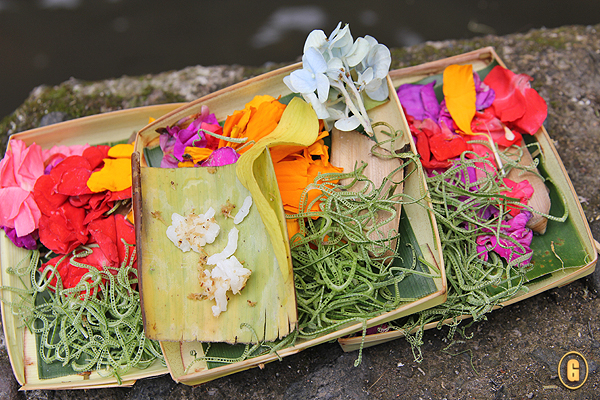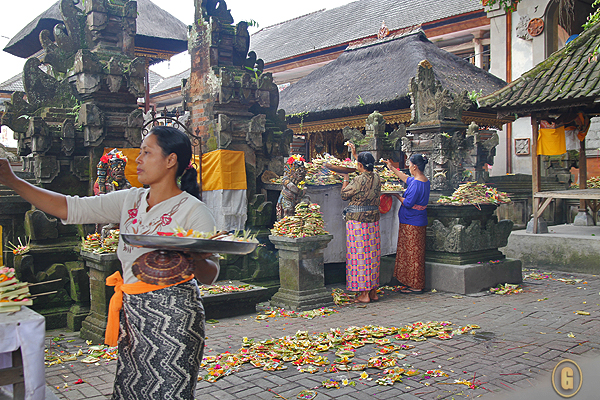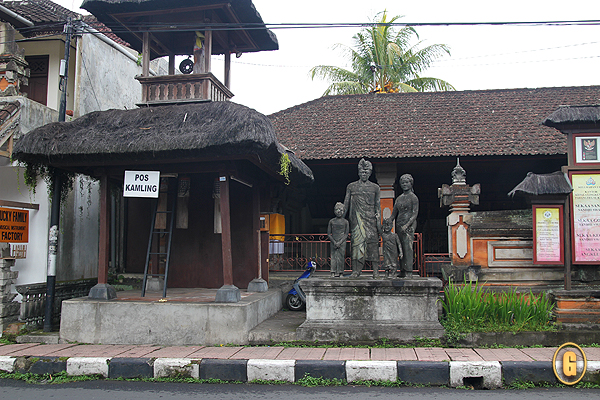 #1.  Stroll through Monkey Forest
The Monkey Forest offers a short and peaceful stroll through a forested area, with Balinese temples, ugly gargoyles and monkeys. Note: But watch out, the monkeys might look cute, but here can be aggressive and some will jump on you if you appear to have food or things dangling from a bag or backpack. Just my closed backpack attracted enough attention to invite a couple of monkeys to attempt some jumping. If you don't want to get a rabies shot, avoid bringing things for them to want to steal. Dress code: No shorts or short skirts. Sarong rentals available.
#2.  Take a yoga class
Imagine looking out over the soothing sway of farm fields, while inhaling an OM into a standing Vrikshasana pose. Ubud is home to the annual Bali Spirit, a festival of yoga retreat workshops. If you're looking for yoga retreats or teacher training program in Ubud, you'll find them! I'm a huge yoga fanatic.
Yoga  Barn has a revolving staple of teachers and has classes at two locations. Classes tend towards a more fusion or resort yoga, disappointing yogis looking for more challenges and foundational poses. The studio is convenient but prices can be equivalent to New York City.
#3.  Ubud Market and Shopping
It's time to get your haggling sharpened and your wallet prepped for shopping. Bali has got a lot of small boutiques with fresh and funky fashions to tempt the shopper in you. Some boutiques are a little pricy, while others are open to the art of haggling. Located next to the Tourist Information office, there's Ubud Market, a two-story market filled with souvenirs stalls selling anything from Balinese trinkets, comfy fishermen pants and Balinese craft work. It's a bit of an overpriced swap meet of stuff, so get ready to go toe-to-toe in the haggle. Tip:  Be one of the first customers of the day and you may get a decent discount if you buy by quantity. It's a shop-owner's superstition that the first customer of the day will bring luck! Now there's a good reason to start your shopping early.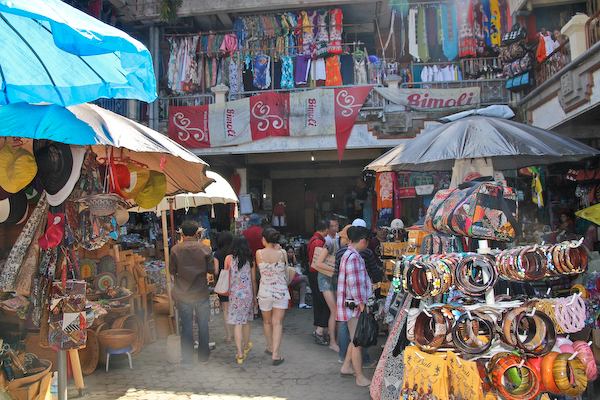 #4.  Traditional Balinese performances
There's a handful of nightly shows to see in Ubud, from shadow puppets, to Legong dance. Ask your guesthouse for times and days of showing.
#5.  Spa treatments and massages
Need a little pick-me-up after a day of sightseeing? Ubud has a wealth of spas offering anything from one hour massages as low as 80,000 Rp to facials, aromatherapy, body scrubs and hot stones.
#6.  Motorbike around the Ubud countryside
Bali isn't a large island ; you can actually get around to several of the top sights in Bali. Renting a motorbike for a day will gain you freedom and access to explore the Balinese countryside, which let's face it– is the real meat-n-bones of being in Bali.  From stumbling upon local festivals, a town's cremation ceremony, passing by neighboring giant and intricately-carved stone statues sold at stone carving shop, or just watching children fly kites in the fields, taking trips outside of town are worth the weight of gold.  Want to get a head start on learning to drive a motorbike, read my motorbike tips and bali driving tips.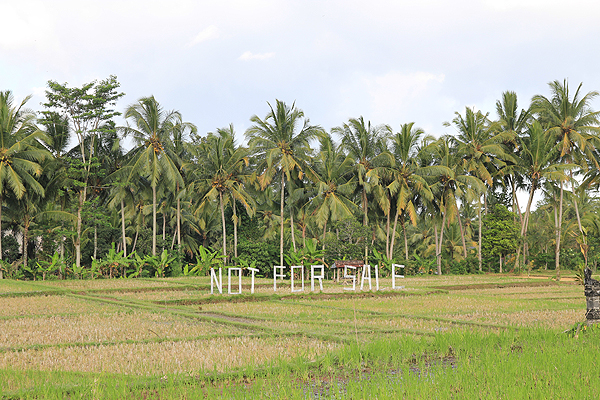 #7.  Take a Cooking Class
Ubud has an array of cooking classes, which will teach you the exotic styles of tradition village food to modern fusion. Balinese is slightly different from Indonesian, with its own cultures, flavors and traditions.
Day Trips from Ubud
As a solo traveler on a motorbike, there's a winsome sense of freedom in exploring nearby sights on your own, stumbling upon local markets and a feeling a sense of safety, even when you get lost.  I tried most options to getting around and outside of Ubud, to know my preference is the motorbike. However, other options to skirt you around are the bemo (the local van/bus)or hiring a taxi.
#8.  Goa Gajah (Elephant Cave)
A UNESCO World Heritage site, this cave temple dates back to the 19th century. The cave's opening is the mouth of a carved demon head, while inside, there's a statue of Ganesh and a shiva lingam. Outside there is a pool of statues spouting water and the waters are said to be like the fountain of youth.
#9.  Yeh Pulu
Yeh Pulu is a bed of rock carvings, dating back to 14th-15th century. Located beyond the rice field, you'll be greeted by an attendant, who will bless you for a donation.  It's a lesser known site and to some, it may not feel worth the time of getting there. But it isn't far from Goa Gajah.
Visit Yeh Pulu carvings
#10.  Rice terraces of  Tegallalang village
Northeast of Ubud is the village of Tegallalang, which is really known for it's rice terrace. Disappointing are the swarms of touts selling souvenirs to car passengers arriving, but it's definitely worth the time to get there.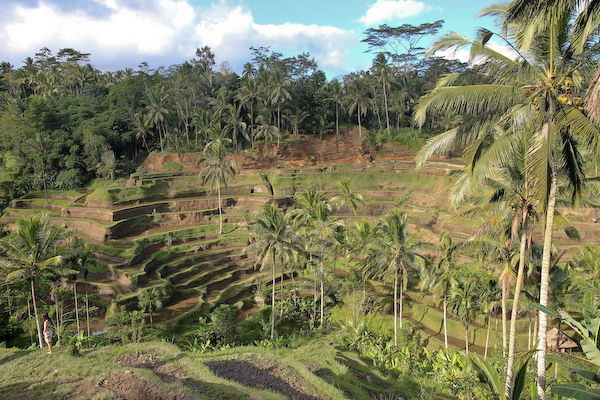 Bali Travel Tips: Where to eat in Ubud
Ubud has a wonderful assortment of restaurants cooking up dishes for everyone. Yes, everyone.  It's got foods from Balinese and Indonesian, to international. Vegetarians will be happy to know Bali has veggie options and tofu and tempeh are within availability (read travel tips for Vegetarians).  It's even got raw  foodists covered! Restaurant prices are a little higher than the average Southeast Asian meal and there's actually a 15% tax added to all restaurant bills. An organic and vegetarian salad from my favorite joint, Kafe cost around $5-$6 USD; it's cheaper than the U.S. but for Southeast Asia… ouch. If you don't have a special or yogic diet, a less expensive and more authentic route is to dine at more local restaurants or even from the warungs (local food stalls) or street carts, which could slice your bill in half… even in quarters.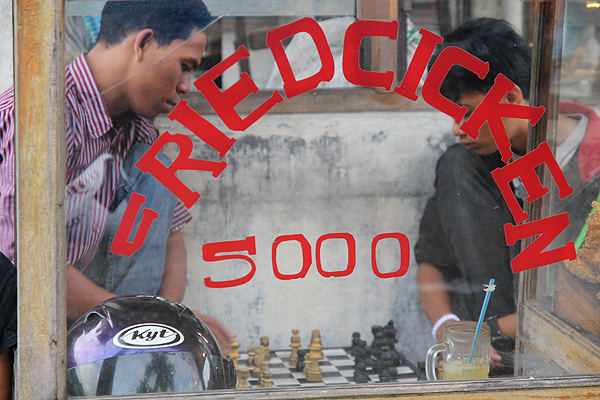 I shamelessly clung to vegetarian restaurants, over authentic Balinese street food. After coming from Malaysia (and not having healthy meals) my stomach craved fresh greens and Ubud had much of that in large doses. One of my uber favorite restaurants was Kafe, a popular spot for vegetarians and travel health freaks there to get their yoga OM on!
Getting around in Ubud
Ubud is a pedestrian friendly town. It's small enough where most get around by walking or via bicycle.   As an island, Bali is fairly small and you'll get quite far on a motorbike.
Taxis: Taxis call out to you at every corner. Not today? Okay, just checking…  It gets to be a little annoying, but thankfully,  they don't do a hard sell.   Taxis can be helpful in getting around to further placed attractions. But in the town, they're unnecessary.
Bus Stand: Buses in Ubud are called Bemos and they're more like minivans. Located outside the Ubud Market. You can take them to another city or for a day trip expedition.   Bemos stop operating after 4pm. Advice: Unless you plan to rent them out, make sure they know you're looking for a shared ride. Cost of renting them is similar to the cost of a ride via taxi.
Motorbikes are common and usually the standard that most tourists use to get around. If you're taking daily yoga classes, you'll definitely want to look into a rental, as yoga and meditation shalas are tucked away.   You can rent bicycles and motorbikes anywhere from a day to a week or longer. Cost can run around $6/day, but you may get reduced rates for longer rentals.  Read 13 Tips for Driving in Bali
.
Where to stay in Ubud
Finding a place to stay in Ubud, you'll have a wealth of options, from luxury hotels and villas to guesthouses . Most rooms are doubles, so it's ideal to have a travel partner to share it with. Many include a free breakfast, usually of fruit, toast and an egg. Some offer WiFi; others not. I stayed at two Balinese guesthouses in central Ubud. Te layout of a traditional Balinese house or courtyard is unique to its culture.  It's said that up to 50+ family members can live there. Recommended:  Some guesthouses offer an airport pickup for an additional 250,000 Rp, a worthwhile expense as it's a good hour away.
Where I stayed:
Indraprastha Guesthouse Behind Jalan Hanoman, not far from Kafe Restaurant.  Cost: 150,000 Rs/double Small room, double beds, bathroom ensuite. Hot shower, Free breakfast and wifi.  Offers an airport pickup service for 250,000 Rp.
Anugrah House Off Dewi Sita Road, located down side alley. Under 150, 000/double.  Room with balcony and fan, free breakfast. A family run guesthouse with limited rooms in a traditional Balinese household. Breakfast included.
Should you take a tour in Ubud ?
Yes, if your budget allows for it, I recommend taking a tour in Ubud . I'm often a DIY traveler, but I'll splurge where it counts. While you can skirt around to the  top attractions of Bali (read my post) by the options I mentioned above, Bali offers exceptional budget tours. They actually feel economical in time and money. My motorbike trips took additional time when I got lost, but when I took a Bali tour, my itinerary was knocked off – pop, pop, pop! ..- with additional location and activity fillers I never even knew existed! They can cost anywhere from  $15 to $200. I took two budget day tours:
Tour #1: A general Bali sightseeing tour. It cost $15 USD, admission not included and no guide. It was a cheapie tour and not as I hoped, but we covered a lot of destinations in a day (and I revisited one I had already been to) and I still consider it worthwhile!  I shared a nice mini-van with a couple, so in essence, it was like hiring a driver for the day. (A motorbike rental alone costs $6)
Tour #2: A full day of sightseeing and water activities, like snorkeling, a visit to Dreamland beach and Turtle Island. It even came with a dinner and night performance on the beach!  That was a deal! Cost: $38 USD all-inclusive with a very good English speaking guide.
What to pack for Ubud
The best times to visit Ubud are June-September. January – March may encounter some rains but usually it's a mix of sun to balance the weather.  Its environment is warm, lush and you can choose whether to experience its country or beaches. For the mellow hippy traveler, Ubud offers a lush country backdrop and Balinese feel, without a loss for yoga and cooking classes, boutique shops, spa treatments and delicious food.
If you like my Bali Travel Guide and posts, you'll want this ebook for your next trip! These are delivered in an easy-to-read format and pack some information that you won't find on my site.   Created for the traveler, who doesn't have much time to plan their trip, these handy ebooks are a travel cheat sheets packed with useful information about attractions, maps, directions, cultural insights, hot-linked pages and more!
Bali  Related Posts
Top 10 sights to inspire your next trip to Bali
Would you buy Bali's most expensive drinkable poop?
18 Things to Know Before you Go to Bali

13 Tips for Motorbike Drivers in Bali