Last Updated on June 7, 2023 by Christine Kaaloa
Maybe you want to experience Bali like a local. Maybe you're adventurous or just want an easy way to skirt around your Bali sightseeing itinerary. Whatever your taste is, driving in Bali or renting a motorbike there, is the way to go.  Many tourists opt to get around by renting a motorbike. 
I rented a scooter for a few days to get around and I never regretted it. In fact, I wondered why I didn't do it sooner. It allowed me freedom in my itinerary and a way to connect more with the local lifestyle and landscape. It allowed me to travel deeper and a little off-the-tourist-beaten-path. Still, there are still things you should know about Bali... and if you plan to rent a motorbike, then you'll want to understand the road rules to driving in Bali.
13 Tips for driving in Bali
1   Have the appropriate driver's license.
In Bali, it is the law to drive with a license, even if you are driving a motorbike. If you plan to rent a motorbike in Bali, plan in advance and get an international driver's license (and also bring your regular license).. In the U.S. you can get an International Driver's Permit  at AAA for approximately $15USD. Just bring your normal driver's license and two passport photos.
The other option is to get a temporary Balinese driver's license (or tourist driver's license). It costs around $30USD and you can only get one in the police station in Denpansar. Ask your hotel or guesthouse the exact location.
Of course there are many tourists without the proper papers. Be aware that Bali has crooked police who might pull a tourist over to see if they have proper documentation and if not, they will expect a bribe. If they do so, expect it to be anywhere from $10-$30 USD. To avoid escalation, pay it without struggle.
2. Start slowly, drive safely.
The road speed ranges from 40 – 70 km/hr. Some road conditions can be bad, with large potholes or loose rocks. It's best to go at a slow to even pace. The last thing you want is to get into an accident abroad. It's been reported that there are over 150 motorbike casualties a day, but I wouldn't be surprised if a large percent of it were tourists who had never driven a motorbike before..
3. Honking is to let others know you're there or passing
Balinese are polite and don't honk if you're going too slow. Instead, they simply pass you. But in the meanwhile, as a precaution against collisions, they will honk to let you know they're either behind or on your blind side in passing.
4.   Always wear your helmet
My first night in Bali, I witnessed an accident between a two motorbikes. The traffic in Bali is fairly easy-going and lacks intimidation. Still, a helmet is a good safety precaution for any country you plan to motorbike in. Wear it.Whether or not Balinese people wear one, your lack of a helmet can be a reason for the Balinese police to pull you over and fine you.
5.   Drive on the left side of the road.
In the U.S., I dread making left turns, because I'm always cutting against the flow of traffic.  Thanks to Bali's system of driving on the left side of the road, making left turns is now a breeze.
6.  Where are the gas stations?
Every once in a while, you'll pass roadside shops displaying bottles of pee-like color, glistening in the sun. It's not pee, but petrol.  There are road signs which tell you that there are gas stations up ahead, but overall, there aren't many gas stations around in villages. For a population which rides motorbikes, this is Bali's solution.
7.  Overtaking  occurs on the right side
Traffic will honk to signal when they're coming up to overtake you. That said, beware of traffic on the opposite side of the road occasionally crossing over to your side.  Oncoming traffic may be overtaking traffic on their side and hop the divide to do it.
8.   Junctions can feel confusing.
Take it slow. Junctions are pretty distinct; a roundabout of 3-4 cross streets with giant stone statue markers in the center. Nevertheless, the road signs can be small and for a roundabout, this can be stressful.  Left turns are easy. Right turns are a little more challenging because you have to perform a crossover.  The landmarks are not hard to miss, although you might forget to look at the sign.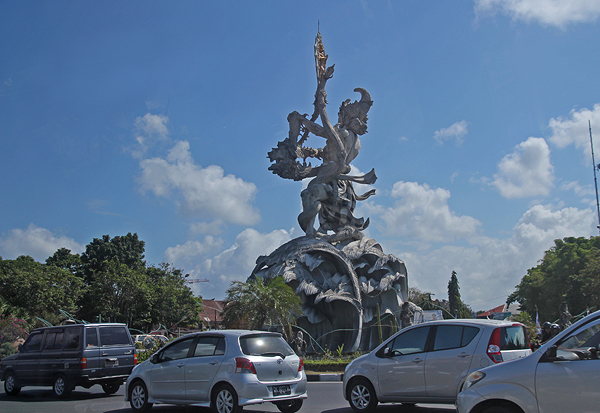 9   Road signs are not big and bold
Be aware, Balinese street signs are not large or pronounced. They can be challenging to find if you're driving too fast. During daylight, a sign's written visibility is okay but during nightfall, it will be challenging.
If you ever lose your way, you'll need to ask a local for directions. Which means, you'll also have to find a wandering local or a lit business shop at that time of night.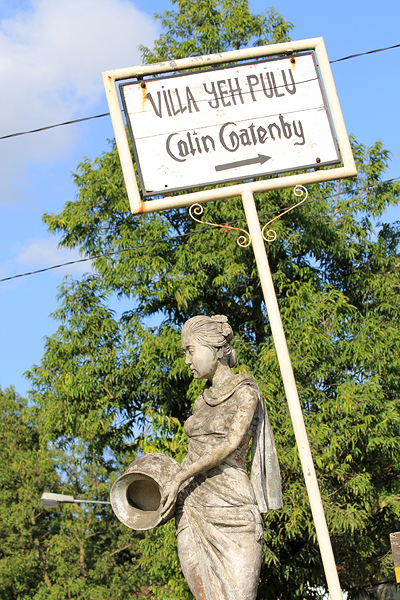 10.    Return before dark
Depending on how far in the country you are, streets can get dark at night.  Some roads are lit sparsely, so at times you will be driving off of your bike headlights. As I mentioned before, street sign visibility is challenging at night.  I stayed out a little too late one night and had to make a few stops to find people  to ask directions.
11.  Get a little lost, if you can.
You might find that it is not easy to get lost in Bali. It's as if all roads lead to Rome as many roads leading into villages and small towns will eventually bring you back onto a main road.  This is not a bad thing, but if it's your intention to get just a little lost and to wander off in search of Bali's charming idiosyncrasies and daily local life, you'll have to try harder.
12. Travel Insurance
If you're planning to drive in Bali, do yourself a favor and get travel insurance. Many tourists get into motorbike accidents abroad, due to carefree vacation mentality and a letting go of responsibilities. Also, many tourists attempt motorbiking for the very first time when they're abroad and this is not always safe or wise. As a U.S. citizen, I use World Nomads. They have affordable prices based on country and activities. The last thing you want to do is get hospitalized abroad or god forbid, something worse. With travel insurance you're covered.
Watch/Read: Tips to How to Ride a Motorbike
13.  Wear shoes
Wearing shoes when driving in Bali might feel like a given, but you'd be surprised how tourists can really let themselves go. Flip-flops are okay for locals and travelers with intermediate to advanced motorbike skills, but it's still always safer to wear closed toe shoes in the case you get into any accidents or spills.
Related Posts for Bali & Motorbiking
Looking for travel insurance?
American travelers often pay a premium on travel insurance.  World Nomads offers economic solutions for travelers who seek security and peace of mind.  It covers 150 countries.