Last Updated on June 28, 2019 by Christine Kaaloa
If you can't decide whether you love the beach, mountains,  or countryside, etc… Bali serves up a photogenic feast for you to explore. From natural beauty to cultural traditions and spiritual sights, it will capture you with breath-taking and exotic sights.  You've never seen anything like it before!
Read  Things to Know Before about Bali
Here's the top 10 awesome sights of Bali which inspired me and I know it'll inspire you too!
1.  Uluwatu Temple
Located on the southernmost tip of Bali, one of the most strikingly picturesque images you'll see of Bali is of Uluwatu Temple in the distance at sunset. A short stroll leads you past monkeys to the temple. Unfortunately, you can't enter the temple but only view it from the outside and the best shot of it, as at a distance like the photo above.
Tip: The monkeys are pretty aggressive, to the point some travelers take walking sticks to scare them off. Be sure not to have anything dangling from your backpack as they will likely try to jump on you.
2. Tanah Lot
Purah Tanah Lot or "Land in the Sea" is a pilgrimage temple on a rock in the middle of the sea.  It's one of the tourist hotspots for its intriguing setup and photographic beauty.
3.  Tampaksiring's Tirtul Empul Temple
Tampaksiring is 20 km northeast from Ubud, houses  Tirtul Empul Temple, one of the holiest temples in Bali, which dates back to 960. A courtyard of temples and a pool, it also houses a hot spring that bubbles in the main courtyard. Locals come to take a dip in the pool for spiritual purfication, during the full moon and new moon.
 4.  Besakih Temple
Located at slope of Mount Agung and east of Tampaksiring (photo above), Besakih Temple is Bali's mother temple and the biggest in all of Bali.  The complex is along a sloping mountain and is residence to 23 temples. Why so many temples? Well, it's due to hierarchy and caste and this defines where your family will worship. Families come to pray for their ancestors and recently deceased.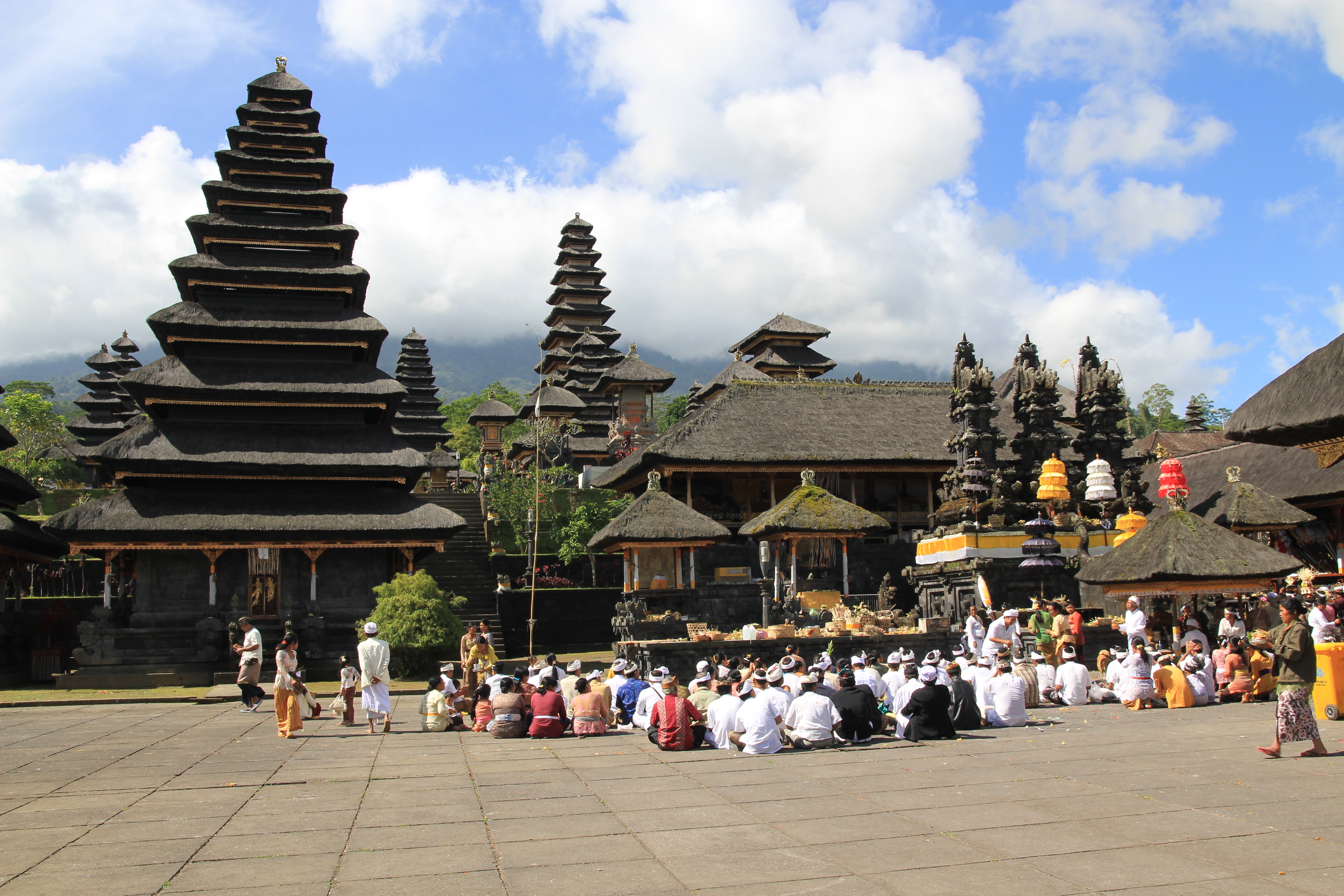 5.  Kintamani:  Viewing of Mount Batur & Lake Batur
Kintamani is a rather underwhelming village, but it's also a popular viewing ground to see the active volcano, Mt. Batur and it's sister lake.
6.  Rice terraces of  Tegallalang village
Tegallalang is a village known for it's rice terrace. Disappointing, are the swarms of touts selling souvenirs to car passengers arriving, but it's definitely worth the time to get there as it's another photogenic feature of Bali. The rice terraces, carved into the side of a hill slope, make a gorgeous design of their own. Getting there by motorbike isn't difficult and the beauty of the countryside makes it a nice ride.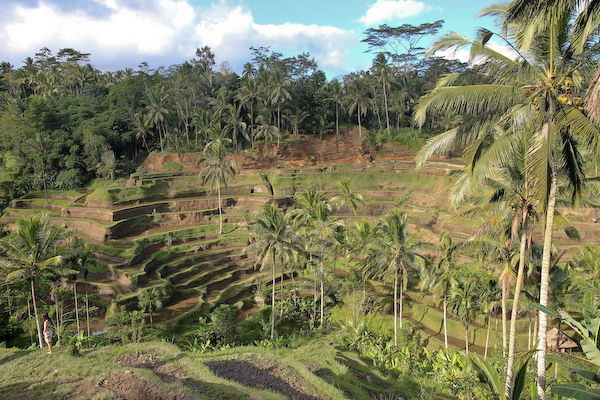 7.   Bukit Jambul Rice terrace
Just 30 minutes from Besakih temple, Bukit Jambul or "Hill Crest", is popular for its rice terrace and its panoramic scenery.
8. Ulun Danu Bratan
Ulun Danu Bratan sits on Lake Bratan, in the Bedogul mountains. What's unique to this area is that water temples are common here.
9.  Temen: Coffee Plantation
If you didn't know it, Bali is known for its coffee too. But the real reason to visit coffee plantations like Temen are to learn about and taste the Kopi Luwak. The coffee is made from a cat-like animal called the Luwak, whose poop makes one of the most expensive coffees in the world.
10. Balinese traditional performances
There's a handful of nightly traditional Balinese shows, from shadow puppets and Legong dance (shown below).  I took in a Legong dance performance and discovered that along with the story and gestures, the hand motions are very important. Female performers practice at a very early age to bend their fingers back so that they can attain the flexibility required for the striking hand positions.
---
 Bali Travel Survival e-guides are out !
Liked this post? Buy my Bali Travel Survival e-guide for just the cost of coffee !
I made these  Travel Survival e-guides for impatient, last-minute independent solo travelers like me, who want their information in a hurry. Included are traveler cheat sheets, packed with the most essential information, photos, cultural tips and maps and directions!  You'll love the maps!
With hotlinks inside, the navigation in the ebook is also built for quick access of information and speed.  The itineraries suggest sites according to location and convenience from each other. You'll be glad you bought this!  For more information on what is included, click on the links above or below.
Related Bali Posts
Things to Do, Eat, See in Ubud
Bali's most expensive drinkable poop?
Driving a Motorbike in Bali Tips 
Looking for travel insurance?
American travelers often pay a premium on travel insurance.  World Nomads offers economic solutions for travelers who seek security and peace of mind.  It covers 150 countries.
Disclaimer:This post contains some affiliate links at no expense to you. This helps me maintain my website.  I only recommend services I would use.