Last Updated on February 9, 2018 by Christine Kaaloa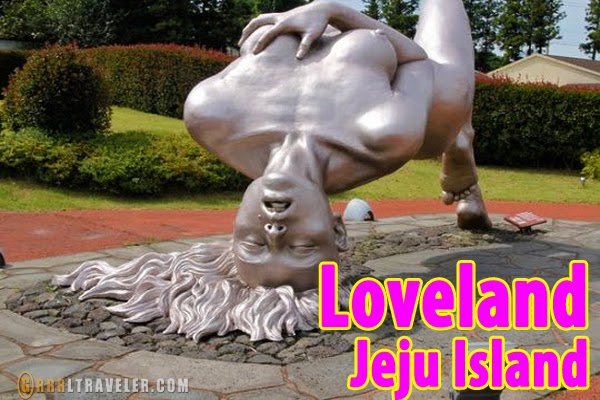 "Igot boseu… Loveland kayo?" (trans. This bus, going to Loveland?)
… Korean girls within ear-shot distance grew wide-eyed with side glances and we got a few silent nods and snickers between men. As two foreign girls standing at a bus stop with map-in-hand, I didn't think there was much harm asking…
Occasionally, Koreans can surprise you.
A couple of month ago, it was a mystery to me as to where all the sexual naughtiness in Korean culture was hidden. Now, standing before the un-pearly gates of Loveland, I was about to have all presupposed ideas about a virginal Korea redefined. A naughty Korea was more like it.
Table of Contents: Jeju Island's Loveland Exposes Naughty Fun in Korean Sex
Sex Education and Sex Parks in Korea
"Sex" and sex education can be a hush-hush subject in Korea. So I was surprised when I learned that Korea has a penis park to honor the male anatomy with giant sculptures of the schlong. But I was triply surprised to find that Korea had a sex park!
As the island is pegged as the romance capital for honeymooners,  it's been rumored that Jeju Island's Loveland targets the newly wed crowd, as a way to get the um,… "ball rolling". A definite education of sorts if you were ever misled about what sex was or could be.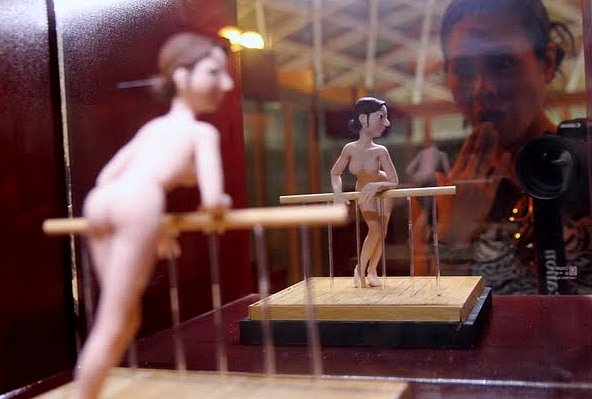 Outside, the building and parking lot barring entry into the sex theme park loomed as banal and depressing as an L.A. porn warehouse. No neon lights, just a small quiet sign which looked like a contraceptive logo. An element of cheesy and surprise prevails, however when you enter the theme park.
How do Koreans view sex at Loveland?
Well, apparently Koreans see sex the way many normal sex-loving folk do.
There was nothing hardcore, obscene, raunchy, smutty, or suggestive of something you might want to whip out your hand sanitizer for. The sexually explicit nature of the artwork was tasteful and entertaining.  Erotic sculptures, penis fountains, a giant hand fingering a vagina and abstract artwork… the park felt at times, a bit whimsical, absurd and playfully curious.  In one bit, it was "naughty fun".
Count on Koreans to make sex seem cute.
Walking into Loveland
Impossible Feats of Sexual Strangeness
Exploring Sexual Peaks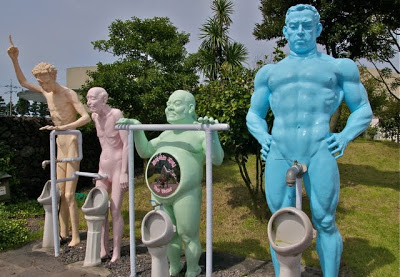 Watering Holes
Fingering the Hole
Twin Hills or Tit Hills
Turn the Crank to Make Whoopee
It's a Secret as to How that Girl Got her Swing
Loveland's Sex Museum of small naughty surprises
Stepping inside the simple two-story museum, you immediately encounter a glass case display of dildos, vibrators and flavored lubricants to smother yourself with in sex-play. Nothing much outside your standard sex toy shop.
Perhaps the erotic vignettes I find most risqué and provocative are often, the subtlest and naughtiest. That said, the upstairs exhibition was by far, my favorite. Call me a sucker for miniatures clay figurines which remind me of stop-motion animations I loved as a child! Claymation figures in sex-crazed panoramic scenes, mixed racy themes with playful tendencies in a humorous portrayal of quintessential Korea!

Sex in the traditional Korean Home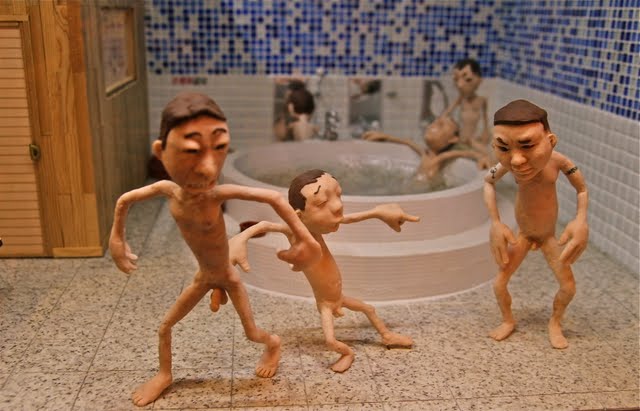 Very "Little" Sex n the Korean Bathhouse
Sex at Noraebang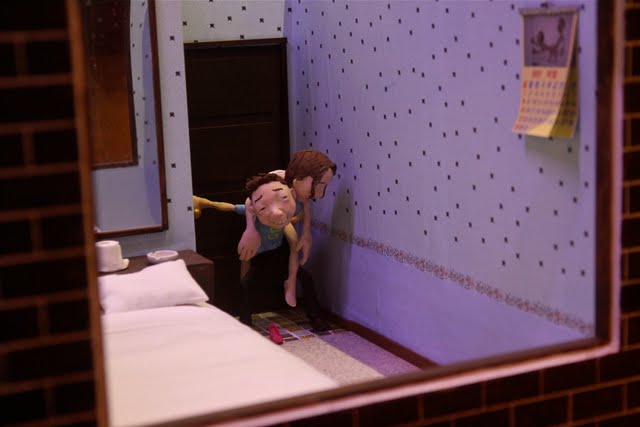 Gonna be Sex at the Infamous Korean Love Motel
Sex in the Korean Classroom
Some Wild Things Going on in the Bathroom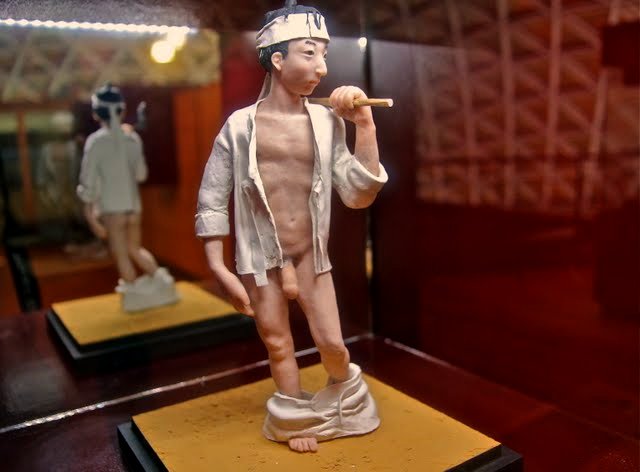 The Korean version of Michelangelo's David
How was Jeju's Loveland?
Was my 3 hour-long bus ride to Loveland worthwhile?
Hell yeah! As an amusement theme park, it did its job in keeping me well-entertained.
Whether you're single or in a relationship Loveland might broaden your mind towards sex and the conservative Korean life.
Getting to Loveland
From Seogwipo:
Take a bus headed to Jungmun. Transfer at Jungmun and take the bus headed towards Jeju-si/Mt Halla along Highway Route 1139. Approx. 3 hours to get there.  The buses run less frequent.
From Jeju-si:
There are probably more buses which go there as Loveland is closer to Jeju-si; the easiest would be from Jeju Main local bus Terminal.
Museum Hours:
The park is open til midnight
Where to Stay:
Map of hotels in Jungmun Area & map of places to stay in Seogwipo City.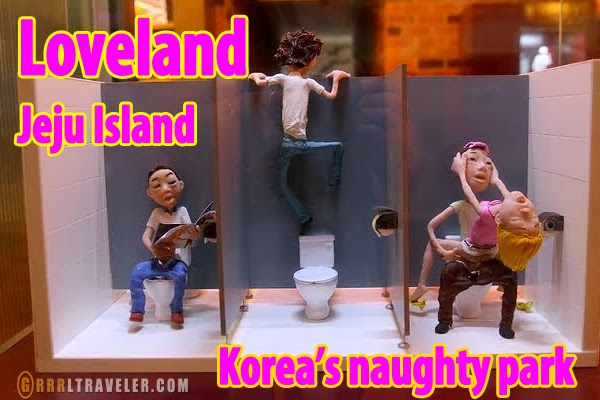 Related Jeju Island Posts
Jeju Island Travel Survival Guide
Top Things to Do on Jeju Island
Teddy Bear Museum 
Loveland Sex Park
Hiking Jeju Island's Olle Trails