Last Updated on March 25, 2019 by Christine Kaaloa
"You can drink it fast, you can drink it slow—but the lips have gotta touch the toe," is the saying  when drinking a sour toe cocktail in the Yukon's Dawson City.
One of the bucket list traditions of Dawson City is to try a  Sour Toe cocktail at the Sourdough Saloon. Located in Downtown Hotel, a red brick-colored saloon style building, the saloon sells a signature drink comprised of a mummified human toe drink in 80% proof alcohol. Yes, a human toe!  Many travelers are averse to trying it due to hygienic reasons or just because the thought is disturbing. If you can eat deep fried bugs, then you can do the toe. Personally, I couldn't tell it was a toe– it actually looked like a dried twig!
The traditional alcohol of choice is Yukon Jack, although they offer other options. All options have to be 80% proof, as a safety standard and health code (alcohol is a sterilizer).   Yukon Jack is a fairly lovely drink for those who aren't very into alcohol. It's sweet and aromatic flavor and easy going down, although the first sip you might be able to light a flame with.  The cost of the drink is fairly inexpensive- it is the cost of the drink + $5 for the toe (and don't forget to tip your bartender).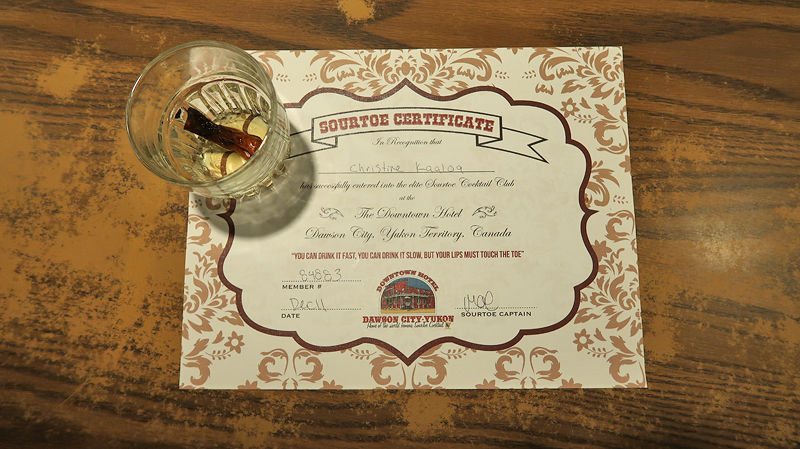 The first toe is said to have belonged to a 1920's gold rush miner, who's frostbitten toe had to be amputated and was preserved it in a jar of alcohol. In 1973, the jar was found by Captain  Dick Stevenson and turned it into a drinking challenge. Today, you can try your hand at the drink and get your name written in a Sour Toe Cocktail Club membership ledger- you even get a membership certificate- it feels so official! (Note: I am Sour Toe Cocktail Member #84883)
The Toe Keeper- Terry Lee keeps the toes and usually administers the drink challenge.  Over the years, the saloon has had a handful of mishaps regarding the toes- it's been stolen, even swallowed and today, anyone who causes loss to the toe pays a hefty fine of $1000. It's safe to say the saloon has gone through a number of toes, such that it has backup toes. It is also open to toe donations. Toe time is 9 – 11 p.m.
If you're hungry before or after, you can dine at the in-house restaurant, Jack London's Grill (Note: I had ordered some poutine as an after drink chaser!)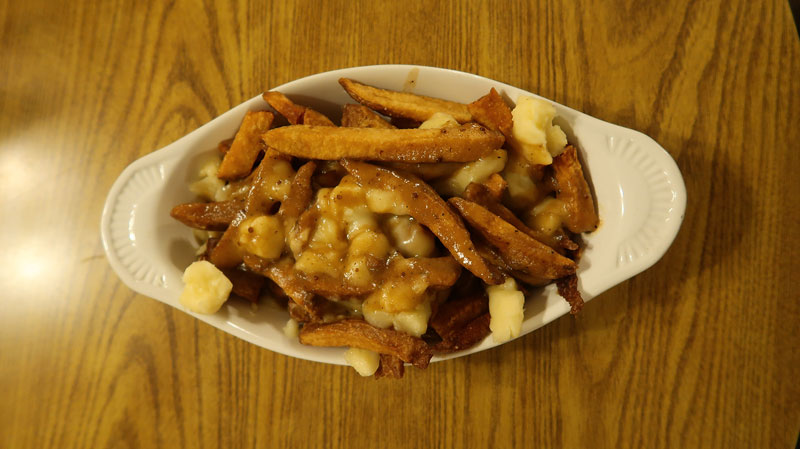 Location:
Downtown Hotel
1026 Second Ave
Dawson, Yukon Territory, British Columbia, Canada
How adventurous are you ? Would you try the Sour Toe Cocktail at the Sourdough Saloon in Dawson City?  Would you try a drink with human toe?