Last Updated on May 27, 2020 by Christine Kaaloa
Local community theater with seats being sold at 30, 40 and 50 rupees (Gokarna, India)
Traveling India, Gokarna is a sleepy beach and pilgrimage town in Karnataka. As one of the seven important Hindu pilgrimage centers,  Indians visit it on holiday or during festival season to honor the god, Lord Shiva.
Gokarna Travel Guide:
What can you do in Gokarna in two days ?
The main town is very rustic, with a ghat bathing area centrally located. Coconut trees, roaming cows, unpaved or cobbled streets are what you'll find. These small town traits can be common traits of traveling India.
Gokarna is small so you can travel it pretty quickly. Most travelers traveling India, visit or stay long-term are there to enjoy the Indian beach life, feeling secluded from the madness of honking horns. If you're looking for a place with a lot of action, Gokarna is not it. But if you're looking for a peaceful spot to relax and enjoy the beaches, this might be your next Goa.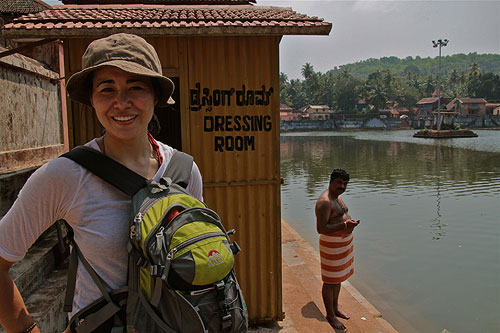 Beaches in Gokarna
One of the top Gokarna attractions are its beaches. Known as a beach town, some travelers like to rent beach huts to experience that beach escape. There are two main beaches: Gokarna Beach and Kudle Beach. These are the two I visited when traveling Gokarna. However there are a few more.
1. Gokarna Beach
Right off the main street and near the Mahabaleshwara Temple, Gokarna Beach is easiest beach to get to and the most popular stop for pilgrimagers and travelers. To be honest, it was not my favorite beach and I didn't find it particularly lovely. But it is very accessible with cafes nearby.
2. Kudle Beach
Kudle Beach is a bit more of a picturesque beach with resident huts you can rent. It sits in a cove and is about a 20 minute walk from the town center. When my bus dropped me in Gokarna's open-air bus station too early, everything was dark, mosquitoes were swarming and nothing was open, I went down to Kudle Beach with a couple of bus passengers/travelers to wait out the morning .
3. Om Beach
Om Beach is known because it makes the shape of an OM. Approximately 1 km from the town center, I didn't get a chance to visit it, although many travelers find it one of the most beautiful beaches to visit and lodge near.
Note: I would not advise swimming in waters if you have an open cut.
There are two secluded beaches:
4. Half Moon
5. Paradise beach
6. Exploring Gokarna Town
Traveling Gokarna town you will find it simple with cafe restaurants, a few souvenir shops, produce vendors, convenience shops and postal office.
7. Gokarna Local Theater
It has a local theater, which was loads of fun to visit and experience Indian musical plays.
I met many western expat travelers who chose Gokarna as their an extended escape, making India their long-term home. I could understand why– rent is low, beach life was good and the town was laid-back.
8. Koti Tirta
Not far from the Gokarna bus station, Koti Tirta sits in the heart of town. It is the bathing ghat in Gokarna and considered a sacred site, where locals take ritual baths.
Temples in Gokarna
Traveling Gokarna is to travel a pilgrimage spot, so top Gokarna attractions are its temples as well as beaches. It is a Shiva worshipping town so Shivaratri festival is the best time to visit for festivities, albeit you will find it very crowded. As it is a temple town, temple rules are fairly serious. Some temples do not permit foreigners; other temples prohit women who are having their menstratal period.  It is best to read the temple signs which are posted outside for all.
9. Mahabaleshwar Temple
Mahabaleshwar Temple is the famous Shiva Temple and it houses the 'Atmalinga' (a sacred linga), which is closed to foreigners. You can still enjoy it from the outside.
10. Maha Ganapathi Temple
Maha Ganapathi Temple is built to honour Ganapathi. The deity here is two-armed, standing and at least 1500 years old.
Other Gokarna temples
Uma Maheshwara Temple
Bhadrakali Temple
Tamra Gauri Temple
Venkataramana Temple
Where to stay in Gokarna
You'll find many types of accommodations traveling Gokarna, so it depends upon how central to the town or beach you'd like to be. There's mud hut beach bungalows to slightly more resort ones.  If resort hotels near the beach is your goal, click here.
For 100 Rupees (approx $2.00), I stayed at Vhaibav Guesthouse, a decent guesthouse run by good people. Located across the bus station, I was central. But when I first saw it, I didn't leap with Hallelujahs. The dingy lobby decor held stationary cot beds (for employee use), reminiscent of a homeless shelter and my shoebox room looked like a scuffed college dorm room, with a community bathroom that held a squat toilet. Hardly thrilling.
Only after shopping around, surveying the guesthouses in town and rudimentary mud huts on the beach, did things fall into perspective.  My room was neat, central to the bus and town, with a 15 minute walk to the beach. It was listed with Lonely Planet India
. It wasn't my worse nor my best accommodations, but I'll remember it always as a good score of a place. Despite the bugs flying into the room from the outside (I had to keep my windows slightly open for ventilation), it me well for three nights. For the price, I couldn't complain.
How to Visit Gokarna
To Visit Gokarna: Taking the afternoon government bus from Hampi drops you off at the Gokarna bus station at 3 am. Yes, in the morning. Luckily the bus station is central to the town. There are benches to sleep on. Eventually, I made my way with some foreign travelers (on my bus) to sleep on the beach. Taxis  don't start running until 5-6 am.
To Ernakulum (Fort Kochi) via bus and train
Take the bus from GoKarna to Kumpte. Then take Kumpte bus to Kumpte Railway Station. From Kumpte Railway station, take the train to Ernakulum station. Arrival into Ernakulum, take a taxi to Fort Kochi or a ferry
What top Gokarna attractions would you recommend? 
Dear Love,
Life is an Indian stage. When does the rehearsal end and the real show begin?  Heroine, damsel in distress, drifting gypsy, lost soul or adventurous pioneer? Who am I today?
I witness many stories unfold around me. Various characters and scenarios emerge in seemingly chaotic frenzy. Staring Indians, weaving taxi drivers, stubbornly slow cows and backpacking travelers cross my path stitching me into their story, as if I'm either a part or byline in their story.  The fruit seller won't take my torn ruppee and looks at me as if I were a scamming tourist. But angelic smiles and help or kindness from locals brings a renewed faith in mankind. A cup of coffee on a shared table or a conversation with fellow travelers in the guesthouse lobby, can easily turn into short-term company. I may plan my sightseeing itinerary, but I never know how the play will turn out until the end of the day.  Welcome to my theater!
Improvisation and script. Solo and group travel. A fear of the unknown and the thrill of adventure.  The curtain is open.
I feel like I'm still rehearsing.
Do I know my story yet? Who am I?
Wandering, GRRRL