Last Updated on September 3, 2022 by Christine Kaaloa
Note: Local Bites JP no longer seems in operation, but Satoru still offers Japanese cooking classes in Tokyo here.
If you ask travelers about their bucket list for Japan, one thing might be~ taking a Japanese cooking class.
When I passed through Shinjuku's Omoide Yokocho I was disappointed I was unable to experience ikazaya food (aka bar food), because it is mostly all grilled meat.  Luckily, Local Bites JP reached out to let me know they offered Japanese cooking classes in Tokyo. I couldn't ask for a more perfect timing!  While tasting Japanese food, I began developing questions about the flavor, the food culture and  the sentiments behind Japanese cooking. What better way to enhance my understanding of food than to take an Izakaya cooking class !
Table of Contents: Taking a Japanese Cooking Class in Tokyo with Local Bites Japan
What is Community Home Cooking with LocalBites Japan?
Local Bites JP offers community home cooking classes. These are authentic cooking classes hosted in Japanese homes with locals teaching you their tradition.  The service allows the local community to share their culture, while also earning a little income for their hospitality, resources and time. Classes range from how to make sushi, teriyaki, tempura, vegan ramen... and they change according to the availability of hosts and their cooking specialty. As the classes take place in a local home, your host can modify the recipe according to your dietary restrictions.
The cooking class I chose was… you guessed it– an Izakaya cooking class!   My host teacher Satoru-San customized my class with vegetarian – pescatarian friendly substitutes.
Japanese Cooking Class in Tokyo : The Art of Soul Food
I emerged from Shinjuku East Station, harried, uncertain if I was at the right exit. It was mid morning.  My cooking sensei, Satoru San stood waiting for me with a sign.  There he was, a kind-looking man, with gentle eyes and a youthful soul. There was a harmony and delightfulness to him. Satoru San was someone you'd definitely enjoy cooking with.
Satoru san led us through the flavored streets of Shinjuku. The grilling smoke from izakaya bars from the night before, were long dissipated and the alleys of Golden Gai were deserted like old jazz bars shut in their coffins in avoidance of daylight.  The character and flavor of the environment had to touch the soul of any food created here, if not stir it.  Aferall, Izakaya food is bar food, a lusty bed partner of beer and sake.
"Yes, many of the streets here are run by Yakuza… they just had a big fight last night".  I asked Satoru if they were problematic  landlords. "No, they don't bother residents. They are just concerned with their own matters".
Finally, we arrived at his humble but retro-stylish Tokyo apartment.  Food ingredients were neatly laid out on his kitchen table and there was a lot of it. I wasn't sure if we could fit all this into 3 hours and Satoru felt it might take a bit longer. On our cooking class Izakaya menu was:
Miso with tofu
Shrimp gyoza
Wakame rice
Wasabi salad.
As Satoru instructed each step, we also talked about his upbringing in Hokkaido farmlands to his grandfather's miso factory, his move to San Francisco and his cooking inspirations. The soul of the food we were creating was imbued with Satoru's memories and his grandmother's home cooking and family tradition.  It wasn't just miso soup flavored with bonito flakes but miso made with a bit of his family's specially-aged miso, a secret quality of familial pride.
Japanese Craftsmanship: Precision and Presentation
One thing I learned was there is a great deal of pride that goes into Japanese cooking and it went deeper than my American mass consumptive consumer mind could fathom. . Did you know that making a beautiful gyoza is a reflection of how you value or respect your guest?
( I will apologize to any of my future guests right now ~  my gyoza does not mean I think you're ugly.)
Satoru explained that due to Tokyo's differing quality of water, many popular ramen masters in Hiroshima, will never move to Tokyo to open a shop. This is because Hiroshima is known to have the highest quality water of Japan, and the change to Tokyo water will change (if not ruin) the signature taste of their ramen. No one wants to ruin their flavor or reputation.
Japanese cuisine emphasizes high quality craftsmanship.  Watching Satoru preparing the rice, I began to understand. He took meticulous care to measure everything exactly, so that his rice would be just right… cooked to be both, firm yet sticky. Tasting Satoru's rice was comforting,… a subtle flavor of the wakame seaweed opened in my mouth, enough to flavor but not impose its taste.  The rice alone was distinct and yet, seemingly uncomplicated.  Satoru's rice was perhaps one of the most "perfect rice" I've eaten!
Read Culture Shock Tokyo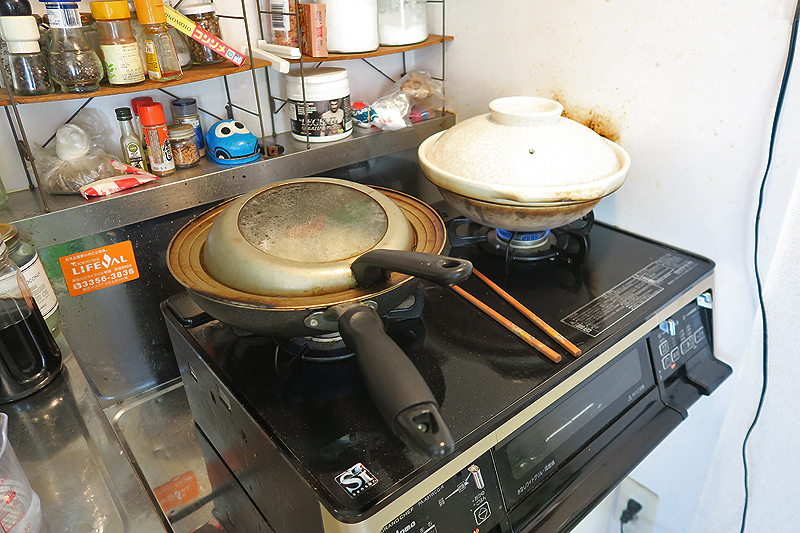 When it came time to flip the gyozas from the frying pan to the plate while keeping them perfectly char-crisped on one side while lightly crisped on the other, I realized it was going to get dangerous if I did it, so I handed that job over to Satoru.  This is what he performed in one flip. The gyozas were deep fried but not oily; they were brown enough for crunchy, but nothing got burnt.
Read how to make Tibetan momos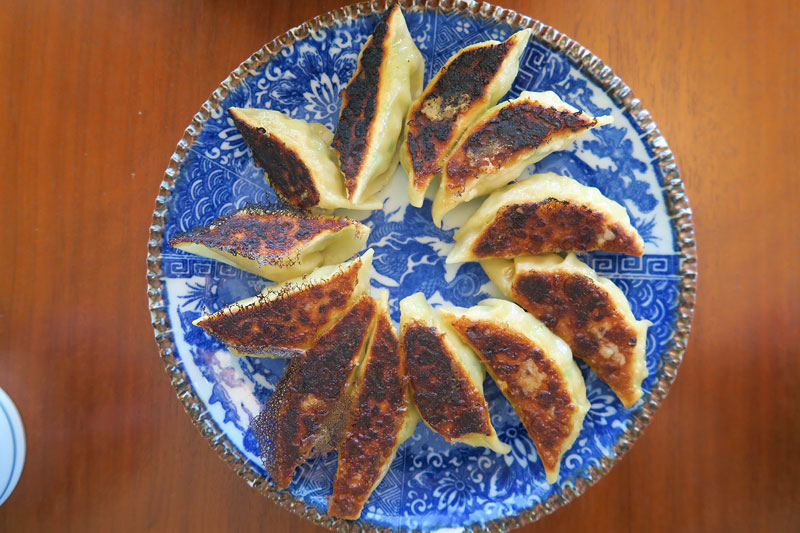 Japanese cuisine and palette
When decoding food, Japanese cooking can feel so refined with subtle flavors. The food is not overpowering, too spicy, seet, sour or even too hot or cold. Everything is temperate and ingredients seem to find a harmony with each other– an ensemble vs a cameo.
Satoru pointed out is that there are no knives in table place settings. That is because if anything served needs to be cut, the host will cut the food into bite-sized pieces for his guests! Mind-blowing, right?
He also explained that Japanese people are very picky about their food. "They like good food.. they like their foods to be pleasing…. they like it to complement the seasons."  Japanese feel that foods must make them feel warm during the winter and cool during the summer.
Finally came eating time and I don't have to tell you that it was all delicious. I won't go into the ingredients, because you'll have to take the class. I was learning more than just cooking dishes. I was learning how the Japanese care about their food as much as their guest.  The ingredients you won't visibly see going into Japanese food is a host's history, family tradition, environmental influences, respect and hospitality.
Thanks to Satoru san and Local Bites JP for sharing all these things with me so I could understand how Japanese cuisine is a precious art. I highly recommend taking a Japanese cooking class with Satoru-san. You will definitely enjoy it.
Disclosure: Special thanks to Local Bites for sponsoring such a wonderful cultural experience! As usual, all opinions are my own.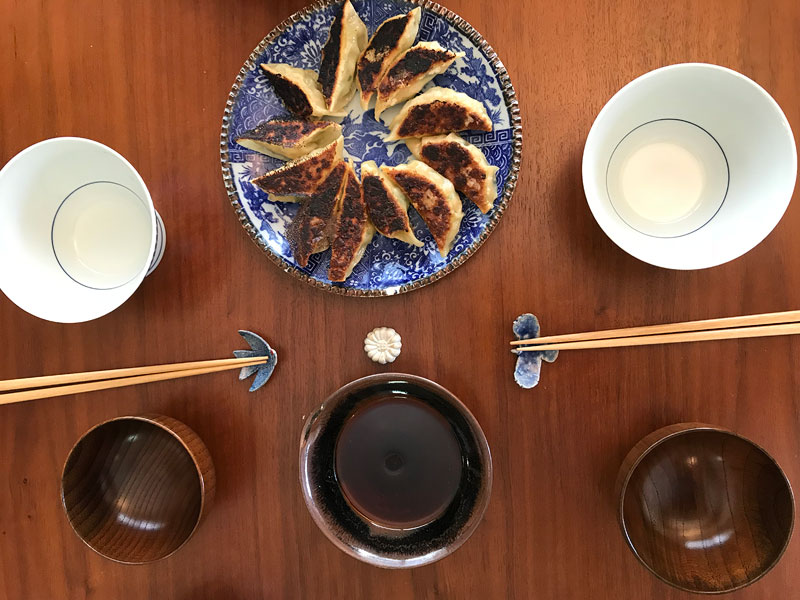 Wanna take a Japanese Cooking Class in Tokyo?