Last Updated on June 7, 2023 by Christine Kaaloa
.
Wanna get my behind the scenes cheat sheet info of my Shinjuku Video? Look no further. Included in this Shinjuku Travel Guide are best things to do in Shinjuku that were on my film itinerary with additional options!
Shinjuku is known to house one of the biggest the Red Light district of Tokyo. But you wouldn't guess it just walking around- it all goes on underground.  By day it's a government district, with lots of shopping and a the world's biggest and busiest metro hub. By night, the neon lights go on and it's a lively and colorful nightlife.  Follow the grilled smoke of  Izakaya shops at Piss Alley or try to get into one of the Member's Only bars at Golden Gai. Here's some things to know before you visit Shinjuku.
15 things to know before you visit Shinjuku
My first trip to Tokyo, I thought Shinjuku was a boring government district and being a solo traveler, the bar scene wasn't attractive to me. I shopped at an outdoor street fair and stayed at a manga kissaten. That was as close as I cared to get to what I considered a bland district. This time around however, I learned so much more about it through locals – its history, complexity, and instagrammable qualities opened up a more dynamic and jaw-dropping view of Shinjuku for me.
Shinjuku has a a riveting history, for sure.  So I'll not only share what to do there but a bit of insight behind the scene so you can appreciate it much more.
1. Shinjuku Station
 Shinjuku Station is the largest  and busiest metro station in Tokyo (see a map here). An estimated 3.64 million people pass through this station daily and there are over 200 exits! That's seriously a lot of exits. There is an attached JR station too.  In 2007, it was recognized as the world's busiest transport hub according to the Guiness Book of World Records.  This station will lead you to many top attractions of Shinjuku from the Tokyo Metropolitan Government Buildling to the places on this list and more.
Tip: It's super easy to get lost and overwhelmed here and it's best to know what Exit Gate to look for. The exit gates will let you out to where you need to go. If lost, ask one of the station guards. Usually they are near the toll booths.
2. Omoide Yochoko (aka 'Piss Alley')
I you want to feel like you're traveling back to post war Japan, head over to Omoide Yokocho  or what locals lovingly refer it to as either Memory Lane or Piss Alley. It's a picturesque alley of red and white Japanese paper lanterns and crammed izakaya shops large enough to fit 10 people and less.  It got it's nickname due to the fact there was only one bathroom and drunken locals would urine in the alley. Omoide Yokocho houses over 70 izakaya shops, seducing you through the aroma of barbeque yakitori ( or grilled chicken skewers). Another specialty is motsuyaki (grilled animal organs). It is not far from Shinjuku Station's West Gate.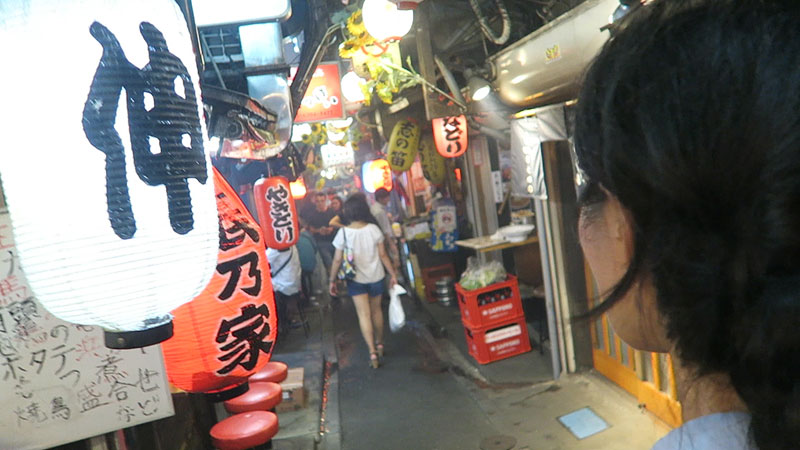 3. Robot Restaurant
Tokyo has a lot of fun theme restaurant bars. The robot restaurant is no exception. It is a live performance, with colorfully bright neon lights and lit up robotic characters. If you have 8000 yen to splurge on nightly entertainment, this spot would be a great option. You can buy a ticket for a cabaret show or for a dinner and show combination. Arrive 30 minutes before the show, as faiilure to do so may result in the cancellation of your reservation.
The Robot Restaurant is a short walk (about five minutes) from the JR Shinjuku Station East Exit or Tokyo Metro Shinjuku-sanchome Station Exit B12.
4. Kabukicho
Kabukicho is the most infamous district in all of Tokyo, where you'll find restaurants and bars, host and hostess clubs, love hotels and if you know where to look, adult services. There's also a good handful of fun things like the Robot Restaurant and Samurai and Ninja Museums. There's more than meets the eye to this colorful and riveting area of Tokyo. With its headquarters in Kabukicho (I saw it!), the Yakuza or Japanese mafia run these streets. Although Japan is relatively safe, this is one district where you might want to be just a little on your toes. The yakuza tend to leave tourists alone from what I've heard and are primarily concerned with their own business. I have a friend who rents an apartment from them- he said, they're like normal landlords. So there you have it. But I mention this because Shinjuku is big on nightlife and some tourists can get rowdy, punchy, disrespectful and careless (not saying that's you, but I've seen it happen with travelers).
First, the Japanese are very private and quiet people. So anything in the red light sector is not going to blare at you like Amsterdam's red light district- no neon signs or girls in windows. As I mentioned in my video and in this post – a lot goes on underground .  In order to find "red light activity" you need to know where and how to look for it. Sex services are sold in this area .There are "concierge services" which will help you find your preference from girl type to sex service type.
Tip: There is no soliciting in this area- it is unlawful for boys to approach you to try to get you to eat or drink at their restaurant. 
5. Host & Hostess Bars
In Kabukicho you'll find a healthy amount of host and hostess bars to entertain and woo lonely locals. They are like companion bars. No sexual services are exchanged at these bars but will pay large sums of money to spend time with a host and woo them in exchange for temporary companionship or even attention. The popularity of some hosts have raised them to celebrity status In this area as well as, it has made lucrative careers. The clientele of these bars vary. For male host bars, 60% women are from the sex entertainment industry looking for a way to blow off steam from their daily grind and psychological stress. Hostess bars on the other hand, can be frequented by businessmen and occasionally high profile clientele.
The mural signs of good-looking Japanese hosts and hostesses may lead you to believe they are popular boy or girl bands but they're popular hosts and hostesses. Interestingly, there is no stigma about being a host or hostess in Japan.  If you're interested in taking a peek at one, here's some things to know before you go.
6. Love Motels
Love motels in Tokyo operate similarly to love motels in Korea. The Japanese prize secrecy so some of these hotels won't require you to book in person. Instead, they will have photos of the rooms outside with a number and you can order it from a machine.  Hourly packages are sold and facilities can be okay to tres chic. Prices range (see my video) but can cost less than your standard hotel. You will find many of these in the Kabukicho area.
7. Godzilla Road
Above Toho Cinemas, you'll find a giant replica of Godzilla peeking over the building next to Hotel Gracery. This is called Godzilla Road.  During the day up until 8p, it exhales smoke and roars. The famous monster reptile is part of Toho Cinemas (below it) which is part of Toho Studios, which owns the Godzilla franchise. Here's a self guided Godzilla tour for those who want to catch sightings of this celluloid monster.
8. Golden Gai
Japan has always been known to be closed to gaijin (aka foreigners). Golden Gai was no exception, however these days, you'll find more bars welcoming foreign travelers. Golden Gai consists of six tiny alleys filled with almost two hundred hole-in-the-wall bars filled with lots of character and ten seats or less. Some of these are exclusive members only bars for regulars. Each has its own policy from members only (for regulars) or open to foreigners , cover charge or not, tax or not.
The vibe of this area feels similar to the 50s-ish post war Japan vibe of Omoide Yokocho. But Golden Gai is much quieter and feels just a little more secret.
Tip: Members Only bars are for "members" (regular clients of the bar). Usually it will say this on the door and if the signs are only in Japanese, then its safe to assume they are only for Japanese locals. If you see menus in English, there is a higher probability it welcomes foreigners.
9. Manga Kissaten
Manga kissatens or manga cafes are internet cafes with libraries dedicated to manga magazines and animations. You'll find chairs and computers there to console stations where you can relax and lay back.  You rent your spot by the hour and they are offered at different hourly packages. I've used these joints to sleep at night when I was on a budget. It's certainly interesting and facilities can range. Some cafes even have showers, sell ice cream and more. There are really chic manga cafes to kinda gritty and basic filled with the scent of cigarette smoke. Always check the facilities in advance before booking.
Popular cafes with better reputations are Popeye Media Cafe (read my experience ) and Manboo.  This is my manga cafe stay in Shinjuku a couple of years ago.
10. Shinjuku at night is electric
Shinjuku at night is electric! With all the japanese signs lit up to catch your attention towards their business, it can get pretty bright in certain places. Although Kabukicho area has a gritty reputation, i've found the lights there are so bright, you could wear your sunglasses.
11. Don Quijote
If you're doing souvenir shopping or even if you have travel needs or wanna pick up a Japanese snack, Don Quijote is your one stop shopping store for anything you can imagine.  From souvenirs to anything from household supplies, beauty, medical, clothing, electronic, food and entertaining Japanese products which will make shopping feel like an amusement attraction. I LOVED Don Quijote. I feel like I visited almost every main Don Quijote in Tokyo.
12. Tokyo Metropolitan Government Building
The Tokyo Metropolitan Government Building has one of the best 360 degree views of Tokyo and it's absolutely free! The building also houses a Tokyo Tourist Information Center where you can take a volunteer led tour of the building, pick up maps and information about walking tours (some of them are free!).
Getting There: Okay, it's tricky. My very first trip I felt like I spent 15 minute trying to find it in the cold of winter. This trip in the sweat of summer, I only spent 10 minute. Do yourself a favor and try to find the Tocho-mae Station instead of Shinjuku Station. GEtting lost did lead me to my first vending machine restaurant in Shinjuku Station however.
The building is a ten minute walk from JR Shinjuku Station, west exit. You can also take Tocho-mae Station on the Oedo Subway Line which lands you directly underneath the building itself.
13. Samurai Museum
Ever wanted to know more about samurai history and lifestyle, the Samurai Museum is the place to go and it's only a stone's throw from the Robot Restaurant.  You can explore Japan's feudal past with swords, over 70 styles of armor and you can even dress in it and take your photo! Despite the fact there's samurai history in my family, I didn't have time to cover this museum. But it doesn't mean you should miss out!
Hours: 10:30–21:00 Mon–Sun.  Website www.samuraimuseum.jp/en/. Getting There:  2-25-6 Kabukicho | Eiwa Dairoku Bldg 1F. , Get offSeibu-shinjuku Sta. | 4 mins on foot . Admission: ¥1,800, Children ¥800
14. Ninja Trick House
Kabukicho isn't only about nightlife, Robot Restaurants and Samurai Museums… tucked stealthily away on the fourth floor of Wako building, they've got a Ninja Trick House too, where you can throw stars and play ninja for the day.
Hours: 10:00–19:00 Mon, Fri, Sat, Sun . Website: www.ninja-trick-house.com/en/ Getting There: 4F First Wako Building 2-28-13 Kabukicho, Shinjuku Sta. | East Exit | 8 mins on foot, JR Yamanote Line . Admission: ¥1,000
15. Free Walking Tours of Shinjuku
Run by the Official Tokyo Tourism Office, there's (I believe) a free two hour walking tour of Shinjuku leading you around the streets to  Isetan Department Store  and ultimately, Godzilla Road in Kabukicho. Hours: 10am-1pm  Email and double check about prices as the website is confusing about whether it is a free tour or not. Website: https://www.gotokyo.org/en/guide-services/shinjuku-trends/
Tokyo Localized (review) advertises free walking tours and it is one I took for Shinjuku. It discloses the information I've included in my video and I was requested not to film my guide.  It certainly shows a different face of Shinjuku. The guide spends a little too much time talking at each location and giving personal stories; you're not able to wander off for photography as Shinjuku is crowded and you'll easily lose the group. Note: But there is a scammy aspect to this tour. The tour is advertised as free but a tip IS expected at the very end.  Our guide requested $50, which he said is the cost of a normal walking tour (essentially, he was asking for the tour cost in tips)  and went down the line collecting it from everyone individually-kind of like a pressured shaming to force tips.  You could see the guilt on travelers faces as they attempted to cover their shock- backpacker types fumbled for any type of cash. It was a shakedown. I  offered around $10 or $20 because I was not carrying extra cash but knew I was going to use some of it in my video. What I tipped is inexpensive, but not if you felt misled by the "free tour" advertising. I consider this advertisement of services unethical.  I think they should charge for their tour services if they want to be paid,  rather than woo travelers in under false premises.  I thought of not listing this review because I still think it's a bit of a scam, but I realize some may still find this helpful.  The nightlife and seedier information was interesting and he led us by Yakuza headquarters (and mentioned it after the fact ).
Note:  While in many cultures, it is polite to tip, many Japanese see tipping as an insult to their services and hospitality. But if they are westernized Japanese, they might understand the compliment. I tried to offer a Tokyo hair stylist a tip for a hair cut; she was insulted by it.
Shinjuku Travel Guide (Watch Video)
Is Shinjuku safe for Solo Travelers?
This post is not meant to make anyone fearful of this area; Japan is one of the safest countries on the global list. Despite the fact Kabukicho is run by yakuza, the yakuza are like businessmen or landlords and most of the time you won't know they are there. They generally do not pose a threat to tourists. However, as mentioned, there are people who will try to get you to go into their bars and there may be intentions to hit you with an extremely high bill.  For women, if you can't pay it, you might be asked to pay it off by working in one of the entertainment bars.
You should always trust your gut, look out for scams and read my Safety Tips for Solo TRavelers
Where to Stay in Shinjuku
Nine Hours Capsule Hotel Shinjuku  If you follow me on YouTube, you know one of my favorite capsule hotels is Nine Hours, a chain of capsule hotels in Japan with a unique twist towards space themed pods.  Watch my video below for the review! Located 3 minutes from Shin-Okubo Station (Tokyo's Koreatown)
Hotel Gracery Watch out for Godzilla!!! This hotel is 10 minutes from Shinjuku Station and is in the heart of Kabukicho, Shinjuku's busiest nightlife area. This hotel comes with the Godzilla view (if you're a fan, be sure to ask for the room facing Godzilla Road) and is next to the cinema.
Getting Around Tokyo
Tokyo is quite large. With a population of 13.8 billion people the city is sprawling.
Tokyo Tips for taking the Metro & Bus
If you plan to only stay in Tokyo,  its best to buy a PASMO or SUICA card (good for all trains and buses) and load money onto it. If there is a day where you will be using the metro a lot, then I'd buy an unlimited metro pass (which I believe is only available at the airport for travelers). Fares are charged by distance and JR trains cost just a little more.
If Tokyo is not your only stop but you will be traveling onward through Japan, you may consider getting a JR train pass which can be used on the local trains, JR trains (this is a private company) throughout Japan.  You will need to buy a JR pass in advance outside of Japan.  See more JR Pass Options below
Recommended: Download either Navitime Japan or  Hyperdia mobile apps to find your metro and JR routes with ease. Apps come with route options, estimated time and costs per trip. They are helpful with Japan's busy and sometimes, overwhelming metro systems.
Getting Around Japan
Japan Railway | Japan Rail Pass (JR Pass)
Many travelers opt to skirt around Japan by way of the Japan Railway. The Japan Rail Pass is the perfect option if your itinerary is crunched with cities and very little time. JR Pass Options are sold in 7 day, 14 day and 21 day categories, and it includes all JR trains (Shinkasen, Express, Local, etc..), the monorail to/from Haneda airport,  highway buses and more!   Rates start at 28,000 yen and you must pre-purchase your passes in advance.
[maxbutton id="3″ url="https://www.klook.com/en-US/city/100-jr-pass/?aid=6792″ text="See a List of JR Pass Options" ]
Most popular : 5 day flexible East Tohoku JR Pass
(surrounding Tokyo area to countryside; Shinkasen, Narita Express, Tokyo Monorail included)
Note: you can only buy these passes outside of Japan. Plan ahead.  The pass offers tourists a big discount on travel; however, if you only have a few cities to visit, it may be more cost-efficient  to book point-to-point travel.
Enjoy this post? Pin this to Pinterest!
Best Travel Insurance for Japan
American travelers often pay a premium on travel insurance.  World Nomads offers economic solutions for travelers who seek security and peace of mind.  It covers 150 countries.