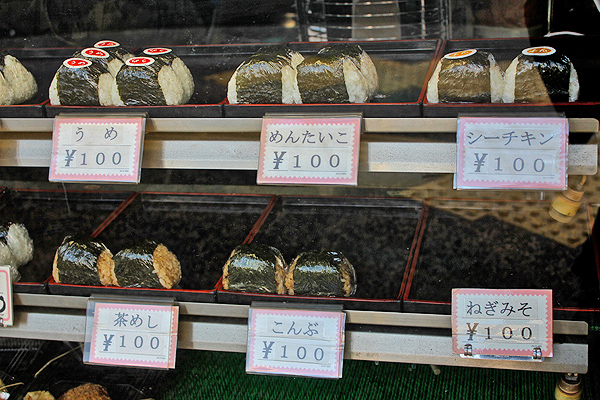 Surviving Japan. Is it possible to make it out of Japan with your wallet?
As I mentioned in my Tokyo on a Budget post, it seems that travel costs are more related to personal travel style , how much you want to spend and where you want to splurge.
Secret: It depends on your travel style and your preferences!
I tried to envision friends' travel styles against mine. Firstly, I travel mostly for sightseeing and filming. I do a lot of walking and explore places on foot. I prefer slow travel to fast.  In many ways, my travel style is a deterrent of a lot of eating, partying and shopping expenses (the top four budget killers) and I often like my experiences to be as close to "the street" or as local as possible.
How can Japan be traveled in under $50/day? 
Let me tell you a secret… you can travel Japan for less than $50/day and still have fun.
In relation to traveling Thailand, Japan is expensive. But compared between Korea, Hawaii and the United States, prices felt comparable.  In my post about Tokyo budget travel tips, I quote an average of $30/day if you had to shrink-wrap your spending.  Compared to Kyoto, Fukuoka and Osaka, Tokyo felt like my biggest challenge, but the budget options were there.
Travel budgets break down into travel style
Tourist attractions that charge admission ( 101 freebie things to do), nice restaurants with Kaiseki meals and shopping for souvenirs are add-on expenses that will quickly soak up your budget.
You'll also pay a higher price for convenience and speed; for instance, taking express vs. local metro trains.
By traveling at a slower pace, being more conscious of your spending habits and budget… traveling doesn't have to be wallet rape, but a creative adventure that results in discovering Japan's more unique and local budget crawls.
Budget Travel in Japan
The biggest expense for traveling Japan will be transportation. Budget accommodations are easily found, but transportation, you can't skirt. This is where it costed me the most.
Budget Accommodations in Japan
Budget accommodations range from standard to "interesting".  You can go from a $100-$200 a night hotel,  a $40 a night business hotel or hostel to a $15 a night manga cafe (photo below).  I've used Booking.com because you can book your hotel and if you change it before the cancellation date, you can cancel for free. It has allowed me to find the best deals.
Read Capsule hotel or manga cafe?
A hotel is a hotel, a hostel is a hostel. You'll experience more of the local culture by stepping outside of that ring and looking at the more unique flavors, like ryokans, capsule hotels, love motels, minshukus (aka locally run guesthouses), temple stays, AirBnB's (get $20 off your next booking or refer a friend for $40 off), manga kissatens… even an overnight bus!  I haven't tried couchsurfing but Wandering Soul has done a bit of it here.
People think that staying with a friend is cheap or free. Not the case in Japan unless you're a freeloader friend, as it's Japanese-style to bring gifts if you're visiting a home. I stayed with a friend and brought pre and post-gifts and as she also lived outside of Tokyo, that bill racked up!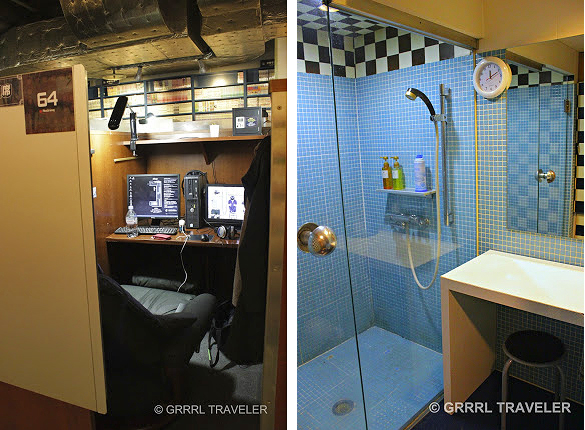 Budget Souvenir Shopping
Shop at Japanese discount stores
Did you know they sell Evian water for a $1.00 in Japan? At least they do at the 100 yen stores! Japan has three top discount stores you want to shop at for .. almost your travel, souvenir and curiosity needs.
100 Yen shops are Japan's one dollar stores and they're stock20 Things to Know Before Traveling Tokyo (These will SHOCK you!)ed with everything from household items to toiletries, beauty products and gadgetry. The products they sell aren't only cheap trinkets. There's a lot of cool stuff that would cost me much more  in the U.S. They even sell drinks, food and snacks,  that you could easily cook up in a hostel kitchen.
Budget Transportation in Japan
Transportation is an unavoidable cost. City to city, prefecture to prefecture… cost ranges according to distance.  Traveling from city to city alone, you're guaranteed to pass a $50 a day budget.  However, with planning and research, there are loopholes.
Cheap Flights
In Japan, there are times air travel is cheaper than land.  Jetstar is one of Japan's low-cost carriers. The prices they quote are surprisingly low if you don't add-on extras like seat reservations, baggage check-in, etc…  My two-hour flight from Fukuoka to Tokyo  cost me $60 , but ultimately turned out to $80, because of my add-ons.
Tip: Reduce your luggage to a carry-on and you can save money. But remember, if you have liquids in your bag, that's an automatic check-in.  Ultimately, a smaller luggage bag will also help you get around Japan a lot easier, like on the metro during peak time.
Japan Railway | Japan Rail Pass
Many travelers opt to skirt around Japan by way of the Japan Railway. The Japan Rail Pass is the perfect option if your itinerary is crunched with cities and very little time. JR Pass Options are sold in 7 day, 14 day and 21 day categories, and it includes all JR trains (Shinkasen, Express, Local, etc..), the monorail to/from Haneda airport,  highway buses and more!   Rates start at 28,000 yen and you must pre-purchase your passes in advance.
Note: you can only buy these passes outside of Japan. Plan ahead.  The pass offers tourists a big discount on travel; however, if you only have a few cities to visit, it may be more cost-efficient  to book point-to-point travel.
Highway and Overnight buses
This was my preferred option. I only had 3 main cities to get to (Tokyo – Kyoto | Osaka – Fukuoka).
Highway and overnight buses cut efficiency into my sightseeing time and cut down my hotel expenses by allowing me to travel, while I sleep. Schedule your departures around 10pm-12am (when the city and subways close down).
I used Willer Express . It offers anything from a cramped economy seat to a luxury recliner with your own personal entertainment system. If you book in advance, you may get a discounted rate or an upgraded seat from economy.  See the Japan Tourism website for more.  A Tokyo to Kyoto overnight trip cost me $60 USD (a savings of $40-75 off the JR/Shinkasen trains ).  Travel time was 7 hours and I arrived at 7am.
Fortunately, I was booked at a guesthouse (A-yado Gion Guesthouse), which conveniently allowed check-ins at 7am.
Note: Not all buses have luggage storage under the bus. If you're planning to go this route, it's best to pack as light as possible.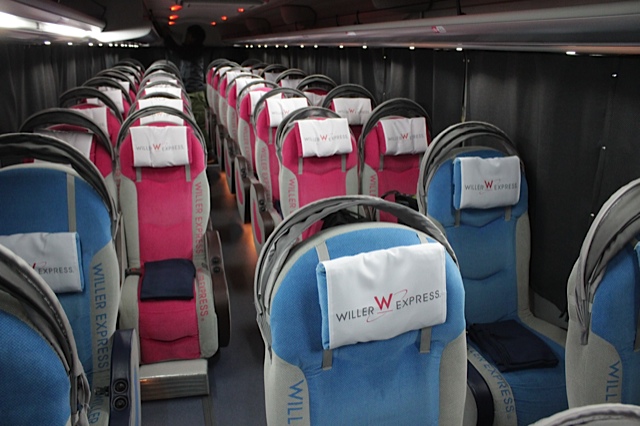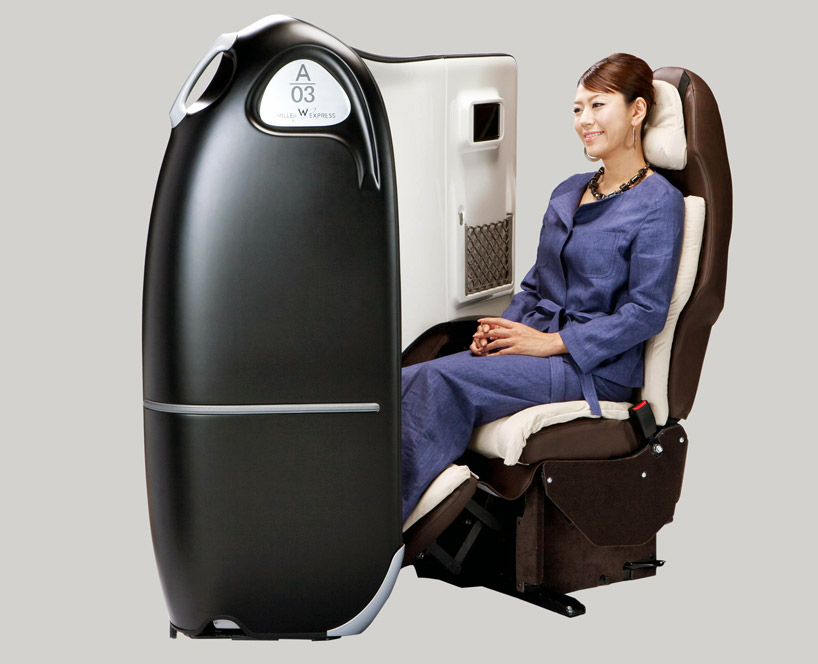 Bus and Metro System
Japan offers good discounts for tourists such as  one to three-day unlimited transportation cards, where you can either use the bus, train, both or on exception. Check it out with the tourism information offices as soon as you land in the airport. Each city may have different deals.
If you're coming in through Haneda or Tokyo, you can only pick  up a Tokyo metro ticket (photo below) from the airports, not in the city. In some cases like Osaka Amazing Pass, you can buy online or in the city.
Recommended: Download either Navitime Japan or  Hyperdia mobile apps to find your metro and JR routes with ease. Apps come with route options, estimated time and costs per trip. They are helpful with Japan's busy and sometimes, overwhelming metro systems.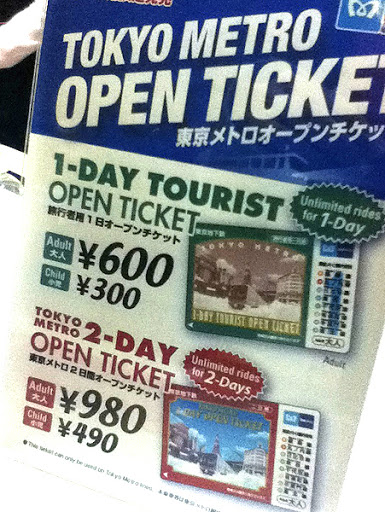 Budget Dining in Japan 
Japan has really delicious food. You'll want to go crazy trying things if you're not careful. Just walking past the market on the way to the Senso-ji temple in Asakusa, I was wanting to try everything. Rice cracker senbei snacks, mochi, you name it,… all got cooked up before my eyes for 100 or 200 yen a pop.  It can appear cheap until you add it up and realize you spent it all on snack time.
Street food
Food in Japan is generally tasty…even if it's fast food. You can easily find onegiri (aka rice balls) at street shops for 100 yen. Dine away from touristy areas and might score a bowl of piping hot ramen for around 400-500 yen.
Yatais – Yatais are street food tents to slurp noodles
Buy cheap food from 7 -Elevens
Train Station cafes
Vending Machine Restaurants
Stand up ramen shops
Read Things to Know About Japan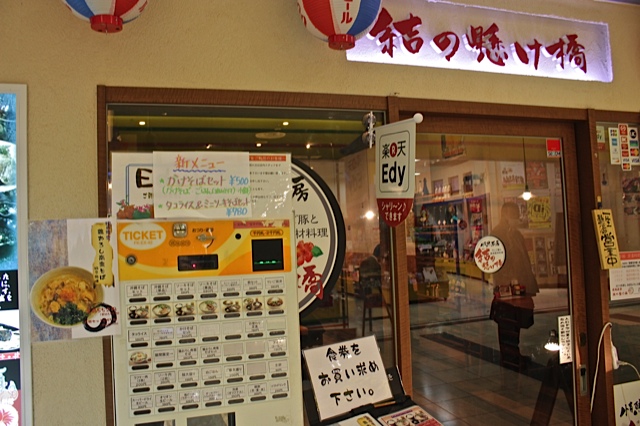 Grocery stores and basement level of department stores.
Food is fresh in Japan. Even in the supermarkets and thus, they want to sell as much of their bento plates and pre-cooked foods by the end of the day. Thus, there are discounts.  Sushi plates, salads, tempura… all fresh and delicious Japanese food.
Tip: After 8-9pm grocery stores do a mark down on foods in the take out section.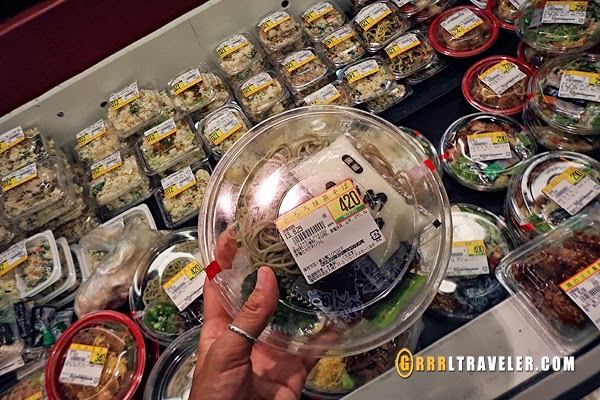 Budget Travel Tips for Japan on Dining on the Cheap
Cook at your hostel
The first night I arrived in Tokyo I stayed at a hostel and you would not believe how many travelers cook and bring their own food (just look at my photo of the hostel refrigerator below). But it's definitely an option if you're really cutting corners.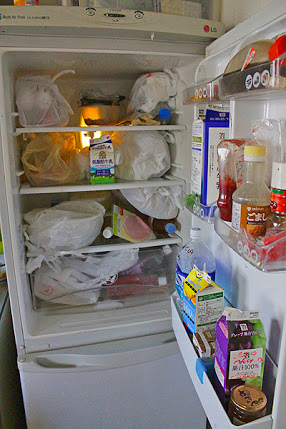 What are some of your budget travel tips for Japan? 
Enjoyed this post? Get my guide on 48 Hours: Tokyo on $35/day below and make your trip planning a budget breeze!