Looking for the best things to do Kyoto?
Kyoto is beautiful, romantic and historically preserved as Japan's old capital. But on your Kyoto trip, visiting Gion- an area infamously known as the geisha district- is one spot in Kyoto you won't want to miss! There is a mystique about geishas — many travelers want to see them on their visit to Japan. With a rich geisha and maiko history, tea houses, shrines and historical architecture, Gion is a timeless place to get lost in. I've put together a Gion Travel Guide to show you the best things to d in Gion.
But watch the video to learn more about geisha culture.
Watch Gion Travel Guide (& Geisha Spotting) | video
There are many myths around Geisha and ways to spot them in the Gion area.  This video mixes top Kyoto attractions in Gion with information about geisha and maiko culture (and where you are likely to find the most activity).
Here's things you must know about the top Kyoto attractions in Gion.
18 Top Things to Do in Gion
1. Shijo Bridge
Shijo Bridge is the gateway connecting Shijo Kawaramachi (downtown Kyoto) to the older and traditional parts of Kyoto, such as Gion and Higashiyama. Crossing the Kamo River, it is Kyoto's Champs Elysee. During good weather, Japanese come out and picnic or stroll the walkway lining the river. You can't help but cross it going from Gion to the more modern side of Kyoto.
2. Kyoto Minamiza (Kabuki Theater)
Impossible to miss as you cross Shijo Bridge into Gion is Kyoto Minamiza (aka Kabuki Theater),  Kyoto's oldest theater.  It is a magnificent theater known as being the birthplace of Kabuki, one of Japan's most age old performance arts. Tickets start at around : $40 . Check the website.
Getting there: Located in Kyoto's Higashiyama district, 1min walk from Gion Shijo Station, Keihan line
3. Izumo no Okuni statue
Izumo no Okuni is the founding mother and the  inventor of kabuki. A miko (shrine maiden) of the 16th century, she'd perform male characters and it was said her performance was like nothing that had been seen before. Fascinating history insight: Her first performance was on the dry riverbed of the Kamo River. She often hired prostitutes to act as the female characters. Audience members solicited them after the performance and eventually women got banned from performing Kabuki.
Okuni played a man and employed famous courtesans (taiyu) for her kabuki performances, but the ladies ended up soliciting their services during performances. This started many fights and so the government banned all taiyu from being kabuki performers.  So then kabuki starting using adolescent boys. But they got too "popular" with the male audiences too. That caused another problem. So they were banned as well. Now, the art of Kabuki only uses men and female impersonators.
4. Hanamikoji
Hanamikoji (hana means flower in Japanese) is the most historical street where there are teahouses and okiyas (a Japanese lodging where a maiko or geisha will live before she can fulfill her contract. You might see Geisha or Maiko in this area running to training or work. Wandering the side street alleys is a relaxing stroll if you do this in the early morning or late afternoon, when crowds can thin. Buildings in this area are historically preserved and you'll feel like you're stepping back into time.
5. Gion Corner
Gion Corner  is where you'd go if you'd like to see maiko performances and traditional arts demonstrations, such as tea ceremonies, flower arrangement, koto music, court music and kyogen theater. Hours: Daily 6pm and 7pm; Check the website as times/days will change based on season. Admission: ¥3,150.
Location: 570-2 Gionmachi Minamigawa, Higashiyama Ward.  Located off Hanamikoji. Map here.  Website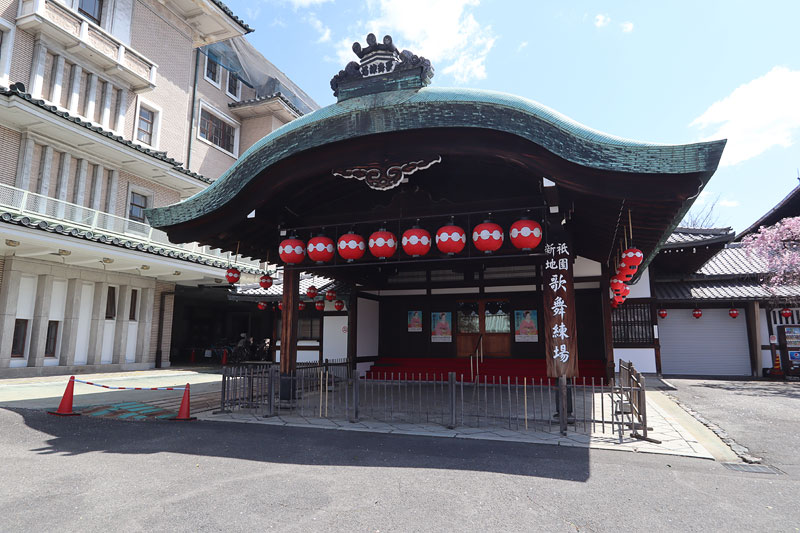 6. Kennin-ji Temple Tacchu Ryosokuin (History of Matcha green tea)
Kennin-ji Temple Tacchu Ryosokuin is a temple grounds dedicated to Zen Buddhist and zazen meditation. (It is also a seriously long name which might insight a meditational chant). The temple itself is has a stark black and white architectural design with simple lines. Wander the gardens for a feeling of serenity.  You'll find matcha tea plants decorating parts of the garden as its said the founder of this temple brought the tea plant back from China in an effort to keep his monks from falling asleep. Map here.
7. Higashiyama
 Higashiyama District  is a preserved district of top historical Kyoto attractions, where the small boutique shops and streets retain the traditional architecture and sentiment of old capital Kyoto. You'll see Japanese rickshaw runners pull carriages of tourists up the sloping hill, while tourists who've rented kimonos for the day take selfies. Walking in this area you'll see Yasaka Pagoda, Yasaka Koshindo and if you keep walking towards the mountains, you'll ultimately meet up with the famous Kiyomisodera temple.
Tip: You've definitely seen this area making rounds in instagram feeds!  For a photograph with Yasaka pagoda in the background- without the crowd- arrive early in the morning before shops open.
8. Yasaka Koshindo
One of the more colorful Kyoto attractions is Yasaka Koshindo (or Rainbow Temple). Built in the Heian Period, Yasaka Koshindo is a colorful temple belonging to the folk religion, Koshin-shinko. It is known to house colorful balls, which are symbolic of "monkeys" with bound hands and feet. Buy one and write the bad  habits which get in the way of your fortune. Tie those habits up in these monkeys  and feel your fortune flow to you unhindered.
Getting there: It is tucked away on the side of one of the most historical streets (and most instagrammable streets)  of the Higashiyama District. It is almost located diagonally from Yasaka Pagoda.  Location: 390-1 Kinencho, Higashiyama Ward, Kyoto. Map here.
9. Hokanji Temple (or Yasaka Pagoda)
Hokanji Temple (or Yasaka Pagoda) is a five story pagoda built in 1400's. A top attraction of Kyoto, it is a famous backdrop of many Instagram photos showcasing a historical streets of Higashiyama District.
Photo tip! Get there around 5-6 am before the tourist crowds at 8a.  Tour groups come in at around 9a.
Location: 〒605-0862 Kyoto, Higashiyama Ward. Map here.
10. Yasaka Shrine
You can't miss the red torii gate welcoming you towards the entrance of Yasaka Shrine. The shrine grounds is as large as a football field, holding several shrines dedicated to different types of dieties and wish granting. Two shrines I found interesting~ one was a small shrine with rabbit sculptures (quite likely it had to do with fertility or longevity) and a favorite shrine of maiko and geisha in the area– a shrine to everlasting beauty.
Like most shrines in Japan, you'll find souvenir shop where you can buy lucky amulets, as well as an omikuji station (aka fortune sticks). Shake an omikuji cannister as you think of a wish and the first stick which comes out will be your answer. Match the stick with its respective fortune drawer to read your fortune. If your fortune is bad, tie it to a rack with other bad fortunes and leave the bad energy behind.
11. Maruyama Park
Maruyama Park is the oldest park in Kyoto with 600 tree varieties and it is easily found right next to Yasaka Shrine. It is easily one of the best things to do in Kyoto in celebration of hanami or Kyoto's Japanese cherry blossom viewing parties.   During cherry blossom festival season, the park is lit up with lights at night and you'll find food vendors selling street foods and snacks. There is even a cafe sitting area where you can sit on tatami mats while eating and drinking under the sakura stars.
12. Kodai-ji Temple
Surrounded by a lush environment, tucked up the side of a hill, off Shimokawaracho in Higashiyama is the Kodai-ji Temple. The temple is for the Rinzai school of Zen Buddhism. You can explore the outside temple grounds for free. To explore the Zen garden inside the temple, the admission is 600 yen
13. Rent kimono for a day
You will see many women and men walking the streets of Kyoto in kimono. You might think this that locals preserve traditional Japanese culture in their modern daily life. But many traditional wear in tourist areas usually signs kimono rentals.  One of the best things to do in Kyoto is rent a kimono for the day. Tourists love it and this is particularly popular with Asian tourists. The rental shop will help you get dressed up and made up complete with hairstyle. Some even offer photoshoot packages or you can do your own photoshoot around the city.
14. Enjoy a Maiko performance and dinner
Enjoy a magical night with a maiko– enjoy a Maiko dinner performance and a delicious Japanese meal in a real ochaya (aka traditional salon). The maiko are living and working to become geisha and an ochaya is where they live and work. You will have the opportunity to speak to a maiko and ask questions.
15. Kyoto Walking Tours
Traveling Kyoto in search of top Gion attractions? Why not take a 100 minute guided Gion night walking tour to learn about picturesque Gion and the rules of geisha living.
Another way to  a  Kyoto Free Walking Tours is one of the most surprisingly informative walking tours I've taken in Japan (aside from in Shinjuku). Running off the tips for its passionate volunteer guides, the walking tour is a highly informative walking tour through Gion and the Higashiyama district, sharing stories about the area and geisha life and maiko living.
16. Issen Yoshoku
Issen Yoshoku is a landmark and one of the best restaurants of Kyoto. They are historically, the first restaurant to sell Kyoto-style Okonomiyaki. Okonomiyaki is a cross between a Japanese pizza salad pancake. It is largely made of vegetables such as cabbage and flour, unless you order it with seafood or more.  The restaurant itself is a  thematic toss back into time, housing decor made of old memorabilia and collectibles from a historical Japan.
Note: You cannot miss this restaurant store front for its playfulness of a boy running from a dog pulling its pants down. Highly recommend eatery to check out.
Hours: 11am-3pm daily, except Sundays 10:30a -10:30 pm.  Location: 238 Gionmachi Kitagawa, Higashiyama Ward, Kyoto. Map here.
17. Enjoy Night & Food Tours of Gion
Not sure how to spend your evening in Kyoto?  Why not take a Gion Night Food Tour and walk the streets while learning and nom-noming on delicious snacks and foods of the Gion area. Enjoying a Kaiseki Meal or multi-course and multi-flavored meals is a must in Kyoto and this will be part of the menu.
How about a 3 hour food tour of Pontocho Alley, the foodie street of Kyoto. Visit a 100-year-old soba noodle spot, eat grilled meats and seafood this area is known for by street aroma, sip local sake.
Interested in the Japanese version of a pub crawl? I first learned about Izakaya foods in Shinjuku (Tokyo) and as a vegetarian traveler, regretted not having experienced it because it looked like fun. Take this exciting Izakaya food tour where you'll sip beers from small local drinking houses and unique street-side standing bars. Taste izakaya foods that Japanese love to eat during their sake happy hours after work.
I took a daytime food tour of Nishiki Market and did not regret one bite! But if you're looking to experience both, Nishiki Market with Gion, take the Nishiki Market and Gion drinks and food tour for a sample platter of everything Kyotos got in deliciousness.
18. Shijo-dori
Shijo dori is a main traffic street in Gion and it is a walking foodie street with confectionary shops and restaurants.  You'll find anything from dango to unique traditional sweets and unique sweets. During cherry blossom season, I found sakura jelly with a sakura blossom in it to sakura salts and green tea soft serve.
Watch and Experience Geisha & Best things to do Gion
Interested in learnign about geisha and maiko life and where to spot them? My video will shed insight that you won't find in many guidebooks.
Where to Stay in Kyoto
Continuing on with the best things to do in Kyoto, I wanted to continue my Kyoto top attractions with the best hotels to stay.
Luxury
Ritz Carlton's sophistated elegance touched by a Japanese flair.  World class service, hotel pool and location overlooking the Kamo-gawa river.
Overlooking the Hozu-gawa River in Arashiyama, surrounded by lush forestry Suiran is luxuriously set in nature. It's a bit removed from the heart life of the city but great for those looking for a sophisticated nature washing retreat. Kaiseki meals at the restaurant.
Sleek design, spacious rooms, great service and just step away from Kyoto station, this hotel opened in 2019.
Mid Range
Royal Park Hotel The Kyoto is in the Ideal location in the heart of downtown, within walking distance from Pontocho Alley and Gion. Rooms are small but comfortable. Good breakfast.
Budget
Located near Tokyo JR Station, Hotel Gracery Kyoto Sanjo is a clean, moderate and reliable option.
I stayed at Glansit Kawaramachi Capsule Hotel – Located one or two streets from Pontocho Alley and 4 minutes from Gion Station, it was smack in the heart of downtown Kyoto.  The capsule hotel is lovely with a classic looking checkin lobby. Locker and dressing areas are a little snug, capsule rooms are standard and comfy and there is a reading room with free coffee and tea. Upgradable capsule rooms with study desk space and upstairs bunk bed.
If you love Japanese manga (comic books), Comicap Capsule Hotel is your soulmate. It is a coed capsule hotel with a manga cafe theme, housing a library of manga, a comfy and cute lounge area with reading beds. It has a mini kitchen. Housed on the second level in a shotengai it is tricky to find. English is available in written directions which receptionist points at, but is not spoken. Located 8 minutes from Gion station; near bus stop.
Gion Ryokan Q-beh is a 2 star Ryokan in Gion with both, hostel and single rooms accommodations in Ryokan style. Located on a quiet lane.
Best ways to get around the Kansai region
  The travel distances between these cities are close, with Osaka being 45 minutes from Nara and an hour to Kyoto.   You do not need a JR metro pass but can suffice with your ICOCA card, PASMO or SUICA. I planned my crossover into each city in a sort of circular progression- Osaka, Nara, Kyoto, Osaka.
Osaka is the best strategic home base for visiting nearby cities it seems. While Osaka is not as lovely as Kyoto and its mountains and rivers, Osaka has a fun character, great food and you'll easily find a lot to do, eat and shop in Osaka.  Tip: Get an Osaka Amazing Pass (unlimited rides and free attractions- I got a two day pass)
Nara is a MUST. It is a day trip and a much smaller city to navigate. From Nara station, you can get to the main attractions and Nara Park on foot.  See my Nara Travel guide
Getting a Japan Railway | Japan Rail Pass (JR Pass)
JR Pass Options are sold in 7 day, 14 day and 21 day categories, and it includes all JR trains, the monorail to/from Haneda airport,  highway buses and more!   Rates start at 28,000 yen and you must pre-purchase your passes in advance.
What would you add to this Gion Travel Guide?  Comment below.