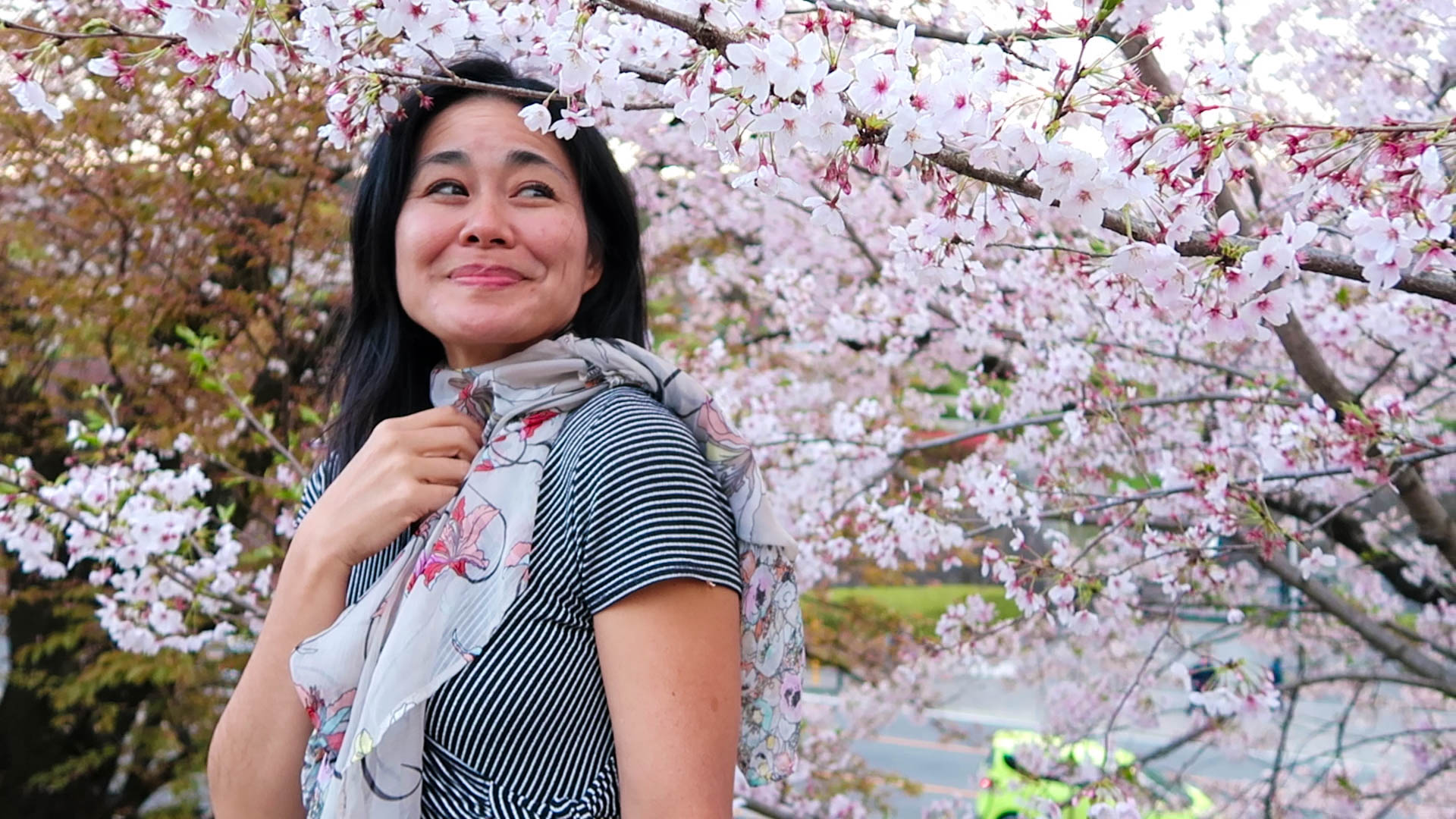 Cherry blossoms (aka sakura) in Japan- is it on your bucket list?
For a long time, I thought sakura season in Japan was just travelers hype. I mean, I did not discount the rare occasion to celebrate cherry blossom (aka sakura) beauty. I just thought– yeah, cherry blossom flowers. I've seen them in Korea, so what's the big deal.  After experiencing sakura season in Japan, I retract that part about it not being a big deal. It is.  Whether you think you're a "flower lover" or not, traveling Japan during sakura season is a memorable experience. In this Kansai travel guide I list Top 10 Cherry Blossom Spots in Kyoto, Osaka, Nara.
Read my Japan Budget Tips
Best Cherry Blossom Spots in Kyoto & the Kansai region
This was my first time experiencing cherry blossom season in Japan. Sakura season typically occurs between the months of March and April.   I've already visited Tokyo. Now wanted to explore the Kansai region for its picturesque and diverse beauty.  When I arrived, the sakura in each city was just starting to go into full blossom, which meant I had about a week, to chase them down.
A forecast map is released by Japan Meteorological Corp and from there, Japan travel and weather sites will create their version of that map.
https://sakura.weathermap.jp
What is hanami ?
Visiting the best cherry blossom spots may be important to foreign travelers like myself. But for the Japanese the focus is different. During cherry blossom season in Japan, the Japanese celebrate hanami (otherwise known as cherry blossom viewing, while picnicking under the cherry trees ). Due to the fact cherry blossoms last for a short time after they bloom- a week if you're lucky- sakura season is a time where Japanese are reminded of the precious beauty and fragility of life and how it should not be squandered. Thus, Japanese celebrate with hanami gatherings of family and friends to picnic, drink and eat while celebrating the fragrance and  beauty of this short season.
Seasonal Foods & Celebrations during Cherry Blossom season
During sakura season there are also sakura discounts and special Japanese foods made with sakura.  I noticed the seasonal fruits to try in the Kansai region around this time where strawberries (they even have light pinkish white ones!), sakura foods and well, there is an abundance of matcha green tea popularity.  Matcha desserts seem to work hand-in-hand with sakura ones and you might find chocolates or soft serve with a combo of both. As far as sakura foods go,  I've tried and/or seen anything from sakura sake, jelly, candies, soft serve, snacks, mochi and limited edition drinks from Coca cola and Starbucks.
Top 10 cherry blossom spots of Kyoto, Osaka, Nara
You'll notice most of my top cherry blossom viewing spots are in Kyoto. While there are certainly lovely cherry blossom viewing spots that I did not mention of Osaka and Nara, I made my top 10 list from cherry blossom locations that were easily accessible for independent solo travelers.  I also planned it to maximize time as not only did I have a little over a week to get around but I was also dealing with bad back issues and plantar fasciitus in my feet.  I needed to be smart with my walking and filming time. Thus, at least half of my Kansai travel guide listings will be at/ near major sites, so you can maximize time. They are top cherry blossom spots as well.
Best cherry blossom spots in Kansai to experience hanami
These are cherry blossom locations where you will find Japanese relaxing and enjoying a picnic or interacting with cherry trees.
1. Osaka Castle Park / Osaka
Osaka Castle Park was my welcome intro to Osaka and my first favorite sakura experience and my first understanding of hanami. As the second largest park in Osaka, the park is quite large and I did not even make it to Osaka Castle.  The park winds around the moat with cherry blossoms leading the way. Meanwhile Osaka Castle is a good 20-30 minutes walk further inside. It's easy to get distracted as there are almost 600  cherry trees.  Immediately the trees will welcome you into the park like a canapé.  Blue tarp mats are laid out at Osaka Park under the trees for hanami and so family, colleague and friends can gather, eat, and drink while enjoying the beauty of this short but beautiful season.
Travel tip: Buy mitarashi dango (a must try in Japan) from one of the vendors or some local strawberries.
Interested in traveling Kansai region on a budget, check out my Japan budget travel tips
2. Maruyama Park / Kyoto
Located in Higashiyama district in Gion, next to Yasaka Shrine, sits Maruyama Park, a popular social spot for hanami. There are over 680 cherry trees of different varieties and a restaurant area where you can gather with friends to enjoy a meal.   The most popular gathering spot is at the iconic weeping cherry tree which is lit up at night.  At night the park has illuminations (or tree lightings) so you can continue their merriment under the sakura stars.
As Yasaka shrine is neighboring, it's ideal to explore the shrine grounds, where there is a shrine dedicated to fertility and to beauty. The latter is said to be one that many maiko and geisha like to visit. During sakura season, you may find food vendors lining the path from the shrine grounds to Maruyama Park.
Getting there: 10 minute walk from Gion Station (towards the direction of the Opera house; not bridge).
3. Togetsukyo Bridge / Kyoto
Togetsukyo, or 'Moon Crossing' Bridge is Arashiyama's iconic bridge crossing over the Katsura River . Next to the bridge is a  river park lined with dozens of cherry trees, where you can picnic against the scenic beauty and romantic location.
Getting to Arashiyama: These metro station stops arrive in or near it- JR Saga-Arashiyama Station, Keifuku Arashiyama Station and Hankyu Arashiyama Station. Or take bus #23 to Arashiyama-Tenryuji-mae
4. Keage Incline / Kyoto
You can't quite picnic here, but maybe you can pack a sandwich!  Keage Incline is an abandoned railway, which used to transport ships between the Lake Biwa Canal to the Okazaki Canal. The cherry trees create a kind of a tunnel over the tracks. When it is not sakura, the tracks make for a popular Instagram spot.
Getting to Keage Incline:  4 min walk from Keage Station , Higashiyama,
Honorable Mention Sakura Moments
These cherry blossom locations are notable ones but you might not want to linger long in one place with them. Unlike other locations where you can enjoy hanami or the sakura area fully, these can be more like one-offs where you're on your way to somewhere else. The one exception may be the Kiyomizu-dera temple which is a substantial attraction you will spend time in.. just not necessarily for hanami. My timing might have been bad, but the sighting of cherry blossom trees were not as full as promised.
5. Kiyomizu-dera Temple
Kyoto's Kiyomizu-dera Temple is known for its wish-granting waters, but it's also houses 1500 cherry blossom trees on its hilly slopes. I didn't see that many blossoming trees when I arrived but it is possible the area was not blooming at that time. The iconic temple shot is said to be a panoramic shot from behind the temple looking out. Unfortunately, the temple is currently under construction.  But as a temple grounds, you can explore the area, enjoy the three story pagoda, wishing waters and find your own sakura moments.
Note: The streets leading up to Kiyomizu-dera are lined with souvenir and snack shops but the architecture is reminiscent of an old Kyoto.
6. Okazaki Canal
Okazaki Canal, located a stone's throw from Heian Shrine, is a waterway that connects to Lake Biwa Canal, the main canal that brings water to the city of Kyoto. The cherry trees lining the sides create a semi canape over the canal.
Getting to Okazaki Canal: Take bus 5 or 100 to Heian Shrine. It is right before the giant red torii gate that stands as a welcome towards the shrine grounds.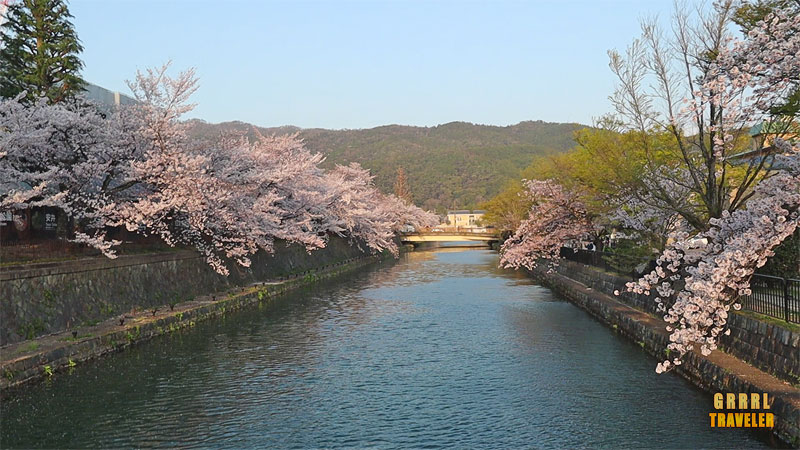 7. Kiyamachi Dori or Kiyamachi Street
Last but not least, you can always find wonderful impromptu spots around the city. One of my favorite but lesser known spots and one that tourists don't know about is Kiyamachi Dori or Kiyamachi Street. In the heart of Kyoto, near Gion, parallel to Pontocho Alley and the Kamo River, Kiyamachi Street is a popular local nightlife and restaurant walking street with a river canal running through it. If you get lost, just follow the barbeque scent which permeates the area. Lit at night with lights of its surroundings, its buzz is almost romantically electric.  Nearest Stations: Gion Station / Higashiyama Station
Unforgettable once-in-a-lifetime sakura experiences
These are definite musts if you visit the Kansaii region. I would definitely add Osaka Castle Park to this category as well. The park is overwhelmed by sakura trees and the most impressive by sheer number. But it is also a great hanami experience which is why I placed it there originally.
8. Sagano Romantic Train Ride, Kyoto
Beautiful at all seasons is the Sagano Romantic Train Ride. This is a sightseeing train which runs through the picturesque Arashiyama-Sagano area to Kameoka Torokko station. Once at Kameoka Torokko station you can either take a lovely boat ride back down the river gorge or take a return train. Unfortunately, I went on a day the boat docks were closed due to the rain.  You can tell me how your boat ride went- I'll bet it's jaw dropping!
Admission: roughly around $12 roundtrip ticket; $6 one way ticket. The only way to book advance tickets is through a tour aggregator site like Klook and each vendor will have a limited supply. The rest is sold through the station.
Getting to Sagano Train Ride station: You can take the Sagano Train from either direction- Saga Torokko or Kameoka Torokko. The easiest is from Kyoto Station, take a train to JR Saga Arashiyama station (there is a train that goes direct to Kameoka Station as well). The JR Saga Arashiyama station is right next to the Saga Torokko Station (you can't miss it). In the station you can purchase tickets to the Sagano Romantic Train Ride.  Directions here.
9. Nara Park, Nara
Free roaming Sika deer, pretty girls in kimonos, three world heritage sites (Todaiji– it has a giant buddha- Kofukuji, and Kasuga-taisha) and over 1700 cherry trees of different varieties, Nara Park is a mixed bag of unforgettable experiences. To be honest, when I went I was too preoccupied with the deer to explore the entire park in search of sakura.   But I couldn't go wrong either way. This was a once-in-a-lifetime experience I'd recommend to anyone during all times of the year. Best yet, it's only 45min from Osaka by metro train.
Nara Park is large but walkable. Things are much closer than they appear on a map. The deer in Nara Park are wild but are special Sika deer and they bow for the crackers.  You can buy deer crackers (which are specially made for deer consumption) to feed the deer. Some of them can get aggressive and nip at your clothes to draw your attention. Expect to be swarmed.  Please do not feed the deer anything other than the deer crackers as they can get sick on people food or trash. Also, do not tease the deer. If you are not going to feed them, it is unkind to tease them in that manner.
Getting Around Nara: Straight off Nara station, there is a tourism information office where you can buy a pass for the circular bus (it's a specific yellow bus). While the main deer parks, Japanese restaurants and Nara Park are within walking distance, the bus will move you around faster and only cost around $5 for unlimited rides. The office can give you a map to show you where the main attractions are.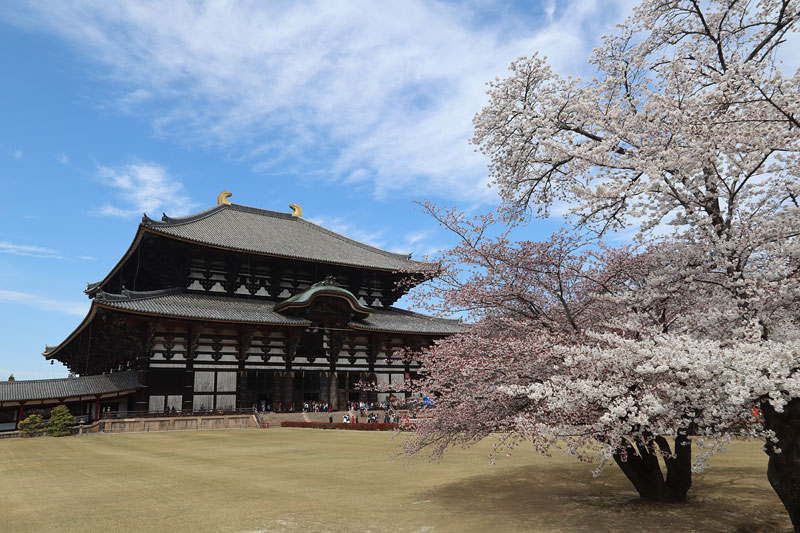 10 . The Philosopher's Walk
Noted as one of the Top 100 Paths of Japan, The Philosopher's Walk is a path running along a canal stretching two kilometers with 500 Yoshino cherry trees lining the way. The path was named after a famous philosopher who used this walk as his meditation.  The path runs from Ginkakuji temple to Nanazenji Temple.
Best ways to get around the Kansai region
  The travel distances between these cities are close, with Osaka being 45 minutes from Nara and an hour to Kyoto. It's so close, it is like taking a subway train from Manhattan to Queens.  You do not need a JR metro pass but can suffice with your ICOCA card, PASMO or SUICA.
Osaka is the best strategic home base for visiting nearby cities it seems. While Osaka is not as lovely as Kyoto and its mountains and rivers, Osaka has a fun character, great food and you'll easily find a lot to do and shop in Osaka.  Tip: Get an Osaka Amazing Pass (unlimited rides and free attractions- I got a two day pass)
Nara is a MUST. It is a day trip and a much smaller city to navigate. From Nara station, you can get to the main attractions and Nara Park on foot. However, it's much easier and inexpensive to just get the unlimited circular bus day pass (the loop buses are yellow), sold at the Bus Information Center right outside the station.  One day passes cost around 500 yen (under $5); otherwise, individual bus fare is 210 yen.

Kyoto is a large city but it will feel like a pedestrian one due to the fact the metro and train system is smaller than Osaka and buses are used more readily. It is relatively easy to use the bus as a foreigner as there are English translations and many bus drivers can have a slight understanding of the language. There is no airport in Kyoto.
Getting Around Kansai
Japan Railway | Japan Rail Pass (JR Pass)
The Japan Rail Pass is the perfect option if your itinerary is crunched with cities and very little time. JR Pass Options are sold in 7 day, 14 day and 21 day categories, and it includes all JR trains , the monorail to/from Haneda airport,  highway buses and more!   Rates start at 28,000 yen.
Watch my video: Top 10 

cherry blossom spots of Kyoto, Osaka, Nara
What would you add to this Top 10 cherry blossom spots of Kyoto, Osaka, Nara?  What best cherry blossom spots of Japan would you like to visit?  Comment below.