Constructed in 1912, Shinsekai or New World, was supposed to be a futuristic neighborhood but was quickly forgotten after World War II. Today it is holds a notorious past and an eerie amusement park feel. Shinsekai has a gritty, raw and an colorful character you won't want to miss in your Osaka sightseeing .
Things to know before visiting Shinsekai
Shinsekai history has a checkered past
Shinsekai has a brilliant but checkered past as having been a hotbed for criminal activity up until the 1990's. But today, that remains to be seen. A large part of the attributing problem seem that right next to Shinsekai is the largest slum in Japan, Kamagasaki (rebranded by the Japanese as Airin, in order to change the reputation). It is Japan's darkest secret– an area with cheap housing,  prostitution parlours (aka a red light district) and a stifling population of unemployed and homeless older men (around 60-70 years) who have left their home cities  and families to escape societal stigma, the law or familial burdens.  It's said the Yakuza rule the area and it is a section of Osaka that Japanese both fear and see as a blight, as laborers once gathered to find work but many found cardboard box homes or a hideout to escape from the law.  There have been riots in the past when laborers were treated unfairly by a possibly corrupt law.   While it's perfectly fine to visit Shinsekai in the day, the night may draw questionable looks from Japanese who might warn against it.
Leaving Dobutsumae Station you'll either end up on the Shinsekai (commercial and entertainment side) or Kamagasaki, the slum side.
Read Things to know before traveling Japan
Visiting Shinsegai at night is electric
Although Shinsekai has a notoriously questionable reputation, there is a lot of tourist activity here and at night, lit up , it is simply electric. A lot of business are here from cheap restaurants, boutiques and there even is a Mega Don Quijote.  Some will say stay on your toes at night and while it seemed okay with me as long as I stayed in the well lit and populated areas, I wouldn't recommend testing that alternate theory.
Jan Jan Yokocho is the main shotengai or shopping arcade in the area and it is likely you'll encounter it coming out of the Dotsuen-mae station. It is a small arcade with inexpensive restaurants, games and a shogi parlor. There are a lot of kushikatsu spots here so if you're famished after a long day of sightseeing, you'll get a quick fix here.
Traveling Shinsekai, you'll find occasional
shogi
parlors and
pachinko parlors
,  populated with old men. Shogi  is like a Japanese mahjong and  I found this one in Jan Jan Yokocho. Going back to the aforementioned, Shinsekai has a fair population of unemployed older men in their 60's and 70's.
In some cultures like the United States,  seniors reach retirement in their 60's and usually assume a relaxed and comfortable lifestyle of leisure. It makes you wonder why there seemed to be such a "blight of senior unemployment." But the Japanese work even as seniors. As of 2019, the
average retirement age in Japan is 65 years
and
old age poverty is a dilemma
the Japanese are experiencing in their culture. I've heard Japan will find small tasks for senior men to do just to help them earn an income.
Buy a naughty Gachapon
Gachapon is a craze in Japan. They are machines which sell toy bauble collectibles. They can sell some of the most random toys, like keychains, fake plastic miniature food, wallets,… you name it. It's certainly fun to see what type of bizarre toy you'll get and at 100-300 yen, it won't tear a big hole in my pocket. In Shinsekai, I noticed there were quite a few naughty gachapon machines, selling X-rated or adult toys. Rather than clear or colorful plastic baubles, these were in black baubles to hide the contents from eyesight and to make it even more mysterious. Cost is a whopping 500 yen!  I bought two and got a condom and a red lace thong.
You'll find the
Billiken
statues all around Osaka and especially around businesses. The character is a cross between a gnome and a smiling ogre.  Some say it's an Osaka mascot and brings fortune if you rub its feet, hence why you'll find it outside the shops of businesses. Ironically, this Osaka character has roots in the
United States
– it was created by an art teacher in Saint Louis, Missouri. 
Oh, Osaka!
Visit Tsutenkaku Tower for a view of Shinsekai
 "Tsutenkaku" tower is the official landmark of Shinsekai. You cannot miss it. During the Meiji Restoration era, it was inspired by the Eiffel Tower and Arc le Triomphe and at 210 feet was the tallest tower in Osaka. Luna Park amusement park (mimicked after Coney Island's Luna Park) was constructed around it and the Japanese flocked to it as the centerpiece of western progress. Today it is also known as the Hitachi tower which lights up in different colors at night. The tower has souvenir shops, a museum and two observation floors on the 4th and 5th floors to view the neighborhood.
Travel Tip Osaka:  Download a Tsutenkaku map pdf.  I wish i had more time as the map of the tower look highly worthwhile to check out. Address: 1 Chome-18-6 Ebisuhigashi, Naniwa Ward,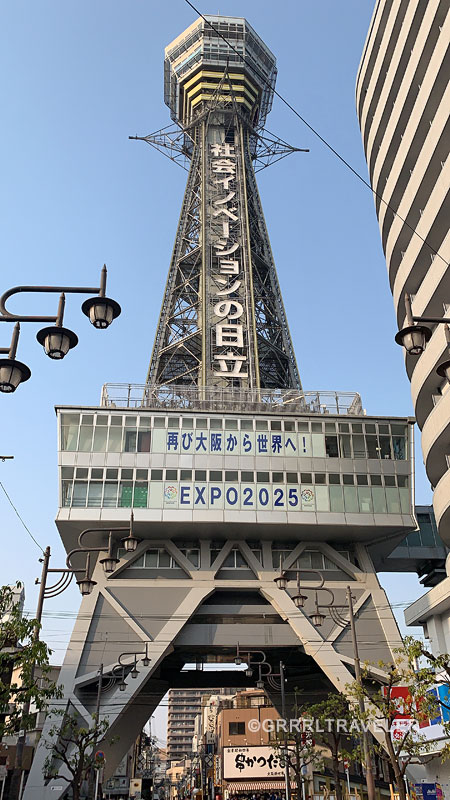 Soak in the Spirit of Coney Island's Luna Park
In 1903, Luna Park was a popular amusement park erected in Coney Island New York. In its heydey, it had rides, roller coasters, towers, lights, and a vaudeville spirit of carnival showmen.  When Osaka erected Tsutenkaku a Luna Park was also constructed and while it didn't last very long, the buildings and the vibe still exude that old Coney Island architecture and feel.
SpaWorld & the world of onsen
SpaWorld offers as the name suggests – a world of spas from Japanese onsen and baths from all of the world. There are baths such as hydrogen bath, carbonated and oxygen bath. Similar to Korean spas, saunas are also varied in healing properties from steam or salt saunas or even a Hinoki bath. Tattoos are strictly prohibited here. Admission: Weekdays 1200 yen, Weekends 1500 yen
Take a Shinsekai Street food tour
Explore vintage Shinsekai with a local guide on a Shinsekai Street Food tour and discover gems in the area, taste different foods from local vendors and learn about the complex history of Shinsekai.
What and where to eat in Shinsekai
While you will find takoyaki, omiyaki and kushikatsu all around Osaka as the city comfort foods, kushikatsu is the special mascot of this area.
How to eat Kushikatsu
A soy sauce type dipping sauce accompanies the skewers and you can dip it to add flavor. The rule to eating kushikatsu however,  is that there no double dipping into the sauce. In the case you want a second dip, you'll take the accompanying cabbage leaf and use it as a scoop to ladle the sauce over your skewer.
While it's easy to mistake kushikatsu as tempura, the difference is that tempura batter uses flour, water and egg. Meanwhile kushikatsu batter uses panko, a style of crusty batter that looks like flaking breadcrumbs that give it harder and more solid crunch.
Where to Eat Kushikatsu in Shinsekai
Eating Kushikatsu is a must in Osaka and there are literally dozens of kushikatsu joints in Shinsekai, the birthplace of kushikatsu.  It is a Japanese dish of deep-fried meat and vegetables on a skewer stick and costing anywhere from 100-300 yen, it is often seen as an appetizer served with beer and drinks.. In Japanese, kushi refers to the skewers used while katsu means a deep-fried cutlet of meat.  We initially wanted to film inside the original Gansu Kushikatsu Daruma shop but it was way too small and we knew filming would be disruptive. We tried another Gansu Kushikatsu joint but it was too busy, noisy and they did not allow filming. We searched around– although many kushikatsu shops have picture menus, some of them were written in Japanese and directed us to English speaking restaurants.
Check out my Dotonbori Food Guide: Top Osaka foods
Karasaki (?)
Finally we ended up at Karasaki (I think this is the name). My Japanese is a little rusty. But either way, the photo of its exterior is below!  Prices were fair and they were even giving a coupon discount.
At Shinsekai,
Ganso Kushikatsu Daruma
is the birthplace of Kushikatsu and you'll find many kushikatsu and Daruma Kushikatsu shops to choose from.  You can recognize the Daruma brand by the angry kushikatsu wielding
daruma
man standing outside or overhead the shops. Originally daruma dolls were symbols of luck to Japanese, so this character is a weird lucky mascot. But the original Ganso Kushikatsu Daruma is located on a small side street and seat only around 10 people (see my video). Usually the skewers cost around 100-200 yen and
Ganso Kushikatsu Daruma  2-3-9 Ebisuhigashi, Naniwa-ku, Naniwa, Osaka 556-0002, Osaka Prefecture
Blowfish (Fugu)
Osaka has a lot of blowfish or fugu restaurants. Eating this fish can be lethal so you want to make sure you go to a professional place. Zuboraya is a popular blowfish or pufferfish restaurant. You can't miss its giant paper mache blowfish hanging above its door. There is one in Shinsekai and Dotonbori.  Hours: Monday – Sunday 11:00 – 23:00(L.O.22:30) . Location: 2-5-5, Ebisuhigashi, Naniwa-ku, Osaka-shi, Osaka, 556-0002
Kura Sushi (Conveyor Belt Sushi)
is "additive‐free" and their proud "shari rice (vinegared rice)". Fresh seafood products are served with selected quality Japanese rice, and also there are several other unique vinegared rice dishes such as curry rice, curry rice bread and rice coke (!).
1 Chome-8-23 Shikitsuhigashi, Naniwa Ward, Osaka, 556-0012
Getting to Shinsekai

Shinsekai is nearest stations: If coming from Namba or Umeda, there's the Midosuji subway at Dobutsuen-mae Station  (closest to Ganso Kushikatsu right off Jan Jan Yokocho). Ebisucho Station ; Shin-Imamiya Station (JR Loop Line)
Where to stay in Osaka
I didn't stay in Shinsekai. It has a reputation of being a questionable area next to the largest slum in Japan, which has been known for criminal activity. However, as a budget place, some flop houses have been marketing their beds for tourist stays. If you're on a strict budget, hotels in this area might be something to check out. Avoid the Kamagata (aka Arin ) area as that is the side with the bad reputation. The Shinsekai commercial entertainment area will be a little safer.
If you want to experience anything cool that I missed, it would be the Hen na Hotel NishiShinsaibashi . The brand is known for being the first robot-operated hotel in Japan. I thought this hotel was only in Tokyo and only discovered the Osaka location on my last day. With a tyrannasaurus Rex checking you in and a robot bellboy showing you to your room, this is a cool concept hotel Id love to go back and experience! Check out their photos!
Read Instagrammable Tokyo spots 
Getting Around in Osaka
Metro & Bus
For Osaka, I got an ICOCA card and used it for Nara and Kyoto also. You can use it in the Kansai region. The  PASMO and SUICA card (good for all trains and buses) work also. I also combined my ICOCA card with a 2 day Osaka Amazing pass card. This covers 30+ attractions and unlimited use of metros, tramways and buses.
Recommended:
Download either
Navitime Japan
or 
Hyperdia
mobile apps to find your metro and JR routes with ease. Apps come with route options, estimated time and costs per trip. They are helpful with Japan's busy and sometimes, overwhelming metro systems.
Nara is a MUST. It is a day trip and a much smaller city to navigate. From Nara station, you can get to the main attractions and Nara Park on foot.  See my Nara Travel guide
Getting a Japan Rail Pass (JR Pass)
JR Pass Options are sold in 7-day, 14-day and 21-day categories, and it includes all JR trains, the monorail to/from Haneda airport,  highway buses and more!   Rates start at 28,000 yen and you must pre-purchase your passes in advance.
Note: you can only buy these passes outside of Japan. Plan ahead.  The pass offers tourists a big discount on travel; however, if you only have a few cities to visit, it may be more cost-efficient  to book point-to-point travel.
Best Travel Insurance for Japan
American travelers often pay a premium on travel insurance.  World Nomads offers economic solutions for travelers who seek security and peace of mind.  It covers 150 countries.
Osaka Travel Tips & Kansai Travel  (video playlist)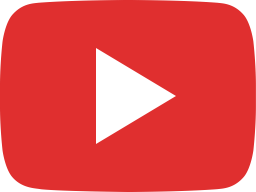 GEISHAS & GION: 15 Things you MUST KNOW | KYOTO Travel Guide | WATCH BEFORE YOU GO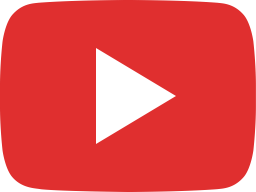 KYOTO NISHIKI MARKET FOOD TOUR | 11 BEST FOODS of KYOTO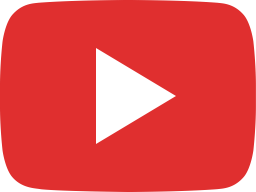 ULTIMATE DOTONBORI FOOD TOUR | LARGEST JAPANESE FOOD STREET IN OSAKA
What are things to know before visiting Shinsekai Osaka?
Pin to your Pinterest board