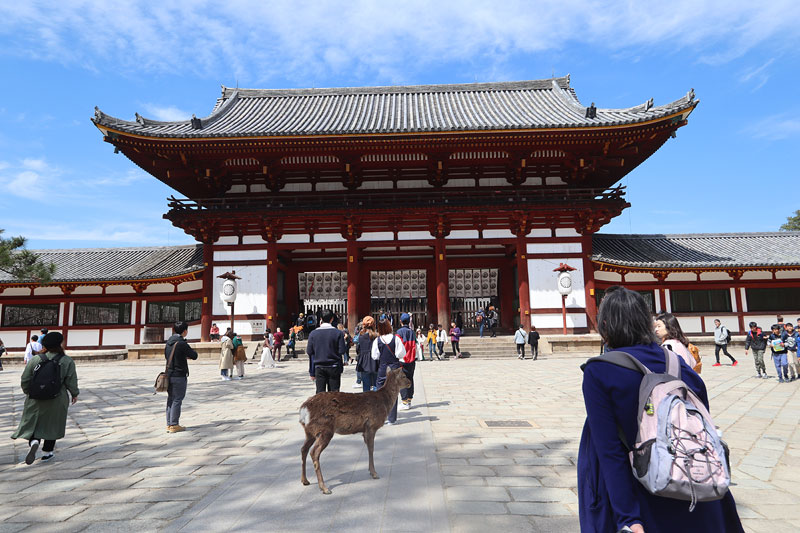 Nara is famous for its historical shrines and temples. Today, the city is known for a handful of world heritage sites and its bowing Sika deer. A day trip to Nara from Kyoto or Osaka is highly recommended and if you have a little extra time, then staying in Nara is ideal.
Watch my video guide of Nara first to see the beauty of what can be experienced there. Below is an informational Nara travel guide sharing the top attractions of Nara and how to get around in a day.
Best things to do in Nara in 24 Hours
I visited Nara on a day trip from Osaka. It is a prime spot for cherry blossom season. But the truth is, the moment I arrived in Nara and saw its natural beauty and deer, the idea of cherry blossoms quickly fell away.
1. Kofukuji Temple (World Heritage site)
Just five minute walk from Nara Station, you'll come upon a five-storied pagoda, which is the second tallest wooden pagoda in Japan. This temple was once owned by the most aristocratic clan of the Nara period. At one point, the temple included 150 buildings. There are parts of the temple which are free and parts which have a paid entry fee. Hours: 9am -5 pm
2. National Treasure Museum
Just past Kofukuji temple is the National Treasure Museum. It is a very unexciting institutional building which stores many Buddhist works of art.  Admission is 800 yen
3. Nara Deer Park
One of the best things to do in Nara is to visit Nara Park (also known as Nara Deer Park), where you'll find an abundance of wild Sika deer nestling and resting under trees . Located at the foot of Mount Wakakusa, this park is easy to get confused with the much smaller public park between Kokufukuji Temple and the National Museum. The popularity of deer milling about around tourists is due to the senbei vendors selling "deer cookies" or senbei made of rice, wheat and ingredients that are made to digest in delicate deer stomachs. Over the years, deer have learned to "bow" for the deer cookies.
But the deer were once considered sacred due to a myth of Kasuga Shrine, which made them to be the messengers of Gods. While they are no longer sacred, they are considered a National treasure of Nara city.  To see them alive was considered a good sign from the Gods.  To keep the city and its people safe, the antlers are purposely cut and there is a season for antler cutting.
Read more about the Nara deer and the city of Nara.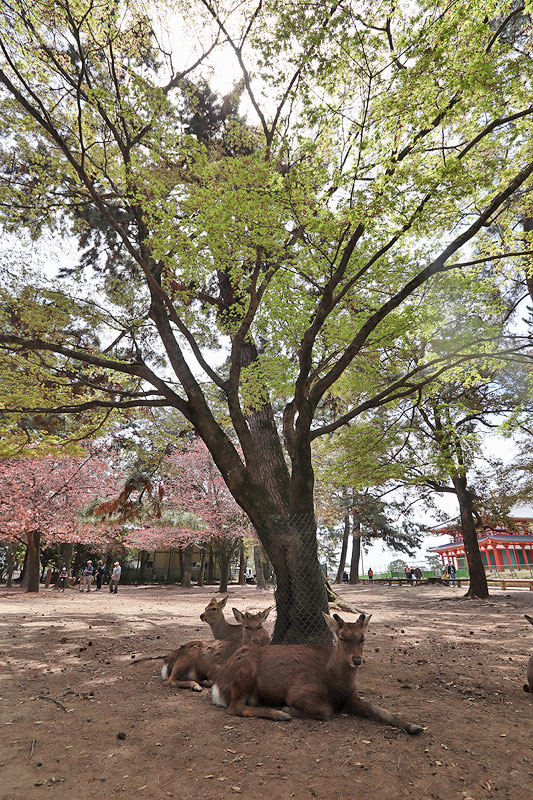 4. Todai-ji Temple (World Heritage site)
A trip to Nara would not be complete without a visit to Todai-ji Temple. Todai-ji Temple is one of the most famous temples in Nara and it is a UNESCO world heritage site. It is home a large wooden building called the Daibutsuden or hall which resides a Giant Buddha. This is definitely a top attraction of Nara and a must!
Hours: April- Oct 7:30am-5:30pm , Nov-Mar 8:00am-4:30pm. Getting there: Bus #2, 6, 77, 97, 160. It is on the circular bus route.
5. Kasuga-Taisha Shrine (World Heritage site)
One of the famous brilliant vermillion shrines of Nara is the Kasuga-Taisha Shrine. This Shinto shrine is dedicated to the deity that presides of the city and deer. The shrine's architecture is unique for its bronze lanterns, which are donated by visitors. There is also Kasuga Taisha Museum. Hours: April-Sept 6am – 6pm; Oct-Mar 6:30am – 5pm. 
Getting there: From Nara Station, walking 30 minutes past the National Museum towards the mountain, you'll see a park with a long inclined pathway. Follow that path up the hill. Or take the circular bus to Kasuga Taisha Honden stop.  Bus 2, 6, 77, 97
6. Nara-machi & Gangoji Temple
Nara machi is a old Nara town, where you'll find traditional houses and shops which take you back in time with long row houses reminiscent of the Edo period. The buildings are preserved but today you'll find boutique shops and cafes to explore and streets to photograph. Gangoji Temple (World Heritage Site) shares this area and is the place where the first Buddhist temple was built in Japan.
Bus stop: Tanaka-cho or Kitakyobate-cho,  Bus #1, 2, 6
7. Kimono rental in Nara for a day
An increasingly popular and fun thing for travelers to do is to rent a kimono in Nara to celebrate the cultural traditions of the Japanese. Rentals are fairly inexpensive. Makeup, hairstyling and a photoshoot with a professional photographer often cost extra or you can get a package like a Qiran/Princess photoshoot.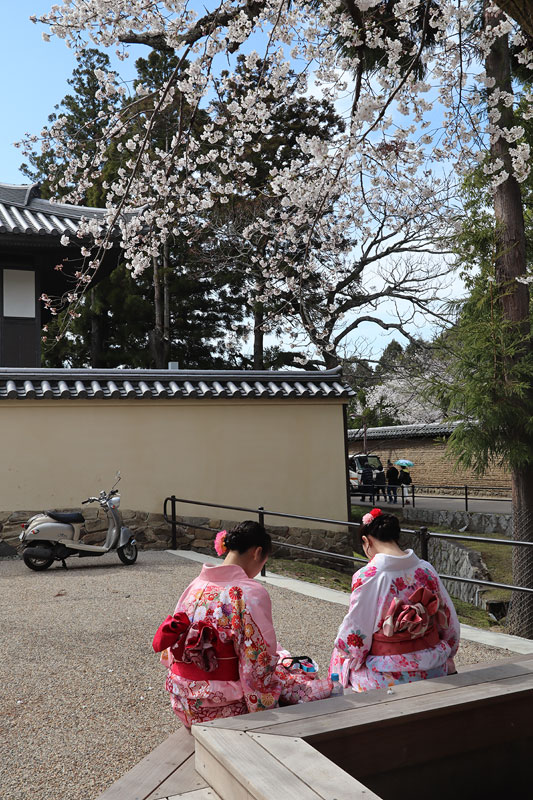 8. Guided Tour with a Local Guide
For those short on time but desiring to go deeper into their cultural understanding of Nara attractions, hiring a local guide for a customized walking tour and local insider tips is worthwhile. You can choose a two to four hour tour and work with your guide in advance to customize your day so you experience exactly the best things to do in Nara by your standards.
World Heritage Sites Outside the Nara Circular Bus Route
Toshodaiji Temple and Yakushiji Temple (bus #78 & 98) , Heijo Palace Site (blue line, bus #12, 14), Gangoji Temple (pink line, bus #50, 51, 53, 82, 92)
Bowing Deer in Japan + Nara Travel Guide (Watch video)
Is Nara Deer Park ethical?
As far as responsible tourism goes, tourists (even I ) wanted to romanticize these deer as politely thanking me for the cookies, but the reality is they have learned that the bowing gets them fed.  While I love that the deer are indeed wild and roaming freely through town, I can't help but also feel conflicted by the fact they've  been domesticated by tourists and this deer senbei. Deer are generally gentle but skittish animals due to their survival mechanism, so the fact they have no problem getting close to people is not common. They can also be aggressive in getting your attention for the senbei. As far as cultural sensitivity goes with respect to Japanese who believe in this myth of deer being sacred, it is hard to argue against tradition, but there are annual horn cuttings and when the deer population gets too large or an individual deer is too rowdy, the city of Nara is required to deal with this in a not so gentle way.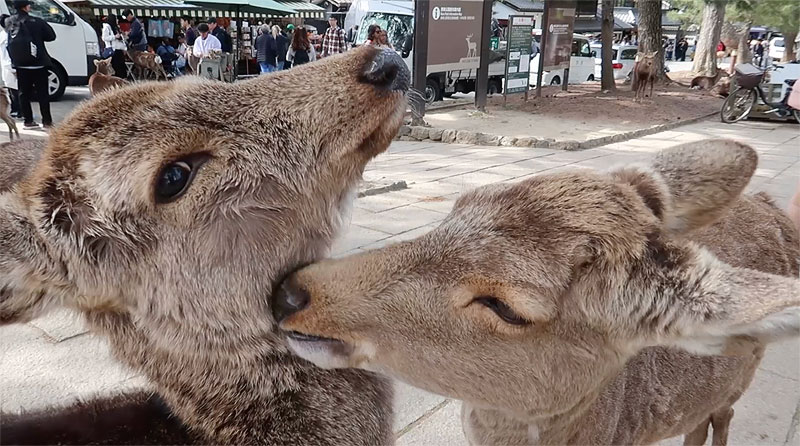 How to feed the deer?
If you decide to visit the Deer Park:
Follow the guidelines and rules and please be respectful of the wildlife.
Please do not tease the deer with the cookies. If you hold it out, give it to them.
Do not feed the deer anything but the deer senbei, which is patented for the deer diets and consist of rice bran and water.  Deer intestinal tracts are quite sensitive and there have been many deer deaths due to deer eating plastics or foods that are not a part of their diet. The main diet for deer comprises of grass, twig branches and berries.
Pick up and remove your trash from the park, as deer may mistake it for food.
Do the deer get aggressive?
Yes. When the deer see the deer crackers, many flock to it to be fed. Some nip or head butt you for attention. Watch my video.
Do the deer carry ticks?
Being from Hawaii, I did not know about deer ticks and I am grateful I did not accidentally encounter them. While the Japanese National Institute of Infectious Disease has declared Nara deer free from Lyme Disease, just know that these deer may carry ticks which can transfer to a human body and prove fatal. Thus, when entering into potential risk areas, one should wear long pants and long sleeves to take care from being bitten. Note:  Ticks are highly active during Spring and Autumn.
Where to Stay in Nara
Located across the JR Nara Station and 14 minutes from Kokofuji, this popular hot spring hotel has the feeling of a ryokan, with the convenience of a Nara hotel. Great breakfast, good reviews and an onsen to relax after a day of sightseeing.  Best budget hotel.
Grand old hotel and city favorite in the heart of Nara near Nara-machi. Traditional looking appearance with great service, a feeling like royalty and an 8.9 review rating.
Lovely inn inside the Deer Park. Meals are not served but guests can bring their own meals or food for cooking. Dorm to double or family rooms available. Great budget deal with 8.9 ratings
How to Get Around Nara
You an take Kintetsu Nara Station or JR Nara Station to get to Nara.
Right outside of JR Nara Station you'll find a Nara tourism information center. You can pick up a free map and buy an all day, 1 day Nara Park/Nishinokyo Pass to use the circular bus pass for approximately 500 yen. The Nara city Loop line (yellow bus) runs every 10 minutes.  While the Deer Park up to Toda-ji Temple is an easy walk, you may want to get to further parts of the city.
Bicycle Rentals at Nara Bicycle Center (Near Exit 6 of Kintetsu Nara Station)
Hours: 9am- 7pm , Phone: 0742-22-5475 (Japanese Only)
There are coin lockers at the Kintetsu Nara Bus Information Center (Nara Line House 1F)
Electric Bicycle:  1,200 Yen/day ; 800 Yen/3 hours
Local Bicycle:  800 Yen/day; 500 Yen/3 hours
Getting to Nara
Getting to Nara from the Airport by Airport Limousine Bus
From Kansai International Airport- 2,050 Yen Adults, 1030 Yen Child;
From Osaka International Airport- 1,480 Yen Adult; 740 Yen Child
Bus Nara is very easily gotten to as a day trip from Osaka. The one way trip takes 45 minutes and costs 800 yen. The train also stops at Osaka's Tennoji Station (30 minutes, 470 yen one way).
Traveling from Osaka Namba Station, a Rapid Express train on the Kintetsu NaraLine will get you to Nara Station in 40 minutes for 560 yen. Limited Express services also run between Osaka Namba Station and Nara Station and take 35 minutes, but it costs 1,070 yen.
Best ways to get around the Kansai region
  The travel distances between these cities are close, with Osaka being 45 minutes from Nara and an hour to Kyoto. It's so close, it is like taking a subway train from Manhattan to Queens.  You do not need a JR metro pass but can suffice with your ICOCA card, PASMO or SUICA.
Osaka is the best strategic home base for visiting nearby cities it seems. Intercity it is well connected with trains, metro and bus and it has two airports which can both be reached by metro, bus or train. 
Read my Budget Japan Tips
Getting Around Kansai with Japan Railway
Japan Rail Pass (JR Pass)
Many travelers opt to skirt around Japan by way of the Japan Railway. The Japan Rail Pass is the perfect option if your itinerary is crunched with cities and very little time. JR Pass Options are sold in 7 day, 14 day and 21 day categories, and it includes all JR trains (Shinkasen, Express, Local, etc..), the monorail to/from Haneda airport,  highway buses and more!   Rates start at 28,000 yen and you must pre-purchase your passes in advance.
[maxbutton id="3″ url="https://www.klook.com/en-US/city/100-jr-pass/?aid=6792″ text="See a List of JR Pass Options" ]
Most popular : 5 day flexible East Tohoku JR Pass
(surrounding Tokyo area to countryside; Shinkasen, Narita Express, Tokyo Monorail included)
Note: you can only buy these passes outside of Japan. Plan ahead.  The pass offers tourists a big discount on travel; however, if you only have a few cities to visit, it may be more cost-efficient  to book point-to-point travel.
Watch my video: Top 10 

cherry blossom spots of Kyoto, Osaka, Nara
What top Nara attractions would you recommend to this Nara Travel Guide?  What are your thoughts – is Nara deer park ethical?