Last Updated on February 7, 2021 by Christine Kaaloa
10 Must Try Japanese sakura sweets & snacks
Sakura sake Kit Kat, anyone…?  How about Limited Edition Coca Colas, edible sakura, bamboo ice cream… the list of must try Japanese sweets goes on.
I was in the Kansai region to experience Cherry Blossom Season in Japan. Initially in my video, I quoted 10 must try Japanese sakura snacks. Unfortunately found out later, that two of my snacks were Ume and one was strictly matcha tea. The truth is, I didn't know how to title it — everything on my list are must try Japanese sweets.. and the majority of it are sakura.
Cherry Blossom season in Japan and Sakura foods
Due to the fact Sakura season is so short and the blossoms last barely a week, cherry blossom season is a special celebration for Japanese, with hanami gatherings,  sakura sales at stores and you'll also notice seasonal products emerge. You'll also find traditional Japanese sweets (aka wagashi ) infused with flavors like sakura, matcha tea,  strawberry and peach.
What is wagashi?
Wagashi is a Japanese sweet that is prepared with plant-based ingredients and which can be served with tea. Wagashi can be mochi, daifuku, manju or fruits.  Often, wagashi can have special symbolic meanings which invite good feelings and memories to those who eat it.
10 Must Try Japanese Sweets for Sakura Season
1. Limited Edition Sakura Sake Kit Kat
Kit Kat must have a home in Japan because they certainly have Limited Edition flavors you won't find in any other country. How about Sakura Sake Kit Kat ?  Sakura sake is a product sold in stores around sakura season, but I'm not sure if Kit Kat pulls it off smoothly with its liquor version.  Unfortunately, sakura sake seems to only come out during sakura season.Where to buy this: Don Quijote; Daiso, sometimes, Family Mart / 7Eleven
2. Matcha Green Tea Kit Kat
Matcha Green Tea Kit Kats are popular with tourists and you can buy them by the bag at Don Quijote, year round. But did you know that Match Tea Kit Kat has a milk chocolate and dark chocolate version? I've tried both!
The match milk tea version is milder and milkier in flavor, while the matcha dark tea chocolate tastes a bit like you're sucking on a matcha tea grinds…  you might even get your dose of antioxidants in one bite.  I preferred the milkier version.  Where to buy this: Don Quijote; Daiso, sometimes, Family Mart/7Eleven
3. Sakura & Matcha Tea Pocky
Japan loves Pocky. Pocky is a thin and long pretzel wafer stick dipped in chocolate, but in the Sakura Match Tea Pocky version, the wafer stick  is sakura-flavored while the tip is dipped in matcha tea milk chocolate. A beautifully delicate combination of soothing flavors.  (Watch my video below!)
Where to buy this: Don Quijote.
4. Sakura Kanten
Sakura Kanten is the lovely taste of a first spring and is a sakura flavored gelatin-like dome wagashi.  The taste is a magnificent romance and celebration of spring. The added highlight is the open and edible sakura blossom which sits beautifully preserved, soaking in the heavenly flavors around it. It's a work of edible art! Where to buy this: Confectionary shops.
5. Sakura Mochi
Sakura Mochi is a popular wagashi you might have with tea. I call this Sakura Rice Mochi, just to distinguish it from all the other mochis, because this mochi is different. While mochi is typically pounded rice, served in a balled paste, the sakura mochi is similar to a small mochi-sized onigiri.  The rice is cooked with sakura flavor, accompanied with a sweet red bean paste filling and wrapped in a picked cherry blossom leaf.
When I stayed with my Japanese girlfriend Yuko on my first visit to Japan, her mother – a tea ceremonialist- prepared tea and sakura mochi. Sweet, light with a tinge of sour, it only invites warm feelings and delightful memories. Where you might find this: tea houses, traditional markets, grocery markets, (sometimes) convenience stores
6. Japan Limited Edition Sakura Coca Cola
Japan has Limited Edition Coca Cola and when I was there, sakura, peach and Osaka were standouts for the 2019 sakura season. Unfortunately, I never tried the Osaka version as they were being sold as a package rather than individually (almost like a collector's item) Where to buy this: Don Quijote; Daiso, convenience stores
7. Sakura soft serve
Soft serve in Japan is fairly prominent and generally it costs 300 yen. Soft serve is soft and creamy, but it will not feel milky!  In Kyoto  visiting Arashiyama Bamboo Forest, I stumbled upon bamboo and sakura soft serve! The sakura soft serve tasted a bit like a mild cherry-flavored ice cream. The taste was light and not heavy. Definitely a must!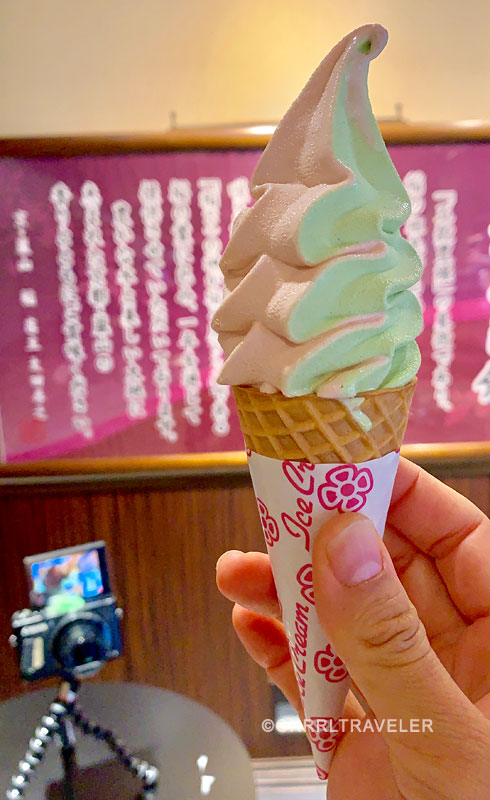 8.   Sakura Salt
The Ume chips I mistook for sakura chips due to the packaging and I loved the sweet, sour, salty flavor. I thought I'd substitute it for the Sakura salt seasonings.  Sakura can also come as a salt seasoning which can be used to flavor things like onigiri or chazuke. I was tempted to buy one and they are small enough to carry, but I honestly was not sure if TSA would see the sakura blossoms as seeds or confiscate it for being from a plant. I guess I'll never know!
Where to find this: Specialty and confectionary shops.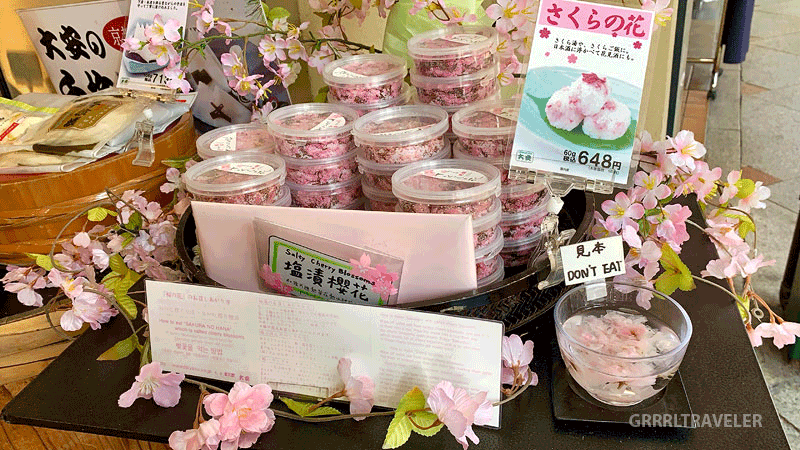 9. Hanami Dango
Hanami Dango is a three flavored dango stick and the colors represent the nature and season. Pink for cherry blossom, white the snow which has just melted to be spring and green for freshness of the greens in the spring season. My hanami dango flavors were: sakura, regular and matcha tea.
( Note: the Matcha can also be Mugwort, an herb with a slightly bitter taste but with known health benefits to Japanese) Where to find this: Dango is found in many places, but the hanami one might be special. General places for dango: traditional markets, park vendors, occasional convenience stores, small shop vendors selling mochi items.
10. Sakura breads at cafes and bakeries
Visiting bakeries and cafes, you might find sakura desserts and breads. With Japanese cooking,  bread desserts do not look like sugar-coated donuts as they do in western countries. You'll wonder what the fascination with them is, but often there is either a surprise filling, like custard, red bean, creme or it might just taste surprisingly great!  The breads below were at the Miffy Sakura Bakery in Kyoto.
Where to find them: Japan also has a lot of character cafes. Whatever your favorite cute Japanese character, you might find a character cafe in their honor: Pokemon Cafe (official website– tickets are highly sought after. This cafe is in Tokyo), Gudetama Cafe (there is one is Osaka), PEANUTS Cafe, Hello Kitty Cafe, PomPomPurin Cafe, etc…
Bonus: Umeko Candy
Ume candy is made from the red umeboshi plum, which has a sour, sweet, salty taste. They sell a lot of these in Don Quijote.  It's a popularized taste although westerners will find it unique and maybe odd. You'll either like it or you won't.  These plums are ubiquitous fillings for onigiri (aka rice balls). Either way, ume candy is a fun and strange discovery you will find in Japanese candy.
In candy packaging, sakura and plum blossoms look similar and can easily be confused with its pink blossom packaging. The way you might tell sakura and ume blossoms apart is by the flower petal. Sakura flowers have a split at the end of the petal, while ume blossoms do not. Where to buy this: Don Quijote, Daiso, convenience stores.
Where to find wagashi and Japanese sakura sweets ?
Wagashi is found in every city and isn't hard to find as you might think.  You'll find them at tea houses, cafes, specialty sweet shops, character cafes, markets… you might even find some at Japanese konbinis (aka convenience stories) like 7 Eleven, Family Mart, Lawsons, etc..  Don Quijote has a huge selection of products ranging anything from sakura sake and liquors to Limited Edition Kit Kats and Coca Colas, Pocky and more.Check out more sakura wagashi
Watch the Experiential Taste Test of 10 Must Try Japanese Sweets for Sakura season
➱ YOUTUBE PLAYLISTS:  Tokyo Travel Guides: http://bit.ly/play-tokyo
I love eating Japanese snacks- do you? What are your must try Japanese sweets? Leave your recommendations below!
Osaka Kyoto Nara Travel Guide Videos (Kansai Japan Video Playlist)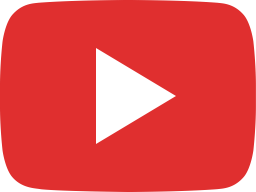 GEISHAS & GION: 15 Things you MUST KNOW | KYOTO Travel Guide | WATCH BEFORE YOU GO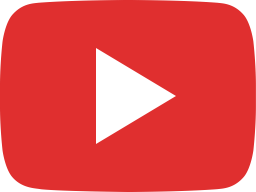 KYOTO NISHIKI MARKET FOOD TOUR | 11 BEST FOODS of KYOTO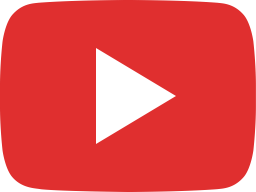 ULTIMATE DOTONBORI FOOD TOUR | LARGEST JAPANESE FOOD STREET IN OSAKA