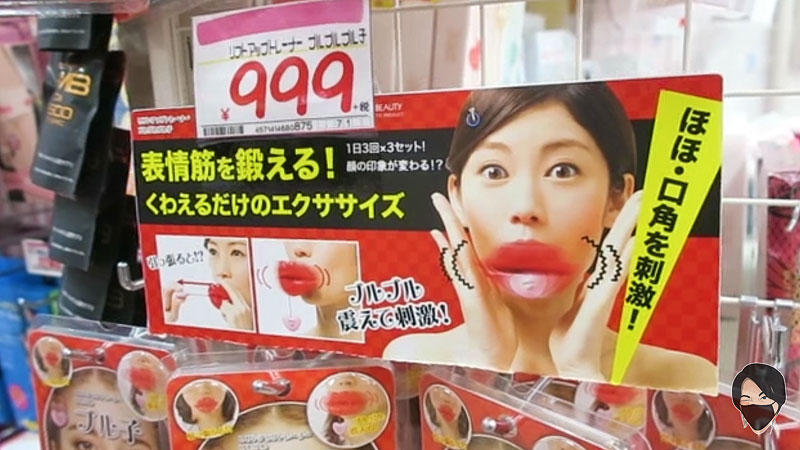 Shopping in Japan? You may not be a shopper but when you're in Japan, you'll want to be. Japan is re-known for its advanced technology, health, beauty and fun. Looking for the best discount stores in Japan for souvenir shopping? Look no further!
Best Discount Stores in Japan for souvenirs
Don Quijote and Mega Don Quijote
Don Quijote (lovingly called "donki")  is one of the best discount stores in Japan for just about everything. From household products, apparel, health and beauty supplies, tech and food, Don Quijote satisfies your every need. Shopping in a Don Quijote can also be overwhelming– it is packed with so much stuff it can look like wall-to-wall junk! You can find hilarious to naughty dress up and role play costumes — giant sushi or Mount Fuji, anyone? How about a sexy nurse or yakuza outfit? No holding back in Japanese weird fun.  The Japanese believe strongly in health so there are many health, fitness and beauty aids to suit the needs of an overworked culture.
Mega Don Quijotes are the flagship stores and they are… well, mega! Often they're open 24 hours, located in the popular neighborhoods and are several floors high. Their basement level always offers fresh bento takeouts, onigiri rice balls, salads and later at night, they go on sale for a markdown price.  They tend to have slightly cooler Japanese products. In Shibuya and Shinjuku, I even found an adult and sex toys department!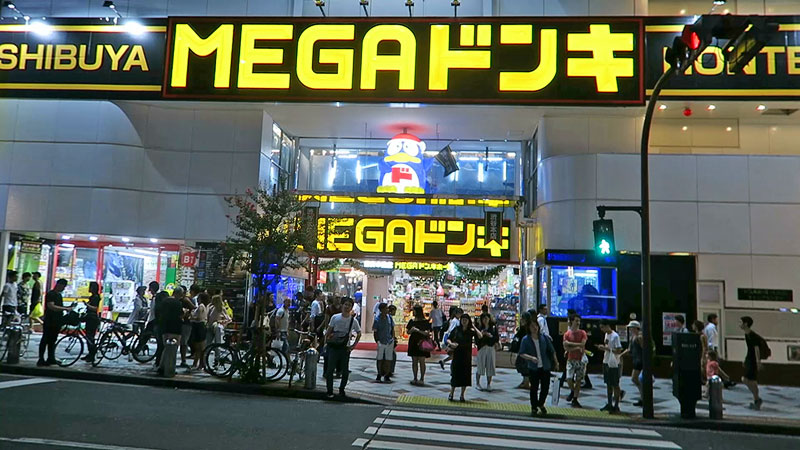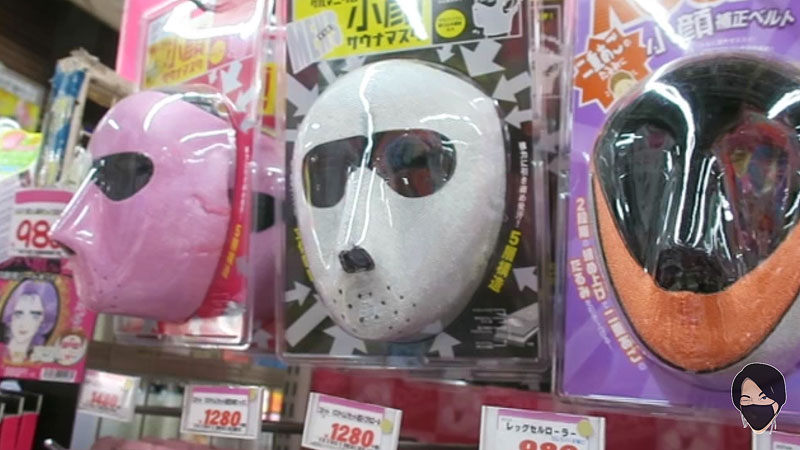 What to buy in Don Quijote:
During Sakura season, I found sakura-flavored Kit Kats and sweets in Osaka. Match green tea Kit Kats seem to be available year-round.  Occasionally, in the beauty aisle they'll have all sorts of fun beauty products. From Kao Megurism steam warming eye masks, to slimming stocks to revitalize tired legs to cute mouthpieces which help you exercise your cheekbones by performing a facial yoga,… you'll get lost in all the gadgets Japanese use to perfect their beauty.  Don't forget to pick up DHC vitamin supplements- they're super tiny vitamins but high quality! (I love the DHC collagen pills)
Yodaibashi Camera: Best tech and camera store
Yodaibashi Camera is Japan's biggest camera and tech store (below is Yodaibashi Akihabara in Tokyo). They are similar to Don Quijote's in that they tend to be up to nine floors of stuff and they've got an overwhelming variety of camera and technology gear you've never seen or heard of. This is my second favorite store because they have "Japan exports" along with familiar western models. In quantity and quality, they surpass America's biggest and leading camera store, B & H Photo and Camera store in New York.
Need earbuds? You'll have aisles and aisles dedicated to the every variety of earbud you can think of! Need a new tripod? There's a good 30 to look through.  Even camera shopping, you'll see models you never knew existed. 360 degree cameras had at least 10 on the floor and my favorite Canon G7X vlogging camera apparently has four other GX siblings I've never heard of.
The beauty section goes a step further than Don Quijote, taking it to surprisingly larger gadgets, from leg massage warmers, larger facial yoga mouthpieces, hand massagers to sleep helmets which massage your eyes and your head.
Check out Shocking First impressions of Tokyo
Travel Tip!  know your prices or you might go crazy with shopping.
Daiso
Not quite a 100 yen store but just as fun, Daiso has always been alongside the 100 yen store category. Although the products are priced a tad higher, you'll get good discounts on dollar store type of items, household and hardware. These days, the Daiso I've been entering have lost a bit of their flair and some can just seem cheap.
What to buy in Daiso:
Soft drinks, water, Calpis (Japanese yogurt drink), stationary and cute trinkets.  Snacks for around 100 yen.
Duty-Free Tip for Travelers: Tax-Free Shopping in Japan
If you love shopping in Japan, you'll love knowing that some of the best discount stores in Japan like Don Quijote and Yodobaishi Camera have special duty free lines.
Japanese normally have a sales tax which is already included in the price.  But if you are a tourist with a passport, you can scrape off those sales tax expenses by showing your passport. Just look for the line which says Duty Free Shopping. Some stores have a spending limit you'll need pass before you quality and the lines can be long with expats and travelers, but it's highly worthwhile.  Often you will need to pay for your items there instead of the regular lines.
Do you think you'll be shopping in Japan? What do you think of the best discount stores in Japan? 
Enjoy this post? Pin it to your Pinterest board