Last Updated on July 4, 2022 by Christine Kaaloa
Shibuya is nicknamed the Times Square of Tokyo, encompassing youth, fashion and music. Its a shoppers paradise and its got a thriving nightlife and entertainment scene for urban youth. Shibuya is big. Exploring it on foot takes time. So as part of my Tokyo travel tips and Shibuya travel guide, I'm going to share some of the best things to do in Shibuya in 24 hours.
Shibuya Travel Guide:
10 Best Things to Do in Shibuya
Harajuku is technically a district of Shibuya, but as I'll be visiting Harajuku on a different day, I'm going to keep them separate videos.
 1. Best Spots to Photograph Shibuya Crossing
Shibuya Scramble or Shibuya crossing is one of the iconic images of Tokyo which you'll see in movies and travel photos.  The intersection is open from all directions so it's fun to see pedestrians criss-crossing to get to their destination. You can see the crossing from Shibuya Station from the observation windows on Hachiko side.  But if the view from the station isn't enough, cross the street to the Starbucks in the Tsutaya building (map here). The building houses entertainment from music, dads, books. But the view from the second floor of Starbucks is front row seating. Grabbing a window seat here can be tricky. You may need to wait your turn as patrons sip their lates. If you manage to steal a seat, please observe Japanese etiquette. When there is limited seating, don't be a space hog. Have your drink and go.  Oh yeah, and cafe on the top floor is really cool.
Nearest Metro: Shibuya Station, Hachiko Exit
2.  Visit Shibuya Tourist Information Center for maps
If you're confused about which direction to go,  fear not. The green train car located outside the Shibuya station (Hachiko exit )is the Shibuya Tourism Information Center and it is there to answer your travel questions about the Shibuya neighborhood and how to get around. They give out free maps and information so you can gain your bearings of what to you can do in little time.  A stop here is helpful, even if you're tackling this itinerary. You can sign up for a walking tours of the neighborhood for a small fee and they also have old photos of the real Hachiko and his master.
Getting there: Located across the Hachiko memorial statue, Hachiko exit, Shibuya Station.
Read: Culture Shock Tokyo for Travelers
3.  Hachiko Memorial Statue
Outside Shibuya Station under the trees, you'll see a memorial statue of a famous dog, Hachiko. The statue is based on a real story of Hachiko , a loving and faithful dog who waited for his master – a university professor- outside Shibuya station daily so they could walk home together. One day his master got very sick and died, never returning home, but Hachiko waited, returning daily in the hope of seeing his master. Hachiko waited for seven years and the community began to take notice of this. When Hachiko died, there was a huge funeral in memory of Hachiko and his loyalty. Today the memorial stands as a reminder that the bond between man and his best friend can never be broken.
Tip: Visit the Shibuya Tourist Information Center in the green train car nearby to see the photos of the real life Hachiko and his master.
4.   Cross the Shibuya Scramble
As much as it's impressive to see Shibuya scramble from above, it's equally thrilling to cross the scramble and feel part of the massive pedestrian sea. I loved feeling a part of the Tokyo travel hustle and I crossed this a few times. Check out the 360-degree shot in my video.
Nearest Metro: Shibuya Station, Hachiko Exit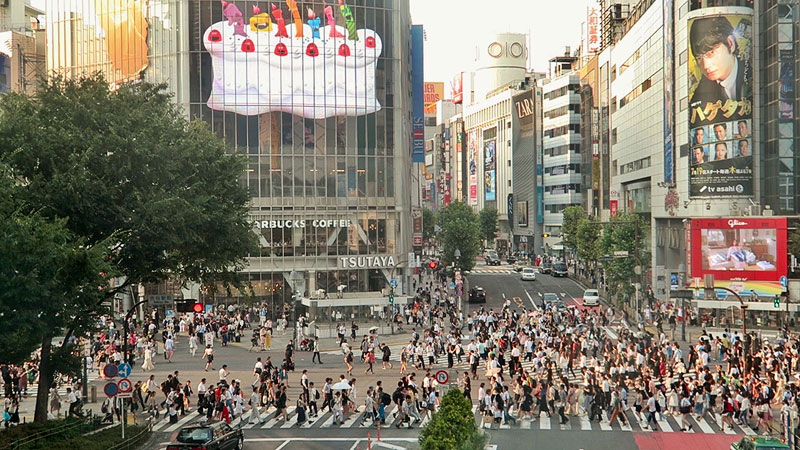 5.  Center Gai
Center Gai (pronounced Sentagai) or Center Street is recognized by its colorful arch. It is named Center Gai  because it is the center of Shibuya and it is lined with izakaya shops, restaurants, entertainment stores and shopping. It's a lively, youthful area and the clubs here stay open until dawn.
Located: It is the alley way next to Tsutaya building (see map). It is marked by an archway with colorful lanterns
6. Purikura Stores
Purikura stores house photo makeover booths, which take sticker photos of a youthful, doe-eyed and beautiful YOU. Take a selfie and manipulate your features from eyes, nose, skin, and transform yourself to look like a Cover look model or even a Barbie doll. These photo booth experiences are strangely addictive to teens and you'll find these in Harajuku, as well.
7. Cool gaming at VR Park Tokyo
Traveling Shibuya you'll notice its a huge entertainment area, so you'll find music shops, gaming, restaurants and youthful boutiques.  VR Park Tokyo is a several-storied gaming center, where you can see what attracts Tokyo youth in gaming. I am not into gaming, but these sure look like fun, with interactive games I've never seen before. On the top level, VR Park Tokyo houses its premium VR games where you have a 3D experiences which take your adventures to greater thrills and scarier heights. Hours: 10A -11:20P  Website (in Japanese). Map here.
Located: Next to Tower Records at 〒150-0042 Tokyo, Shibuya City, Udagawacho, 13−11, KN渋谷1ビル
8. Shibuya Mega Donki (aka Shibuya Mega Don Quijote )
Don Quijote is a favorite one-stop-shop for Tokyo. It is a multilevel mall selling everything Japanese you can imagine at discount prices. It's an ideal place to shop for souvenirs and you'll find some items very indicative of Tokyo culture. Visiting Shibuya, you have to stop by Mega Don Quijote. The mega-store is open 24 hours and has tax-free counters for tourists if you bring your passport.  Hours: 24 hours daily
Mega Don Quijote Shibuya: 28-6 Udagawacho, Shibuya, Tokyo 154-0042. Located near the UniQlo flagship store.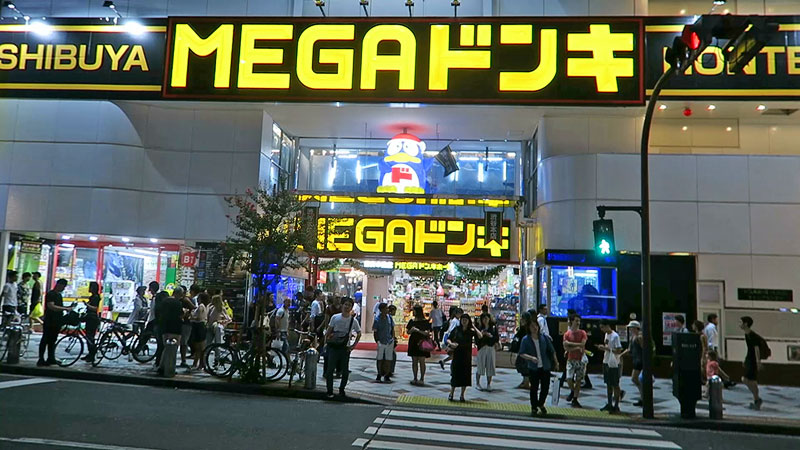 9. Shibuya at Night
Visiting Shibuya at night, you'll see Shibuya aglow as if its New York Times Square or a giant neighborhood Christmas tree. The mega video monitors playing advertisements at Shibuya crossing are lit with motion and the crossing is especially stunning. Where Shinjuku is primarily centered around Japanese adult nightlife, Shibuya is a bit more youthful but it still has its izakaya bar and restaurant scene as the nightlife picks up.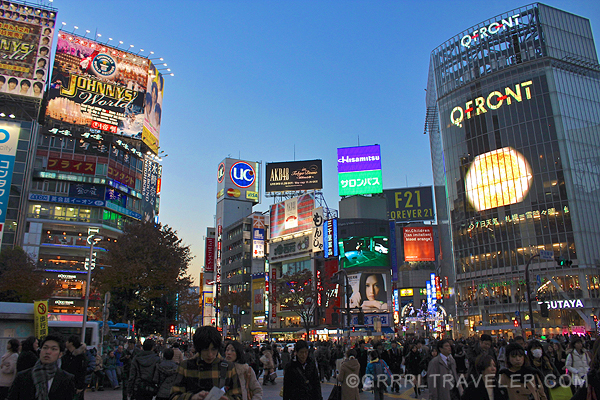 10. Best Shopping in Shibuya
As a prime shopping district in Tokyo, it's a shopper's paradise with trendy and hip fashion stores but also discount store flagships. Here are some of the best shopping in Shibuya :
Shibuya MEGA DONKI – a multilevel mall selling anything you can imagine at discount prices.  It has a tax-free area for tourists who show their passport.  Hours: 24
Daiso -click for map- Before Don Quijote, for me, there was Daiso. It's a discount shop (close to 100 yen + ) selling a lot of cool stuff from household, electronics, snacks, and cool $1 Japanese items you may want to take home as souvenirs!
Tsutaya building-click for map- the building houses entertainment from music, dads, books and a cool bookstore cafe at the very top.
UNIQLO Shibuya Dogenzaka (click for map) is Tokyo's largest UNIQLO store with mens, women and children wear. It has a tax-free area for tourists.
Shibuya 100 houses over 100 stores for young women with the latest and trendiest fashions.
Shibuya MODI is a 10-story building of fashion, karaoke rooms, trendy cafes and more.
Bershka– you can't miss the red and glass design of this building. It is an artpiece in itself. This is a popular brand run by the same retailer as ZARA, with trendy fashion for younger women.
Tower Records Shibuya– click for map- The United States may no longer have Tower Records but Japan does and this is the largest records store in Tokyo, with ten floors of music from around the globe.
Getting to Shibuya
Shibuya Station is large and it is easy to get lost or confused where the exits will lead. Check out this station map of Shibuya Station along with the lines that will take you there.
Getting Around Tokyo
Tokyo is quite large. With a population of 13.8 billion people the city is sprawling.
Metro & Bus
If you plan to only stay in Tokyo,  its best to buy a PASMO or purchase an advance SUICA card (good for all trains and buses) and load money onto it. If there is a day where you will be using the metro a lot, then I'd buy an unlimited metro pass (which I believe is only available at the airport for travelers). Fares are charged by distance and JR trains cost just a little more.
If Tokyo is not your only stop but you will be traveling onward through Japan, you may consider getting a JR train pass which can be used on the local trains, JR trains (this is a private company) throughout Japan.  You will need to buy a JR pass in advance outside of Japan.  See more JR Pass Options below
Recommended: Download either Navitime Japan or  Hyperdia mobile apps to find your metro and JR routes with ease. Apps come with route options, estimated time and costs per trip. They are helpful with Japan's busy and sometimes, overwhelming metro systems.
Japan Railway | Japan Rail Pass (JR Pass)
The Japan Rail Pass is the perfect option if your itinerary is crunched with cities and very little time. JR Pass Options are sold in 7 day, 14 day and 21 day categories!   Rates start at 28,000 yen and you must pre-purchase your passes in advance.
Most popular option : 5 day flexible East Tohoku JR Pass
Hope you enjoyed my Shibuya travel guide. Shibuya is a large shopping and entertainment neighborhood with more things to do than I can list. What would you recommend as things to do in Shibuya?
Japan Travel Tips for Solo Travel (Video Playlist)
Best Travel Insurance for Japan
American travelers often pay a premium on travel insurance.  World Nomads offers economic solutions for travelers who seek security and peace of mind.  It covers 150 countries.