Last Updated on July 22, 2019 by Christine Kaaloa
Fukuoka City was once a city divided by a river. Hakata was a port town for merchants, while Fukuoka was a castle town for samurai. Time fused the two together and although Fukuoka is the official name, Hakata is the name, most Japanese know it as.
Modern Day Fukuoka 
Today, as the biggest city in the Kyushuu territory, Fukuoka bridges Japan with Seoul and Shanghai as a port city. 13 hours from Tokyo and 7.5 hours from Osaka, Fukuoka is home to many IT companies. Areas like Gion and Tenjin hold small streets and alleys you can explore to get a feeling of the local lifestyle. Meanwhile, Fukuoka at night emanates a beautiful neon glow.
To be candid, I wrote about my manga adventure in Fukuoka, but finding an adventure in the day was a different story.   Fukuoka holds a quiet lifestyle, linking to beaches and parks.  There are definitely more places to visit in Japan to fill a longer itinerary, but lets start with traveling Fukuoka first!
11 Things to do in Fukuoka in 24 hours
Here's some  highlights you might enjoy for your Fukuoka trip… Most of these highlight attractions are free. My goal was to travel Japan on a shoestring budget and spend under $20/day traveling Fukuoka. I spent approximately $15/day between meals and transportation on my Fukuoka trip.
Read Traveling Tokyo on $35/day
1. Robosquare Museum
Yes, Fukuoka has robots!  As the world's leading country for robotic technology, a trip to Japan wouldn't be complete without experiencing some of it.
Robosquare is a museum of interactive robot technology was the highlight of my time in Fukuoka. At first glance, it looks like a toy store, but step inside and you'll be pleasantly surprised. A talking Hello Kitty, a robotic seal that coos and reacts to your touch, robots that perform entire scenes like puppets… you'll see robots in a new light!  The museum showcases 200 robots and 70 types workshops in robotic technology. English-speaking guides will tell you about the robots.  (Post coming soon!)  It's on the second floor of the TNC Hosokaikan building,  in the neighborhood of powerhouse electronics companies such as Panasonic, Hitachi, Fujitsu and AI.
Admission: Free
2. Hakata Machiya Folk Museum
Of all the museums Fukuoka has to offer, the Machiya History Museum (in the Gion district) carries a personal charm. Outside, it seems to be a humble wooden folksy museum, but inside, is a rich tapestry of Hakata's cultural history. Exhibitions showcase old merchant lifestyles, through figurines , panoramas, recordings and staged sets.   Additionally, there's a Hakata ningyo dolls (aka delicately- crafted clay dolls) exhibition and a textile weaving shop, where you might see craftsmen at work.
3. Yamakasa Festival
Yamakasa Festival is Fukuoka's proud annual festival (see photos above), where men from each nagare in Fukuoka prepare and then race against each other carrying a float, which weighs a ton. The festival is in July and has me pining for a summer return!  Cost: Free . See tourism website
4. Kushida Shrine (Gion District)
Shintoism and Buddhism are the main religions in Japan. Temples and shrines occasionally have shops, which sell ritual souvenirs and prayer card or fortunes you can buy for a small monetary donation. If your fortune turns out to be bad, there's an area (see photos below) you can leave it in to receive extra prayer help.
Kushida Shrine is an impressive Shinto shrine, dedicated to the goddess of Sun, Amaterasu (goddess of Sun) and Sunsoo (god of Storms and Wind). It was my favorite, with the most to see. The towering shrine is especially important during summer, when it's celebrated at the Yamakasa Festival, when regions from Fukuoka gather around to race heat one-ton floats.  Location: Across the Machiya Folk Museum.  Admission: Free
5. Tochoji Temple (Gion district)
Tochoji Temple houses a 5 story pagoda and a Fukuoka Daibutsu (a giant wooden Buddha). Both shrines are located in walking distance from each other, near the Gion Subway station.   Admission: Free
 6. Canal City (Nakasu district)
If you're a shopper looking for amusement, then Nakasu's Canal City might be your thing.  A splashily-designed shopping mall , it will catch your attention with its flash and cheese. It's got an outdoor water and light show (when I was there, it played to Disney's Beauty and the Beast "Be our Guest" song), restaurants and ..lots of stores. I wasn't  greatly impressed by it as it felt pretty small and geared towards more of a medium-high end clientele, but then again, I'm not much into shopping.  Note: If you end up shopping until late, drop by the nearby yatais for some ramen.
A shopping alternative:  Tenjin Underground Mall, located outside of Tenjin subway station, houses 12 blocks of shops and restaurants.
 7. Fukuoka's Red light district  (Nakasu district)
The evening is peak time for adult pleasure and Nakasu is Fukuoka's red light district (and a place, I happened upon, on my way to the yatais).
In Japan, prostitution is illegal, so  the sex industry skirts around this by offering anything, but coital sex. Brothels line the street advertising women, who will service you with blow jobs or any other pleasure. Meanwhile, male escorts hang outside looking to lure women into companion bars for ladies.  Note: Most places don't allow foreigners, but service only Japanese.
It's by far Fukuoka's grittiest scene, leaving you with a feeling of you'd likely want to wash off.
8.  Fukuoka Tower
Want to see a great view of Fukuoka? You can see it from Fukuoka Tower,  a 237 meter high tower. Viewing times change with the season. Cost : 800 yen for adults.   Website: www.fukuokatower.co.jp
9. Kyushu Basho Sumo tournament
I went during winter so unfortunately, I missed sumo season. But this would be a *must see* event.  During mid-November, the Kyushu Basho Sumo tournament  takes place at the Fukuoka Kokusai Centre. The tournament lasts two weeks.  Cost: Same-day tickets (3100 to 14,000 yen) are available starting at 8:00 am, but get there early as tickets are limited.
10. Tenjin Town Walking Tour
Tenjin Town walking tour is held on the last Saturday of the month and it aims to introduce you to the town of Tenjin and what it has to offer.  Cost: Free (www.welovetenjin.com)
11. Yahoo! Japan dome
Okay, the outside of it looks dull and unimpressive, but if you're a baseball fan, then seeing a baseball game at the Yahoo! Japan Dome is a must.  They also offer Dome Tour which takes you around on a special access pass to see the dugouts and places that are generally off-limits to the public. Hours: 10am-4pm,  (092)847-1699.
Day trips from Fukuoka
Daifuzu (famous temple area)
Beppu (visit Onsens)
Nagasaki
Where to eat in Fukuoka
Yatai
After 6:00 pm, snug tent-like food stalls emerge as Japanese customers and businessmen roll in after work.  Seating is limited, forcing customers sit close and cosy-like to chat. Menu dishes are  generally yakitori, oden, ramen, grilled ramen, tempura, gyoza and sake.  Yatais are found in Tenjin, Nakasu and Nagahama areas.
While tourist guidebooks highlight the yatai, there's one detail to prepare for- – most yatai menus are in Japanese. So if you plan to eat at one (and not just photograph them) , you'll need to work around the menu.  My advice: Point at dishes of neighboring customers (even if it might be considered rude) or play Russian roulette with names (from the list of menu names above), hoping it turns out the way you imagined it!
Recommended neighborhoods for yatai
Nakasu
Pretty riverside setting which is great for photography. Located at the edge of the red light district and near to Nakasukawabata Subway or Nishitetsu "minami-shinichi" bus stop.
Nagahama
Sells tonkatsu ramen with very thin noodles. Located near Nishitetsu "Minato 1-chrome" bus stop.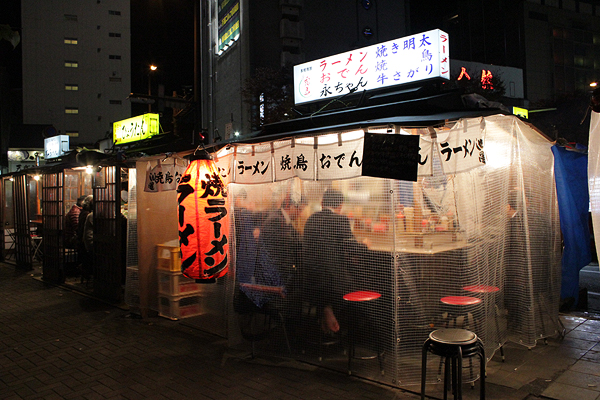 Vending Machine Restaurants
Japanese culture has its cute quirks. The Japanese love vending machines, from cigarettes to drinks and even food!  Maybe it's about accessibility and saving time.Eat at one of the vending machine restaurants. You pay outside through the vending machine and go inside to eat.
I found a vending machine restaurant in the same building as the Robosquare Museum.
 Must Try Foods of Fukuoka
Udon noodles
Fukuoka is the birthplace of udon and soba noodles. Udon has soft and thick noodles and a refined soup base.  My udon bowl ironically, was intensely chewy. However, it was one of the yummiest udon noodles I've had and the soup was very flavorful.
Hakata ramen
Hakata ramen noodles are noted for their thinness.  Fukuoka's specialty is tonkatsu (pork bone) ramen.
Public Restrooms in Fukuoka
"Toilet wa doko desu ka? " The beauty of Japan is that public restrooms aren't hard to find. Shopping malls, museums and temples will have them and they are often consistently placed in the subway stations.
Where to Stay in Hakata
Fukuoka Airport is not a 24 hour airport, so likelihood is you can't sleep there. You'll be fielding other accommodation options. Japan doesn't have to be expensive. Moderately priced, great value hotels exist. Here's some that are under $70/night.
Hakata Tokyu REI Hotel (Hakata- business district) Located a short walk from the Hakata Subway Station in the heart of the city. Part of the Tokyu hotel chain, it is known for quality. Rooms are spacious and prepped with technology for both, international and business travelers. Nearby major attractions:  Kushida Shrine and Shofukuji Temple, restaurants and shops .
Hotel Unizo Fukuoka Tenjin (Tenjin- shopping district) Modern and sleek, this hotel is located in the shopping district of Tenjin. Surrounded by three top shopping malls of Fukuoka, you'll won't have to go far to find something to do or eat.
Media Cafe Popeye  (Hakata Station)  Cheapo budget. Looking for a few hours of adventurous sleep for your layover? Manga cafes are internet/manga library cafes (read here). They charge by the hour. They even have a shower to freshen up!
 Getting Around in Fukuoka
Fukuoka sells unlimited day passes for tourists, making sightseeing easier and affordable. The subway is easy to use, with two main station transfer hubs (for JR trains) and a route to the Fukuoka International Airport. You can buy a single fare (600 yen) or get an unlimited day pass. The station master booth near the turnstile can answer any questions you have.
Getting bus route information will require help.   Advice: visit one of the many tourist information centers . While they don't have bus route maps in English, they can advise you on routes to take. Also, pick up a city map and a Fukuoka City Visitor's Guide (it's better than a guidebook!).
Fukuoka Tourist Day Pass for Tourists
Fukuoka Tourist Day Pass grants access to each/all the public transportation: 800 yen (adults) affords a pass on Nishitetsu Bus, Showa Bus, JR Train and the Subway, while 1,300 yen gets you an extra usage of the Nishitetsu Train (* takes you out to the Dazaifu Temple Area). I chose the 800 yen pass and was very pleased. Show your passes at events and attractions and you may get a special discount.
Open Top Buses are 1,500 yen/day offering three hop-on/hop-off courses:  Bayside Hakata Town Course, Seaside Momochi/Fukuoka Castle Ruins Course,  a night view of Fukuoka City. Website: www.fukuokaoptntopbus.jp
Metro & Bus
If you plan to only stay in Fukuoka,  its best to buy a PASMO or purchase an advance SUICA card (good for all trains and buses) and load money onto it. If there is a day where you will be using the metro a lot, then I'd buy an unlimited metro pass (which I believe is only available at the airport for travelers). Fares are charged by distance and JR trains cost just a little more.
If Fukuoka is not your only stop but you will be traveling Japan, you may consider getting a JR train pass which can be used on the local trains, JR trains (this is a private company) throughout Japan.  You will need to buy a JR pass in advance outside of Japan.  See more JR Pass Options below
Recommended: Download either Navitime Japan or  Hyperdia mobile apps to find your metro and JR routes with ease. Apps come with route options, estimated time and costs per trip. They are helpful with Japan's busy and sometimes, overwhelming metro systems.
Japan Railway | Japan Rail Pass (JR Pass)
Many travelers opt to skirt around Japan by way of the Japan Railway. The Japan Rail Pass is the perfect option if your itinerary is crunched with cities and very little time. JR Pass Options are sold in 7 day, 14 day and 21 day categories, and it includes all JR trains (Shinkasen, Express, Local, etc..), the monorail to/from Haneda airport,  highway buses and more!   Rates start at 28,000 yen and you must pre-purchase your passes in advance.
[maxbutton id="3″ url="https://www.klook.com/en-US/city/100-jr-pass/?aid=6792″ text="See a List of JR Pass Options" ]
Most popular : 5 day flexible East Tohoku JR Pass
(surrounding Tokyo area to countryside; Shinkasen, Narita Express, Tokyo Monorail included)
Note: you can only buy these passes outside of Japan. Plan ahead.  The pass offers tourists a big discount on travel; however, if you only have a few cities to visit, it may be more cost-efficient  to book point-to-point travel.
Book  Japan Train and Bus Tickets in Advance
Japan Travel Tips  (video playlist)
Best Travel Insurance for Japan
American travelers often pay a premium on travel insurance.  World Nomads offers economic solutions for travelers who seek security and peace of mind.  It covers 150 countries.