Last Updated on August 25, 2017 by Christine Kaaloa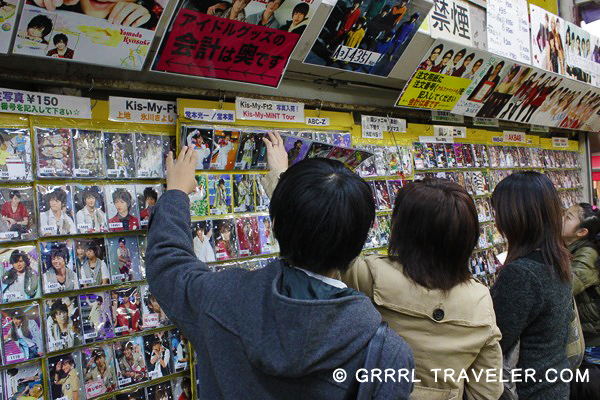 I was in Tokyo's Harajuku district on a popular Harajuku fashion side street called Takeshita, a Tokyo club kid's mecca of costume shops, photo makeover shops, eateries and funky fashion knick-knacks.
Yuko and I passed by a clothing shop selling school girl uniforms. " School uniforms are a very popular look", Yuko said.
We saw a pair of girls, dressed alike and pulling suitcases.  "The suitcases is part of their outfit and character," she continued. To me, many costumes felt fetish, creative but eccentric. But then I learned a bit of the reasoning behind it all…
What is Harajuku fashion and cosplay?
Harajuku fashion is inspired by cosplay (aka costume play). Most cosplayers are teens, who are inspired to dress up like an anime character or idol band.
"  …In Harajuku, most all of the girls are cosplaying someone from their favorite Japanese visual kei band. It is a lot of fun being able to get all dressed up and looking like your favorite people, and then hanging out with your friends who also look like your favorite people. The girls in all the frilly dresses, that really isn't cosplaying, as much as it is a fashion called Elegant Gothic Lolita, but since it is not a common fashion, and the Japanese are so overly concerned with it disrupting society, most of the girls only feel comfortable wearing their dresses in and around Harajuku or Shinjuku.  Some of these girls are high school students, they study hard all week, and Sunday is sort of their escape into Tokyo, where their parents can't see it". –Lauran
"Have you ever heard of 'Idol' stores?"
I didn't know what Yuko was talking about, but there are several of them in Harajuku.
We came to a doorway with stairs leading to the basement. Posters marked the walls of the entrance, and my mental fog over the term, slowly lifted, as I descended the stairs.
'Idol'  (アイドル or 'aidoru').  Celebrity.  Star.  Living God or Goddess.
The shop was like a hobby specialty shop.  Wall to ceiling, it was decorated with photos from Japanese bands, musicians and actors to Korean bands and drama stars. It stocked everything from posters, photographs, buttons, trading cards, stickers.  If you wanted a particular card, you wrote its number down on a piece of paper and the front clerk, would get it for you.
What makes an 'Idol' in Japan ?
Japanese 'idol worship' seems like it would be as obvious as an American teen having a crush on their favorite band, musician, model, sports star or actor.  But there's a few differences. In Japan, 'idols' are known for being 'cute', over sexy or smart. Also, despite being provacatively dressed or placed in fetishized clothing (i.e. maid or school girl uniform), they must personify the fantasy of "innocence, youth and purity".
Read Things to Know about Japan Before Visiting
One of the most popular idol girl groups in Japan is AKB48 (photo below). The group holds the largest girl band record, with 88 members and ages starting as early as 13 years old and rising well into their 20's. Although their photos appear in Playboy (photo below), the girls are forbidden to date or have sexual relations, while under contract. They must appear pure for their audience.
Thus, many idols are contracted to a "no relationships" rule in order to keep fan's fantasies alive.  If they break this rule or are caught to be having relationships, punishment can be harsh and it could mean the end of their careers (read about the AKB48 scandal here).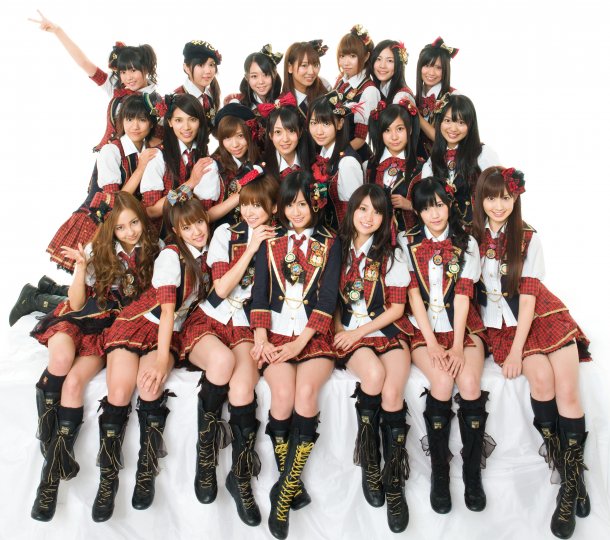 The fashion of anime and idols 
The cosplay fashion inspiration between anime characters and idols are blurred. It's likely that even idol fashion is more inspired by anime than vice versa.
Nevertheless, here are some fashions I saw in idol stores and their possible iterations on the streets of Harajuku.

  Getting There to Takeshita Street, Harajuku: 
Harajuku Station is on the Yamanote Line. On Sundays, cosplayers collect around Jingu Bridge.
Takeshita street is located across Harajuku Station, parallel to the main street.
What do you think about Tokyo idols and Harajuku Fashion?