Last Updated on January 1, 2021 by Christine Kaaloa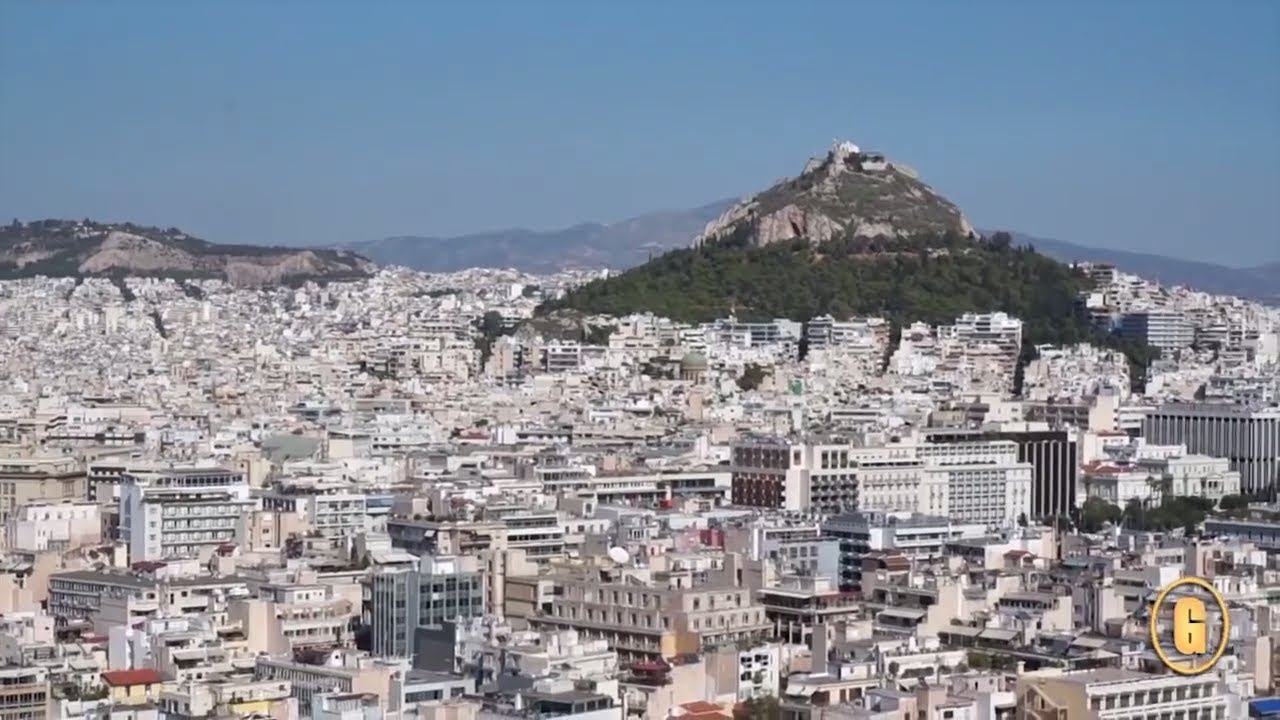 From visiting the ruins of the Acropolis to the highest peak of Mount Lycabettus, Athens is the modern and historical blend of Greek culture. This Athens travel guide shares the best things to do in Athens for the vacation traveler.
"I never wanted to go to Athens, I always thought it was a dirty city,"  the Spanish girl said to me in the crowded airport shuttle, when we all introduced the last country we came from.
Having just spent a week in Athens for a travel blogger's conference and exploring amazing things to do in Athens, I didn't understand her comment about it being dirty.  Yes, …graffiti stained walls both old and new architecture, with a feeling of youth both, restless and creative. One could feel the Athenian art scene rumbling under the city turning revolution over into evolution. Some buildings were antiquated, clinging to a long, proud history of time and the struggle of economic setback. On the opposite spectrum, new buildings threatened to erase time completely.
But dirty?  No. Athens felt cleaner than the sidewalks of New York City or New Delhi (which I wouldn't lay my bag down on, much less sit on). Athens is a European city on the brink of change, while struggling to retain some of its old heritage.
Best Things to Do in Athens
I'll be visiting top neighborhoods in Athens- Plaka, Kolonaki, Syntagma, Omonia, Kifissia, Monastiraki – and counting down the best things to do in Athens. This Athens travel guide will give you an idea of how to tackle your itinerary.
Top Must See Athens Attractions (video)
Watch this video on 23 Best Things to Do in Athens | Athens Travel Guide
PLAKA
Plaka is the oldest and most historical part of Athens. It's a popular neighborhood and one of the best things to do in Athens. You'll find the Acropolis and many other stunning Greek ruins in its midst, as well as cafes, souvenir shops and beautiful architecture reminiscent of the Greek Islands.  Book a stay in charming Plaka.
The Acropolis (Akropolis) 
A top Athens attractions is the Acropolis. Tourists often get the Acropolis confused with the Parthenon. The Acropolis is the throned hill that the Parthenon and other famous Athenian ruins such as the Odeon Herodes Attitcus, Propylaea and Erectheion sit upon. It's okay if you're not familiar with the names I just listed. I wasn't either.
Akropolis means 'city on a hill' and dates from the 5th century BC. Dominated by its main temple, the Parthenon, the Acropolis can be seen from all around the city of Athens.
Admission: 12 € ticket good for four days.  Students, seniors, disabled and ages under 18 are free with valid proof. You can also take a guided walking tour
New Acropolis Museum
Want to know more about the archeological findings of the Acropolis site?   Check out the New Acropolis Museum website for operating hours ( hours change according to season)   Admission: 5€
Explore Plaka
Plaka is the oldest village in Athens with Greek colonial architecture.  Weave through neighborhoods and you'll eventually find the history falls away to posh cafes touting free WiFi and a rooftop view.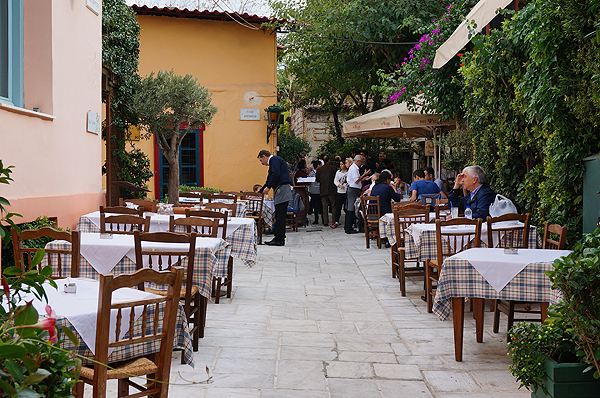 Stroll through Anafiotika
Just northeast of the Acropolis Hill and in the district of Plaka is the picturesque villa of Anafiotika.  A hillside companion to the Acropolis, it's architecture is reminiscent of the Cycladic architecture of the Greek islands, with white walls, tight spaces and Bouganvillea flowers.
Tip: Take the path up to the Acropolis and you're likely to land at a lookout spot, which gives you a fabulous view all the way to Mount Lycabettus.
Hadrian's Arch
If you're on your way to the Temple of Zeus, it is impossible to miss Hadrian's Arch.  The arch was a tribute to the Roman Emperor Hadrian, who contributed many things to the welfare of the city.  Admission: Free
Temple of Zeus
The Temple of the Olympian Zeus is a remains of a temple dedicated to the God Zeus.  It was ravaged by barbarian invasion before completion but it still stands to this day.  Admission: 12€ (Included in the Acropolis admission ticket)
KOLONAKI
Kolonaki is an affluent suburb with upscale boutique shops. Along with Mount Lycabettus, it is home to the Benaki Museum and Museum of Cycladic Art.  It is a 5-10 walk from the Parliament Building at Syntagma Square.  Book your stay in Kolonaki
Take the Funicular to Mount Lycabettus
Many say you can take the funicular to Mount Lycabettus and it's better than walking; so, I put it on this list. However, the funicular ride isn't longer than five minutes and it's in a dark tunnel, so don't expect it to be a sightseeing adventure.  Also, getting to the base of the funicular (Ploutarchou and Aristippou Streets in Kolonaki) is quite a hike in itself in steep staircases. Admission: 6-8 €
My advice: Skip the funicular, pocket the money and hike it.  At least you can see the view as you're going up.
Mount Lycabettus 
The best view of Athens and the Parthenon, comes by hiking to the top of Mount Lycabettus. It is a top attraction of Athens. At 745 ft. (277 m), Mount Lycabettus towers over Athens, offering an incredible view of the Attica basin to the Aegean Sea. Recommended: Catch the view there at sunset hour.   There's also a restaurant there, which would make for a beautifully romantic dinner date.  Note: Restaurant can be a little pricey.
Getting There: Hike up the winding path that starts at the end of Aristippou Street in Kolonaki . Or you can opt for the funicular. Recommended:  Do the hike and pocket that money for a Spanokopita later.
Mount Lycabettus Church
The small, white-stuccoed chapel sits at the lookout peak offering rest and spiritual respite after a hike. It's there, so why not..
SYNTAGMA
Syntagma Square
Syntagma Square is known as a location for demonstrations and it's located across the street from the Parliament building.  Walking opposite of the Parliament and past the fountain, you'll find a thriving shopping area if you're in the mood to do clothes shopping or Greek sweets.
Parliament Building | Tomb of the Unknown Soldier
Visiting the Parliament Building (or the Presidential building), will take you to the Tomb of the Unknown Soldier, a memorial dedicated to all Greek soldiers who died serving their country.  The memorial is protected 24 hours and the Evzone guards that watch over it change each hour.  Be sure to catch them as they change to see the ceremony.
Once they've stood at their commanding station, the nearby guards will open the area up to allow people to take photos next to the guards.
Evzone Guards
The Evzone guards are also known as the Presidential guards.  They're uniforms are distinct and a little humorous, notably the pom pom shoes (aka Tsarouchia ), which are said to weigh over 7 pounds each.
They are often volunteers from the Hellenic Army's Infantry, Artillery and Armored Corps. They're often selected during Army Basic Training. In order to qualify, a soldier must be the minimum height of  6′ 1″ or 1.86 m to join.
OMONIA
Omonia Square
Omonia Square has some of the oldest buildings in Athens and originated as a neighborhood of immigrants. In general, it's got grit, but you'll find the Central Market, lower prices, knick knacks and some great cafes.  Note: Avoid going at night. The area is said to attract prostitutes and unsavory characters.  Book a hotel stay in Omonia.
Central Market
Central Market is a 24 hour local market, occupied by stalls of fish vendors and butchers, selling seafood to livestock, ready to be carved and bagged for your dinner table.  Admission: Free.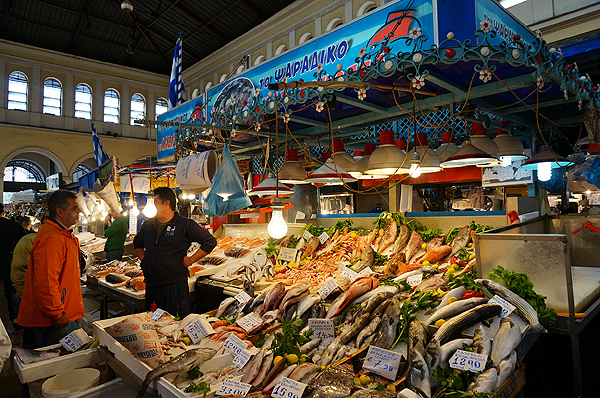 National Archeological Museum
The National Archeological Museum is home to some of the most important artifacts in Greece. There are seemingly endless exhibition rooms from royal treasures from Mycenae, to famous Cycladic mable figures, wall paintings,  terracotta figures, vases, etc…   If nothing else, Greece has a rich cultural history and arts culture. My favorite exhibition was the sculpture collection, where there were famous statues that I've only seen in art history books to my faves, the Kouroi, the first free-standing statues of male nude figurines.  Admission: 12 Euro.
MONASTIRAKI
Hip, happening and funky. Monastiraki has its own vibe attracting a youthful energy and houses some great hostels.  Check out the square, explore the street art and get lost.  Want an Athenian souvenir, check out the poet sandalmaker Melissinos, who's crafted sandals for famous celebrities such as, Sophia Loren and John Lennon.
Monastiraki Square
Monastiraki Square is where youth converges as the Psrthenon and antiquity look on. In the area, you'll find bars, outdoor cafes, restaurants, tucked away artsy cafes, eclectic shops and souvenir shops. You'll also find Hadrians Library nearby. At night, buskers and musicians come to play, calling all Athenians out.  Every Sunday there's the Monastiraki Flea Market.  
Athenian Street Art
Graffiti art is everywhere in Athens.  Much of it feels like politic unrest but it's quickly transforming into street art and artistic expression.  Best areas to see it:  Monastiraki, Plaka.
Souvenir Shopping
Walking down the streets of Monastiraki, you won't find yourself at a loss for souvenirs to buy.  From traditional Athenian dress styles, olives, olive oil and seafoam scrubs, everything spells "Greece". Sandals, however, seem to be the largest draw.  Stay near Monastiraki
KIFISSIA
Kifissia
Unfortunately, I didn't get to spend much daylight hours exploring Kifissia but from what I saw it's one of the more beautiful spots in Athens. It houses cafes, shows, upscale stores, a bowling center, hip nightlife and movie theater. It was traditionally, the home of many affluent politicians.  When I went, one of the streets straight off the subway, turned into a sidewalk market with crafts vendors.
How long should you stay in Athens?
At the very minimum, you  want to spend at least three days in Athens, to cover the top Athens attractions and to get a feel of the city. A longer stay will allow you to explore more parts of the city and nuances, that I didn't get to see or list here.  Traveling onward? Check out Meteora, the Greek Island hopping,  Santorini or this guide on backpacking Greece.
Must Try foods of Athens
Food isn't necessarily cheap in Athens, but if you've made it all the way to Athens, why not splurge! Still, if you're worried about your Euro, there are budget friendly options.  Vegetarian Greek foods weren't easy to find off the bat. I spent some time in grocery stores buying yogurt before I could warm up to Greek menus. Greek Street Foods are awesome because you can see them in the open.
Souvlaki 
Souvlaki very inexpensive and popular sandwich roll with french fries, sour cream, vegetables, herbs and smoked meat. You can order it without meat and I did it a lot. Greeks might curl their toes at the thought of castrating them to fit vegetarian diets but I wanted to try at least a bit of the beloved sandwich.  They're ubiquitous in Greece.
Greek Coffee
Greek coffee is like a thick espresso.  Let the waiter know up front if you wish for your coffee to come sweetened or not as the coffee is brewed with sugar.  The coffee is pretty thick and there used to be a way to tell fortunes by looking at the coffee grinds at the bottom of your cup.
Greek Street Food/ Snacks
Koulouri (breaded pretzel with different fillings. The most traditional has feta cheese), Spanikopita (spinach pie sandwich- watch my video), Tiroptika ( very similar to Spanikopita but with a cheese filling), and …Doritos!
Greek Yogurt
Greeks are known for their world-reknown thick and creamy yogurt. The yogurt is so thick, it will stick to your spoon even after a few shakes to release it. While you can easily find Greek household brands in a grocery, head to a cafe or bakery for the really thick one and ask for a drizzle of honey!
Athens Street Food Tour (Video)
Getting Around Athens
Taking the Metro
The metro is clean. While there is no attendant at the entrance to collect your ticket, if you are caught going through without sliding your ticket through the validation slot, you'll be fined something crazy expensive.  You'll probably want to cry. Best not to risk it.  One day unlimited: 3€; Week Unlimited: 10€.  All tickets are valid on metros, trams, city buses (but not express buses) .  There is an Airport line to and from Monastiraki. Cost is 6€ . Note of caution: Careful of your belongings as there are pickpockets in Athens.
Recommended:  I downloaded a free iPhone app called Athens Subway. It's a simple and basic map which allows you to zoom in an out of your view. To access extra features outside of the map, you'll pay .99cents per add-on.  I was fine with just the map.
Taking the ferry to the Greek Cycladic islands
Athens has a ferry ports to the Greek Cycladic Islands, such as Paros, Naxos, Ios and Santorini. Piraeus pier is the one headed towards Santorini and I went with BlueStar Ferries. Santorini is a highly recommended island destination with gorgeous cliffs, amazing sunsets and striking white stucco houses.
To  travel onward to Turkey, there are ferry routes available as well. See here for more information.
Hop On- Hop Off Open Tour Bus
Don't want to toil with metro maps? Taking a hop-on hop off tour bus is worth the money if you'd like a quick overview of the city and it's historical monuments. They offer a free audio guide, but if you're riding on top, don't expect the audio to be perfect. I took theAthens Open Tour buses. Admission: range around 14€ /day.
Safety Tips for Solo Travelers in Athens
Athens is rumored to have pickpockets. Much so that you'll even see metro warnings to be mindful of your belongings. It's a large cosmopolitan city and every large city has their bad areas, so you'll want to be mindful of where you go at night.  While I didn't encounter anything dangerous, there are always exceptions to the rule so one should always practice street smarts.
Read  Dealing with Scams, Touts, Beggars
Where to Stay in Athens
Athen Style
Type: Hostel. Location: Agias Theklas 10, Monastiraki, Athens 105 54, Greece  Cost: Starting 15.40 €
I stayed here for two nights and while I didn't have a chance to experience the rooftop bar– because I was busy spending that time in the lobby with WiFi– the hostel is a pleasant stay.  Free continental breakfast.
City Circus Athens
Type: Hostel. Location:16, Sarri Street, Psiri / Monastiraki, Athens, Greece.  Cost: Starting 15 €
I've heard  good reviews from other travel bloggers who were staying here during the travel blog conference I attended. 
Air BnB – I booked an AirBnB apartment with fellow bloggers and stayed in a luxurious Greek apartment. Finding it was a little difficult as I need to learn where to spot Greek street signs and while it was near a metro station, there were many directions to getting there.  You can see where I stayed in my video.
View other top hotels in Athens
What are your recommendations for best things to do in Athens? What would you add to this Athens Travel Guide?
Bucket list cities for your Greece itinerary
Travel Guide to Santorini
Taking the Ferry from Athens to Santorini
Meteora : Greece's Best Kept Secret
Things to Know before you go to Meteora
Watch Greek travel guides for Solo Travelers
Best Travel Insurance for traveling Greece
American travelers often pay a premium on travel insurance.  World Nomads offers economic solutions for travelers who seek security and peace of mind.  It covers 150 countries. Read reasons travel insurance is necessary.