Last Updated on January 22, 2018 by Christine Kaaloa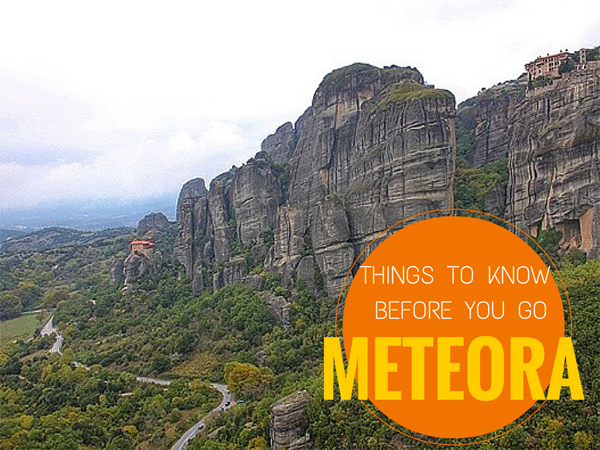 Meteora is one of those top jaw-dropping sites I'm glad I visited.  For me, it's right up there with the first time my mouth went agape stepping foot off the plane into Ladakh or when I saw entered Hong Kong's night only to witness  a endless paths of apartment light leading straight to the heavens . Jaw… drop…ping is the only word inspiring vocabulary and I'll use it superfluously!
As alien karst mountains go, it's reminiscent of Halong Bay and the slow riverboat ride through Northern Laos, with the exception that it's on dry land and the rocks carry the whispers of an ancient monastic and cave-dwelling people, aspiring towards strict asceticism and spirituality.
If you haven't read my post Mystical Meteora, I suggest you do so for a quick primer about why you'll want to put this on your bucket list for Greece !  Next to the Parthenon or Santorini, it was one of my greatest highlights.
Things to know before you Go
Stay:  Stay at least 3-4 days.   I stayed two and a half days  and I hadn't covered as much as I wanted to nor gotten hiking in.
Activities: Meteora is a great place for rock climbing and hiking.  Mostly, you'll be walking a lot.
Be prepared to walk a lot.  Not only can Meteora be visited on foot, but unless your accommodations are near to the town center, you may have to walk to find nearby restaurants and cafes.
Bring:  Good shoes, water, snacks and sunscreen (if it's cold or rainy, pack a windbreaker jacket).  The trail is a long one.  Maybe you might want to order a souvlaki and pack it to go for a picnic on the rocks.
Additionally, bring a good map.  If you're hiking and hoping to detour from the paved road to find one of the woodsy or hidden trails up to the monastery, you'll need a trail map or good directions from a guide or your guesthouse.
Monasteries:  Check monastery hours.  There are six monasteries and each day a different one is closed.  Schedule here.  Dress is conservative. No short sleeves or shorts,  You'll be given a long skirt or shawl to wear if you don't meet proper dress standard.  Monasteries are your bathroom opportunities. Admission:  3 Euro.
The monastic order has a strong hold on the UNESCO site and towns.  In order to preserve the historical value and peace of their sanctuary, they've prevented the area from getting too touristy or developed.
Best way to see Meteora
For tourists, taking a tour offers a lot of information.  Yes, you can easily see all of Meteora without a tour, but to understand its historical value is key.  While I don't always appreciate the strict regimen of tours, a half day  tour  it enhanced my understanding of the history of the rocks and the lives built around them.  It also pointed out all the hermit caves and I personally,  found that more interesting than the monasteries.  Maybe it's the solo traveler in me.
Most travelers get around Meteora on foot. The trail which splits east and west.  It's almost impossible to visit all monasteries in one day, so you might want to split up your itinerary by days or decide which monasteries you'd like to see.
Along the winding road, you can see rock conglomerates, visit the monasteries and find hiking paths to the monasteries .  The road is a paved one, which you'll share with tour buses.  There is an entry from Kalampaka and Kastriki.
Where to Stay in Meteora
There's two towns nestled next to Meteora– Kalampaka and Kastraki.
Kalampaka is more frequented by travelers, as it's central to hotels, guesthouses, shops, restaurants, the bus stop and train station.  It's still a small town however and one shouldn't expect fallback clothing shops if you forget clothes or athletic equipment.
Kastraki village is more residential with residing guesthouses and camping grounds.
There are different types of accommodations from Trikala to Kalampaka.  From 7 Euro/night Camping/RV grounds to 25 Euro+/night guesthouses and hotels.  I stayed in Kalampaka at Also's House (Read my review here).  For other recommended accommodations, click here.
Best times to visit Meteora
The best times to go are during fall and summer. 
Weather : Check weather conditions before going.  July to October are peak seasons and expect crowds. December to March can be cold and rainy.  I went in October on freak days when the weather decided to be miserable. It was rainy, cold and foggy. Visibility was difficult and in Meteora, you definitely want to see the rock tips and then monasteries that sit on them.
Avoid :  National holidays  the trains are crowded and only standing room is available. Also, business hours are shorter and many aren't open.  When I went on Greek Independence Day, most shops were closed .
Getting to Meteora
Getting to Kalampaka by bus via Athens
I took a bus from Larissa Station in Athens to  Trikala bus station. At Trikala, transfer to the local Kalampaka bus.  You're dropped off in the middle of the town. Check the Visit Meteora website
Getting there by train to Athens
There's a direct train operating between Athens and Kalambaka, so on the way back, I took the train.  I booked my ticket the same day, but if you're traveling during a holiday or weekend, you might want to book in advance.
Related Posts
Travel Guide to Santorini
Taking the Ferry from Athens to Santorini
Meteora : Greece's Best Kept Secret
Watch 'How I Traveled Greece'