Last Updated on June 21, 2020 by Christine Kaaloa

14 Top Greek Cuisine Favorites: Watch the video for more food images!
.
As mediterranean cuisine, Greek cuisine is a favorite amongst many travelers. But when traveling Athens, what are the top Greek foods to try? I'm sharing 14 must try Greek foods in Athens.
The Greeks love their fish and cured and smoked meats. As a vegetarian my options felt slim. So I took an Athens food tour with Big Olive City Walks. They introduced to me to samplings of Greek foods and their history. As a traveler who has to either research or decode foods to decipher whether they match my diet, this experience made me a quick lover of food tours.
As a "traveler", a food tour only helps to take my gastronomic experience deeper.
14 Must Try Greek Foods in Athens
The following list is a combination of my food tour experience and my experiences as a vegetarian traveler finding foods on-the-road.
Greek Yogurt
I'm starved and what better way to start my morning than head to a cafe for some Greek yogurt.
The Greeks have a sweet tooth so expect your yogurt to come drizzled in honey.  What makes Greek yogurt different from others is its thickness and creaminess. Unlike regular yogurt, Greek yogurt is quite viscous, almost like a milky pie.  The nuts and honey on this bed of yogurt added texture and flavor.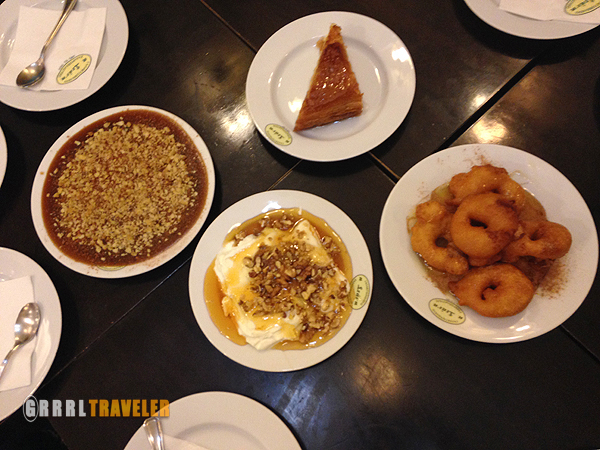 Spanakopita
Spanakopita is a must try Greek food in Athens is a fast food sandwich pie you'll find local walking and eating in Athens.   Spanakopita is stuffed with spinach and light spread of feta. With breaded street foods in Athens, you'll find the cheese fillings are very light with a subtle taste.  Often, I could barely taste it.
Tiroptika is an equally popular form of spanakopita with cheese filling. Both are delicious!
 (If you don't see the video above, click here)
Greek Coffee
The Greeks love their outdoor cafes. Why not enjoy the in people watching with some thick Greek coffee.   The coffee is thick and you're not supposed to drink the grounds at the bottom.  Also it's said that fortunes can be read from the grounds.
Tip: If you'd like sugar to be added, note that to your server in advance.  Greek coffee is prepared with the sugar.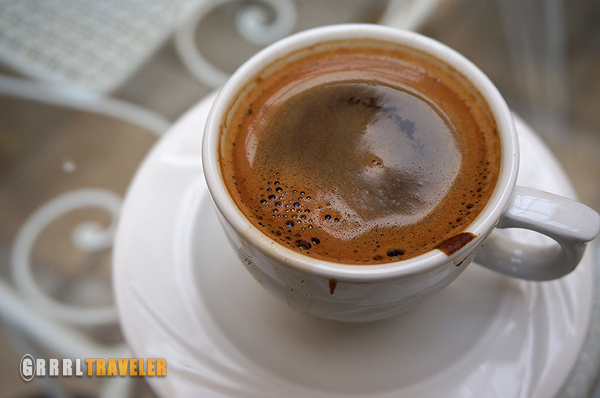 Kolokythokeftedes
Kolokythokeftedes are courgette balls, deep fried breaded balls stuffed with eggplant, feta cheese, herbs and spices. It was one of the must try Greek foods in Athens I loved most.  They are lightly crisped on the outside and rather soft on the inside. They are the size of walnuts and you'll want more than one! Sometimes they are accompanied by tzatziki dressing.
Traveling Santorini, the cousin of courgette balls are tomato balls, which are breaded patties with a hint of tomato flavoring.
14 Must Try Greek Foods :Courgette balls| Tomato balls | tomatokeftedes[/caption]
Olive Oil
Olive Oil is the elixir of Greece.  Greek olive oil is one of the best in the world. It is low in acidity and peroxides, with a flavor that is bitter, fruity and pungent. It is said to have health benefits in vitamins and minerals, like vitamin K and vitamin E. The best olive oil is the extra-virgin olive oil, a darker (not lighter) oil, which is cold-pressed and usually comes in a darker bottle.  Regular olive oil is blended.  Read tips on how to buy good olive oil.
Greek Olives
Greeks have cultivated olives for ages and grow an assorted variety. Many foods come accompanied with local olives.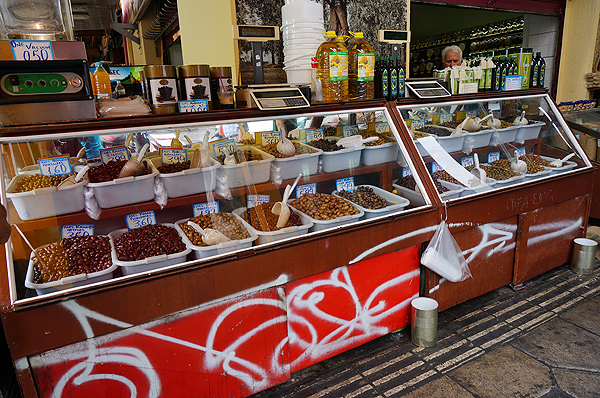 Koulouri
Koulouri is a common breakfast and street snack, you'll find Greek street vendors selling for morning folks on the go. It's a big donut-like pretzel sprinkled with sesame seeds, and you can buy them with a filling or without. It's like grabbing your New York breakfast bagel before going to the office.  They are very similar to Turkish simit. Running for the ferry to the Greek islands? Grab one of these for a light snack during the ride.
Dolmades  & Tzatziki
Fortunately for me, there's dolmades (or dolmas), a more traditional dish of Greek households. a traditional Greek food of grape leaves stuffed with white rice, the bitterness of the grape leaves serves up a kick.  If you're a vegetarian, it's best to ask the ingredients before you order as some types of dolmas have bits of meat in them.
Meanwhile Tzatziki is a yogurt accompaniment that is popular with the Greeks. The yogurt is often blended with a combination of cucumber and dill, so make the flavor a smooth finish.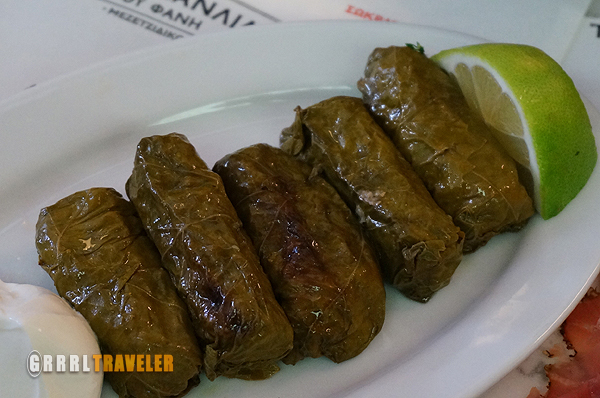 Souvlaki
Don't want to sit down for an expensive meal?  A popular and inexpensive street food is souvlaki.  Souvlaki contains vegetables, onions, herbs, fries and smoked meat.
Tip:  Vegetarians can order it without meat and it's basically a vegetable sandwich with fries, as seen below. 
Pernili
Pernili (or Pide in Turkish) is a type of Turkish fusion flatbread we were introduced to on our Athens Food Tour. Pernili is like a fun Greek pizza and you can certainly find Greek vegetarian food options with this dish.  Greece and Turkey are neighboring countries so they share similarities.
Visit Feyrouz Lahmajoun , a shop which specializes in pernili in Athens, all the pernili are vegetarian.
Moussaka
Moussaka is a Greek casserole dish, originating from Turkey during the time of the Ottoman Empire. It is sauteed eggplant and tomato with minced meat and a bechamel (white) sauce.
Eggplant salad dip
Eggplant salad dip is more of a Greek appetizer of grilled eggplant mashed to a pulp and mixed with olive oil, garlic, salt and pepper and sometimes tomato.  The eggplant's smoky flavor is due to the grilling and charring which enhances the overall flavor of this must try Greek food appetizer.
Ouzo
Ouzo is a favorite anise-flavored desert wine.  The taste is strong like a licorice tinted vodka.  When mixed with water for dilution, it turns a milky white.
Mageirefta (slow cooked Greek vegetarian dishes)
After releasing my YouTube video, I had a viewer offer recommendations for traditional Greek slow food. I'm copying that response here (you can also read deductionism's comment on my YouTube video):
For Greek vegetarian dishes, visit an estiatorion (a type of restaurant) with "mageirefta". Fasolakia, Gemista, Melitzanes, Gigantes plaki are some very tasty vegetarian dishes.
There might be a sign (ΜΑΓΕΙΡΕΥΤΑ / μαγειρευτά (photo below)  . They serve mageirefta, which means slow-cooked dishes. The best indication, especially for somebody who does not know Greek dishes by their names, is the existence of oven dishes filled with food (those are usually on display there to see ) . The estiatoria serving mageireyta are usually pretty dull, but the food can be (where the locals go) amazing. This not where you usually go to socialize with friends – they mainly offer a substitute to your mother's (or grandmother's/wife's/girlfriends/your homemade) cooking. You go there for the food.  I believe the best way to experience authentic Greek cuisine (which is in my opinion one of the best in the world – btw traditionally Greeks did not use to eat a lot of meat hence there are plenty of vegetarian dishes in their cooking) is by spending a few days in a Greek house.
Where to Stay in Athens
Athen Style Hostel- Agias Theklas 10, Monastiraki, Athens 105 54, Greece
I stayed here for two nights and while I didn't have a chance to experience the rooftop bar– because I was busy spending that time in the lobby with WiFi– the hostel is a pleasant stay.  Free continental breakfast.
City Circus Athens Hostel- 16, Sarri Street, Psiri / Monastiraki, Athens.  Cost: Starting 15 €
I've heard  good reviews from other travel bloggers who were staying here during the travel blog conference I attended. 
Air BnB – There is nothing like staying in an Athenian apartment to feel local living. I booked an AirBnB apartment with fellow bloggers attending the same travel blogging conference and stayed in a luxurious three bedroom apartment, a stone's throw from our conference site.  Get $40 off your Airbnb booking using my referral code.
View other hotels in Athens.
What are your must try Greek foods in Athens?
Watch Greek travel guides for Solo Travelers
Best Travel Insurance for traveling Greece
American travelers often pay a premium on travel insurance.  World Nomads offers economic solutions for travelers who seek security and peace of mind.  It covers 150 countries. Read reasons travel insurance is necessary.