Last Updated on September 3, 2019 by Christine Kaaloa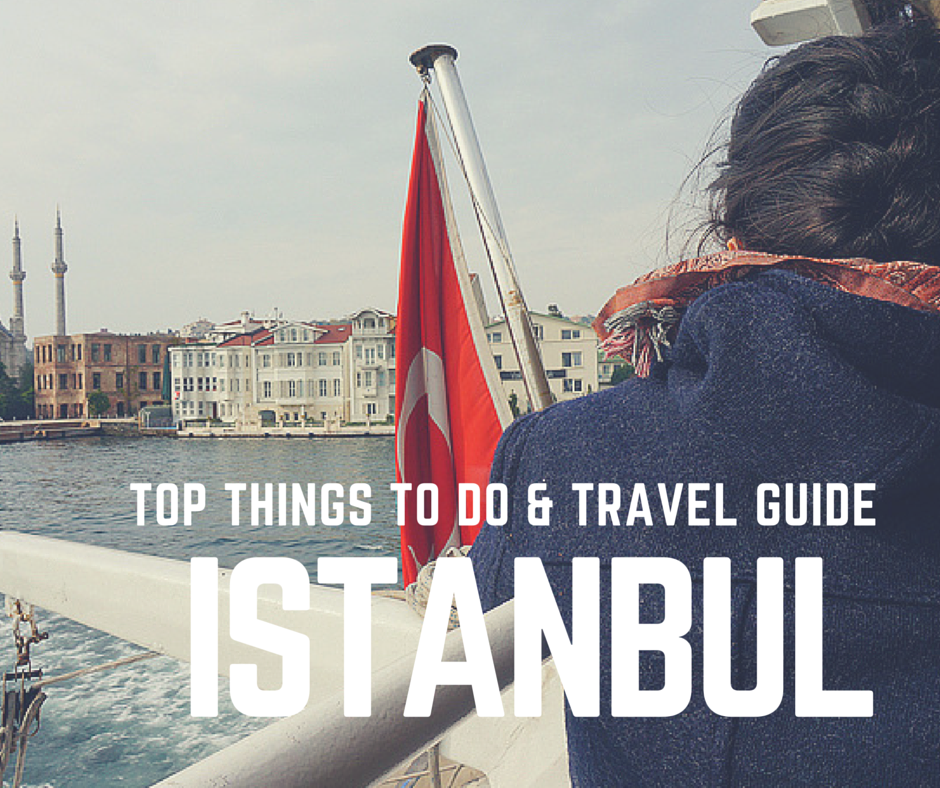 There's a reason why Istanbul is quickly becoming a favorite city for travelers. Istanbul is a friendly city, and it's a city located on two separate continents (a European side and Asian side), complete with diverse and fascinating neighborhoods  and delicious Turkish cuisine.  It's a city that's both, mystical and mysterious, with a history spanning over 4000 years.
There's a lot to do and see in Istanbul, so I'm going to share my Istanbul travel guide of the top things to do in Istanbul.
18 Top Things to Do in Istanbul

How many ways can you plan a bucket list worthy Istanbul trip? Let's start with Istanbul top attractions!
Explore Historical Sultanamet Area
Sultanamet District is a popular tourist neighborhood, housing the Blue Mosque, Topkapi Palace, Hagia Sophia and the Grand Bazaar. It's got a plethora of restaurants, travel agencies, sweet shops and  cafes.
1. Be awestruck at the Blue Mosque
Headlining the top things to do in Istanbul is taking a visit to the Blue Mosque. The Blue Mosque is one of Istanbul's most prominent landmarks.  Built by 15 year old Sultan Ahmet, it was meant to be an Islamic place of worship grander than the Hagia Sofia.  The architecture is not only exquisite, but easily my favorite landmark. Unlike most mosques, this not only has two or four, but six miniarets!  It was given its name due to the 20,000 blue tiles which line the ceiling. On summer evenings at 9pm, there is a historical narrative and a light show at the Blue Mosque.
It is open daily and prayer calls are held every 5 hours for 30 minutes. Dress code: Women are required to wear a headdress upon entering.  Shoes must be removed.
Admission : Free;  Daily Hours:  9am-6pm except during prayer times (about 30 min. five times a day) and midday on Fridays.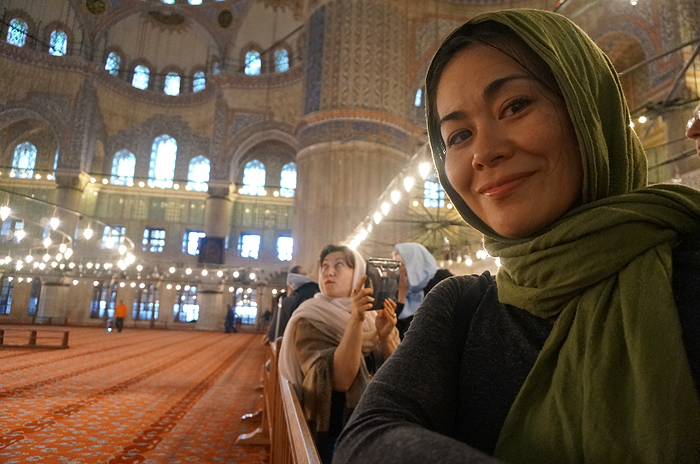 2. Revel in the Hagia Sophia
Another top Istanbul attraction is the Hagia Sophia (pronounced Aya Sofia). She was the architectural highlight of the Byzantine era, when the arts and architecture flourished.   It was built by the Emperor Justinian in the 6th century.  It was first a cathedral, then a mosque and now, a museum for tourists to visit.  Admission:  30 TL or for discounted savings you can buy a Museum Pass or book your skip the line tickets in advance.
3.  Visit the Basilica Cistern
Did you know Istanbul had an underground scene?
The Basilica Cistern is the largest of several hundred ancient Byzantine cisterns resting beneath the city of Istanbul . Built by Byzantine Emperor Justinian (527-565), it's nickname is the "Sunken Palace". It was constructed using 336 columns and houses two large stone carvings of medusa heads crafted from the Roman Period
4.  Shop at the Grand Bazaar
Up the ways or a 15 minute walk from Sultanamet Square, you'll find the Grand Bazaar, a 500 year old marketplace equivalent to a large mall that is filled with store-lined passage ways and alleys.  It's said to have over 60 streets and it draws a crowd. Even if you're a big shopper, be prepared to be a little overwhelmed.
5. Watch a Whirling Dervish Ceremony
When in Rome… no Turkey, why not take in a Whirling Dervish ceremony. The celebrated and spiritual dance dates 800 years back. Men in tall felt hats and white dress from Mevlevi Order perform a dance which was outlawed in Turkey. However, today Istanbul and Konya are the two remaining cities you'll be able to see them in.
Where: Hodjapasha Hocapsa Culture Center is a 550 year old restored Turkish bath.  Ankara Caddesi, Hocapaşa Hamam Sok No. 3B, Daily at 7: 00 pm .
Admission : 60 Turkish Liras (about 30 U.S. dollars) and this includes refreshments.  Book in performance tickets in advance. The performance is 1 hour in length and there is no photography, no video, and no applauding allowed. Book
6.  Enjoy the Pomegranate juice
You'll find pomegranate juice sold on the streets by street vendors in Istanbul. They're refreshing on a long day of sightseeing. You can sometimes spot a vendor by their red-stained hands.  Cost:  approximately 5 TL.
7. Snack on Simit
Simit is like a Turkish bagel, that's a a little crunchy and topped with sesame seeds. They're commonly sold on the streets of Istanbul. For 1 TL you can't go wrong.
8. Get a scrub at a Turkish Bath
When in Istanbul, why not get a good scrub down at a Turkish Bath (aka Hammam)? You can choose self-service or to get scrubbed down by a masseuse. There's a hot room to relax in before scrubbing and a cold room to cool down. Men and women are separated. Men must strip down to a towel, while women are allowed to wear their underwear (bottoms).  Read more about Turkish Bath etiquette here.
Prices range around 55 to 80 TL depending upon the service. Book your bath here.
Have more time to travel Turkey? Check out this 10 day Turkey itinerary
Visiting spicy Eminönü
The Eminönü district is the gritty crossroads, where you'll find the (Egyptian) Spice Bazaar, Galata Bridge and the ferry cruises that go down the Bospherous Strait and to the Asian side.
9.  Cami Mosque (aka New Mosque)
Istanbul has a lot of mosques. A less crowded but equally beautiful mosque to visit is Cami Mosque, which sits sandwiched between the Spice Bazaar and the ferry docks.
.
10. Visit the Egyptian Spice Bazaar
The Egyptian Spice Bazaar is a Istanbul's top attraction bazaar filled with stalls of Turkish spices and sweets.  Those are the two main products you'll find sold there. Some vendors here make their own spice mixes and will give you a free taste to lure you in.  It's a little touristy in feeling and if you show any curiosity or interest in a particular thing, you'll quickly be approached.
.
11.  Explore local spice shops outside Spice Bazaar
If the Spice Bazaar is too touristy for you, the local market right outside will walk you into the secrets of Turkish kitchens.  Wander down Tatakale street where you'll find foods that make up a Turkish dining table and Turkish household kitchen products.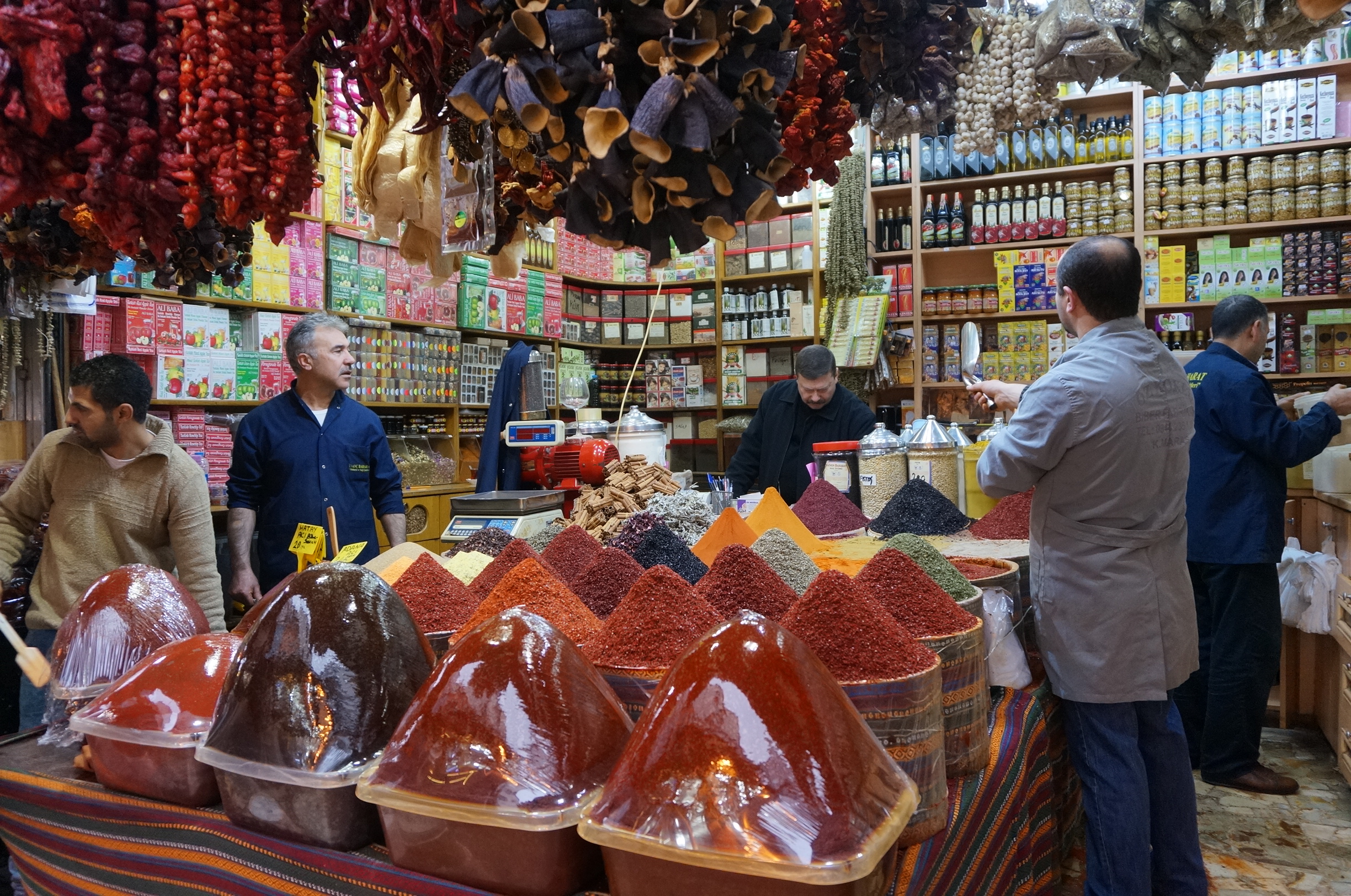 12.  Eat delicious Turkish Food or do a pub crawl
From popular Turkish street food to top Turkish foods at restaurants, you'll find an assortment of delectable Turkish cuisine to fill your appetite when you're in Istanbul. If you want to learn more about top Turkish foods to experience, why not take a cooking class or food tour?  Being a vegetarian, I took a food tour with Turkish Flavours.
Upgrade your trip!
Want another way to enjoy Turkish food and its social flair, you can now
take a pub crawl tour
! 
13.  Get your sugar high on Turkish Sweets
The Turks have a bit sweet tooth and you'll see a lot of sweet shops off the bat on Sultanahmet street. From Turkish delight to beautifully nut sprinkled pastries, they're all ornately laid ready to make your  mouth-water!  Turkish Sweets you Must Try: Baklava, Turkish Delight.
.
14.  Go Souvenir Shopping
What should you buy in Istanbul?  There are many wonderful things from Turkish carpets, Turkish tea, spices,  beautifully colored stained glass lamps and what I personally love… the  Evil Eye amulet to ward off evil spirits and jealousy !
.
15.  Take a Bosphorous Cruise
One of Istanbul's top attractions is the Bosphorous. Istanbul is city on two continents. The Bosphorus strait divides Turkey's Western side and Asian sides , Christianity and Islam.  It links the Black Sea w/ the Sea of Marmara and ultimately the Aegean and Mediterranean Seas. Today, it's transportation route for the city's 13.5 million people.
Admission:  You can take a Short Circle Bospherous cruise for  10TL from the docks off the left docks of Eminönü  from the Şehir Hatları Bosphorus lines. The cruise takes you fromEminönü to Istinye (past the second bridge), and back. The ferry leaves the Eminönü docks at 14:30, and then continues its two hour non-stop tour. For updates, check the official timetable. For 25 TL, you can take the Full Bosphorus Cruise, a longer cruise to the Black Sea and back. You must get off the ferry in Anadolu Kavağı, the last harbor before the Black Sea. You'll have time to grab lunch in one of the town's fish restaurants or visit the fortress.
Recommended: Pay the additional money for an audio set, so you understand what you're seeing along the river and historical landmarks as Dolmabahce and Ruemli Fortress. I regretted not taking it and missed a lot.
.
Exploring Beyoglou & Taksim Square
Following top Istanbul attractions, make your way to Beyoglu neighborhood, which houses trendy neighborhoods and shopping areas, and stretches  from Galata Tower to Taksim Square.  One of the best things to do in Istanbul is to visit Galata Tower, a tower which affords you the best view of Istanbul.
You can weave through Beyoglu streets and they will ultimately lead you to Taksim Square.  Or something more fun– take the old Tram to the square.
16.  Check out the view from Galata Tower 
Wanna see a great view of Istanbul from up high?   Visit the Galata Tower. If you can get past the 12 TL admission, the Galata Tower is marveled to be the best 360 degree view of Istanbul. I went when it was foggy and rainy, so I had to pass on it.   Admission: 12TL
Upgrade tip!
Take a
hop on hop off bus tour
to visit Istanbul top attractions such as Galata tower and bridge, Hagia Sophia and more! 
17.  Watch fishermen at Galata Bridge
If you love people watching, one of my favorite Istanbul attractions was Galata Bridge, the dock of choice for amateur fishermen, who you'll find camped out in one spot for the entire day!
The Galata Bridge spans the Golden Horn in Istanbul, Turkey. At 80 meters wide, it is the second widest bridge in the world. The Galata Bridge links the neighborhoods of Eminönü and Karaköy.
18.   Taksim Square
Taksim Square is a colorful and modern part of the city, located on the European side of Istanbul.  The square is a main transportation hub surrounded by restaurants, hotels and shopping. I attempted to walk there from Galata Tower and then Iktal street. I thought I succeeded… but apparently, the square is an actual square and you'll see the Old Tram make a legitimate stop there.  Nevertheless, the neighborhood leading up to it has got a very funky, artsy and shopping vibe. Definitely an area to check out as one of Istanbul's top attraction.
Istanbul City Guide  (watch video guide)
Essential Things to Know about Istanbul
Istanbul Museum Pass
The Istanbul Museum Pass covers entry for twelve museums/landmarks. It also allows you to bypass long queues.  The pass is sold as 3 day and 5 day passes.  It's a good savings if your itinerary looks stacked.
Hagia Sophia Museum– 30 TL, Topkapi Palace Museum– 30 TL, Topkapi Palace Museum Harem Apartments – 15 TL, Chora Museum– 15 TL , Istanbul Archaeological Museums – 15 TL,  Museum of Turkish and Islamic Arts – 20 TL (Currently closed due to renovations),  Istanbul Mosaic Museum– 10 TL
Total cost with individual tickets: 135 TL
 For a list of locations where you can purchase them, check here.
Cost:  85 TL
Getting Around Istanbul
Istanbulkarts
While you can take in many top attractions by foot, you can quickly skirt around the city using any of Istanbul's public transportation in trams, ferries and metro systems.  The Istanbul kart (Istanbul card) is a reloadable transit card.  It allows you easy of access onto transportation (otherwise you have to buy individual tokens).  The savings are small, but it's still discounted.   Also, one card can cover up to five passengers!
Cost of the card:  10TL and you're free to add on any amount you want after.
Where to buy them: At major hubs like the airport, Eminonu and Sultanamet stops.
Take a Hop on hop off Tour bus of Istanbul
Spice bazaar, Galata bridge, Bospherous , Hagia Sophia and more. Capture a majority of Istanbul top attractions through a one day bus hop on hop off bus pass.
Getting from Ataturk Airport to Sultanamet Station
Metros & Trams
Take the metro at Ataturk Airport to  Zeytinburnu (the 6th Metro stop).  Then transfer to the trams and look for Eminönü or Kabataş.  Keep in mind that the metro is different from the tram.
Tram
The tram works above ground, while the metro is underground.  Get off at Sultanamet stop . It will be sandwiched between a walkway of store fronts and a park next to the Blue Mosque.   If you see the Hagia Sophia on your right side, then you've passed your stop.
Long Distance Buses from Istanbul
 The Istanbul Otogar (Bus Terminal) is ginormous so if you're planning to buy tickets at the station (aka otogar) or take an overnight Turkish bus, give yourself ample time to find your bus agency  (aka factor in time to get lost).  I decided to book my bus travel from Istanbul to Cappadocia from one of the many agents on Sultanamet Street.  I probably paid a little more than the base cost I'd get from booking at the bus station, but it came with a complimentary shuttle from the tourist agency directly to the bus terminal. I found a ticket for 75TL at Turista Travel (located across the park).
Is Istanbul safe for Solo Travelers?
In 2015, when CNN was reporting a lot about ISIS, the US warned its citizens of "increased threats from terrorist groups throughout Turkey". Hence, I was paranoid when I went; the paranoia ruined part of my trip, because Turkish people are friendly and hospitable.  I stayed in tourist friendly places, respected the Islamic culture when visiting mosques and I felt safe. However, street smart safety is always recommended anywhere you go.
Istanbul is also a metropolis city, so beware of pickpockets or thieves in crowded touristy areas. Check travel.state.gov Turkey for latest travel warnings for your Turkey trip.
Where to Stay in Istanbul
I've stayed at two places in Istanbul and both, I'd recommend.
Piya Hostel is for the budget traveler. It's located in a neighborhood, a 10-15 minute walk from the Blue Mosque. Dorm style, it's got fresh sheets and shared bathrooms.  It's also got a kitchen which serves free coffee and tea.
Sirkeci Mansion is for the flashpacker looking for a bit of class, ease and Turkish hospitality.  The hotel offers has a self-serve hammam and pool in the basement, offers free walking tours and cooking classes as well as a complimentary breakfast and a goodbye memento gift from the manager.  Read my review here.
Best Travel Insurance for Turkey
American travelers often pay a premium on travel insurance.  World Nomads offers economic solutions for travelers who seek security and peace of mind.  It covers 150 countries.
Turkey for Solo Travelers (video playlist)
What top things to do in Istanbul would you recommend?