Last Updated on March 24, 2019 by Christine Kaaloa
Things to Know about Greek Island Hopping:  Ferry from Athens to Santorini
.
Before I left for Greece, I researched what island stops were on my route to Santorini. I wanted to know whether I might want to Greek island hop and how feasible it was to do so on a one-way ticket ferry from Athens to Santorini.   That answer must've been deep in the tresses of forums on Greek island itineraries and I was in a last-minute scramble. Wanting to see Meteora, Greece was a country I only decided to go to, two weeks before I left!
My internet research on taking the ferry from Athens to Santorini felt tricky and booking in person was my best bet. So I  waited until I got to Athens to figure it out.  I'm not a fan of last minute travel or winging my trips, even though I wing a helluva lot.
Getting from Athens to Santorini
All aboard! I arrived at Athens' Piraeus pier by metro at 6:45am, with enough time to, grab a coffee, go to the Blue Star Ferries office, buy my ticket for Santorini and board the 7:45am ferry.
Getting to Santorini is a seven hour journey, with port stops to other Cycladic islands (Paros- Naxos- Ios) along the way.
The ferry is actually a gigantic ocean liner boat with eight levels, has indoor/outdoor seating,  first class airlines-style seating, private cabins, lounges, a cafe and restaurant and can ferry cars also.
I bought two separate tickets (costing me 37.50 Euro each)–  leaving Athens' Piraeus (PIR)  port at 7:45a. My return ferry to Athens departed Santorini (Thira) port at 7:30p (arrival in the wee hours of the morning).   You can walk in and buy your Blue Star tickets at the offices near the boat.  Some forums and tourist information offices will say you should buy them in advance from a tour agency; other advice on the internet say advance booking is not necessary.
Firstly, it's a huge ferry boat with lots of open seating.   If you have a tight schedule and you're going peak season, you could consider it, as it carries passengers that are getting off at three other islands, along with Santorini.  I think even if it were crowded, you'd find or "make" a spot somewhere.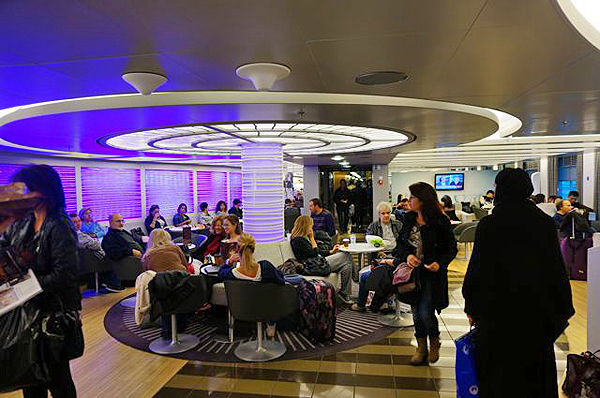 Information on the ferry to Santorini
It's said that the boat schedule to Santorini changes by season and is dependent upon weather.  During peak season, it offers more possibilities.
 I went during late October, which was off-peak.  Off-peak, there is only one daily ferry to Santorini via Blue Star Ferries, which is said to be a low cost carrier.  But don't let  the term "low cost" fool you. It's the biggest and nicest ferry I've seen so far.  I initially thought it was a cruise ship!  When you get the standard economy seating ticket, that means you find a spot where it is available in lounges, dining spots, outdoors, etc…  Upgraded fares may afford you your own cabin room with a bed.
The high speed ferry from Athens to Santorini is approximately 5 hours, but it does not run off-season. Check the ferry timetable (Piraeus is Athens' port) for updated times which may change with seasons.
For scheduled times, check these websites :    Viva.gr or Travelplanet24.gr
Hopping through the Greek Islands
The ferry does 10-15 minute stops on each island, which is just enough time to deboard or board the boat, but not much else. If you want to spend time on the islands, you'll need to buy separate tickets for them. Otherwise, the ferry doesn't stay in dock for very long, so I'd be ready for your stop.
1.    Paros
The natural beauty of Paros is said to be unrivaled in the Cyclades. With traditional and fishing villages, abandoned Marathi marble quarries, and powdery sands at Golden Beach, it's a popular tourist spot.
 2. Naxos
Naxos is the largest and greenest island in the Cyclades.  It's rich with lush vegetation, old churches, Venetian castles and traditional villages.
3.  Ios
It's known for being a hilly island, with a popular beach -Mylopotas- that today is crowded due to tourism.  The ancient town of Plaktos is the burial home of Homer and excavations on Skarkos hill has unearthed a prehistoric settlement.  There are over 365 churches here.
4. Santorini
Santorini is an island of it's own. After being able to see each island's rolling hills, architecture and stretching terrain from the ship, your initial impression of Santorini might feel underwhelmed. The island at first glance appears as if high chunk of rock. In fact, the island is known for it's caldera views or cliffside views and thus, there's a feeling of secrecy about it and Santorini doesn't show you it's beautiful terrain, beaches and villages until you're on it. But once there, you'll find much to add to your itinerary from wine tasting, sunset cruises, shopping and more.
The high speed ferry from Athens to Santorini is approximately 5 hours.  Check the timetable for updated times which may change with seasons. My return trip left in the evening and was pretty near an overnight trip arriving in the wee hours of the morning.
If your hotel doesn't have a pickup van, you can hire an inexpensive shuttle transfer service.
Read Santorini Travel Guide: Best Things to Do in Santorini
More information on Santorini activities and Santorini itineraries .
 Greek Island Hopping : Taking the Ferry from Athens to Santorini
1. Arrive an hour early so you can find the pier
Although the metro lets out across the street of the pier and you can see the boat from the streets, early is always better.  It will allow you to find the kiosk (right across the boat) and get some snacks for the trip.
2.  Find your plug outlets early
If you want to work on your laptop, arrive early to find an open seat with a nearby outlet. The best seats with outlets are the lounge areas.  The dining area has few outlets and they are inconvenient and require either a power strip or long extension cord.  The outdoor seating areas have some outlets but if it's cold, that's the last place you'll want to see for hours and smokers generally sit outside so they can puff away.
3. Bring snacks before you board
There's a cafe and buffet dining restaurant. But there's nothing light in a Greek meal and the selection of bites from the snack section will make you wish you planned ahead. They didn't even have spanakopita and that's pretty ubiquitous. Of course, it will cost a little more than normal.
4. Avoid bringing a lot of luggage
I'm all for traveling light.  Large luggage is best stored on the bottom level floor in the cargo area with everyone else's luggage. I'm not sure if you have to pay for storage but either way, traveling light will free your hands considerably to roam the ship.
Getting from Santorini to Turkey (Bodrum)
It was my intention to island hop from Santorini to Bodrum, Turkey via ferry boat.  While I did not end up doing that, due to my change of schedule, the information I researched might have some bearing for those interested in that option. Note: This is just the research I've started. For more information, you'll have to follow up on your own.
Ferries from Santorini to Turkey
Santorini to Bodrum (Turkey) via Kos
The cheapest and fastest way.
Santorini to Kos

 : 4 h 5 min, €35 per person, one way, economy class on Blue Star Ferries, connections on Mon, Wed, Fri, Sat and Sun (during summer).  KOS is known for its thermal beach (Note: the water actually stains clothes!) Timetable:  Mon, Wed, Fri , leaving Santorini at 1:05 am. The 12:20 a.m. ferry arrives in Kos at 4:35 a.m.
Book from Santorini: 

http://www.aktoploika.gr/en/cyclades/index_santorini.htm

Kos to Bodrum, Turkey: 1 h, from €20 per person, one way, daily  (Times:  10:15am & 5:30pm, Duration: 20 minutes)

http://www.feribot.net/feribot/?lang=en

  17 Euro 4:30p, 1 hr
Santorini to Marmais (Turkey) via Rhodes
Santorini to Rhodes

 : 19 h, from €26 per person, one way, Mon, Wed, Fri, and Sat (during summer)
Rhodes to Marmaris, Turkey: 1 h, €41 per person, one way, daily
Are you Greek island hopping? What is your favorite island? Any tips or insight to share?
Looking for travel insurance?
World Nomads offers economic solutions for travelers who seek security and peace of mind.  It covers 150 countries.