Last Updated on March 5, 2015 by Christine Kaaloa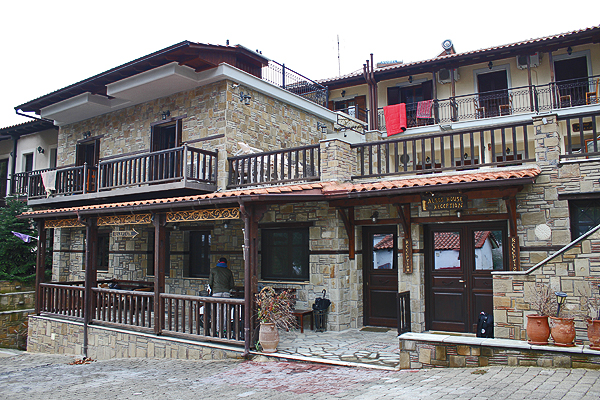 When I searched Meteora for accommodations there seemed to be a wealth of guesthouses, hotels and camping grounds (yes, camping grounds!).    After coming from a snazzy shared AirBnB apartment and a funky youth hostel in Athens, I was neither in the mood for a luxury hotel or a super budget camping experience. Guesthouses seemed the way to.
Visiting TBEX conference a few days prior and meeting with Visit Meteora Tourism Board, I was quickly directed to Alsos House and put up there for a two-day stay.
Alsos House is a rustic family-run lodge offering rooms and apartment-styled lodgings for budget travelers, single or family/friends.    Resting a stone's throw from one of Meteora's rocks, it's tucked into the valley for a peaceful and private experience.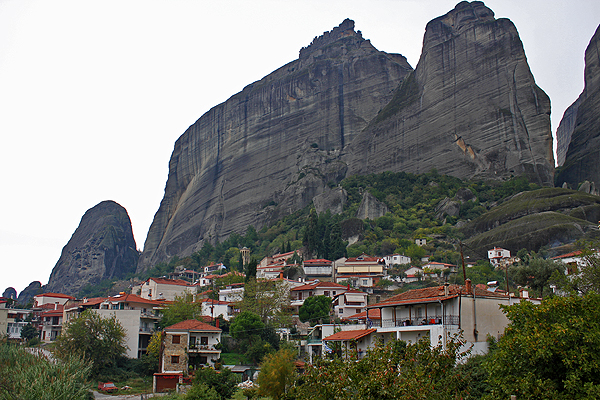 Location
Located in the main town of Kalampaka, Alsos House is a 10-15 minute walk from the town center. Kalampaka overall, is such a small town that most locals will say it's safe to walk alone, even at night. Perhaps that has some to do with the nearby monastery residents, who have long governed the area of Meteora!  While the guesthouse's location isn't convenient for stepping out for a quick bite at a restaurant, it is convenient if you were planning to hike to the monasteries.  The start of them are only a 25 minute walk and the entrance to the hike is practically in the neighborhood backyard.
…But I didn't know this until after the fact!
Travel Tip: Immediately after arriving, always spend time with the front desk or owner to gather a perspective on your location and its surroundings.  A five minute chat and learning that would've easily changed a lot of my schedule.
Okay, I'm not a perfect traveler or blogger. After missing my early morning bus to Meteora and arriving on a later bus, I met up with other touring bloggers from TBEX for a late afternoon tour of a foggy and overcast Meteora.  When I was finally deposited to my guesthouse, it was evening.  It was literally a whirlwind of a day, between long bus rides and quick touring action.  I barely had time to check in, take a quick shower and redress for dinner.
Balancing the business of blogging with the act of traveling is occasionally a compromising juggle.
My room
I was given the studio with kitchenette. It was a humble room, with a triple twin bed and an outdoor balcony facing a giant Meteoric rock. No kidding! Imagine waking up and opening your shutters to kablam!  an impressive rock looming over you.  My last day, I even took my breakfast there to do some vlogging (all was great until my camera toppled and got funked up).
My room (going for around 60-ish Euro on the website) was so spacious, it could've held at least four travelers! It clearly had more beds than I knew what to do with, to the point I could've easily shared with a hitchhiking traveler. Nevermind, I love space!
There was also a mini kitchen, stocked with the basic dinette set, condiments and a stove. There's a Carrefour in town and the perk of Also's apartment-like studios is that you can do your own cooking! Definitely a great base camp if I were going for a longer stay and had friends or a family!
Cozy Meeting Place for Travelers
The shared kitchen is an inviting place for travelers to congregate and share stories, while indulging in tea or coffee. During the morning, the kitchen also serves a free breakfast of modest and decent fixings to fix you for the start of your day.
I came during freakishly dreary weather, so my second day I returned cold and damp from walking in the drizzle. Hanging out near the fireplace while sipping hot cocoa while chatting with the owner,  I met a group of traveling rock climbers from France and quickly discovered that Meteora is one of the prime heaven-made spots for rock climbing!
Helpful and friendly
Alsos House is more like a lodge, but has the personable, family-run vibe of a guesthouse.  The owner, Yannis and his nephew are very friendly and helpful.  Even their cat is sweet.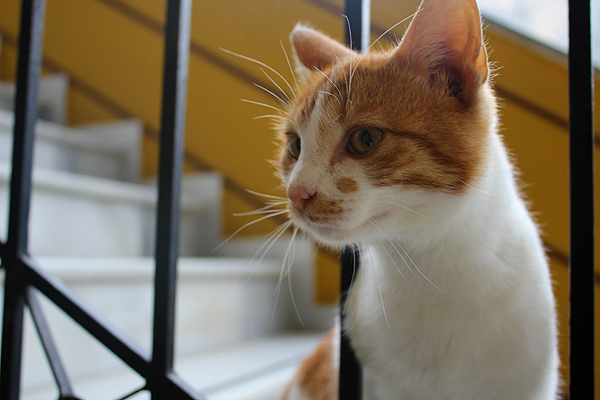 It was my last day in Meteora. I had a lot of things to do in last-minute blogging, research and securing spots and schedules for my next destination, so I was running late.  I found out about the bus schedule back to Athens a little too late. It was then that I began panicking. I went to check out and thank Yannis for his hospitality, but he wasn't there.  Clock ticking, I was envisioning and dreading the long and sweaty run to the center of town with my luggage, when the nephew appeared and offered to drive me on his scooter. Whew, what a life-saver!  The bus station was a little south of the town center.
He dropped me off just in the nick of time…. to find out my bus was full and sold out .
… And my only option was the train, which was leaving in 4 hours. Ah, the joys of winging it when you travel!
Either way, if you're looking for a quiet, apartment-styled stay for your tourist stay or group climbing trip to Meteora, Alsos House offers a flexible range of accommodations for your budget.
Information
Alsos House   (Book with Agoda)
Kanari 5, Kalampaka, Greece | Located 10-15 minutes walking to bus stop or center of town.
Website: www.alsoshouse.gr
Phone: +30 24320 24097
Mobile: +30 69725 44825
Email: [email protected]
Note: My two-night stay was sponsored by Meteora Tourism Board and the generous hospitality of Alsos House.  However, my opinions are always my own.