Last Updated on June 28, 2019 by Christine Kaaloa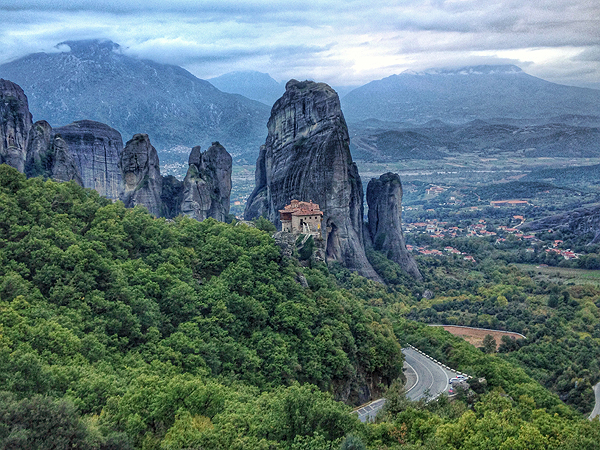 The sharp karst rocks jut sharply into the sky, reaching for the heavens.  It was if Halong Bay had grown soil and vegetation in the place of water. Some rocks held tiny monasteries perched at the isolating tip. Unfathomable. It was the second time in my life I had to scoop my jaw off the ground. Who knew a place like this existed?
Whenever you think of Greece, it's often overshadowed by Greece's other superstars~ Delphi, Athens, Thessoloniki and then there are islands such as Mykonos, Crete, Santorini.  Meteora is one of Greece's best kept secrets and until this year, I did not know it existed.
Interestingly, I had seen a photo almost ten months earlier and fell in love with it.  But a trip to Greece wasn't exactly in my budget . Somehow I found a way to this trip happen; as a result, I was now standing in Meteora, gazing up at the majestic rocks, beholden.
Table of Contents: Mystical Meteora: Greece's secret alien site
Watch the video of Meteora, Greece
Just under four minutes, this video gives you an idea of the grandeur of the place and my experience. Unfortunately, I went during a streak of bad weather, so filming conditions were not optimum and on good streaks, I was on foot, which takes much longer to get around.
What is Meteora?
Meteora (pronounced Meh-Tay-orrrr-rah), located in Northern Greece, near the city of Trikala,  is more than a valley of impressive pointy-topped mountainous rocks.  Meteora reminds you that you've stepped into another time, a different lifestyle and perhaps an alien culture.  The name is from the word, Meteorite and means  "in the heavens". But many of us think of it as coming from outer space.
For the magnitude of Meteora, it's hard to believe it's been untapped by the film world. A James Bond film, For Your Eyes Only was shot there.  That's all.
But the Orthodox monks have had a lot to do with keeping tourism to a hush in order to maintain their peaceful life.  It's said that during the Bond filming, the monks made filming terribly difficult and as such, production had to work around to recreate some of the Meteora scenes in postproduction.
A mystics story of
The valley of impressive karst rocks have been home to monasteries and hermits for past ages. Meteora is said to have 600 peaks and towers and is a prime spot if you love rock climbing.
 What's unique about Meteora's dwelling is that you'll find monasteries atop the tips of the rocks or you may spot hermit caves cut into rocks like swiss cheese. For hermits, the cave dwellings were homes that allowed one to escape the material world and find communion with God.  For monks, building monasteries atop the rock peaks placed them higher to God.
In order to survive, long ladders of rope or wood, were once used to carry food, water and provisions up to the hermits and monks.  The ladders were used until an "act of God allowed them to break". Trust was placed in spiritual destiny… and the goodwill of its neighboring townspeople.
Today as a UNESCO site and it's the stronghold of the monasteries that keeps the sanctuary preserved and the rest of the world from rushing in.
Meteora rock personalities
Each rock mountain in Meteora has a name, given to it by locals, partly based on its own personal history. You can also see faces or personalities, form and change as you move around them.  Two of my favorites are Prisoner's Rock and what I like to call the Hermit Hotel.
Prisoner's Rock
Some rocks have an interesting history connected to it. Prisoner's Rock, is a towering rock, where monks were exiled to live as hermits if they broke rules.  Apparently,hermit life must have been far worse than life in the monastery.  No barrels of wine and such…
Hermit Hotel  | Dhoupiani Chapel
Dhoupiani Chapel sits a the base of a huge rock with over a hundred cave cutouts which makes it look like swiss cheese.  I like to call this rock Hermit Hotel.   It's said that Dhoupiani is the chapel that resident hermits would visit on Sundays and special occasions.  It's located near the Kastraki side entrance.
The monasteries of Meteora
Once, a home to almost 26 Greek Orthodox monasteries, today it's dwindled down to six ( four male monasteries and two nunneries).
Moni Megalou Meteorou, founded by St Athanasios in the 14th century, sits on the highest rock in the valley, and most powerful and governing monastery.
Moni Varlaam is the second largest monastery and used to have provisions taken to it by rope and pulley.  well known and the one with the pulley is the most interesting conceptionally
Each monastery has admission, so you might want to pick your itinerary.  Dress is conservative and for women, you'll be offered a long skirt to wear upon entry. You might want to pick your monasteries as each has admission. For more information, check here.
Where I stayed in Meteora
There are several hotels in Meteora both in the heart of the city and on the outskirts closer to the mountains. I stayed in Kalampaka at Also's House , which is an 8 minute walk to central Kalampaka,  but against the mountain as well (Read my review here).  
Read Next:
Related Posts
Travel Guide to Santorini
Taking the Ferry from Athens to Santorini
Meteora : Greece's Best Kept Secret
Things to Know before you go to Meteora
Looking for travel insurance?
World Nomads offers economic solutions for travelers who seek security and peace of mind.  It covers 150 countries.
Note:  Thanks to VIsit Meteora tourism board, who sponsored a tour for bloggers so we could know some of these details to appreciate Meteora and gain a deeper understanding.