Ladakh Guide | Behold, Ladakh, the Most Beautiful place in the world!
It was hard to imagine I was still in India…
As the rest of India spat and sweltered entering June's summer sweat, Ladakh pulled out its winter parkas to bundle up from the cold. Stepping off the plane,  a surreal panorama of frost-tipped peaks and an arid Ladkhi mountain range unrolled before me. The vision was a marriage of extremes.  The air was crisp, sharp, distinct, wearing the musk of old desert sand and ice. At that moment, I felt like I was injected into a David Lynch film… a strangely beautiful heaven.
If there was one place on earth I was born to see,… Ladakh was it!
Behold, Ladakh!
Some like being reclined in DJ beats on the beaches of Goa, taking a safari into the deserts of Jailsamer , taking a sunrise boat down Varanasi or the lush river forests of Kerala. Until now, Dharamsala felt to be one of the more favorite oasises of India. Well, sorry Dharamsala, but move over!
Located in Northeastern India (of Jammu and Kashmir) and wedged between the Himalayas and Kunlun mountains, Ladakh is a territory still in dispute between India and Pakistan.  As such, the Indian military has a strong presence there.
Kashmir Valley and its lush beauty is said to be "Heaven on Earth", such that it crossed my mind to dare a visit. But due to political unrest, whether or not it's safe for foreign travelers, seems to be a swinging pendulum.  It's constantly flashing travel alerts; you'd think one has to die to get there.
Ladakh however, is just a mountain pass over. As a close neighbor, it shares some of the beauty… just in a more desert-like oasis way.
What an oasis.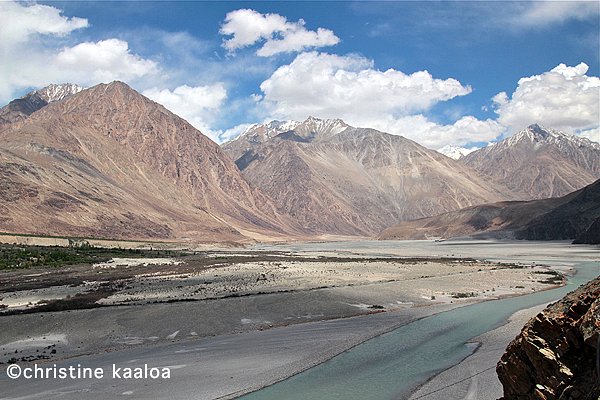 Ladakh makes for a cinematic setting
Panoramic. Majestic.  Bold. Enigmatic. Exotic. Enigmatic.
I've seen it beautifully stretched out on the silver screen in Bollywood films (my filmic addiction) like the 3 Idiots, Dil Se and 2011's Baraka sequel, Samsara.
Ironically, Ladakh's terrain is arid desert, making Ladakhi towns and lifestyles appear more rugged, worn and western (I mean this politely, in a "cowboy" type of way).  The main source for water is snowfall and due to the shortage of water sources, the land holds scant vegetation. But this lush scarcity and the land's proximity to the brightness of the sun, gives way to the most striking colors… like putting vibrant color to canvas.
Yes, it appealed to the fine arts painter in me.
Vistas gleamed with the extremes of sand, rock and ice, as lime green trees stood on tiptoe, like pencils against a cerulean blue backdrop. Did I ever see clouds cast such a distinct shadow puppet over sweeping mountain ranges? If so, it never stood out enough to make itself memorable.
My eyes were like virgins again. "Seeing" felt like an activity I was doing for the first time. Passing through places like Nubra Valley or Magnetic Hill , I was a flea existing in Ladakh's universe. No place had taken my breath away quite like this.
It was one word.
Dramatic.
Did this place really exist?
No, really… was it real?
Entering Ladakhi ethnography
If  you think the landscape is surreal beautiful, the Ladakhi ehnicity is an ethereal beauty you can't categorize upon sight.
The Ladakhi ethnography is difficult to decipher. Many are said to be of Tibetan and Indo-Aryan descent.  A mixture of Indian, Chinese, Tibetan (and at times, seemingly Caucasian)… they all share exotic features and the trademarks of a land kissed by the sun–  ash-colored skin and bright pink cheeks!
Ladakh is split into two main cities: Leh (this is where I stayed) and Kargil. Leh is the largest and the better-known city in Ladakh, due to its tour and trekking agencies. The overall culture is defined by Tibetan Buddhism, prayer wheels, Buddhist monasteries and locals dressed in a cocktail of traditional clothes and an old Tibetan-cowboy style.  Meanwhile, the most of Kargil's population are Muslims.
Ever seen the film, Samsara (from the creators of Baraka)?  A steady chunk of the first five to ten minutes are shot in Ladakh!

What to do in Ladakh
Although exploring its more remote areas ideally, requires hiring a driver for a day or joining a trekking tour, it's a worthwhile adventure and you can find open tours or other travelers to share your journey (and expenses).
As a D.I.Y solo traveler, I got by local bus, took a 2-day open tour and shared a hired driver with a couple, who wanted to see the same sights. Manuevering wasn't difficult and it felt like one of the safest places in all of India.
Read my post ~ Ladakh: 8 Incredible Places to Experience Heaven
It's a great place for trekking. Aside from staying in Leh -the central launching ground- many travelers like visiting Nubra Valley, Kardung-la (the highest drivable pass), Hundar/Diskit (see two-humped camels and a giant Buddha), Kargil, Thiksey Monastary, Pangong Lake (a film location for some Bollywood films) and much more...
Can't believe I'm still in India and this is late May!

Indus & Zanskar confluence
3 humped camel in Nubra
The morning sun is as bright as noontime.
When I awoke the next day, I thought I had slept past my alarm. The sun was overhead, bright as if it were noon.  It was only 6am.
But Ladakh is set in a high altitude close to the sun.
Tip: Sunscreen and lip balm are advised and your eyes may take a while to adjust when you go outside.
Encountering Altitude Sickness (ALS syndrome)
You'll probably meet the onslaught of altitude sickness (or ALS)  in some form, when you first arrive. This was the first time I felt the effects of it…
High altitudes can take up to seven days to acclimate to and you may experience:
Fatigue or Weakness
Headache
Dizziness
Insomnia
Shortness of breath during exertion
Persistent rapid pulse
Nausea
Decreased appetite
Swelling of extremities
I probably experienced four of these conditions. For three days after my arrival, I had to take it easy. I wasn't hungry and my heart raced from any exertion or any seemingly strenuous activity. Climbing stairs, a walk up a sloped hill, all activated a heavy-paced heart palpitations and a physical feeling as if I were walking through deep sand. …Even lying down to sleep, my heart raced as if I had come from a marathon !
Tip: It's advised to take your first few days easy until you acclimate. No strenous activity; for instance, I wouldn't take a trek as soon as I got there. Drink lots of water to keep from getting dehydrated.
Getting Around in Ladakh
Most travelers get around three ways: local bus, hiring a driver or taxi, getting onto a tour.
Leh is a good launch point – it has a lot of trekking outfits and tour agencies.  You can hire an independent tour, but there's also options for budget travelers who want to take shared tours.  Still, it doesn't hurt to take the number of your driver at the airport if you like him. Many are more than willing to be your driver for the day.
How to Get to Ladakh
There are two ways to get there~ by bus/road or by air. What form of transportation you take is largely dependent on season. The roads are usually open during the summer months (May/June to September/October); it's closed otherwise. Many travelers wanting to save money take the Leh-Manali bus. The roads were closed when I went, so I had no choice but go by air. Indian Airlines has regular flights via Delhi, Jammu, and Srinagar. Jet Airways flies regularly via Delhi.
What's your most memorable place in your travels?